Obutto

It's pronounced "Oh, but Oh!". So you want to know what an Obutto is. It's Flight Sim goodness. It's your very own cockpit from which you can strike the enemy where ever they may sortie from. It's an F-15 pit. It's a Spitfire pit. It's a P-38 Lighting pit. It's all of these, depending on how you wish to place your flight controllers. Even if you fly with a yoke and a throttle quadrant. Or if you fly with a HOTAS. Center stick or side stick position, it doesn't matter, Obutto can be configured the way you want to fly.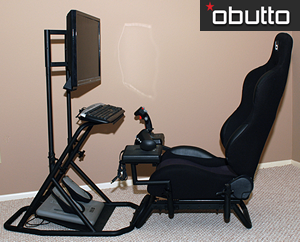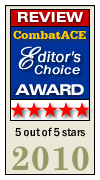 Construction

The Obutto is constructed of heavy gauge tubular steel. It's coated in a beautiful matte black finish that's tough as nails. The seat is a racing style bucket seat that is adjustable fore and aft as well as being able to recline. The seat is two tone black and gray and has fantastic lumbar support. It's extremely comfortable and the cloth that covers it is thick and durable. It also has Obutto's logo on the front headrest part of the seat as well as a large "Obutto" embroidered across the back headrest part of the seat. The heavy wear areas of the seat are reinforced by a vinyl that has a carbon fiber type pattern to it.

Assembly

You'll need some tools for assembly. Three to be exact. You'll need a 6mm allen wrench, and a 1/2 and 9/16 wrench (or crescent wrench). You'll also want to pick up some 4mm M4x 10mm screws. You'll need 4 of them. More on that later.......
I happened to have all those tools on hand (I'm a contractor). I like that cheapie tools aren't included with the Obutto. I've hurt myself plenty of times using wrenches stamped out of metal stock or busted knuckles when soft steel allen wrenches give way. Do yourself a favor, head over to Home Depot and pick up the tools you'll need. It will make assembly easier and you'll not have to head to Walgreens for Band-Aids and Neosporin.

The first thing you'll notice is that the parts are wrapped in bubble wrap. They're wrapped extremely well. There wasn't one scratch on the finish of my pit. In fact, the hardest thing about putting the pit together was unwrapping it. Seriously, it's that easy to put together! The instructions were written by someone who speaks English as a first language. They were clear and concise (and a bit humorous). Even if you aren't mechanically inclined you will be able to assemble the pit. It's a no brainer.

The Obutto comes in several main parts. The base for the monitor stand and the base for the seat. The seat itself comes mounted on sliding rails so you'll only have to bolt the seat onto the seat base, it takes 4 bolts to do so. The monitor stand base and seat bolt together as well. What you'll find with the Obutto is that there are many adjustments you can make when attaching the arms for the peripherals. Along each side of the seat base there are 7 holes that run the length of the base. These are the mounting holes for the arms that you'll use for your keyboard arm, throttle and stick arm. If you choose not to go side stick you can mount the arm where the monitor base and seat base bolt together. If you use a yoke you can mount it on the steering wheel mount. It's adjustable fore and aft for the perfect fit. The pedal base can be adjusted up or down as well as fore and aft. It's covered with a rubber non slip coating that really works well. My CH Pro Pedals didn't slide once on it. Neither did my girlfriends G27 racing pedals. I'm using a single 26" monitor and bolting it to the monitor mount was simple. This is where you'll need the 4mm VESA mounting screws. The mount itself is drilled for all the variations of VESA bolt patterns. You can adjust the monitor higher or lower on it's mounting uprights as well. As I said before, everything with the Obutto is adjustable. There is an option for a 3 monitor stand if you prefer.

Testing

I tested the pit for flight sims as well as for racing. I don't do a lot of racing but my girlfriend does. When I ordered the Obutto I asked Chris Dunagan (the man behind Obutto) to send me all the parts needed to do a sidestick sim pit as well as a racing pit. I put the flight sim pit together first. That sounds like more than it really is as you can easily remove and swap parts around with the Obutto. I can convert from F/S to racing in about 5 minutes, and most of that time is swapping out controllers. The first thing I noticed is how comfortable the seat was. It's easy to adjust, like the seat in your car. The adjustment lever is front center under the seat. The reclining feature of the seat allows you to sit more or less upright, depending upon how you like to fly/drive. That lever is where the back meets the seat. I fly sidestick, so I adjusted the up/down arms for my Ch Pro Throttle and Fighterstick. Adjustment is done with star shaped handles connected to bolts that pin the arms in place. It took all of a minute to set the pit up for my use. I recommend using industrial strength velcro for mounting your stick and throttle. Chris (from Obutto) recommended it and it works like a champ!

I flew Flaming Cliffs 2 for hours in the Obutto. I enjoyed the pit immensely. The monitor is plenty close enough so that you can spot bandits at distance. The fact that I could fine tune where my controllers were gave me greater accuracy when flying. The pit is nice and stable, sturdy. Side to side movement in the Obutto results in very little movement of the monitor. My Obutto is set up on carpet with heavy pad so I expected a little "give". I'd be willing to wager that if set up on a floor that didn't move you wouldn't see any monitor movement.

Next I set the pit up for racing. My girlfriend has a Logitech G27 setup and races Dirt 2. It took 5 minutes to swap controllers and she had the Obutto adjusted in no time for her driving marathon. When asked what she liked about the Obutto she said that it was very comfortable. She liked how she could sit in it for hours and her legs wouldn't fall asleep. She also like how she could adjust the seat and her controllers to replicate what it felt like in her car (a 25th Anniversary Z-28). The distance between the screen and her eyes was perfect, she didn't need her reading glasses to read fine print. Needless to say she loved the Obutto.

She loved it so much that it's no longer mine........................Her argument is that I already have a pit built (those of you who know me have seen pics) and that she needed something. I didn't have an argument except that I liked the Obutto and that didn't fly, cuz she liked it too so one cancels out the other. It's now her new "desk". She sits in it surfing the web and her computer desk here in the office is bare. I even went into the other room where her Obutto is and found her in the seat reclined, sleeping while listening to music.

Options

real reclining car sports seat

real car seat sliders for easy adjustment

removable swiveling & telescoping keyboard/mouse tray

very stable thick walled carbon steel frame (3.2cm diameter pipe)

angled height adjustable steering wheel mount with over 12" of travel

removable VESA monitor stand for hard mounting your LCD monitor
(uses standard VESA bolt patterns 75x75mm, 100x100mm, 200x100mm)
height & distance adjustable rubber covered pedal tray, also fully removable

seperate H-pattern shifter mount (mounts on either side & distance adjustable)
Accessories Include:
Triple monitor mount

Black acrylic tabletop

Flight stick/Throttle mount
Pluses

Heavy duty construction
Easy assembly
Infinitely adjustable
Can be configured for other duties in a few minutes
Price is reasonable, especially compared to competitors' offerings

Negatives

Needs a cup holder. (my girlfriend says that's the only thing missing)


Final Thoughts

I've been fortunate that I've been to many trade shows and have stick time in many of the offerings out there that are similar to what Obutto offers. I wasn't a fan of the ones I had tried as they were too flimsy or weren't ergonomic enough to suit my tastes. When I contacted Chris Dunagan about reviewing the Obutto I had a negative opinion about gamer cockpits. I'm pleasantly surprised to say that they aren't all created equal. My biggest gripe was flimsy construction. I didn't want to worry about ruining a $600 monitor by shaking it to death. Some of the other options were hard to get in and out of. Some didn't have enough mounting places for all my gear.

The Obutto is a great piece of kit at an extremely fair price. I like it so much that I'm seriously considering ordering another one and replacing the pit I built from scratch. It has less of a footprint than my exisiting pit and it's as easy to get in and out of. It looks Sierra Hotel! The matte black finish looks like pure business. You can marathon fly/drive for hours. I found the time went by quickly, often I had to be called for dinner because I was having too much fun.

Chris Dunagan, creator of the Obutto is a gamer. You can see him using the Obutto on You Tube. He's the guy in the pics on the Obutto website. And judging by the design of the gamer pit Chris is a bit of an engineer. I'm of the opinion that it's a gamer that knows what gamers want. Mission accomplished! One last thing I'd like to touch on is how receptive Chris was to my questions and comments. He took time out to answer a half a dozen emails from me. In my experience that shows that the man stands behind his product and he loves what he does. I'd like to thank Chris for all the help he provided me regarding this review. You're aces Chris.

Head over to the Obutto website and check out what Chris has to offer. Price is $329USD.