Interview With Typhoid
"I think CombatACE is a community of people from across the world that have come together on a collection of flight simulations … This is a fun place to come hang out for a bit."
In this week's CombatACE spotlight we shine the light on Typhoid. He's a retired Naval Flight Officer, a modder, an elected official, and has been a member here at CombatACE since 2006. He has also released a number of files, over the years that have collectively accumulated over thirty thousand downloads. He's even made a very special campaign that has been downloaded over two thousand times.
Thank you for taking the time to do this interview with us, Typhoid. To start off, can you tell us a little bit about yourself?
I am a retired Naval Flight Officer and then did another 18 years as a defense contractor and task lead supporting NORAD, US Space, AF Space, NORTHCOM, STRATCOM, and AFC2ISR Center. Counting my active duty and contractor time, I spent 15 years in NORAD J3 including 9/11 and a lot of work after 9/11 on upgrading NORAD command and control systems.
I also earned a commercial, single and multi-engine with an Instrument rating as well as single and multi-engine instructor rating.
I didn't do very much flying with that but the experience helped me a lot in my Navy flying since I also flew co-pilot on a number of occasions when land based.
I ran for office starting in January of this year and was elected to a four year term on the Colorado Springs City Council, which includes service on the board of directors of CS Utilities. This keeps me busy in my retirement!
Busy indeed. How long have you served in the Navy and what was your role while serving?
I retired after 21 years of active duty as a Naval Flight officer as a Commander (O-5) in the E-2 as an Air Intercept Controller and Mission Commander and, on a joint tour, the E-4B initially as a Strategic Operations Officer and then as Chief, Command Control and Communications which included Emergency Actions.
What aircraft did you fly while in the Navy and which one did your prefer flying?
Mostly I flew the E-2 and E-4B. Of course I flew the standard training aircraft; T-34B, T-39, T-2B and also a few others at various times for various reasons including the TA-4J, S-2, P-3C, E-3A, and the KA-6D, for one, right seat day trap!. I logged 345 traps in the E-2 so including the KA-6D; I logged a total of 346 traps as an NFO.
I guess you can land on a carrier in Strike Fighters North Atlantic with your eyes closed and a hand tied behind your back. What is an aircraft you would like to fly?
Any aircraft! I really liked the Bonanza and Beech Baron in civilian flying and the TA-4J was a real fun couple of hops flying with the aggressors in VF-126. I can say that I flew both kinds of Skyhawk, the Cessna 172 and the Scooter.
What interest you about aviation?
It is a fantastic, demanding and always changing field.
What is your favorite aircraft and why?
I don't really have a favorite. Every aircraft that I had the opportunity to fly, front seat or back, had its own special attraction, its own mission niche, and own challenges. I ended up in the E-2 through the selection process and I happened to fit in there very well. Having the Big Picture and control of a variety of aircraft on a variety of missions was an awesome challenge and responsibility. I was involved in a lot of very challenging operations flying the E-2 from the North Atlantic to the KAL-007 SAR ops.
The E-4B was a very challenging experience in a field that most never get exposure to, and the three years that I can talk the least about!
What got you interested in flight simulation?
Sitting in an office all day and remembering what it used to be like. Being able to fire up the flight simulator at home and go flying again once in awhile is a lot of fun and breaks the tension after a day pushing paperwork.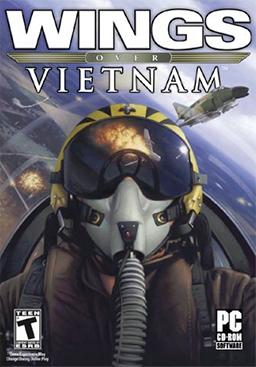 I can understand that. It's sort of like being a caged bird and the flight sim, in a way, sets you free. Speaking of flight simulators, do you remember the first flight sim you ever played?
Not now. I think I always had some kind of flight sim on my computer going back to the early days of Windows. As the operating systems evolved the early flight sims would crash and I'd be looking for another. I just happened to come across Wings Over Vietnam in the store one day and have been very happy with the series and the community ever since.
What motivated you to arrive here at CombatACE and stay over the years?
After picking up WOV, I went to the Thirdwire site to figure something out and stumbled onto the various community sites with all of the various mods. That opened up a lot of interesting variations and I've enjoyed trying them all out, and filling up my hard drives. CombatACE was the one I settled on the most with a very large community of people who have become friends and a lot of different ways to modify the games.
When did you start modding?
Pretty soon after I first got started on the series and after I came onto CA. When I saw how the mods worked it became another part of the game that I found very interesting. Just making a mod was a challenge from both a technical aspect as well as leveraging my past experience.
Over the years you've released a lot of files mostly updates to the game. How long does it take you to make those updates?
It takes several hours to think just one through and then try it out, debug it, and try it again until I get it right. I have not made any real complicated mods at all, nothing like some of the other gents have. I have mostly done just minor ini mods to make different models of aircraft that others have previously made or some mission packages. I joined some of the teams for awhile helping teams develop some of the mods and testing them out, and providing some ini mods to those. I have not done any actual model development or terrains as some of the other guys have.
Another file of yours, the Gulf of Sidra Incident, has gained a lot of attention as well, with some 2,718 downloads. What motivated you to create that campaign and share it with us?
I was there. That was several minutes of a winter Mediterranean morning that was burned into my memory. I was the 6th Fleet Battle Watch Captain on duty in the Fleet Command Center aboard the flagship, USS Belknap, when that went down. Without going into specifics, we had the first contact and I called the first threat inbound. We were on the nets through the engagement. You all know pretty much what happened after that. I made the missions from my recollection of what happened and set up some variations so people could fly from either side. One of the missions that I set up had the Floggers coming out on a routine recon and one on an active, hostile intercept as it happened; so that by trying both of them out, one can fly the intercept without knowing if this is going hot or not, pretty much what a real section would face.
To say that was a tense situation would be an understatement. What does modding do for you? Is it something that is relaxing and neat hobby etc?
Yes, very much a fun exercise to put the day behind and do some fun stuff. Since I've been in elected office now, my calendar exploded and I don't have time anymore to do any modding. I just occasionally have a little time to fly a few missions in an evening once in awhile. I go weeks at a time now between logging in simply because of the time constraints I am now under.
What modding tools do you use and why?
I've just done ini modding rather than any of the real mods such as creating the full aircraft model or I do mission building. I used to use some of the mission tools but since one has now been added on SF2, I just use that one.
What is your favorite mod that you have created?
The F-14D in the series one. That was how I really learned how to do those mods and I updated the model as I learned how to make the changes and make them more and more realistic.
What is your favorite mod that you did not create?
That is a tough one. The planes that many modders have released are awesome. As a Navy guy, I get a kick out of all the ship mods coming out, those are quite interesting and I have fun just looking into the files to see how they're built.
I think the ones I like the most are the full, all inclusive mods such as the Falklands, Desert Storm, etc., where the terrains have been built and the various planes and objects have all been put together and then linked with campaigns and missions. Those are the real modders and my hat is off to all of them.
Who is a Modder, or group of Modders, you admire or inspired you to start modding?
That is a very long list! I think the Mirage Factory is where I first caught on and Ollie was someone who brought me into that community where I learned a lot very fast from quite a few people. And there are lots of people since. I hesitate to start listing them all because there really are a lot of really great people working on these mods and new ones are coming in all the time. Special mention, though, to Erik and Dave and the others who built this site and keep it running.
Do you have any favorite quotes or thoughts about being here at CombatACE you'd like to share?
I think CombatACE is a community of people from across the world that have come together on a collection of flight simulations and share insight, experience, and models. In many cases, we have become friends in sharing a hobby and talking about aviation in general. This is a fun place to come hang out for a bit.
Thank you Typhoid for taking the time to do an interview and for sharing your story with us. If you'd like to play the campaign based on Typhoid's own recollection, of information he's allowed to share with us, click here to check it out. Please read all download instructions and associated readme files to get the full enjoyment from the mod. Typhoid was also kind enough to share with us a couple of photos. One is of him in the Navy and the other is a photo of him as a councilman. Thank you for dropping by to check out today's CombatACE Spotlight. Until next time I'm Skyviper wishing everyone happy landings!