Re-living another classic WW1 air war memoir, in Wings over Flanders Fields!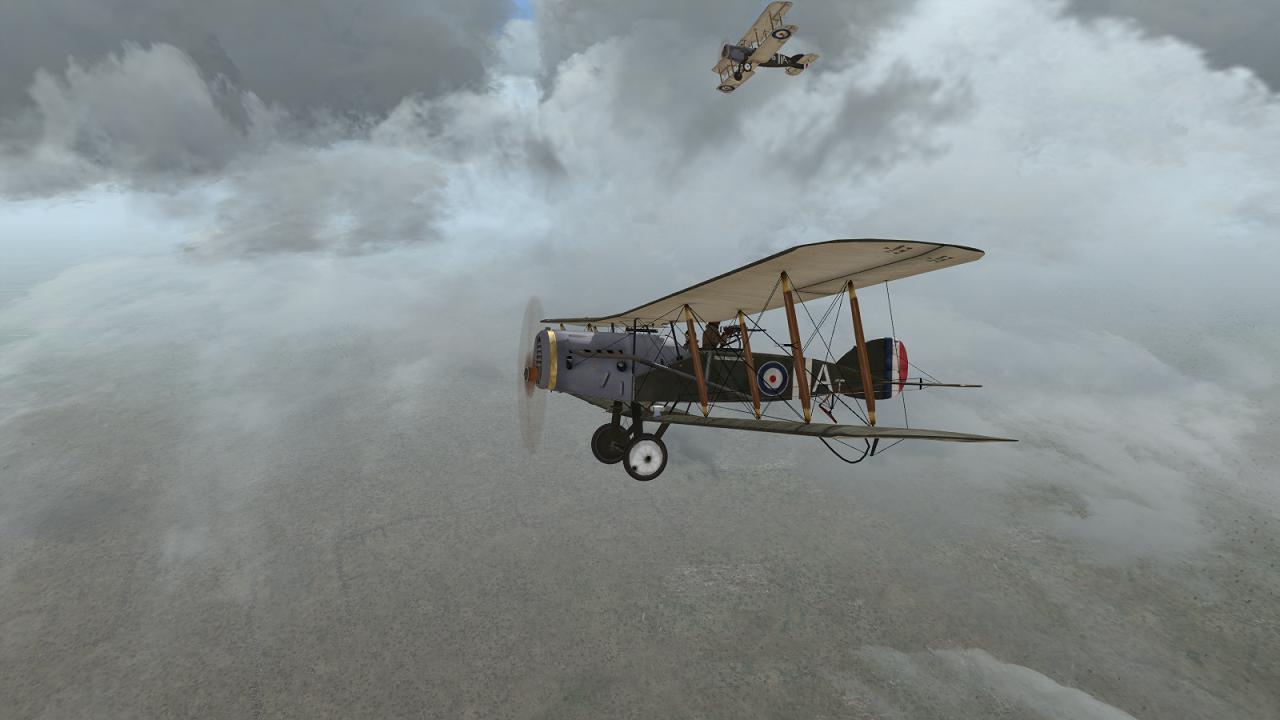 This is a rather late addition to my earlier series of WOFF mission reports inspired by real-life WW1 aircrew memoirs. The inspiration in this case is 'Flying Minnows' which was, in turn, a late addition to my library, picked up the other week from a local second-hand bookstore. The book was first published in 1935 under the author's pseudonym 'Roger Vee', my 1979 reprint appearing under the author's real name of Vivian Voss. Though sharing the surname of the famous German ace, this Voss was a South African, with family ties to my own home town of Belfast, in Northern Ireland.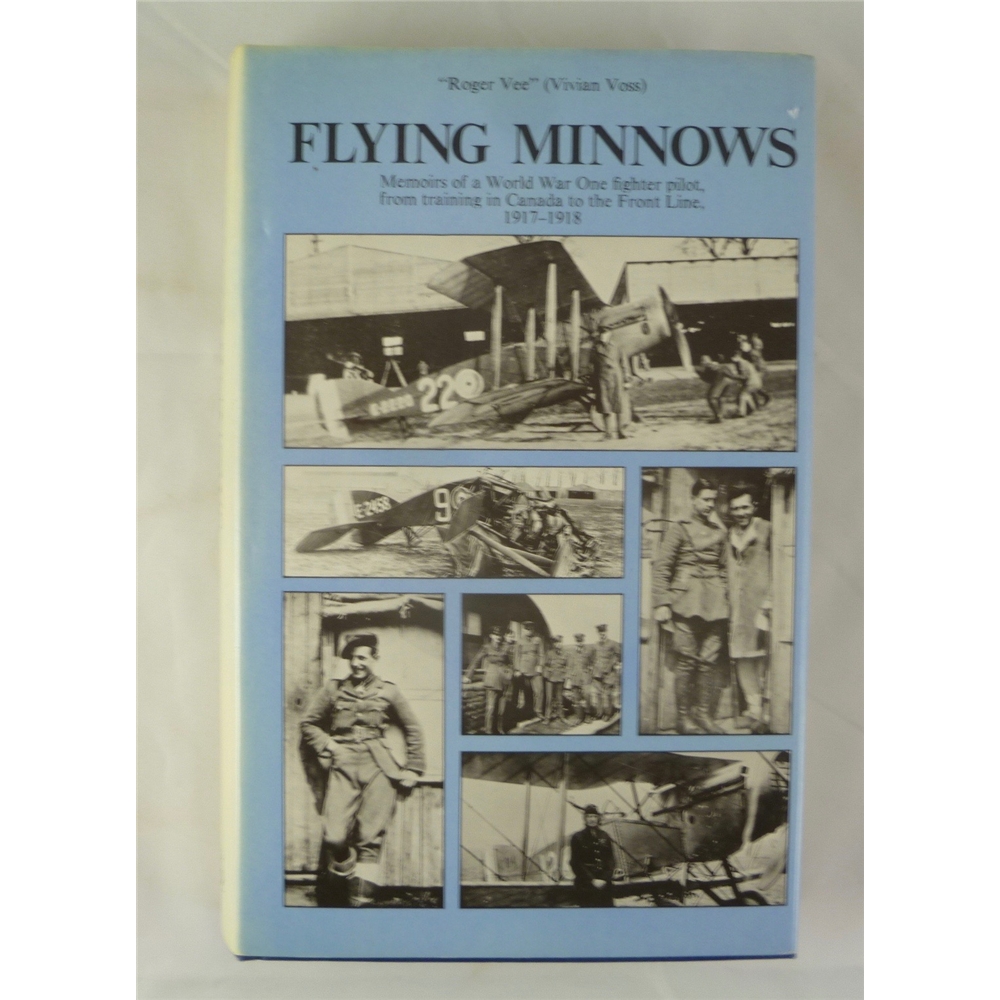 The man and the book
'Flying Minnows' – which I haven't finished reading yet – begins with Voss's flying training in 1917, in Canada, having crossed from the USA where he was studying at John Hopkins University, Baltimore, to join up. From his account, the standard of basic training seems only slightly evolved from the beginning of the war. At Camp Mohawk near Deseronto, Voss learns to fly in the 'Buffalo Curtiss' type JN-4A, which is what we today would commonly call a Curtiss 'Jenny'. Slightly more advanced training then follows, after a move to Camp Borden, flying both the 'Buffalo Curtiss' and another 'Jenny' they called the 'Canadian Curtiss', with reduced dihedral and a normal joystick instead of the Buffalo's one with a wheel for aileron control. Amongst other things, Voss receives instruction in artillery spotting, providing a usefully detailed description of the basic procedure, including examples of the actual Morse Code signals used. He receives his commission in Toronto then leaves via steamer from Halifax for Liverpool. In England, flying first at Shawbury in Shropshire, Voss records briefly his impressions of other types he flies during 'continuation training' there and later. He says of the Avro 504 trainer 'It took me some time to get used to these rotary engines, and to the extermely sensitive "balanced" rudder. But they were remarkably stable machines and easy to land.' Of the Sopwith 1 1/2 Strutter, he says 'They were easy machines to fly', capable of being trimmed so they could be flown 'hands off' - literally: he tells the story of a Strutter which landed in a field 70 miles behind the Lines, and how the officer who walked over to offer assistance found that '...the petrol tank was empty, but the airmen needed no help. Both the pilot and the observer were dead.'
Voss moves to Netherhavon on Salisbury Plain and fears he is doomed to artillery spotting rather than a fighter pilot career, when he hears they have RE8s there. However, he soon finds out he's destined to be flying Bristol Fighters and that these are not the obsolete Bristol Scouts he had known off, but modern 2-seaters, said by some of his fellows there to be '...considered to be the finest fighting machines ever built.'
Taking up a BE2e at Netherhavon for the first time, his instruction consists of being told 'Don't spin or loop it, as it won't stand it.' He finds the BE is '...an easy machine to fly, and [I] did several half rolls (Immelmann turns) and vertical banks with it. It was very light and felt like a toy after the the heavier 1 1/2 Strutters I had been flying.' The DH6 trainer also on station is '...a very slow machine...hideously ugly...commonly known as a 'Clutching Hand' or a 'Crab'. I have seen Crabs flying against the wind with such low air-speeds that they were actually drifting backwards relative to the ground.' Of the RE8 he says 'It was the heaviest machine I had yet flown...fortunately all the serviceable RE8s were crashed just about this time, so I was put straight on to Bristol Fighters.' Of his first solo in the latter machine, Voss says 'I felt at home at once...the engine, a 250 hp Rolls- Royce, was infinitely more powerful than anything I had come acrross so far. It gave a full-throated roar and shot away across the aerodrome and then up, soaring into the air like a great eagle. She was a massive machine but so beautifully designed that she did not feel heavy on the controls. She responded surperbly to the least touch of the stick or rudder-bar.' Such are the impressions that we WW1 air war afficionados love to savour!
Voss's most memorable experience from this time is when he's sent on an 'altitude test' to confirm he can tolerate the conditions. This he manages, but his base is clouded in below him. Having without visible reference points drifted well south in his wide spiralling ascent, he ends up coming back down through the overcast to find himself well out over a blustery sea, land no-where in sight. Luckily, he runs out of petrol close to a solitary fishing boat, which quickly rescues him.

Completing his training, Voss is posted to France and is on operations from February 1918 to the end of the war, flying first with No. 48 Squadron, then with 88. With the reticence that was typical of the times, the squadrons are not identified by number and individuals are identified by more pseudonyms; but all is revealed in detailed appendices by renowned WW1 author Norman Franks, which include lists of casualties and claims for both squadrons during the author's period of service. I haven't done more than skip through the rest of the story but from what I've seen, it's a fascinating one, different from but well up there with the likes of Norman MacMillan's 'Into The Blue' or Duncan Grinnell-Milne's 'Wind in the Wires'. Based largely on an incident during training, one online review unfairly slates Voss for being a 'chinless wonder' type of officer, looking down his nose at the 'other ranks' - but leaving aside the fact the review mis-reports or mis-represents the incident, Voss is a man of his times not ours. And a brave man at that. To me, he displays a real charm and a self-effacing sense of humour. He does not disguise his fears, while maintaining the usual (for that era and that author base) stoical stance when recounting some of the crashes and other nastiness he encounters. I'll not spoil the book for anyone else by saying more...besides, I haven't finished it myself, yet! But it has already prompted me to start another Bristol Fighter campaign – I think my last serious one of these was in Over Flanders Fields, WOFF's predecessor, so this outing in the Bristol is long overdue.


The campaign
Though Voss's war started in early 1918, my favoured period for WW1 in the air is 1917, taking in 'Bloody April', the RFC's subsequent resurgence, and the appearance of many classic types like the Albatros D.III and D.V, the Pfalz D.III and Fokker Dr.1, and on the Entente side, the SE5 and the Camel...and of course, the Bristol Fighter. I decided to start in March 1917, with the type's debut at the front with 48 Squadron. A side-benefit of this is that my low-spec PC isn't going to be over-taxed by the higher volumes of air activity generated by WOFF for later-war periods, or need me to dial back my graphics settings.

At this point, we have the early F2A version (tho WOFF visually represents this with a typical, later F2B). And our ranks include as a flight leader no less a man that William Leefe Robinson VC, feted back home as the slayer of a 'zepp' raiding England, in fact not a Zeppelin but the Schutte-Lanz airship S L11. Sure enough, WOFF's order or battle lets me not only fly with the same squadron Voss was to join, but from its inauguration at the front and with Leefe Robinson on its duty roster. And of course WOFF puts us where we should be, at the airfield of la Bellevue. Naturally, I'm hoping that's as far as the recreation of history goes - because I want to avoid the fate of the squadron in what was reported to be its first foray over the Lines into enemy airspace (termed an 'Offensive Patrol', which Voss reminds us was known at the time as a 'O Pip'), when it met Manfred von Richthofen's Jasta 11 and lost four out of six, including Leefe Robinson's Bristol.


The first mission
As befits our first excursion since arriving at the front, our opening mission is a trip up to, but not over, the Lines. Having no particular interest in formation flying and preferring the extra tactical challenge of the flight leader, I have selected 'Always lead' so I'm at the head of the four Bristols for this trip. Bad weather – WOFF's option to replicate the effects of historical weather, is another feature of this truly great sim – 'washed out' the previous day's flying, so I'm keen to get away and at the Hun. I check the controls and start her up, the others doing likewise, including 'A' Flight, which will have three machines operating in loose support in the same area.

I open her up and off we go! The ground is soon falling away behind us and I'm relishing the powerful, low snarl of my big Rolls Royce engine, such sounds being another of WOFF's outstanding features. Up ahead, there's still a lot of cloud, and if we go for our briefed altitude of 7,500 feet, I'm not yet sure whether we'll be below, above or amongst all the white stuff. I'll worry about that when I get up there, I decide.
At a couple of thousand feet, I throttle back and level off while the others catch up. We make a series of gentle climbing turns, opening up and climbing harder as the formation comes nicely together. 'A' Flight slides across behind and below us and is last seen as a group of three dark specs, to our left and somewhat lower down.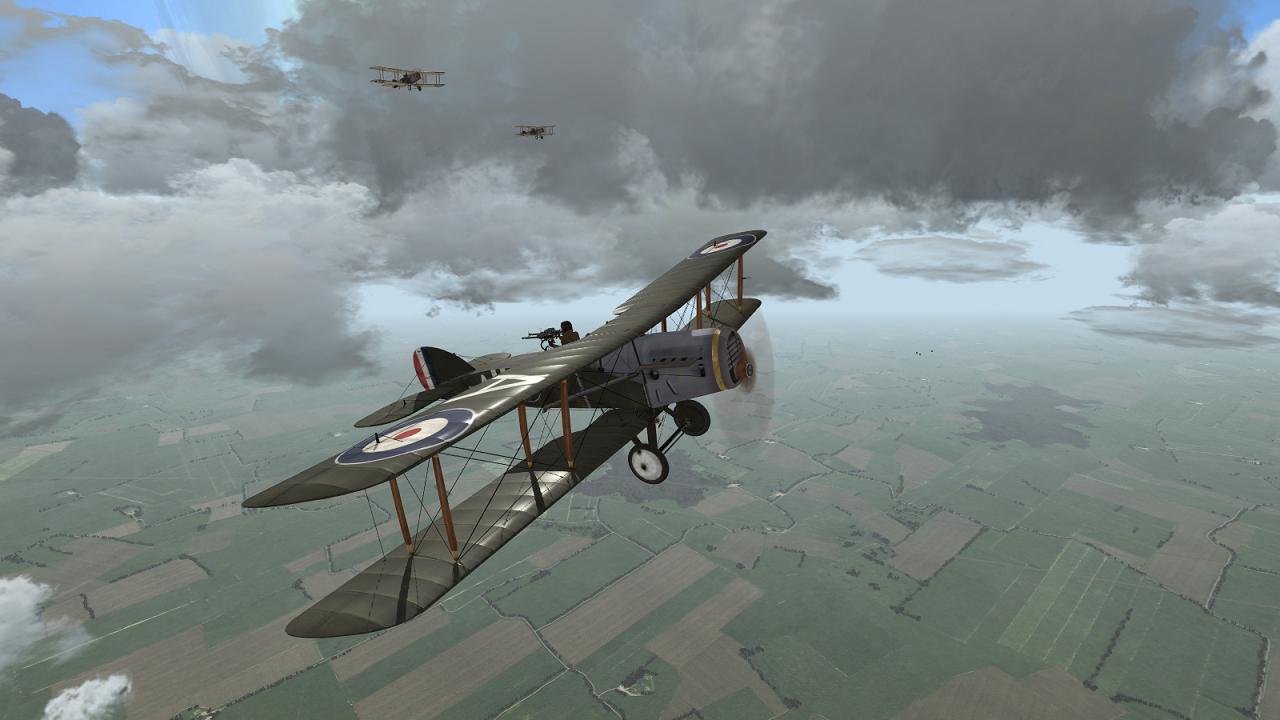 As we gain height, I settle onto a course that will take us to our assigned turning point above, but not across, the famous Lines. Grey and white clouds gather all around, but we plough on. The cloud stays fairly well broken and visibility is acceptable at our patrol height, which we reach after a long climb.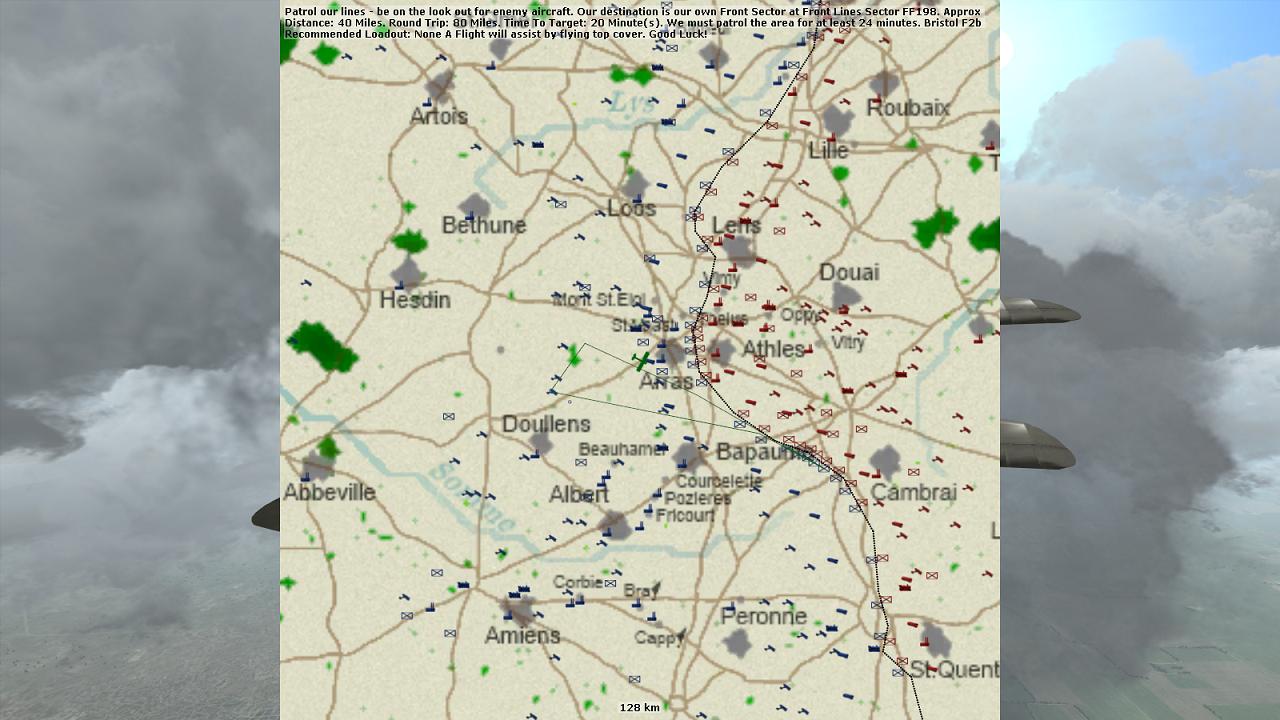 With no 'warp to next waypoint' feature in WOFF, I much prefer to fly in real time. Even with autopilot, I dislike flying in accelerated time, but the short flights make this bearable. This, and the fact that if there's a sim besides WOFF which captures with such uncanny depth the feeling you get from so many accounts of flying over the front in the First World War, I have yet to find it.
Even over my own side of the Lines, with contact with the enemy not especially likely and with enemy fighters less so, I was kept busy enough scanning the skies above, around and below, in between admiring the view.

And there is much to admire. For one thing, the Bristol, always one of the best-rendered kites in OFF, looks better than ever, in WOFF. As does the landscape, in this case including the battered town of Arras, near the Lines below us and soon to give its name to the battle that will spawn 'Bloody April'.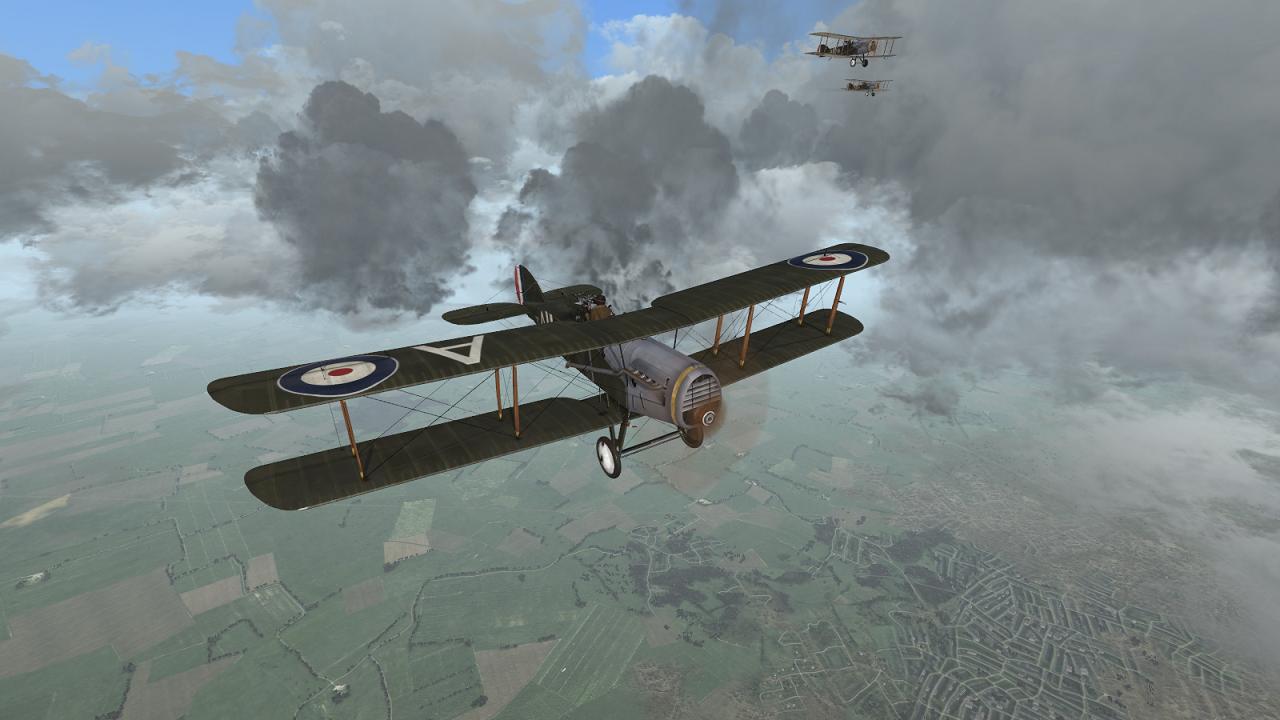 The cloudscapes are equally good (especially with Arisfuser's cloud mod). They're not volumetric and sometimes it shows; but to my eye, they are as good or better than anything else in the business and their presence and appearance adds massively to the feeling that 'you are up there', over the front and at the mercy of everything from the elements, to the Archie (AA fire) and of course, the wily Huns, in the sun and elsewhere.
But on we go, the eight of us, pilots and gunners, in our big new Bristol Fighters, ready for anything...we hope...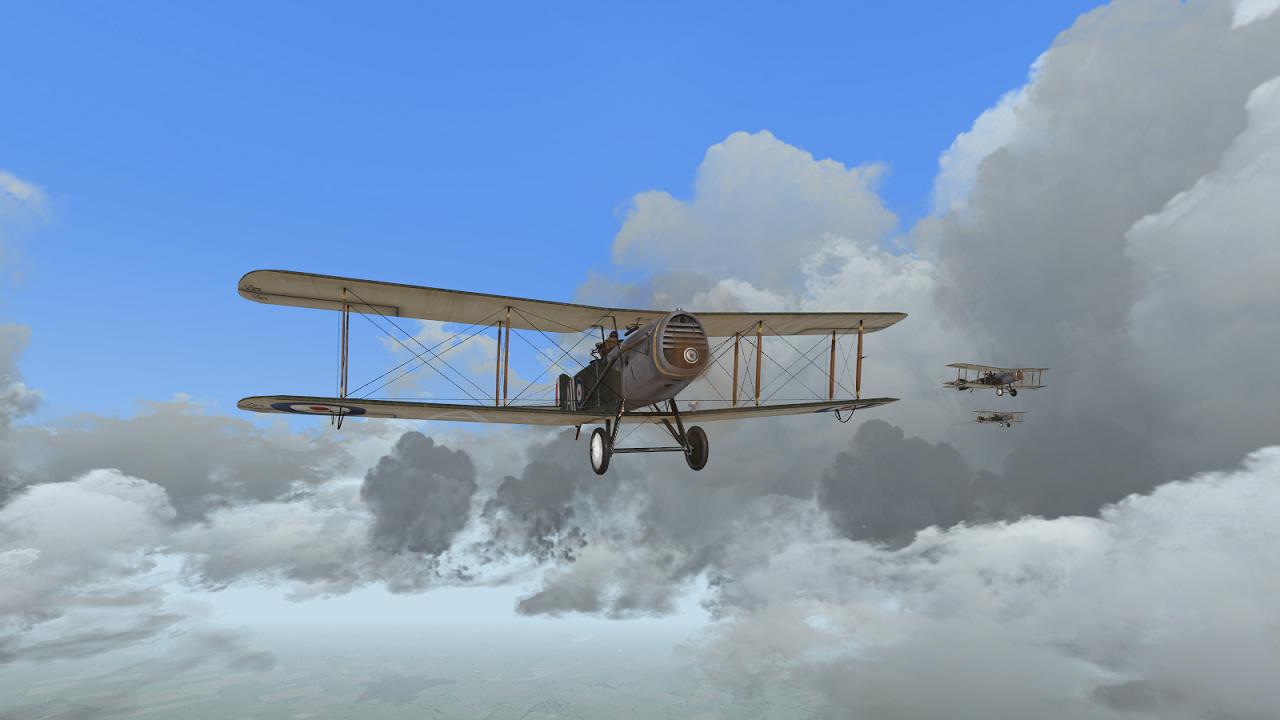 ...to be continued!