Hunting an enemy commander in Normandy!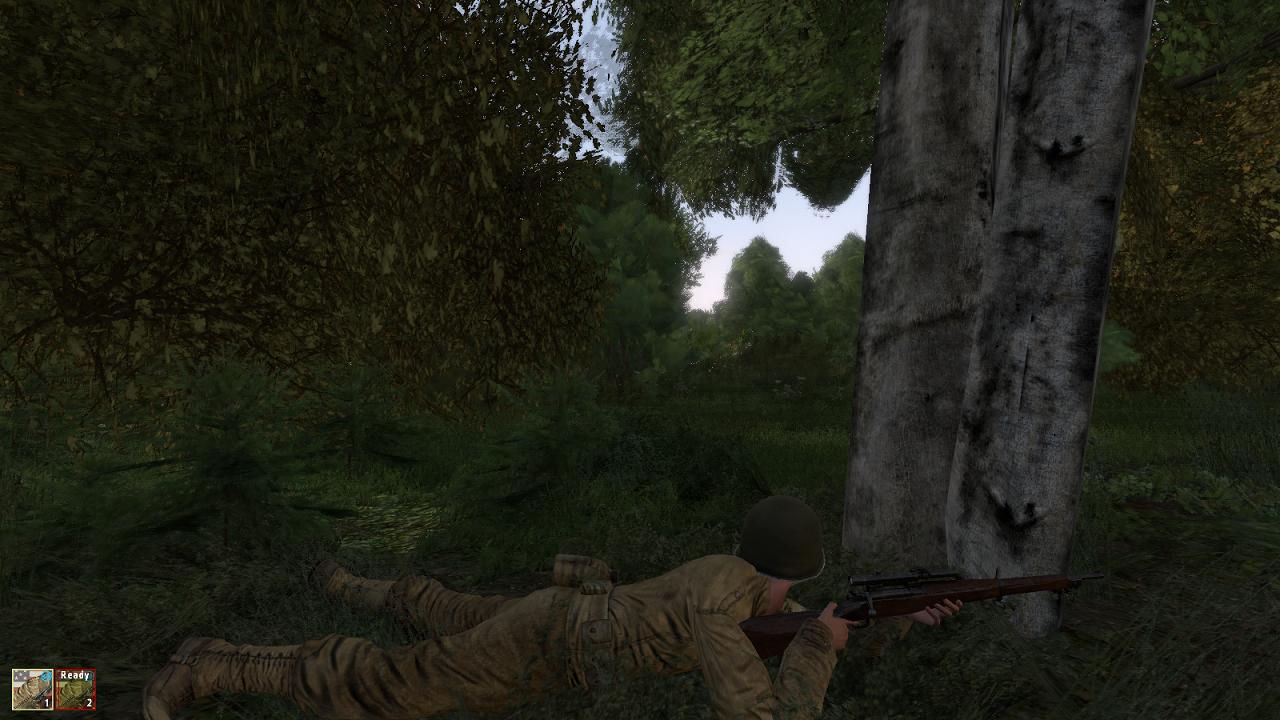 In between my efforts at practicing section tactics as I knew them in Iron Front, I decided to interleave this more serious business with some light relief. As in, playing some 'regular' missions. Preferably ones which don't over-tax my as-yet-still-developing skills in team command. First choice was to re-start my effort at the German campaign, set on the Eastern Front at the time of the great Soviet summer offensive of 1944, which took the Red Army deep into Poland, where this campaign is set. I had already completed the Operation Flaspoint-style training missions, familiar to any player of the genre. My first real mission began with my squad of replacements being conveyed to the front in the back of an Opel Blitz 3-tonner. Below, you can see our squad with the camo-smock-wearing officer who has been supervising our training. He's stepping through our ranks to hand us over to the officer commanding the position, who is standing to our front with an MP40 SMG and his officer's silver-braided epaulettes shining rather brightly on his shoulders, reminding me of the gormless officer in that Tommy's song from the First World War:
'Brother Bertie went away, to do his bit the other day
With a smile on his lips and his lieutenant's pips upon his shoulders, bright and gay...'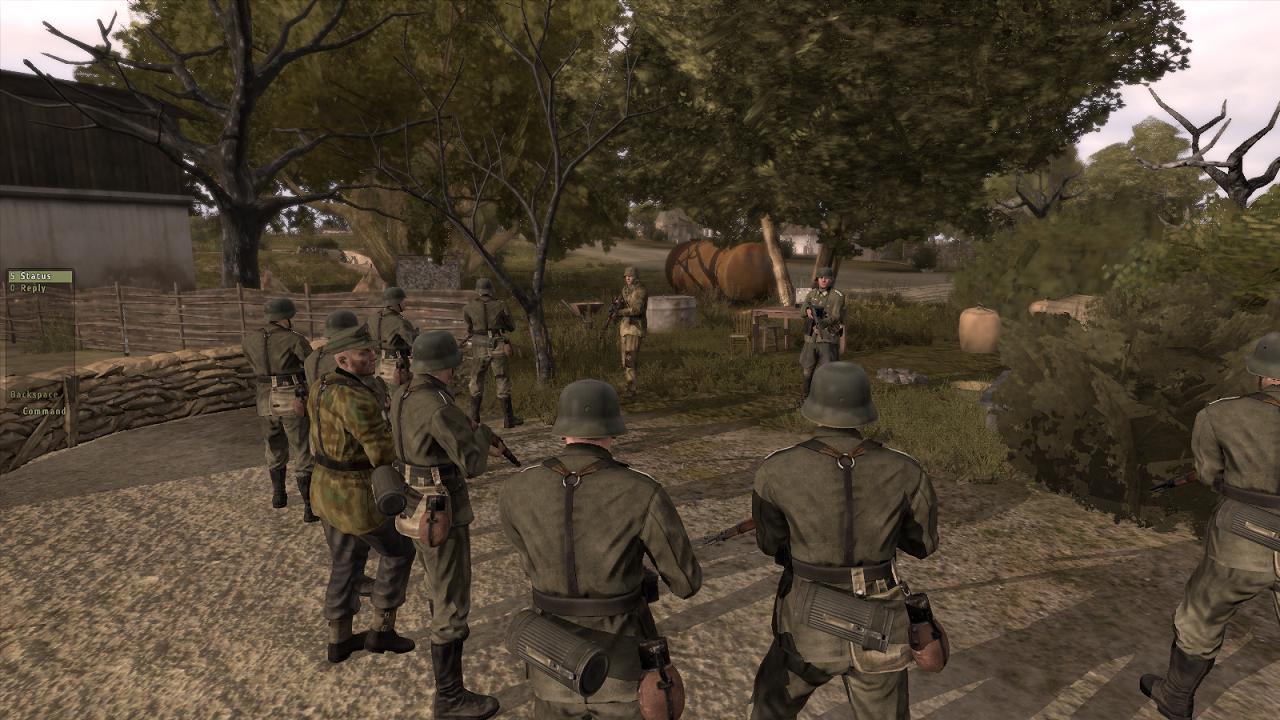 He'll learn the hard way, I'm thinking. At least he's wearing a steel helmet not a peaked cap, reminding us that Iron Front, like ARMA2, is visually and functionally a serious 'soldier sim' and not an arcade shooter. Sehr gut!
Not so 'sehr gut' followed shortly. I managed to stumble quickly enough onto the correct actions to obey my first order, which was to unhitch from the truck the Pak 40 7.5cm anti-tank gun we had brought with us. However, I gave up trying to work out how to push the gun into position. Evidently, I need a bit more practice in object manipulation, ARMA2-style.
Sooo...I needed to find a mission which doesn't overtax either my nascent team command skills or my nearly non-existent object manipulation skills. The one I settled on is called (somewhat unhappily, in these sometimes rather grim days) Beheading the Command - all the English text in Iron Front, like briefings, is a little whymsical. In short, I'm in the US Army, Normandy, July 1944. I'm a sniper, and me and my buddy must make our way across country into enemy territory. We are to go to a point where 'int' - or 'intel', I should be using US not British Army shorthand - tells us that we will find an important enemy commander. Our task once there, reasonably enough, is to kill him. Or 'neutralise' him, if you like. These days, western armies seem strangely reluctant to speak of killing anyone, as if they are scared that the Chattering Classes will think they are bad people, unworthy of their tax dollars. Not me. I'm with George Orwell, who's quoted as saying that we sleep safely in our beds at night because rough men stand ready to do violence on our behalf. Spot on, George.
Here's the mission map. Our starting point is marked 'You start here' in small green text, towards the top right. Our objective is near bottom left, marked in red crosshairs and orange rings. The spot labelled 'Meeting point' is where we are to meet a patrol on the way out, who will cover our withdrawal. Which is liable to be helpful, as the enemy are likely to be not best pleased if we succeed in bumping off their boss. Or maybe not; as one well-known senior British officer observed, few things cheer up the troops like seeing a dead general from time to time.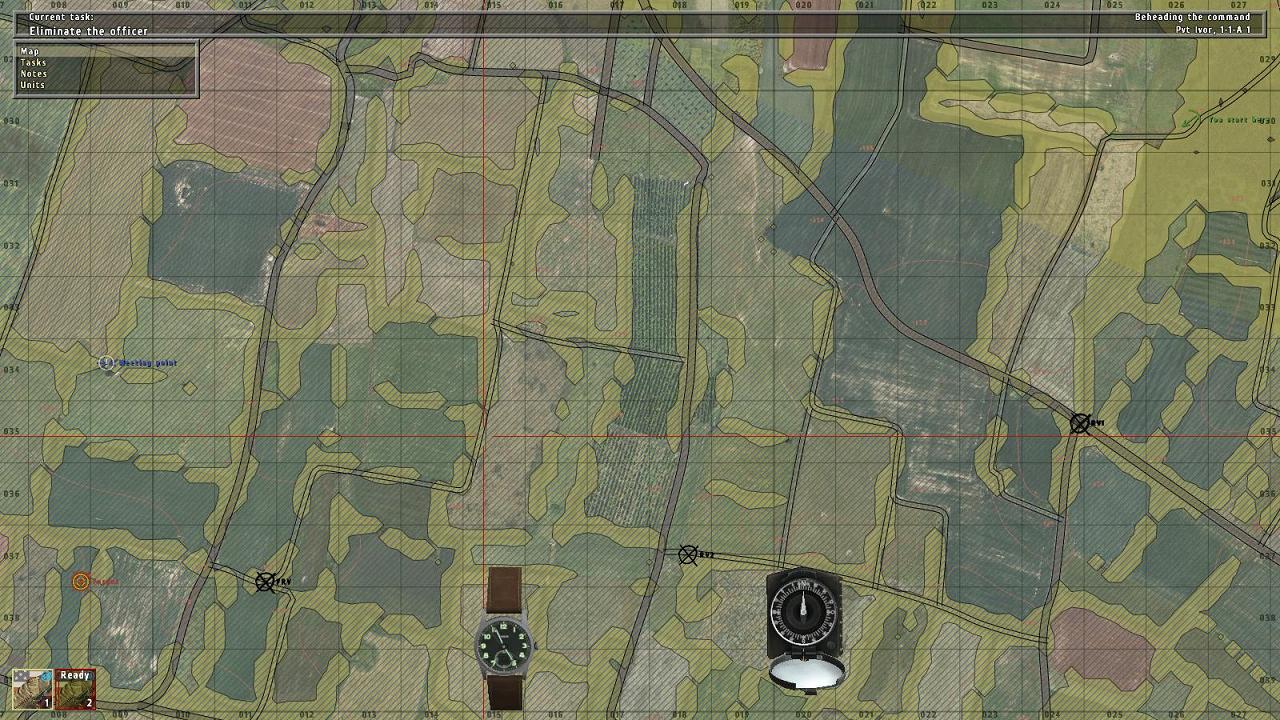 Remembering at least some of what I learned all those years back, I have marked on the map some rendezvous points, in black - RV1, RV2, and FRV for Final RV (final, before the objective). I could have plotted other stuff like compass bearings between each RV but it's a fairly simple route, just west of due south on the first leg then close to due west on the last two; then north, to get out of it. The most important thing is to site the RVs where there's some cover and on, or hard by, physical features I can recognise on the ground, so that I will know when I'm there.
So, how did I actually get on? We'll make a start on that, next.
...to be continued!