Richard Stachel's quest for glory continues, apace!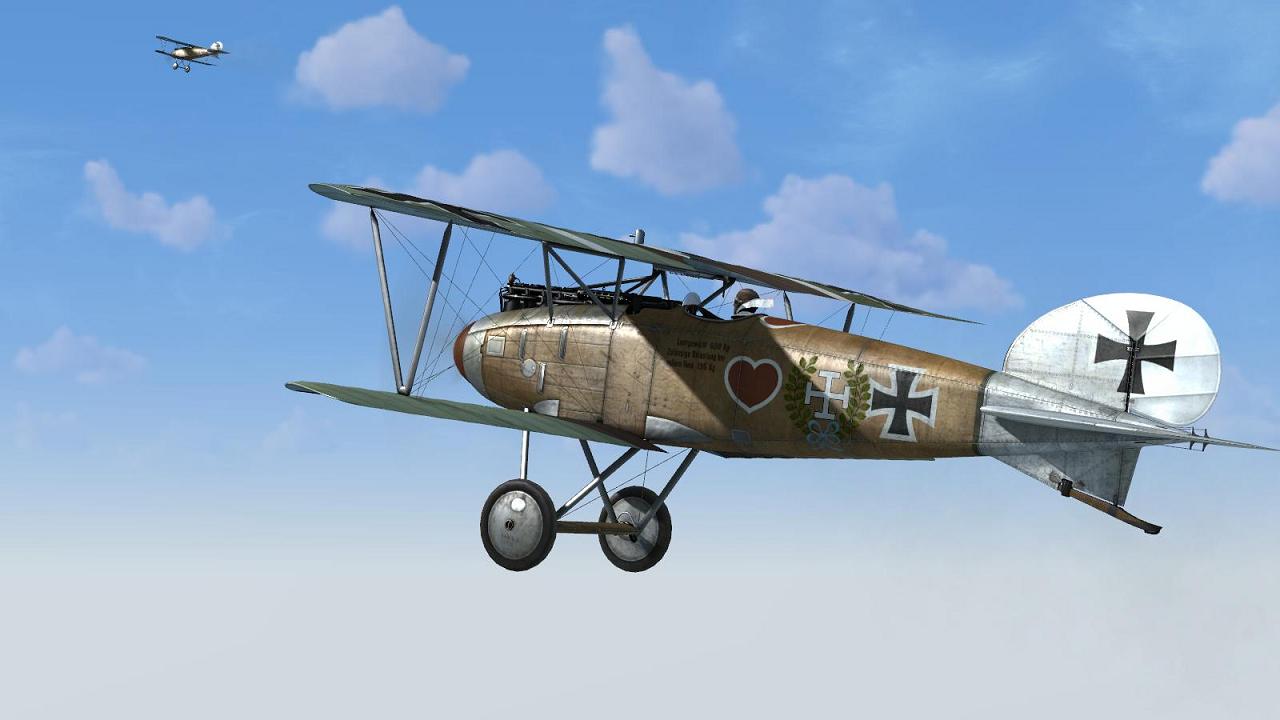 It's been a long time since I kept up with the mission reports all the way through a campaign. But I think I'll make an exception and follow my PWCG/RoF career flying as Richard Stachel for Jasta Boelcke; in between such other reports that take my fancy.
Will Richard beat his more famous brother Bruno to the Blue Max? If you want to find out, read on - and watch out for further installments!
Here's the PWCG briefing for my third mission, the date having advanced to 7th April. I have been tasked with leading a patrol up to the lines near Foncquevillers. Although we don't know it, we are a couple of days away from the start of the big British push that will become known as the Battle of Arras. You can see the town of that name just west of the lines, somewhat north of our patrol route.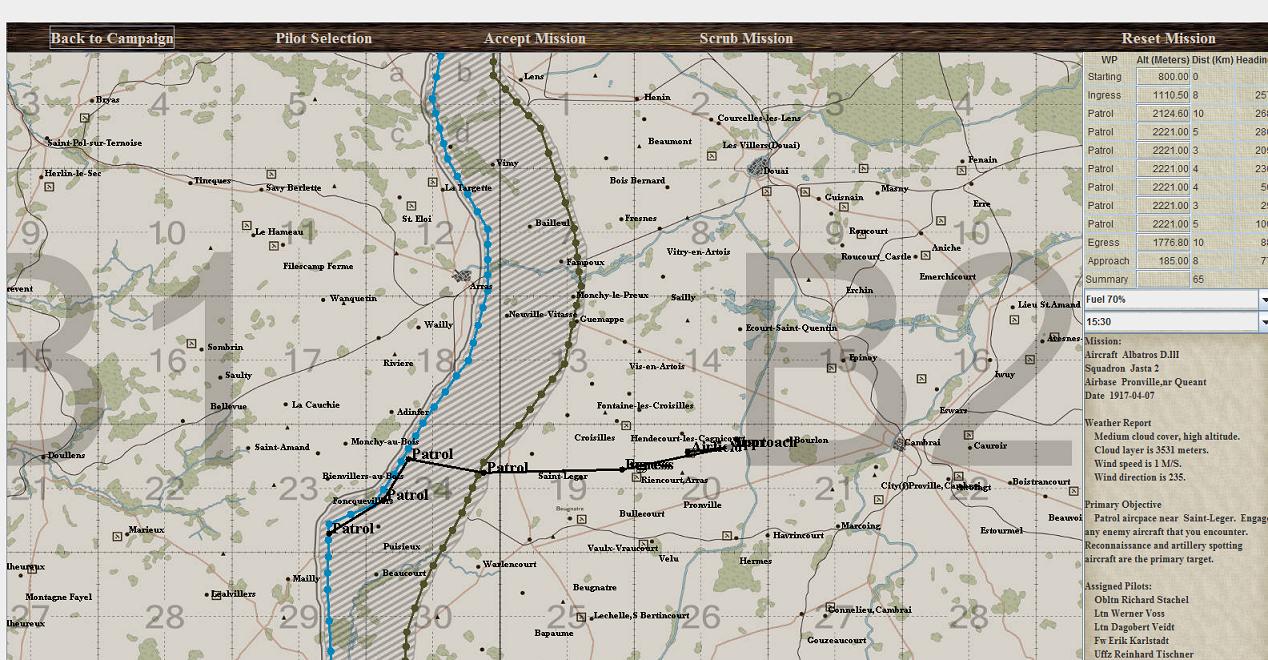 I don't know if PWCG/RoF will reflect the battle in any way, for example in terms of levels of ground or air activity. I have but an early Core 2 Quad PC and a 1Gb GTS 250 which nevertheless enables me to have graphics settings quite high, but so as not to push it, I keep ground object density (in PWCG) set to low. Nor have I activated the 'moving front' option. Wings over Flanders Fields has several variants of the lines to suit different phases of the war, but like First Eagles, I think the trenchlines are visually static in Rise of Flight, with the 'moving front' changing the territory occupied by each side, not the in-game visual or map representation of the front.
I decided to go with the five aircraft allocated, and didn't need to swap pilots to get to lead, as I am the senior officer detailed for the patrol. One of the neat features of the First Eagles campaigns is that replacements can be slow to arrive and in picking pilots for each mission, you need to strike the right balance between having a strong enough force in the air and conserving staffel strength.At any rate, German staffels were smaller than RFC/RAF squadrons and in PWCG/RoF, it's probably realistic enough that we are putting one patrol into the air, at any point in time.
Here we are, lined up and ready to start engines. Once my motor's running, my pilot will automatically wave his hand above his head and the others will then start up, too. You can see to my right is no less than Verner Voss in his colourfully-marked machine. This should probably be an earlier model built by the parent firm rather than OAW, with the straight rudder. You can see that the white swastika/hakenkreuz marking has been 'Bowdlerised', for obvious reasons. The reason the lighting is dull is because we're under the moving shadow of a cloud.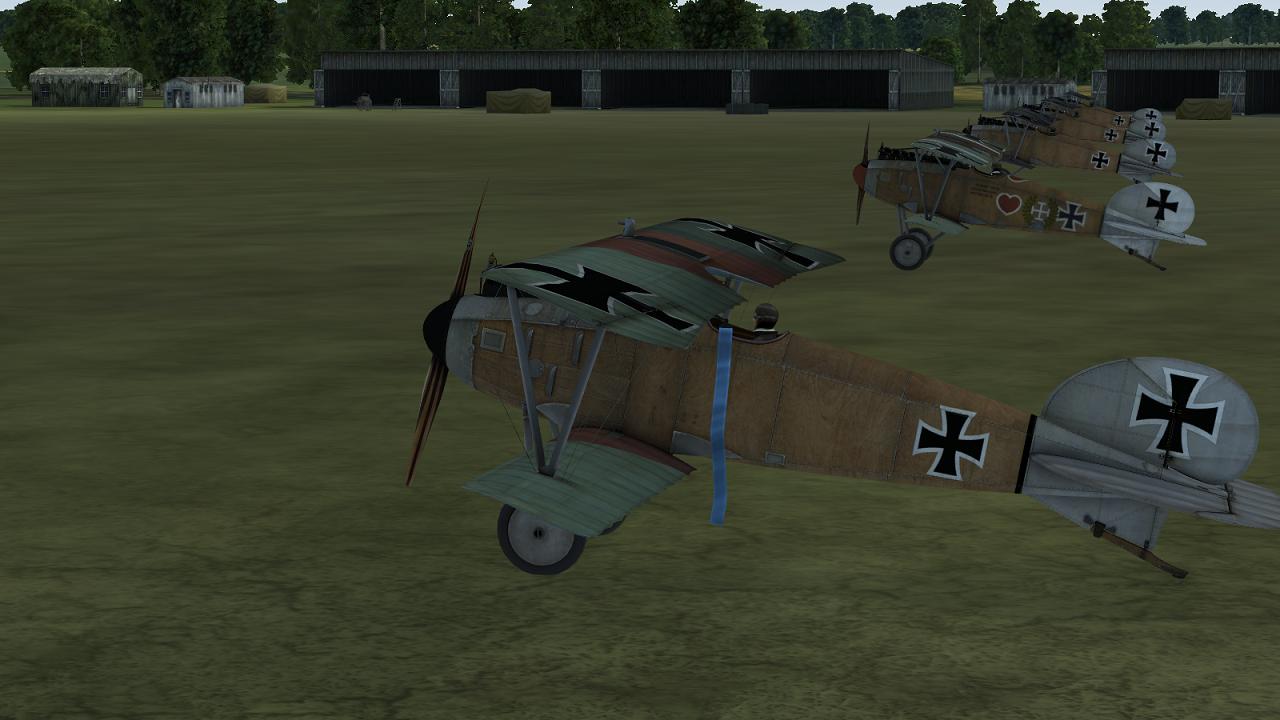 This time, I make a greater effort not to drift to the left on takeoff and succeed, possibly as there's less of a crosswind. I'm also beginning to learn that I can allow my machine to fly itself off the ground, if I avoid flying like 'heavy-handed Hans'. 2
I begin a left hand circuit to let the others catch up, with the little of village of Pronville, from our base which takes its name, a short distance away.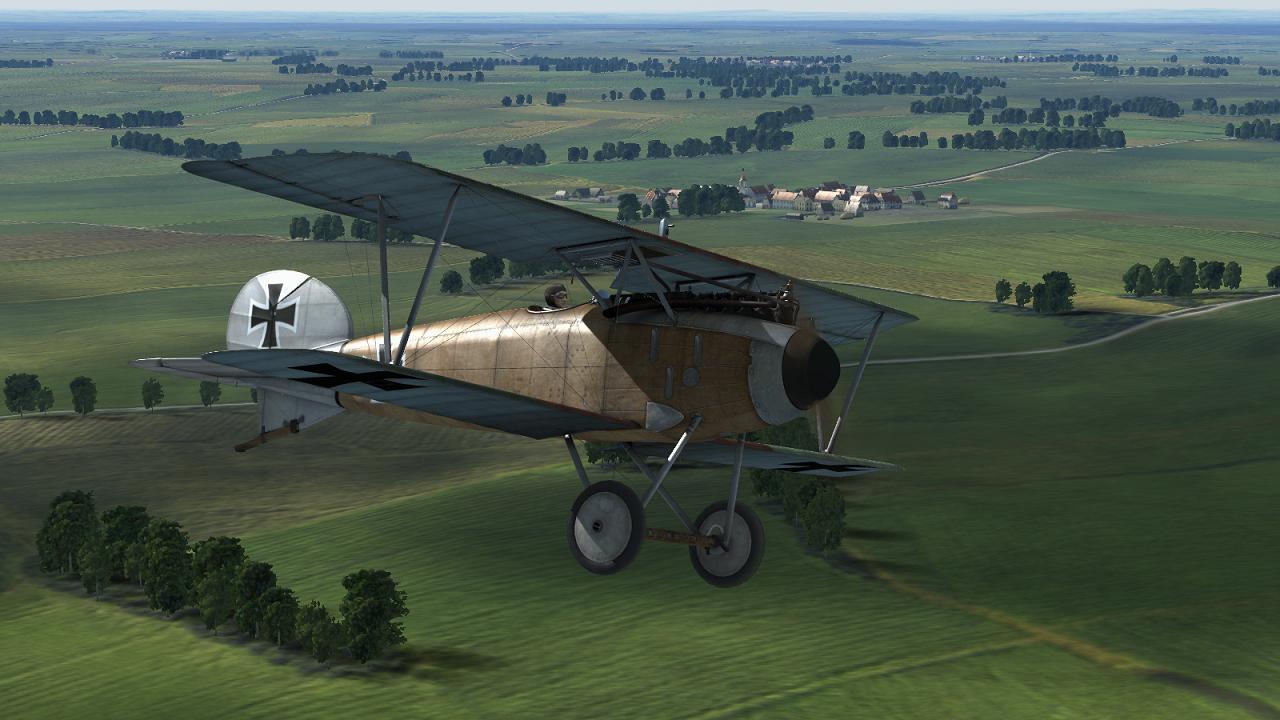 I have settled for an echelon right formation, in part because this gives me more space to turn hard to the left, if need should arise. In that sense, I am following the pattern noted by WW2 USAAF P-47 ace Robert S. Johnston, who observed that enemy fighters he suprised from behind usually broke left, perhaps because that was more natural to right-handed pilots 1.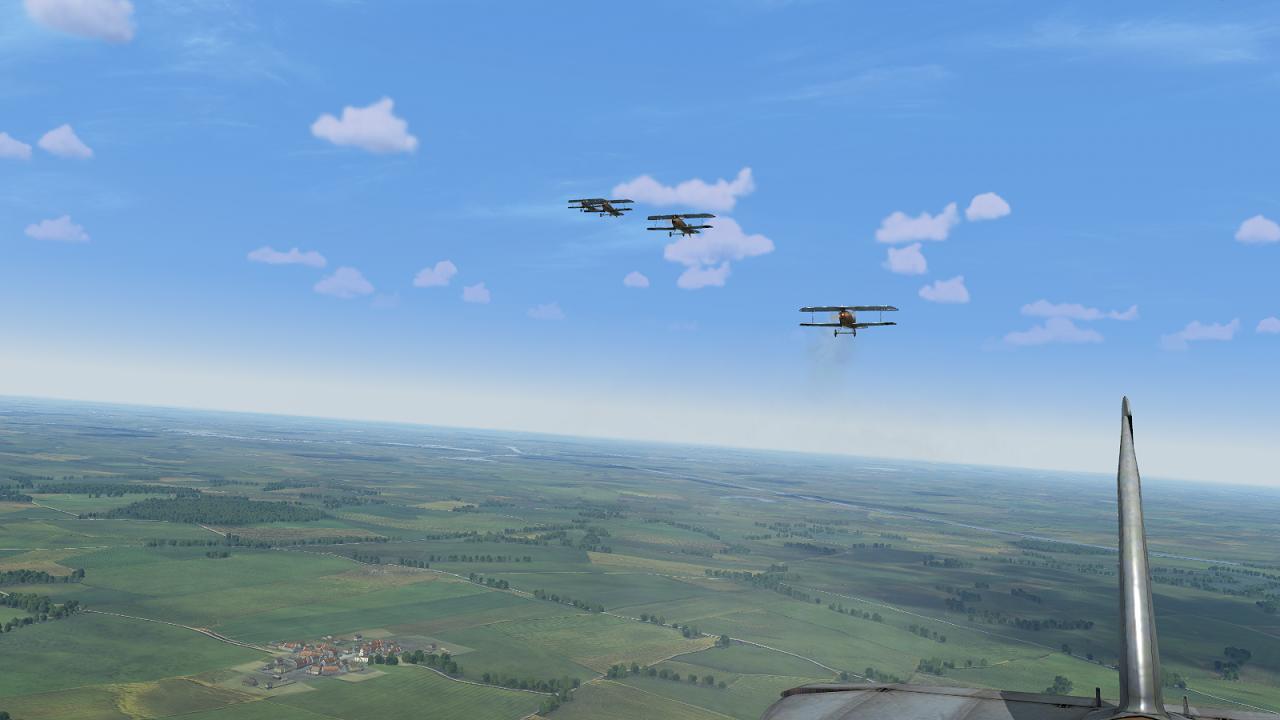 One of the nice things about this campaign is that flight time to the front is quite short, enabling everything to be flown comfortably in real time, with no resort to time acceleration. It also helps that by default, our patrol altitudes are quite low - in the order of 2,000 metres.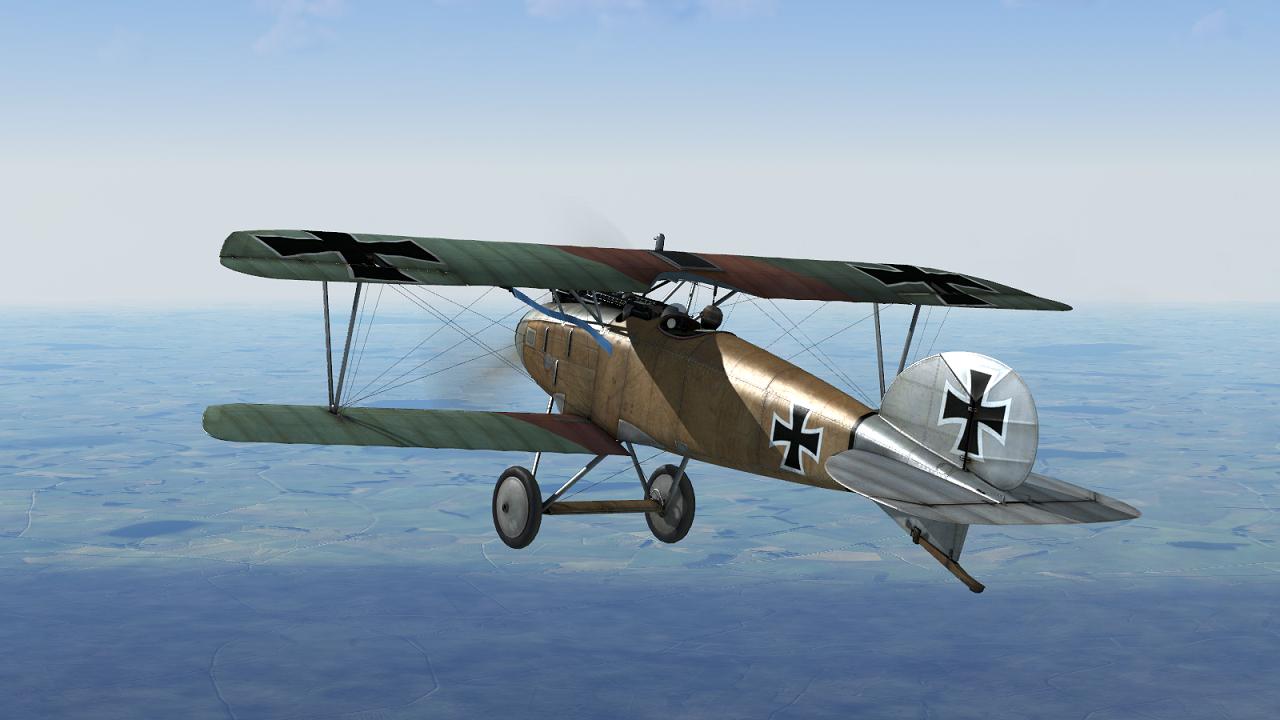 We have hardly reached the front when I observe a line of aircraft heading our way, somewhat higher up. I turn anxiously towards them, climbing hard. If they are enemy scouts, this is going to be a rather dangerous start to the mission. I try to padlock the nearest and fail, realising why as they pass over and I get a good look at them from below. They are five Albatrosses, like our own.
I use the RoF view system to lock onto one and get a screenshot. I don't recognise the yellow markings; Jasta 10 was known for this colour on its Albatrosses and Pfalzes so perhaps it's them. As you will have gathered, I neglected to check in PWCG which other units were operating in our area!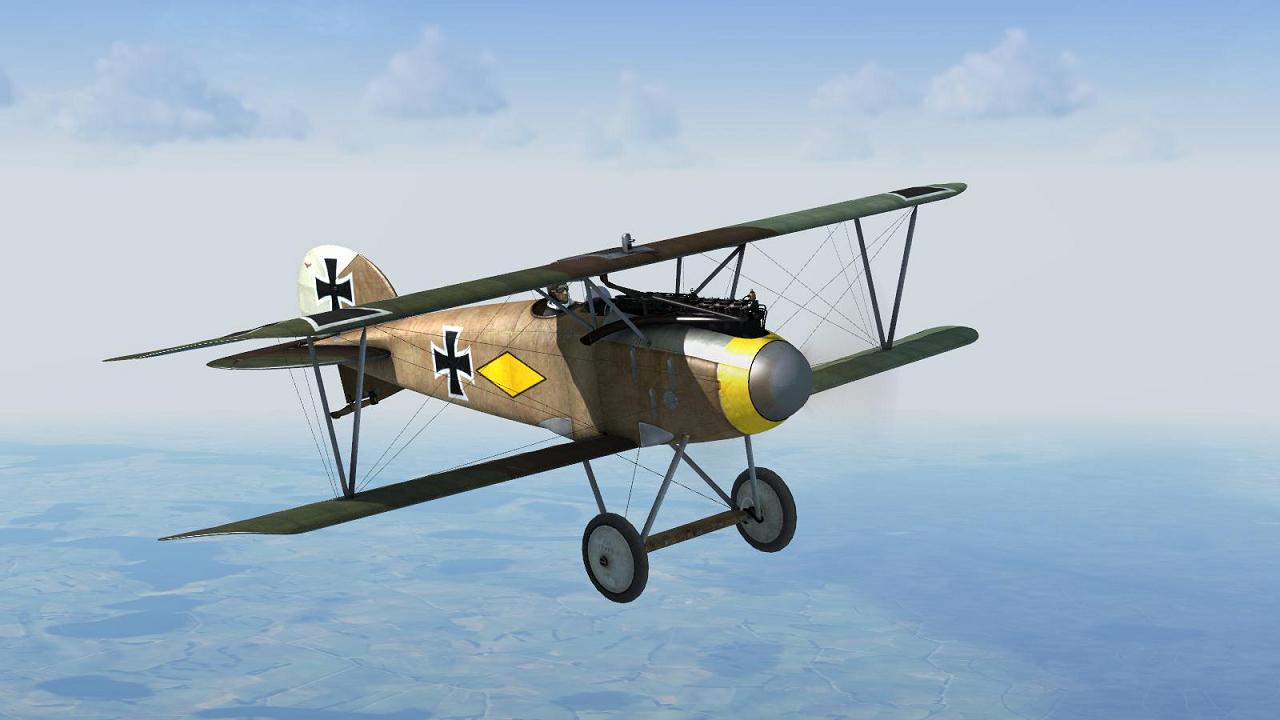 We don't have to wait too long for the real enemy to show up, however, and this time, I padlock him just fine. He's coming right at us and it's only as we close that another one, hidden by my upper wing, comes into view - there are two of them.
I get off a few rounds head on and then come hard around after my chosen target. The two Englishmen are in Sopwith Pups. Our formation breaks up to attack them and I stay above the scrap. Three of my comrades go for one of the Sopwiths, the last one for the other, the one I'm watching now. After some twisting and turning, the Sopwith goes one way, the Albatross the other, so now it's my turn. I drop onto the enemy's tail and begin shooting.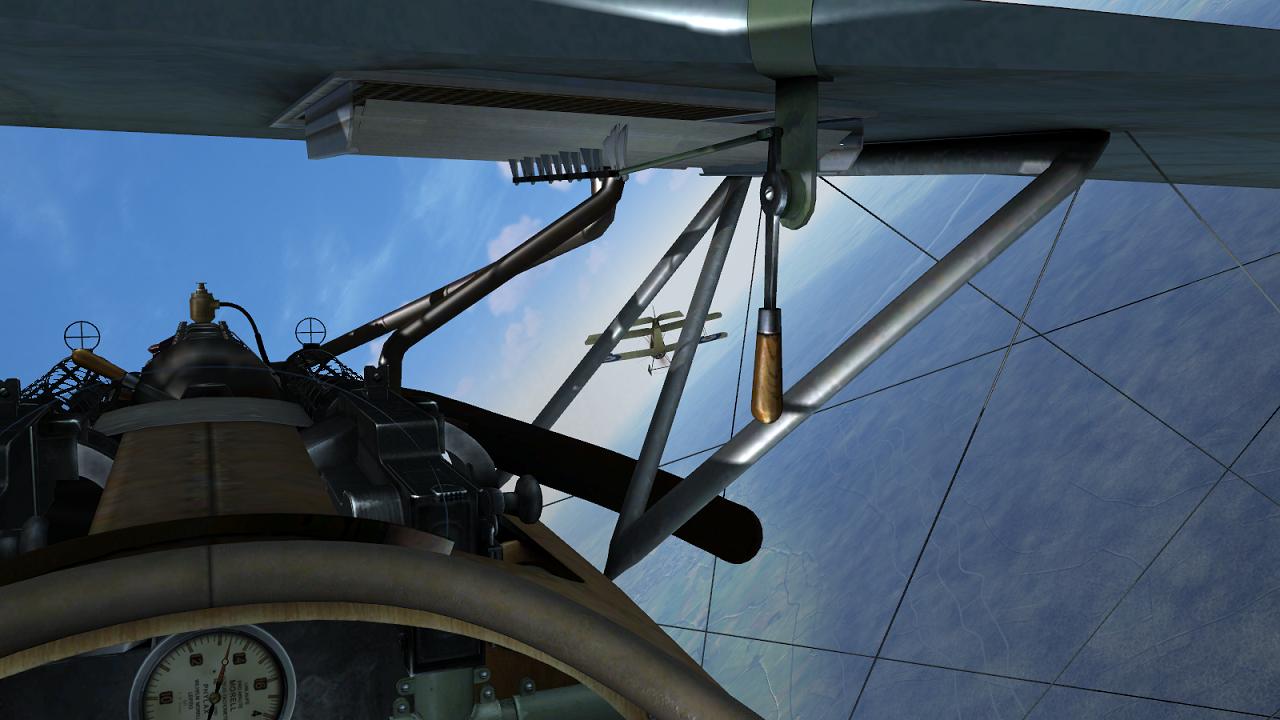 He can turn inside me easily enough, but I stay above and behind him, until I can make another pass, with a wary eye behind - not so much for anothe enemy, but for flight-mates attacking recklessly, as is their wont. Instead of the slow-firing 'pop-pop-pop gun' described by Pup pilot Arthur Gould Lee 3, I have two faster-firing MGs and their fire soon takes effect. The Sopwith's prop spins to a halt, then his right-hand wing strtcture collapses and tears away.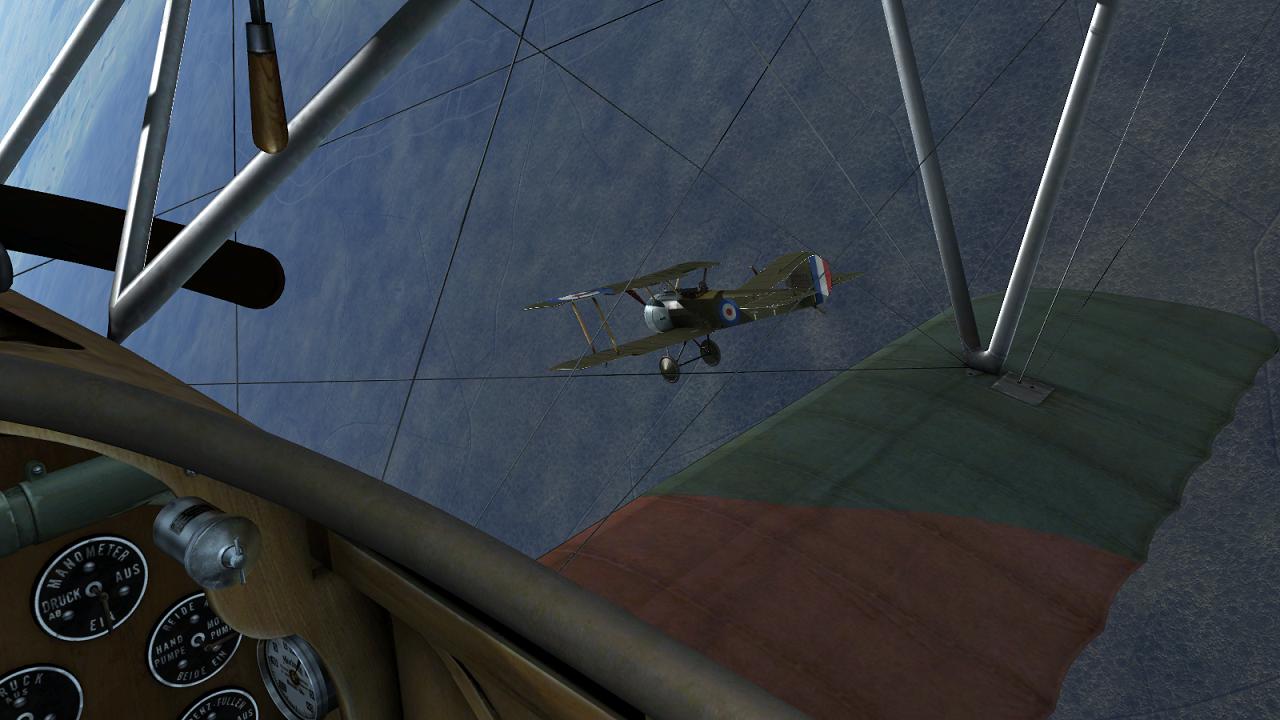 I look around for the other enemy and see him well below, still fighting against three Albatrosses. Suddenly, it's two Albatrosses; one of my flight makes an unusual movement then falls away, trailing white smoke. I can only hope that my comrade will get down in one piece and, if he force-lands between the trenches, make it back to our side of the lines.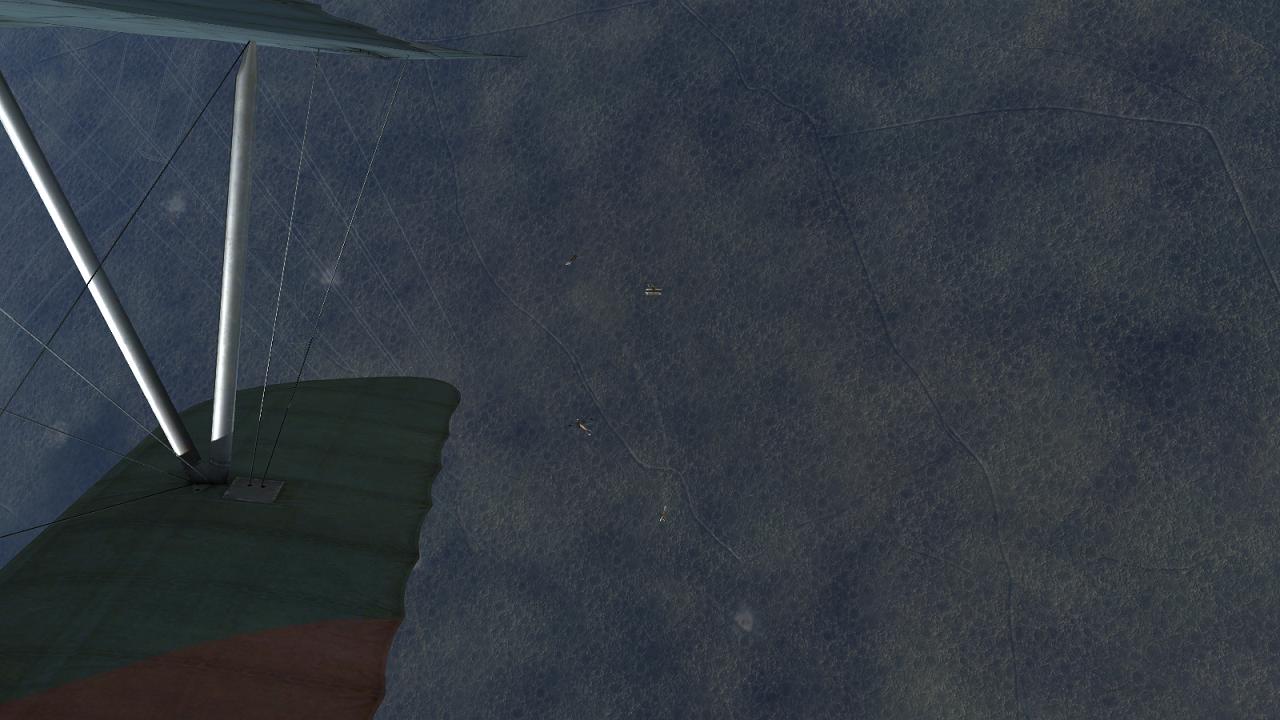 The others waste no more time in exacting retribution, and soon the Sopwith is shot down, too.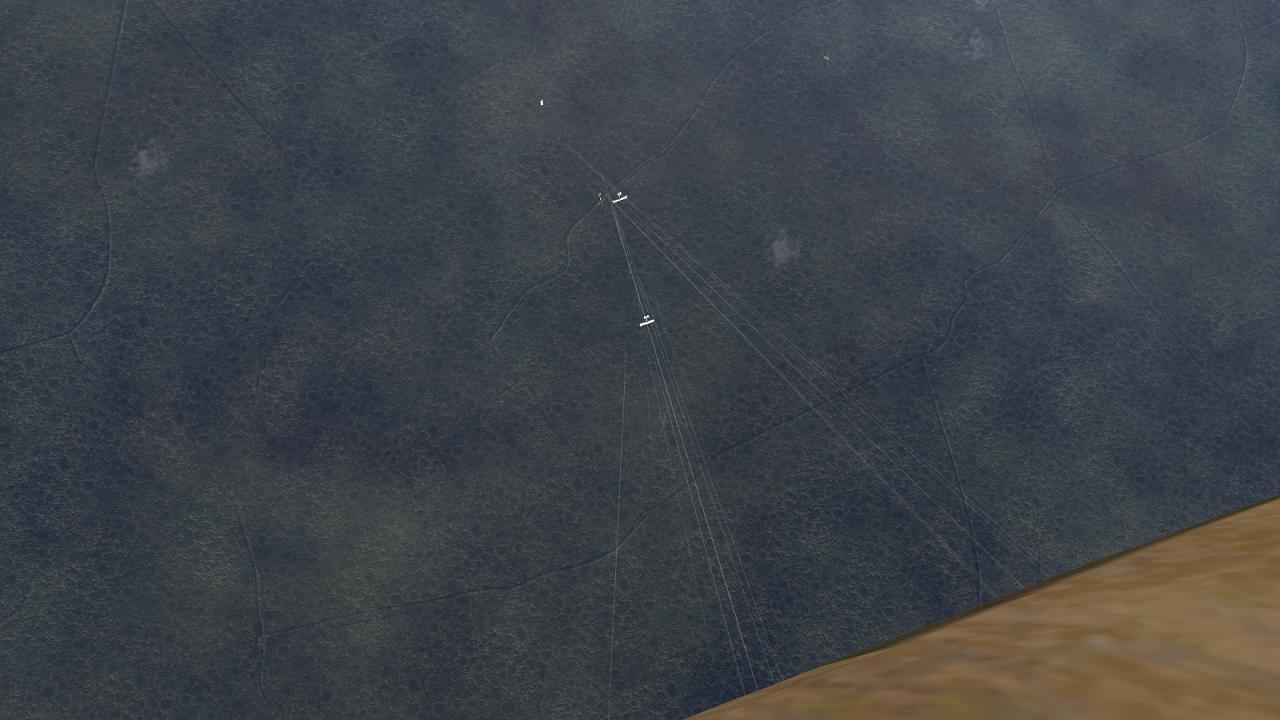 As usual after a fight, I begin a spiral climb to clear my tail and assess the situation. I throttle back as I see my flight-mates begin to spiral up after me.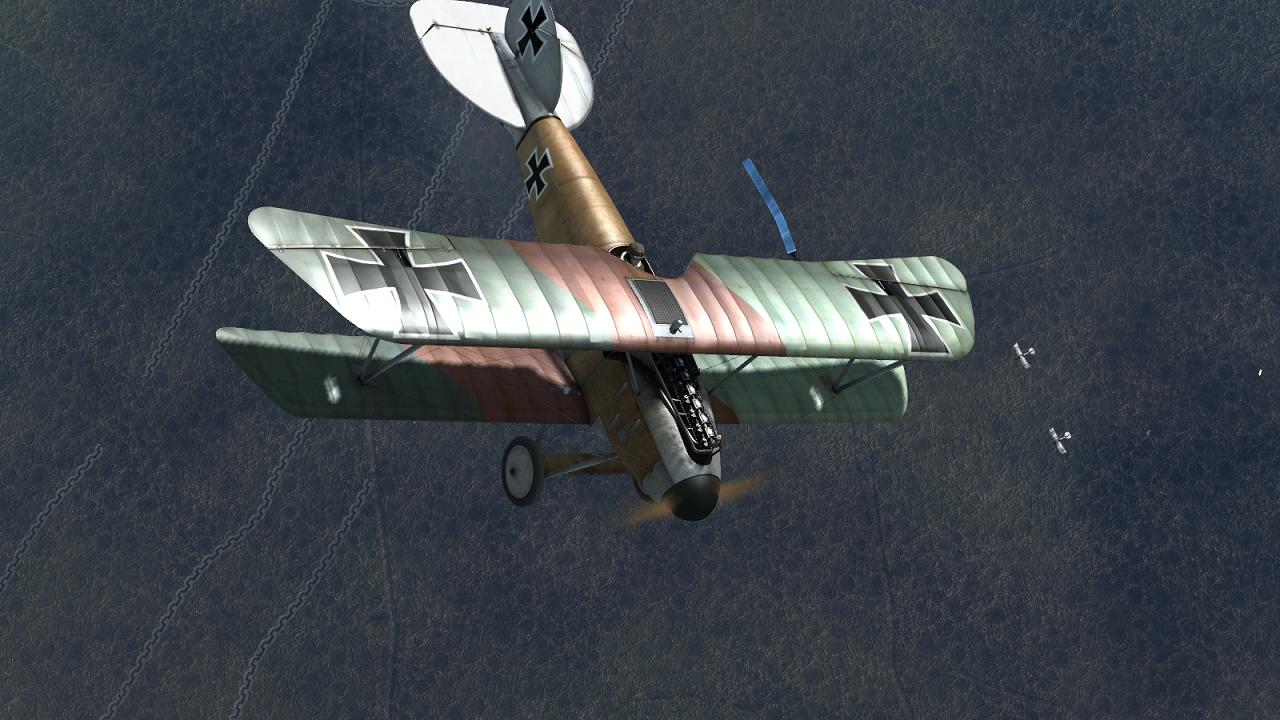 They seem a bit slow to rejoin formation so I give the recall order, firing a green flare which bursts astern, lighting up my machine. Almost certainly that was superfluous, but they can't fail to get the message now!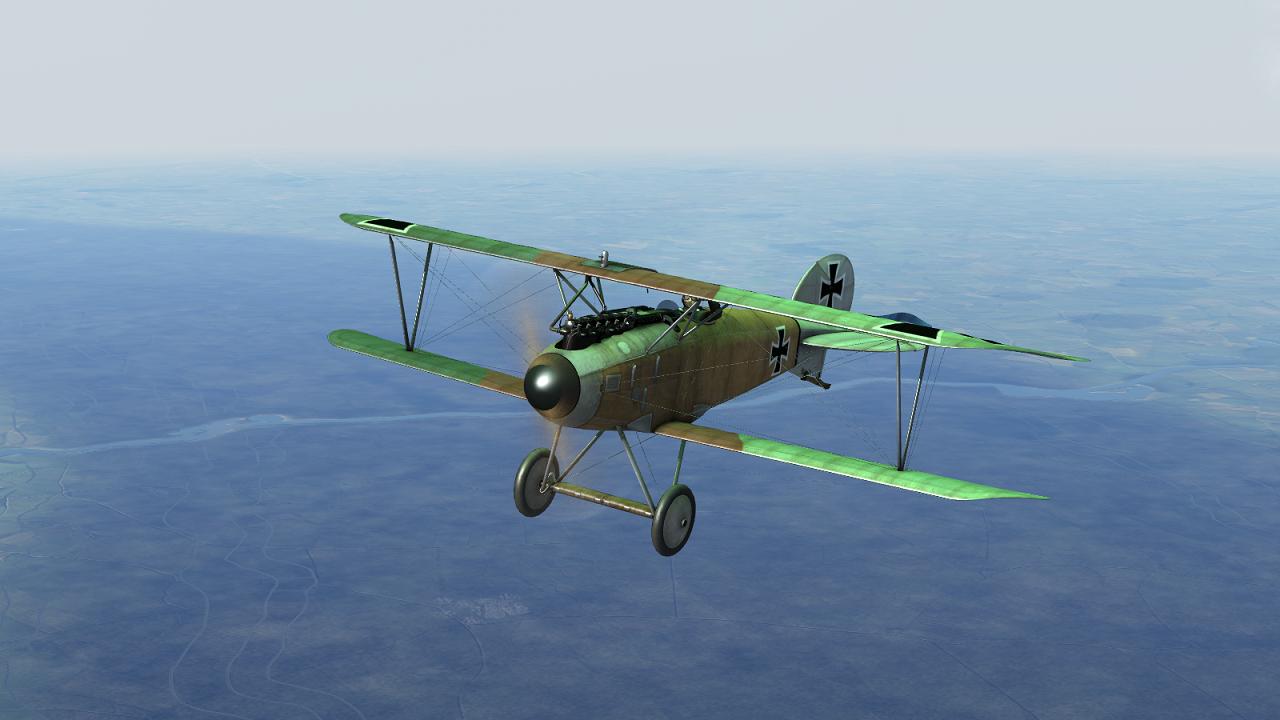 However, instead of rejoining, my flight-mates seem even more hesitant. Now what?
I know instinctively what the answer must be and look behind, where it must surely lie. And there they are - two pusher-type fighters, known by the Germans as Vickers but in this case, DH2s, are falling like a pair of hawks onto my comrades below.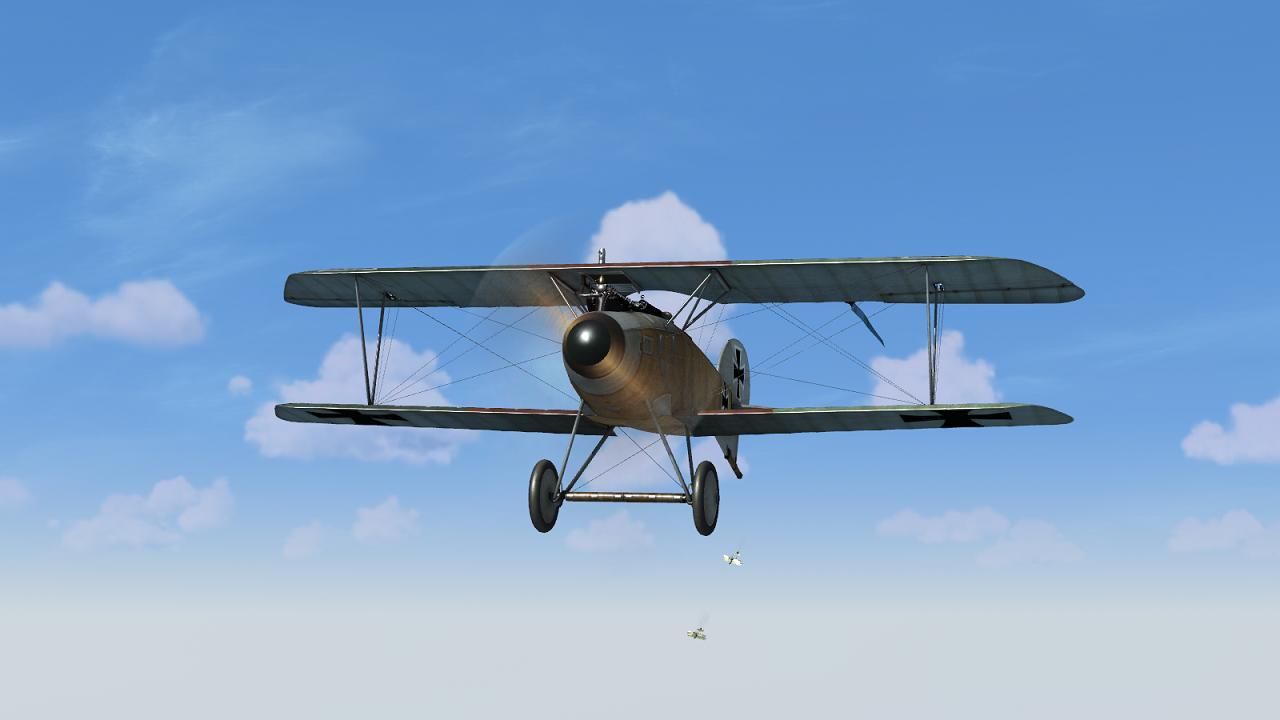 Naturally, I bank around after them. You can see what I mean, about how much farther away planes can look from the cockpit view. They are three against two but the sooner I get over there and into action against those impertinent Englishmen, the happier I will be!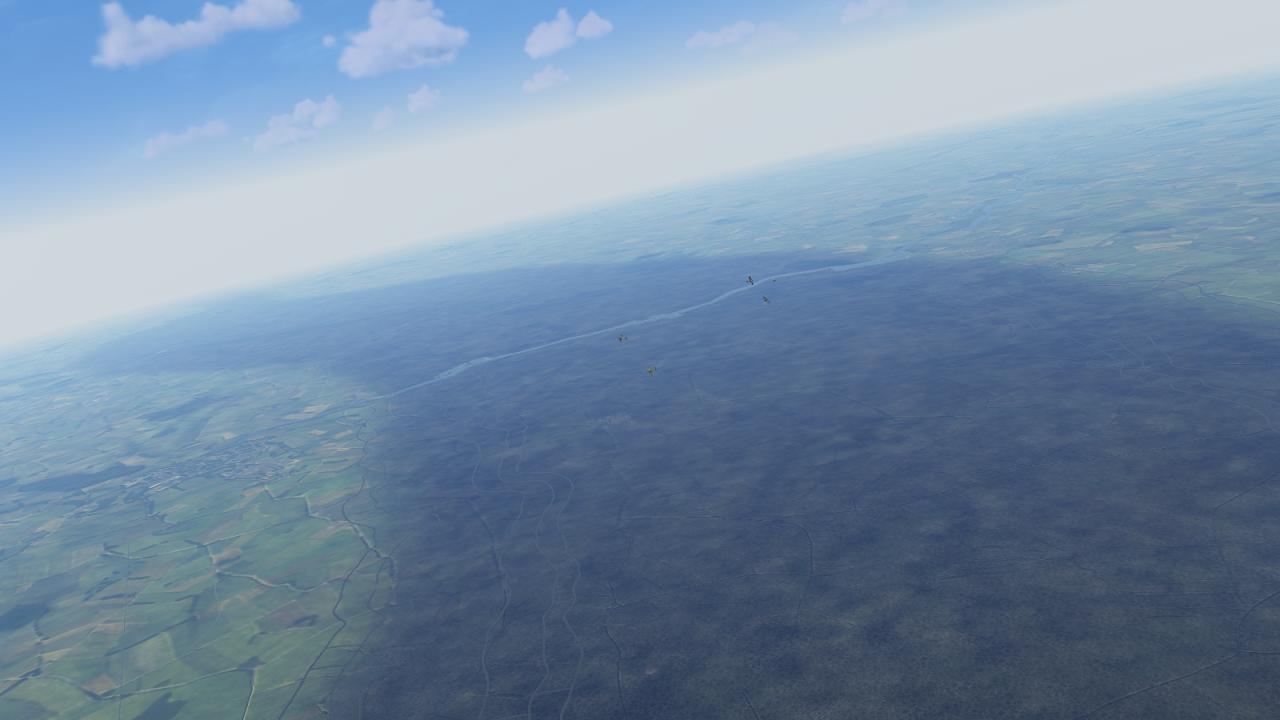 ...to be continued!
1. Recounted by Martin Caidin in Me 109, Purnell, 1969
2. Heavy-handed Hans flies Halberstadts
In handy Halberstadters, for a flight our Hans does start
His CO says 'Oh dash it! For I fear that he will crash it!'
See how heavy-handed Hans ham-handles handy Halberstadts!
Royal Flying Corps song, c.1917
3. No Parachute and Open Cockpit