The famous aviation pioneer's aircraft come to life in Wings over Flanders Fields!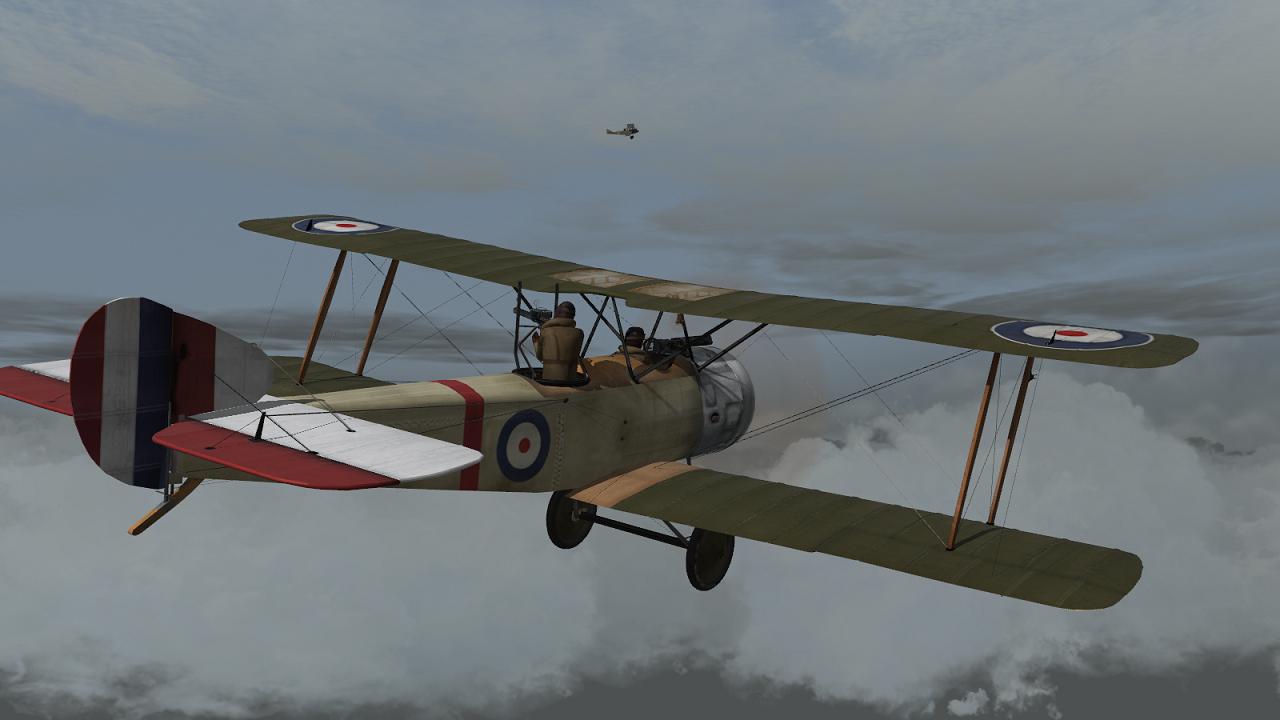 In between reporting on my current career in a certain other WW1 sim, I decided I would add a bit of variety within the same wire-and-fabric theme. So this is the first of what will be a series of reports on single player campaign missions flown in Wings over Flanders Fields in the aircraft of T.O.M. Sopwith.
Thomas Octave Murdoch Sopwith was one of the shining stars of early British aviation. Nearly everyone has heard of the Sopwith Camel, but as most aviation-minded people know, this was just one of the many great designs he's associated with. Many of these were mainstays of the British war effort in WW1, and consequently feature in most air combat simulators of that period.
As well as the One-and-a-half Strutter illustrated at the start of this thread, WoFF features the following Sopwith aircraft:
Single seat Strutter bomber: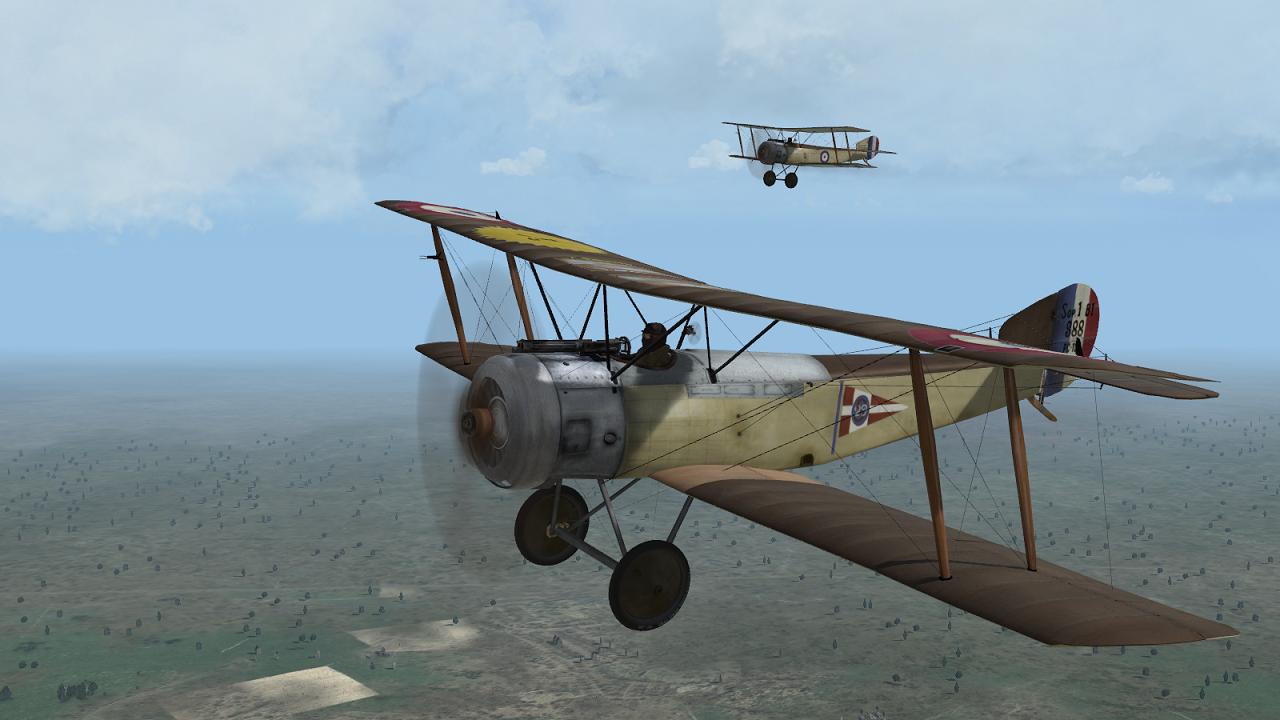 Pup: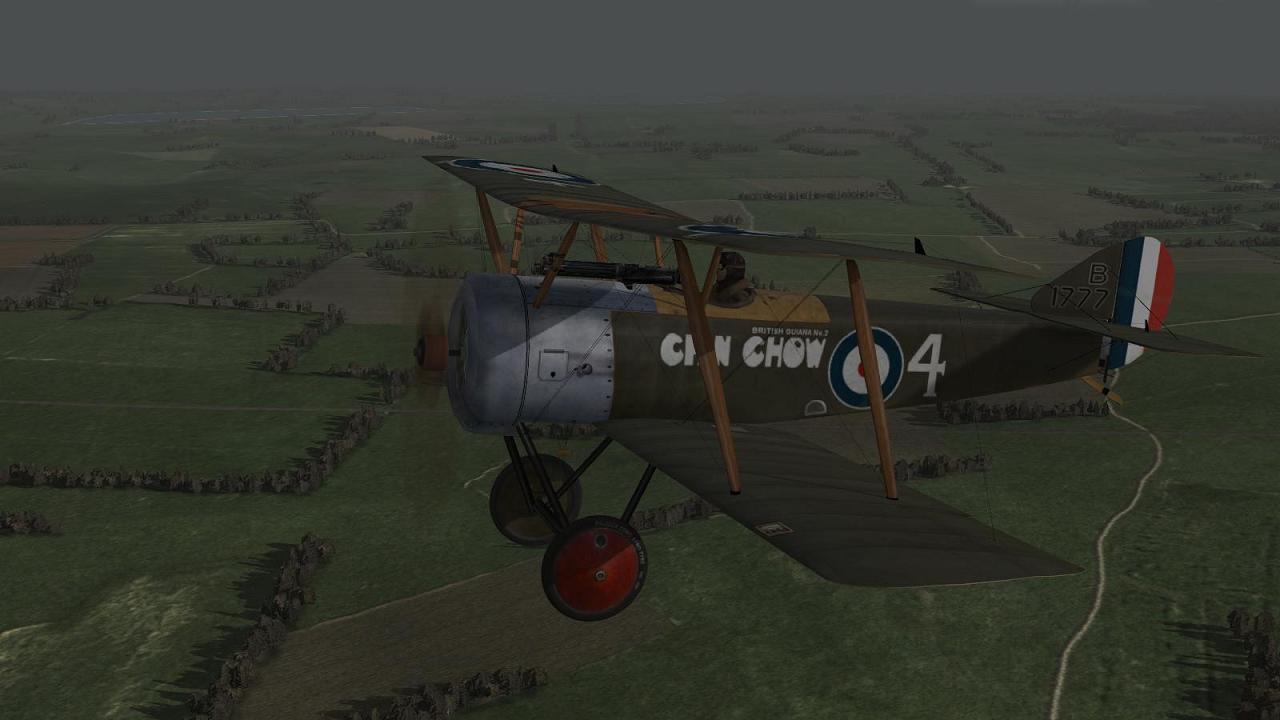 Triplane (including a non-standard, two-gun version):
Camel: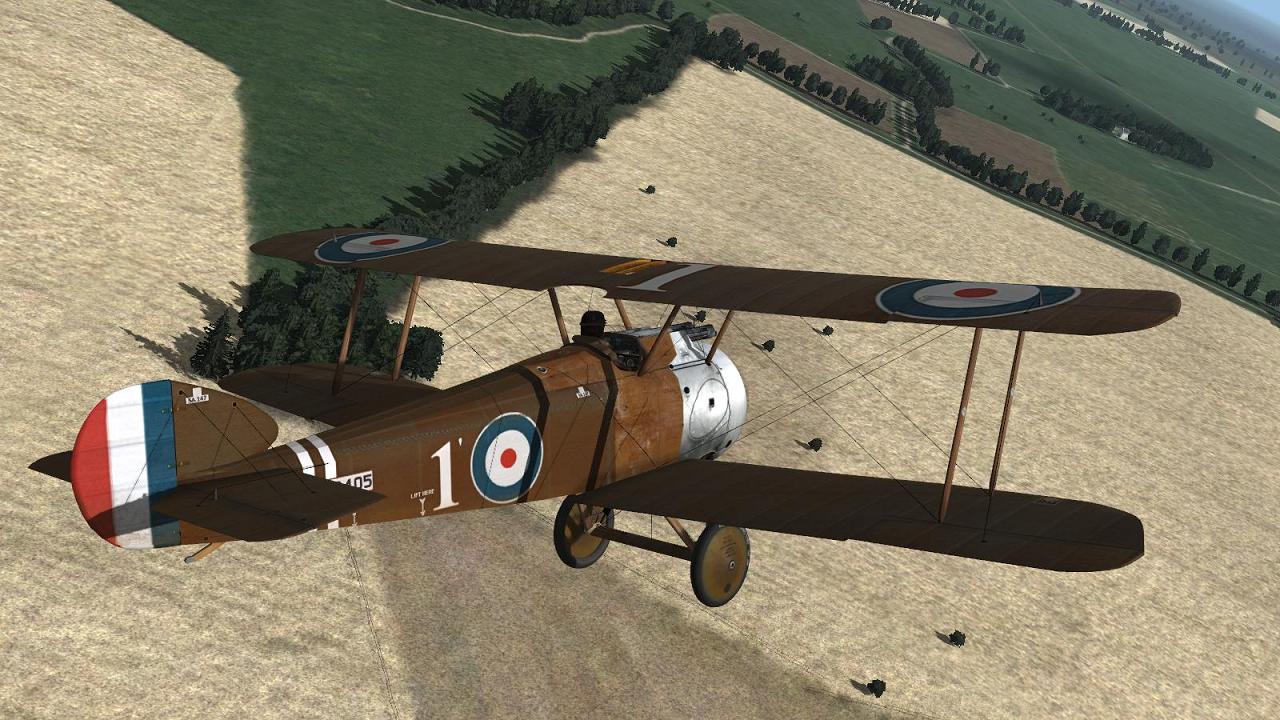 Snipe: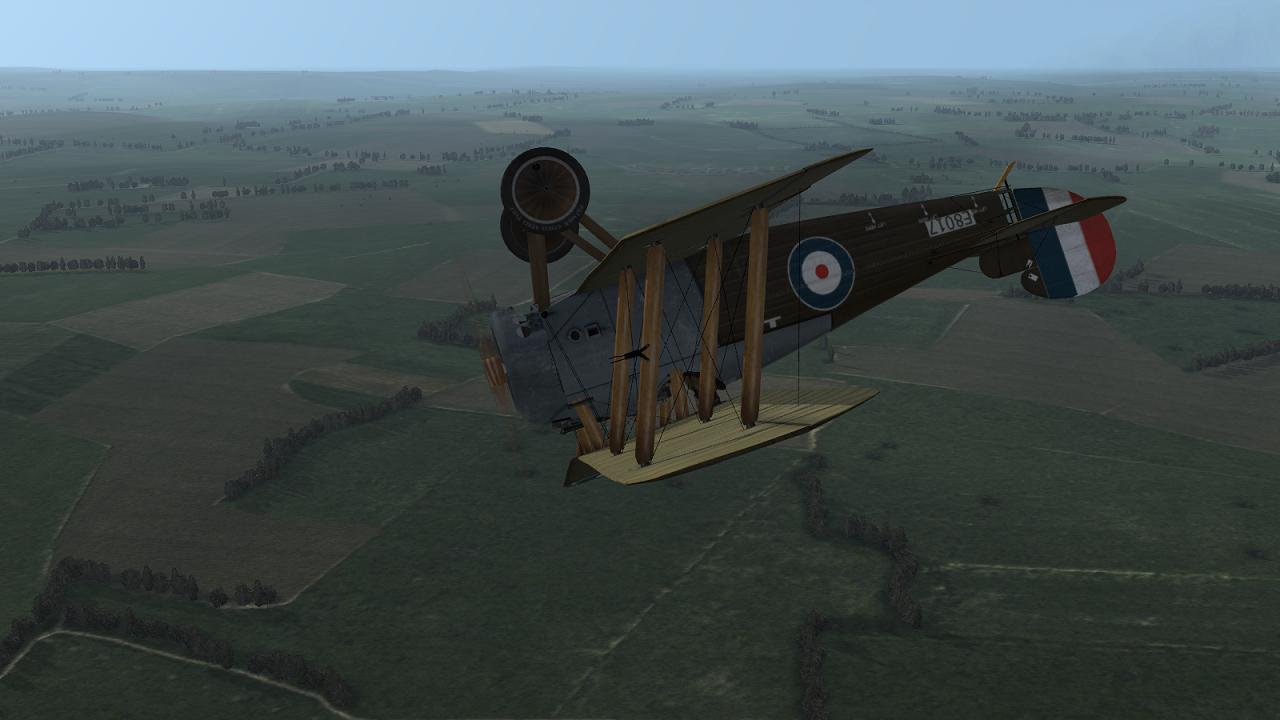 ...and a Snipe the right way up: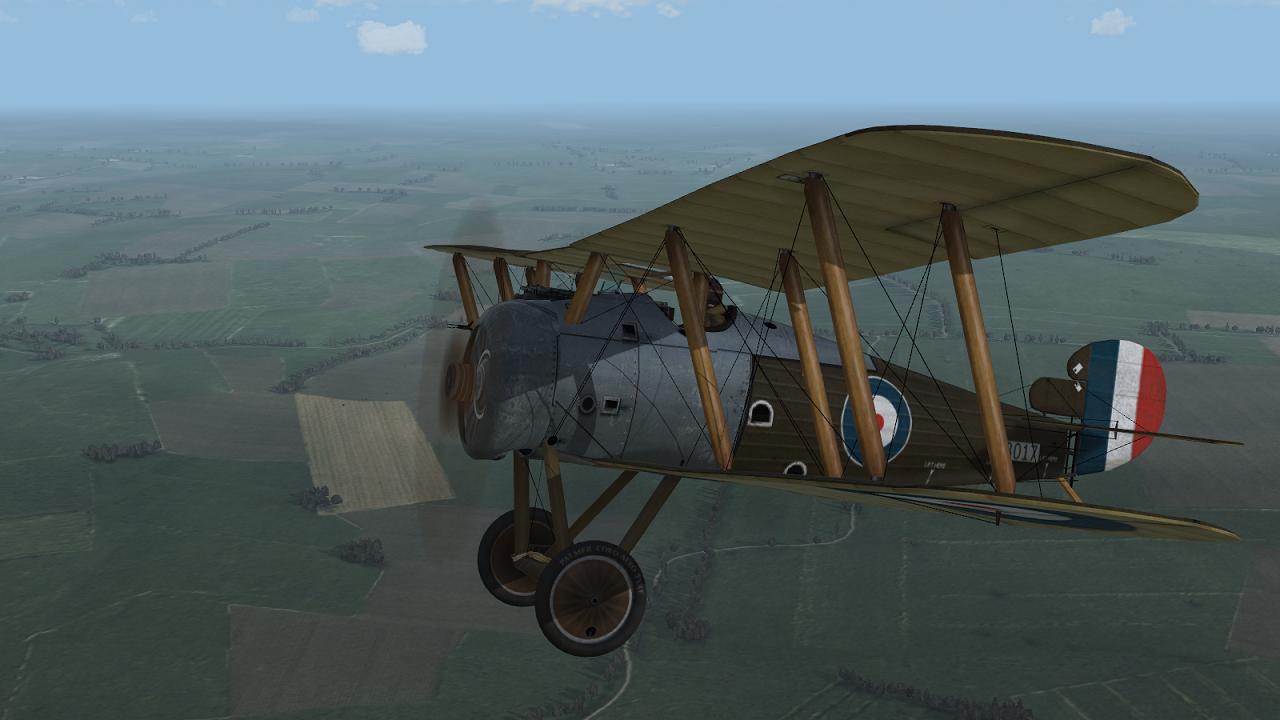 So, we have a good deal of ground - or should that be, air? - to cover. Let's make a start with the Sopwith One-and-a-half Strutter, so called apparently because each set of centre-section struts consisted of one short and one long strut.
The campaign
This first report features two missions in what turned out to be a brief campaign flying two-seat Strutters with 45 Squadron, Royal Flying Corps. This is the unit featured in Norman Macmillan's war memoir Into the Blue, which was the inspiration for parallel Strutter campaigns flown in First Eagles 2 and WoFF's predecessor Over Flanders Fields, which you can read about here. The Strutter is now also available in Rise of Flight, but that's a plane I don't yet have, in that sim.
I elected to start in April 1917, at the time of the lowest period in the RFC's fortunes. The previous year, it had been very different. The Strutter had helped to cement the air superiority gained, in time for the famous Battle of the Somme, after the Fokker Scourge had been weathered then countered. Even allowing for the use of crude speaking tubes, the Strutter's pilot and observer sat rather far apart for effective co-ordination. But they had a machine gun each, including a Vickers synchronised to fire through the propeller arc. And the observer sat in the rear, where his Lewis Gun had a much better field of fire than in the Royal Aircraft Factory's BE.2. WW1 British aircraft procurement policy is worth a book or two in its own right, but the Sopwith design seems so much more effective as a combat aeroplane that it's hard to understand why the RFC persevered with the BE types. Some say there was an antipathy against private companies rather than the state-owned Factory, others that it was more a case of ordering whatever could be built in sufficient numbers, or a failure to understand, anticipate or react quickly enough to front-line requirements.
The Admiralty seemed to have had less difficulties or hang-ups in this field and it was the Royal Naval Air Service that really saw the benefits of Sopwiths designs and placed its orders accordingly. The Army's RFC also got Strutters, though by the time of this campaign, they were - if still superior to the BEs - highly vulnerable to the new, powerful, twin-gunned German scouts. Despite this, Strutter sqaudrons were still expected to escort their own reconnaisance missions, and often flew the same sort of patrols as the single seat fighters, then called 'scouts'. It is into these difficult and dangerous times that I have plunged my virtual crew for this campaign.
The first mission
At this point in the war, 45 Squadron is based at St Marie Cappel, well north of the Battle of Arras but not immune to the same dangers faced down there. We are quite a way behind the lines. Checking the squadron orders for the day, I find that my first mission is to be a patrol up to the lines near Ypres, or 'Wipers' as the Tommies called it. I'm in 'B' Flight and there's just us and one other crew on this show. Four machines in 'A' Flight are said to be flying 'top cover' but in the cloudy conditions, maintaining touch will be next to impossible. I feel anxious about this but there's nothing I can do but start up, check my controls and take off; if I sit here any longer I will just 'get the wind up'. The chaps in 'A' Flight seem less bothered and get off ahead of us.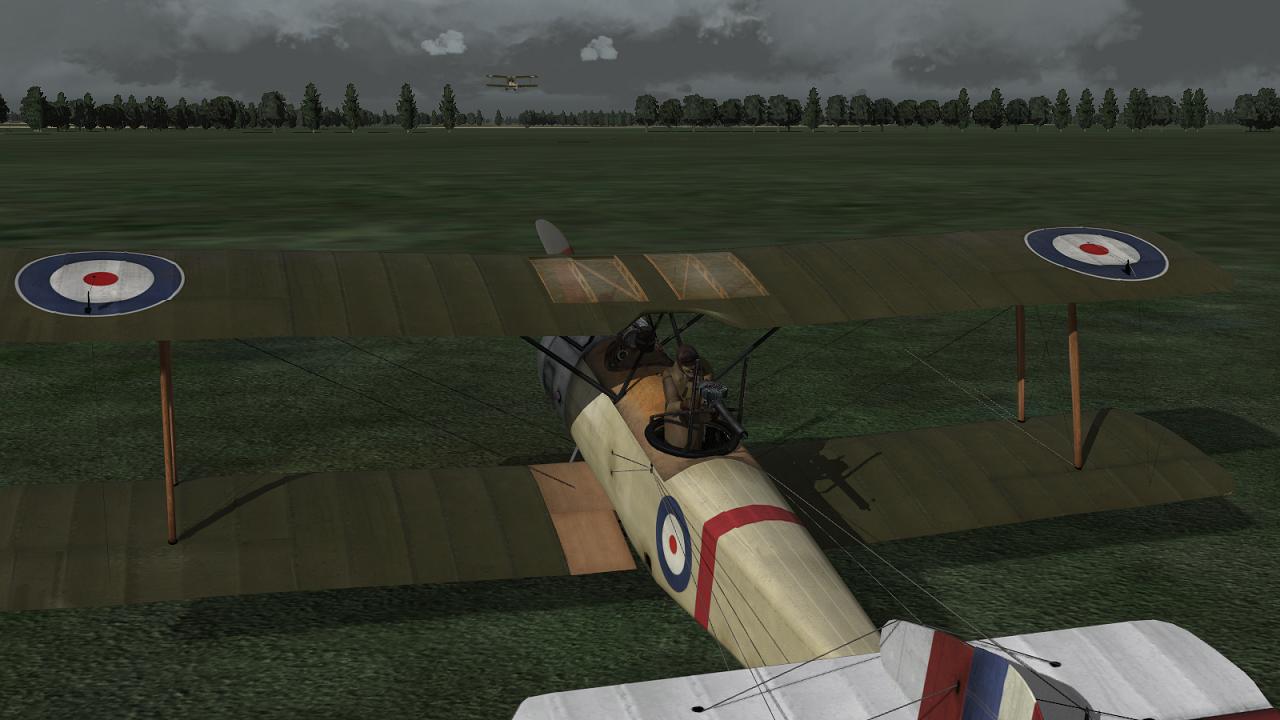 I'm soon off after them and climbing up. One nice thing about the Strutter is that she's got a decent set of instruments, though I won't be spending too much time looking at them on this flight.
As you can see, our aircraft are in clear doped linen finish, apart from khaki PC10 on the upper wings and rather colourful tailplanes, the latter excellent for mutual identification but compromising our camouflage rather badly. You can also see that our Lewis Guns are fitted onto French-designed Etevé mounts, rather than the more common and later universal Scarff gun rings.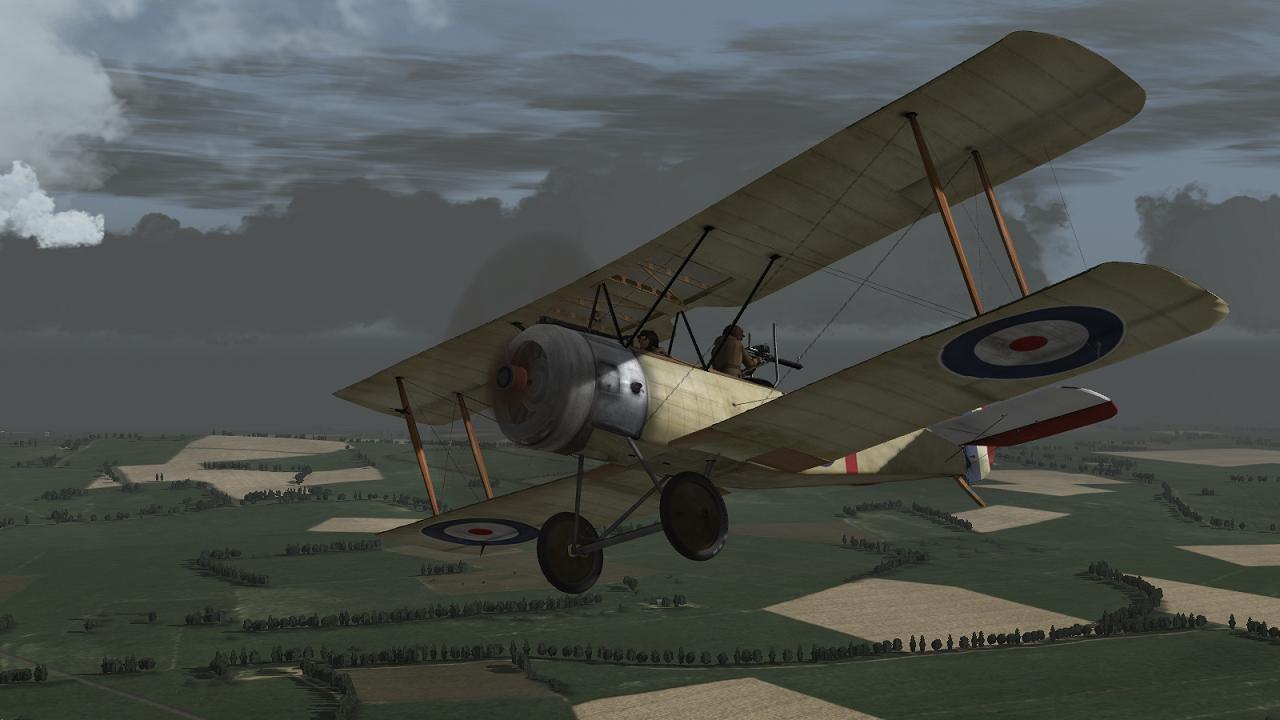 Here's the in-flight map, with the little green aircraft icon showing our position on the first leg of our route up to the front, to the east. Our assigned altitude is, if I recall right, about 11,000 feet but I am reserving the right to vary that according to the conditions, most notably the weather.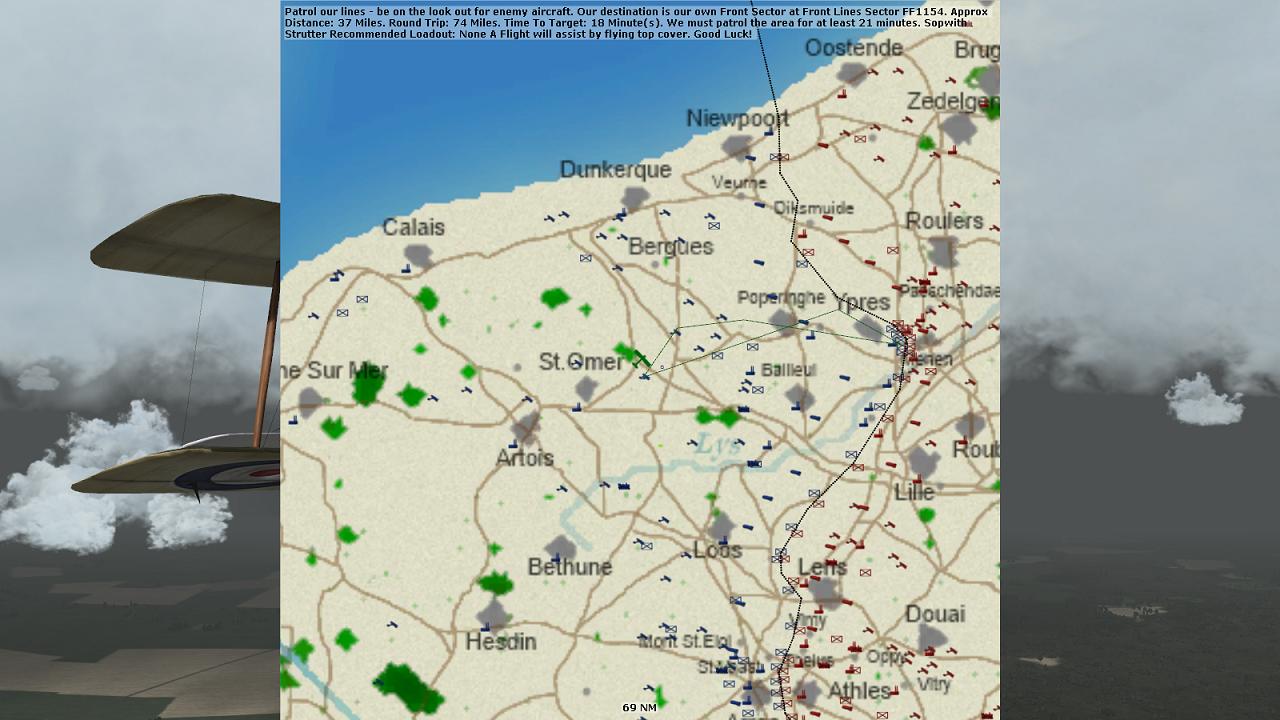 The second Strutter is keeping formation nicely as we make the long climb to the east.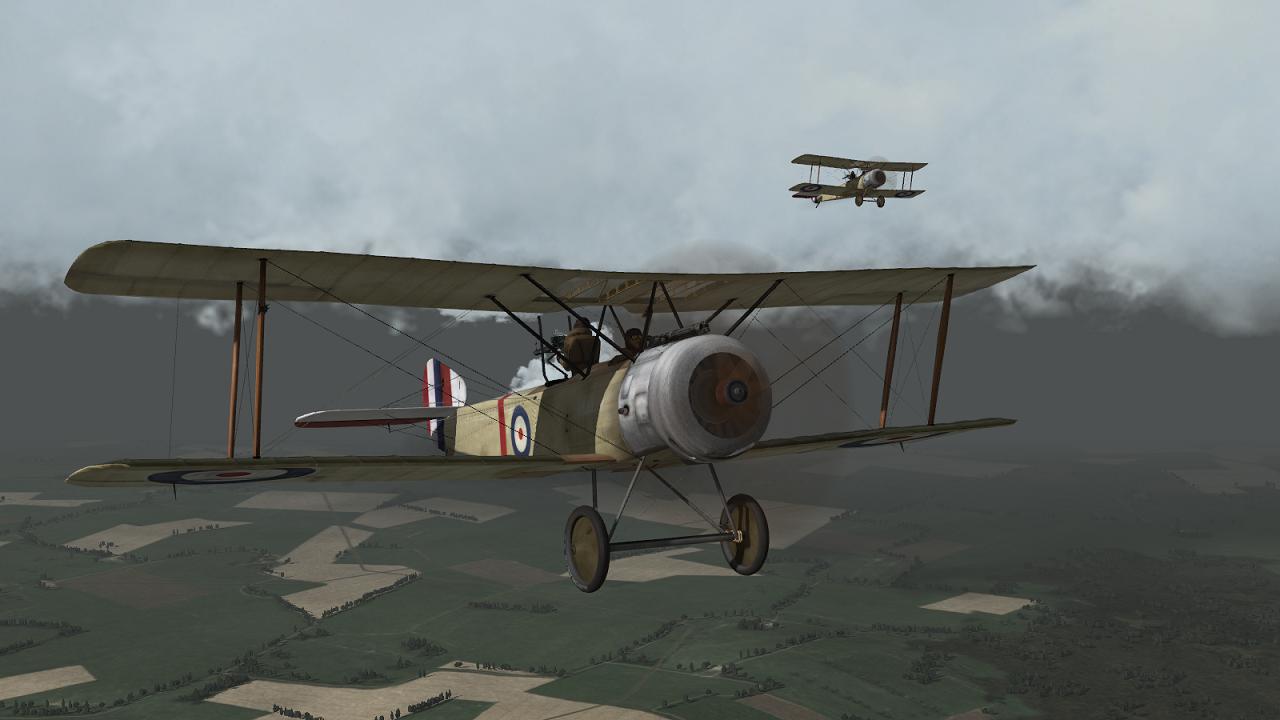 Up ahead and all around, there are impressive banks of cloud, and between this and the general gloom, visibility of the ground doesn't extend very far in any direction, even at this low level. If my trusty observer is bothered by this, or by the force of the slipstream against his back, he keeps it to himself. We may have worse things to worry about, soon enough.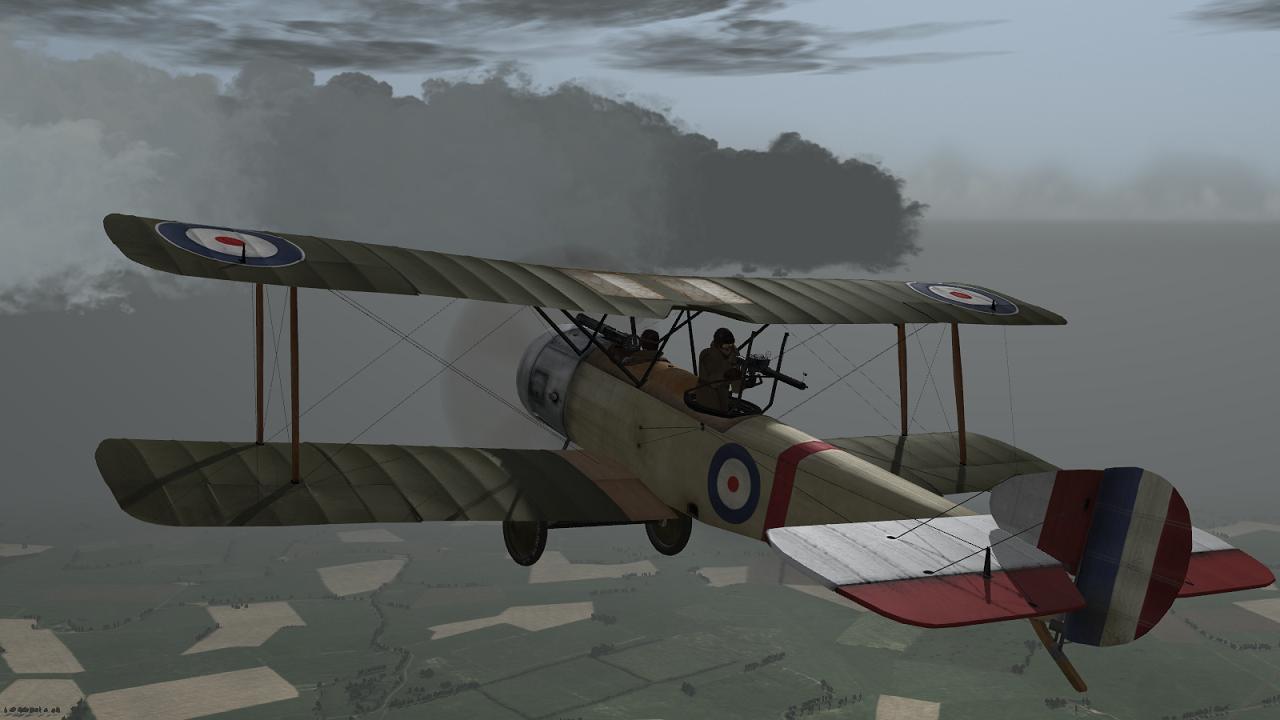 ...to be continued!