The Pups are coming!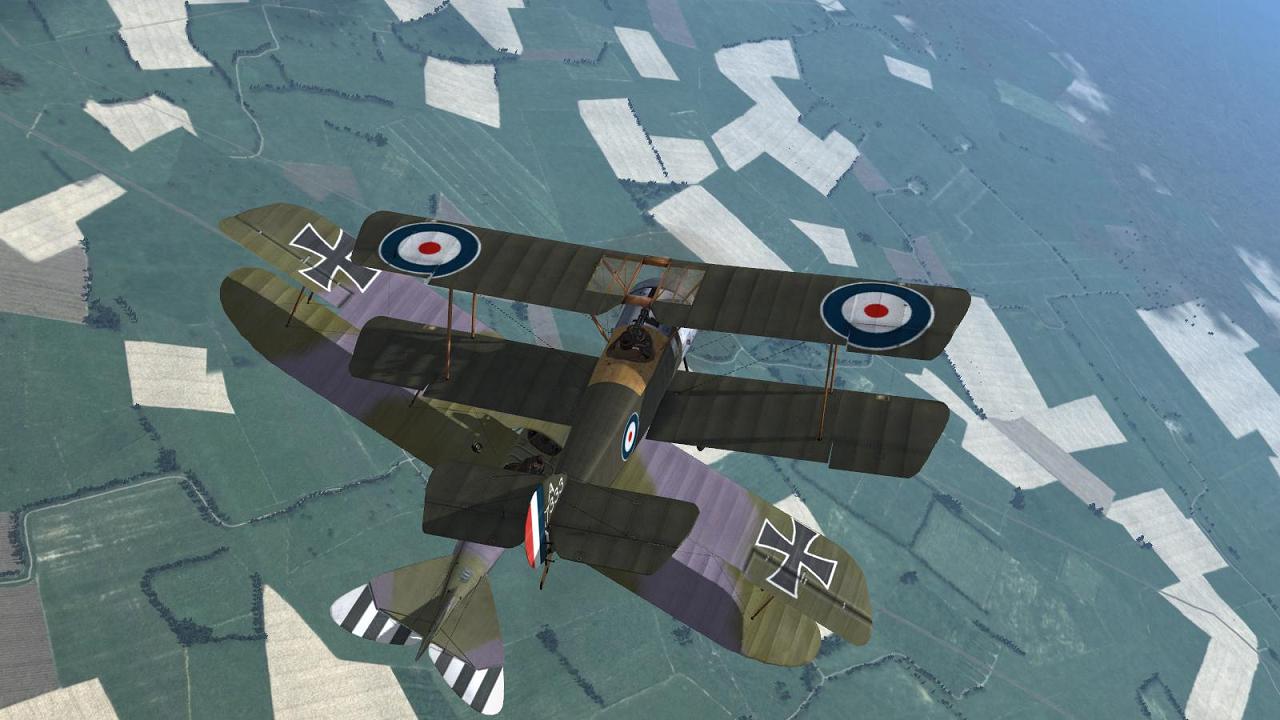 Jagdstaffel Boelcke
Jan. 4th 1917
4.15pm
Near Metz au Couture
Sopwith One Seater, No. LRT 5193
Motor: 80hp le Rhone No.5187
A new type of plane, never seen before, but as wings broken, barely discernible.
Pilot: Lieut. Todd killed, papers and valuables enclosed. About 4.15pm. Just after starting, we saw above us at 4000 meters altitude four planes unmolested by our artillery. As the anti-aircraft guns were not firing we took them for our own. Only when they were nearer did we notice that they were English. One of the English planes attacked us and we saw immediately that the enemy plane was superior to ours. Only because we were three against one did we detect the enemy's weak points. I managed to get behind him and shoot him down. The plane broke up whilst falling.
This combat report of Manfred Freiherr von Richthofen (quoted from this site) records the Red Baron's impressions after his first encounter with the redoubtable Sopwith Pup, on of the few fighters able to take on and beat the Albatros scouts fielded by the German Jagdstaffeln. Armed with just one Vickers Gun, the Pup lacked the hitting power of the later and even more famous Camel. But its much more viceless flying characteristics and great agility made it a decent fighter. In his peerless memoir No Parachute, 46 Squadron's Arthur Gould Lee recounts one battle with the dreaded V-strutters during which his flight demonstrated the Pup's superiority at height, with the Albatrosses trying fruitlessly to climb up to the Pups, which were able to stay above the enemy and mount diving and zooming attacks with complete impunity.
So this installment of Sopwiths over Flanders Fields features the Pup. And as No Parachute and its sequel Open Cockpit are probably my favourite WW1 aviation memoirs, the campaign will see me flying with AG Lee's 46 Squadron, Royal Flying Corps. My last Wings over Flanders Fields campaign with 'Forty-six' is probably this one from CA-WW1, flying the Camel. When Lee joind the squadron in France in May 1917 they were flying Pups, having recently converted to the fighter role after flying Nieuport 12 two-seaters.
I have selected 'Always lead' so I fly as patrol leader not wingman and for my first mission, we draw a patrol entirely behind our own side of the lines, which would have been most unusual for the offensively-minded RFC, led by the redoubtable Brigadier General Hugh 'Boom' Trenchard. We are based at la Gorgue, near the River Lys, and are to patrol down to the airfield of Fienvillers, some miles to the south-west. I'm leading 'B' Flight with three Pups; 'A' Flight, with another four, is detailed to provide top cover.
Here we all are, lined up and ready to go. My machine, nearest the camera, is in WoFF's default and rather anonymous 46 Squadron markings - as are most of the other Pups. The aircraft numbered '2' is in my flight and is flown by real-life ace Clive Brewster-Joske; 'B' flight is led by another squadron ace, Cecil 'Chaps' Marchant, flying the Pup with the yellow nose.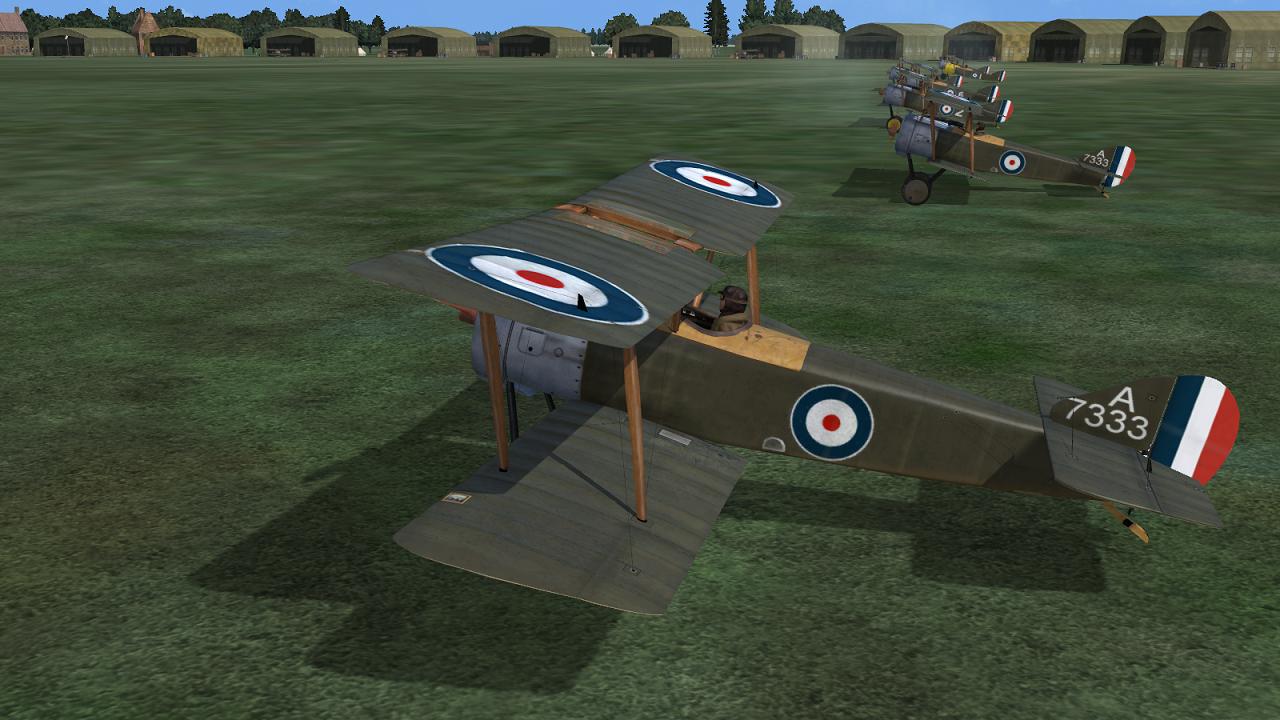 Here's a closer view of Marchant's machine: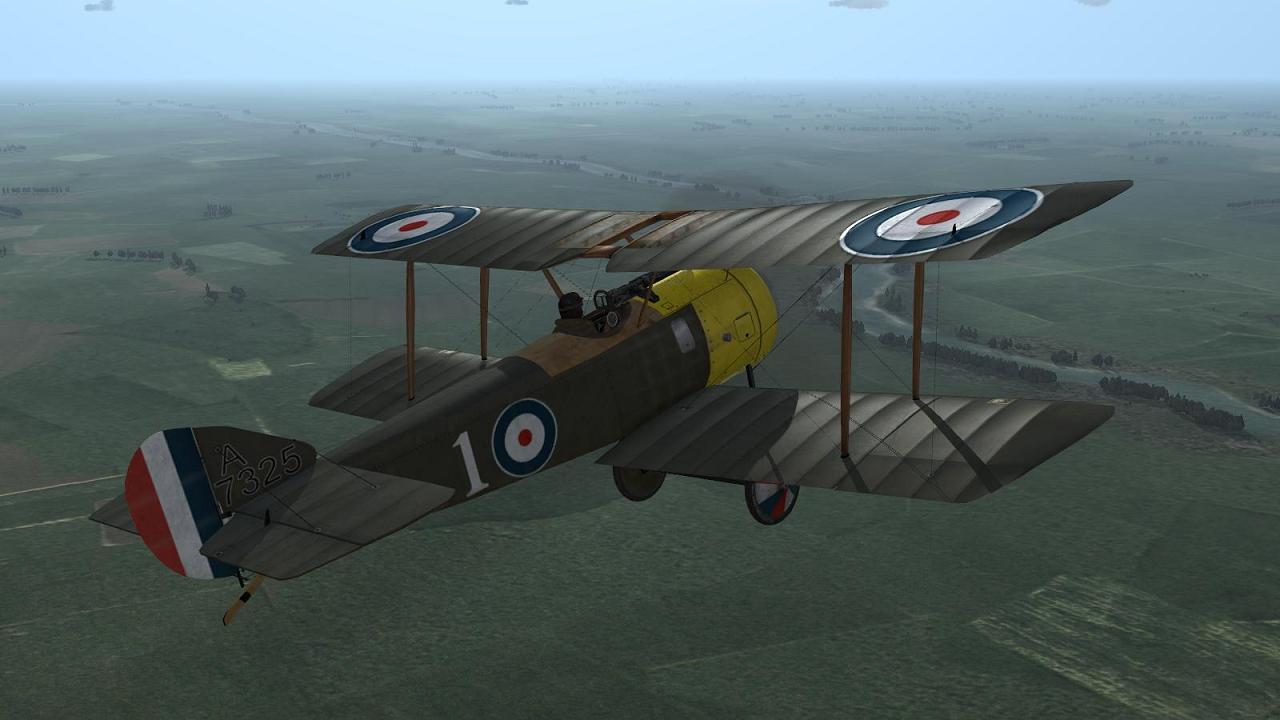 Taking off in WoFF is a whole (less fraught) different ball-game, compared to Rise of Flight and with no aircraft more so than the Pup, which comes off the ground quickly and cleanly, like a creature keen to leave the earth and get into its natural environment. The WoFF weather can often be pretty foul but today, there's a lot of blue sky, with moderate cloud at around ten thousand feet. The bright conditions show off nicely the fine lines of WoFF's Pup, whose detail goes as far as legible 'Palmer Cord Aero Tyre' printing on the tyres.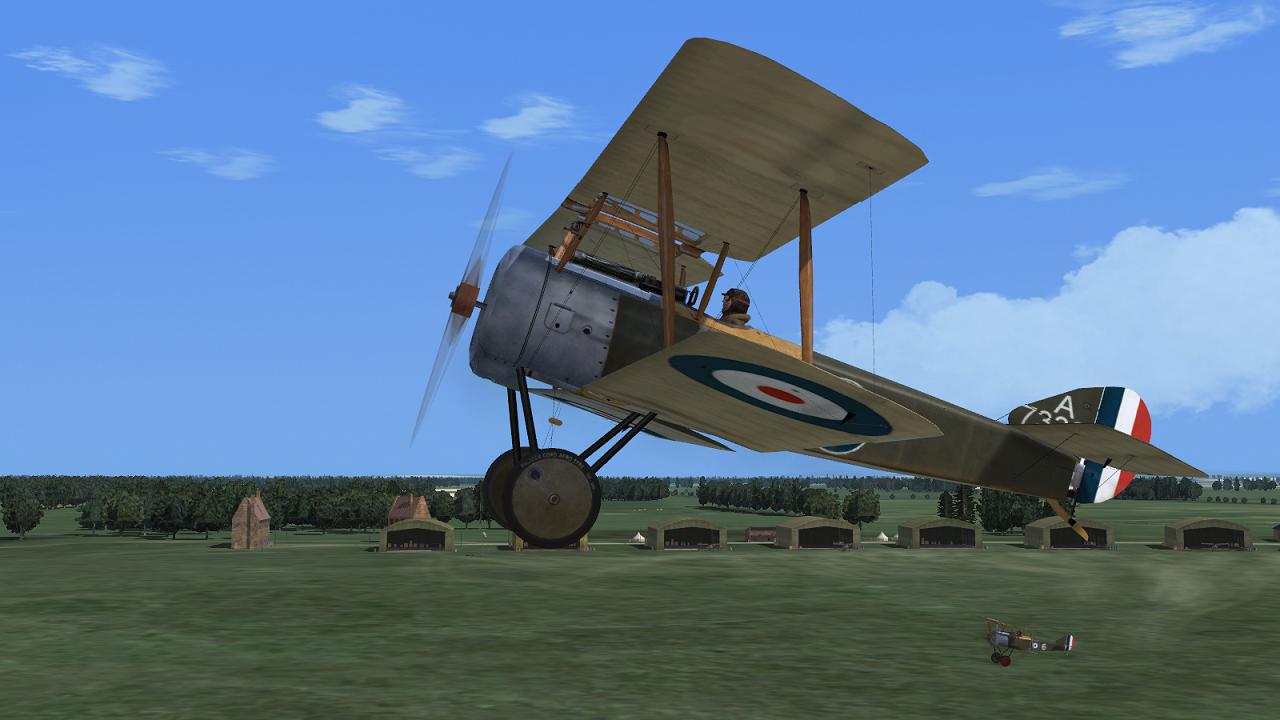 The 'office' is equally well done, with lots of wood, brass and leather in evidence.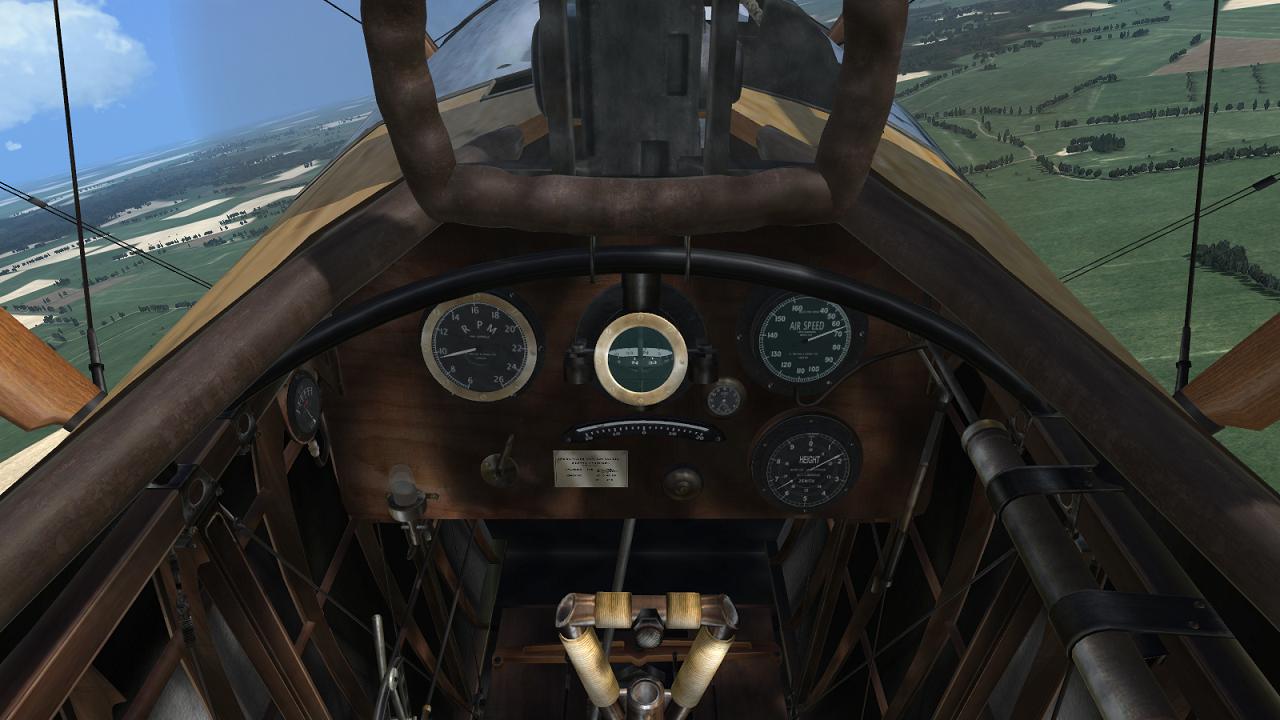 My own kite isn't as colourful as old Marchant's, but she's a nice bird. She has her roundels outlined in white, a recent addition as previously, there'd been complaints about the dark outer blue ring making the national markings hard to distinguish, against the khaki PC10 finish.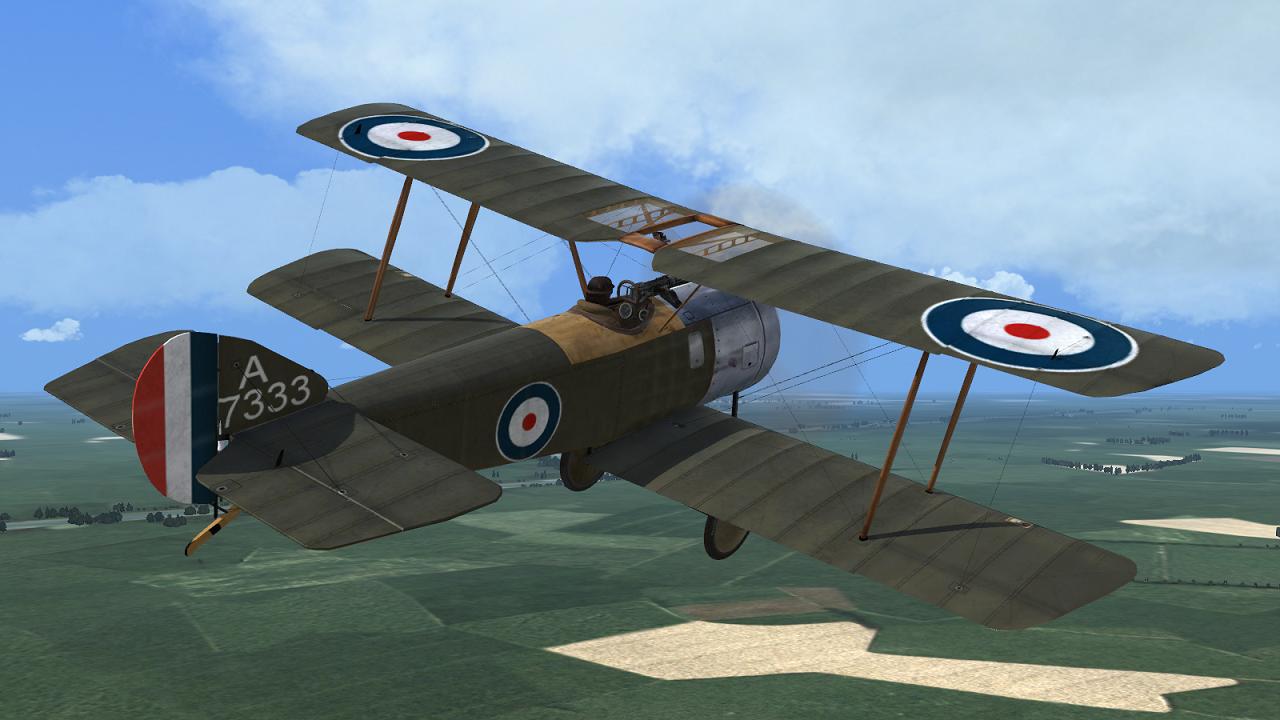 Our first leg is up to the north-east, not that we need the extra distance to climb to patrol height before reaching the patrol zone. I fly the leg anyway. Despite the long second leg down to the south-west, I have plenty of time, and if I stick to the programme, there's more chance we'll end up in the same airspace as 'A' Flight. Safety in mumbers, and all that.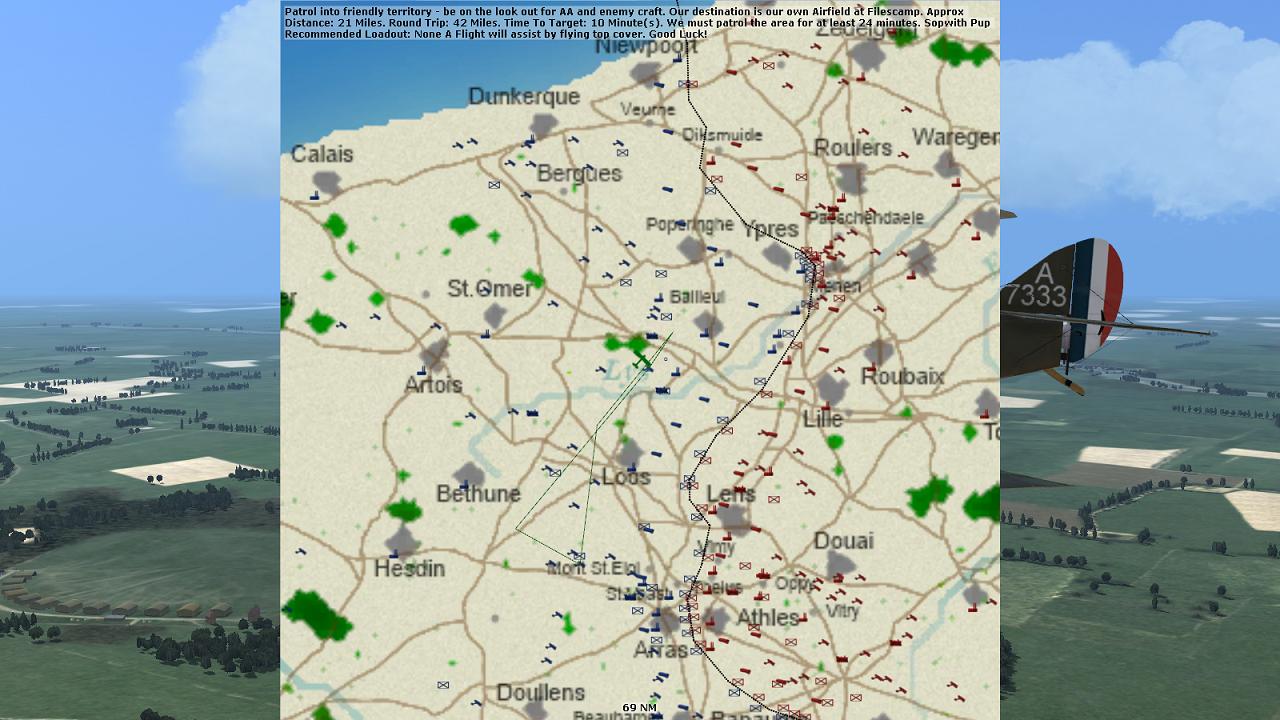 I level off for a while to let Joske and the other pilot, Sergeant Schellden, catch up.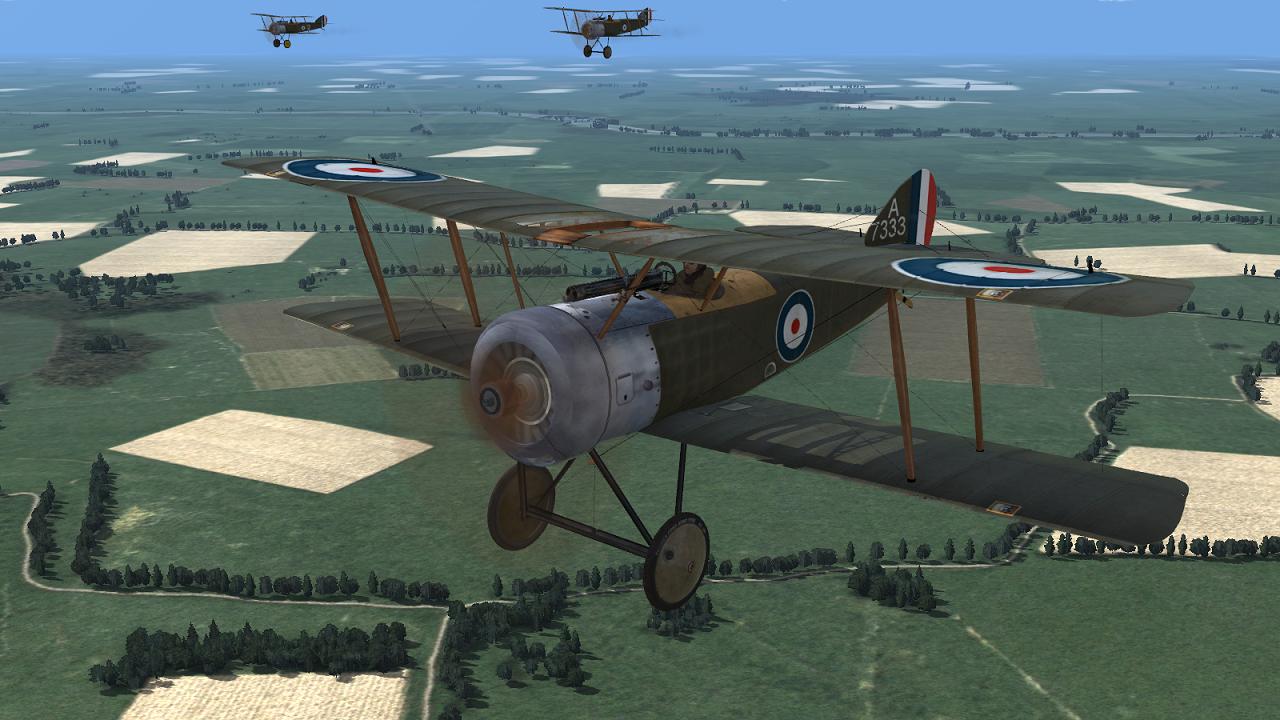 Then we climb up, passing over la Gorgue and the Lys again on our way back down towards the airfield in whose vicinity we were to patrol.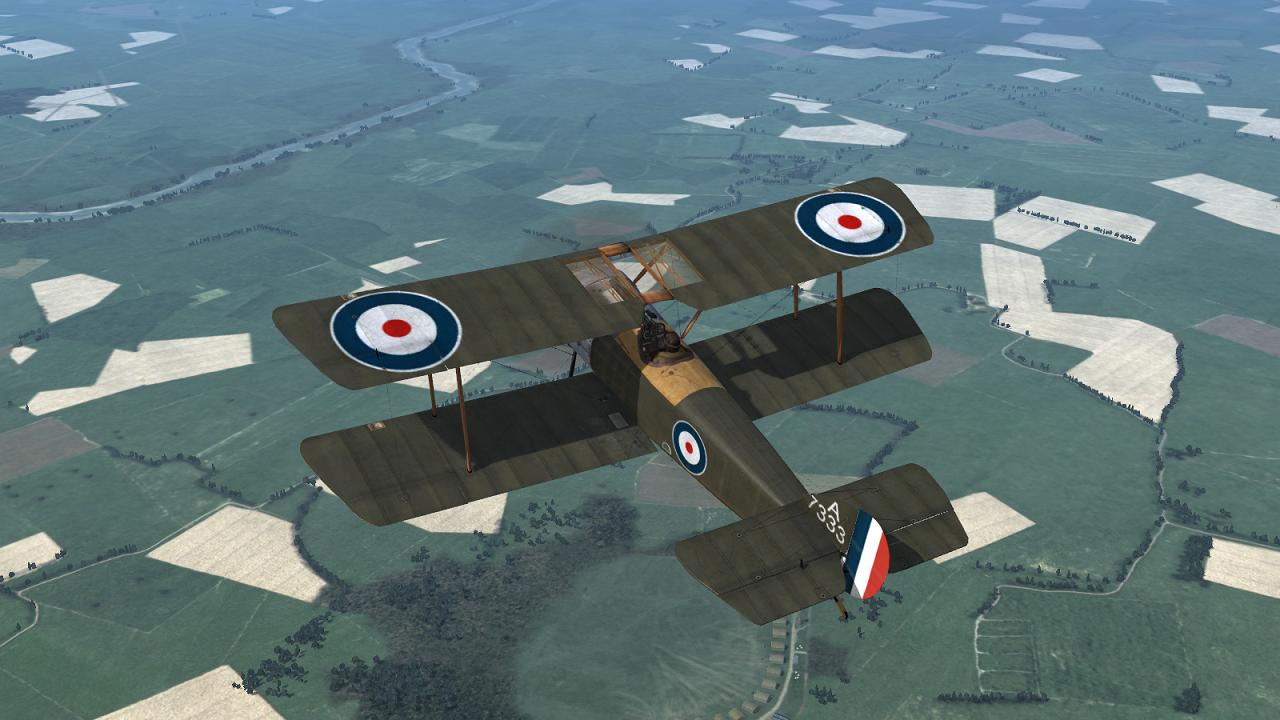 I am half expecting the skies to be empty when we get there, and to fly home cursing the staff officers who have sent us on this fool's errand. Trenchard must be on leave, otherwise he'd not have one of his squadrons swanning about in this fashion, when they could have been dominating the skies on the Hun's side of the lines.
However, this time, the staff officers were right.
...to be continued!