Tripehounds!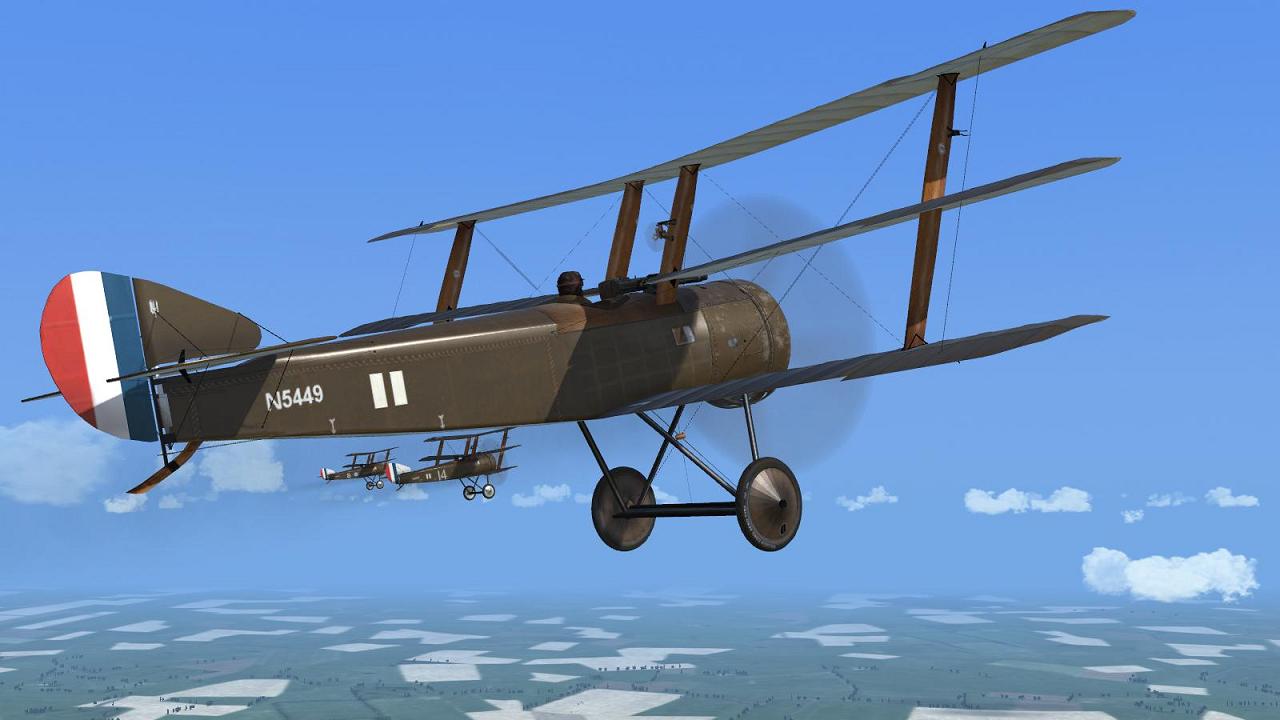 There can't be many aircraft prototypes that have been looped on their maiden flight. But I do know of one that was - three times in rapid succession, a few minutes into the flight. It was the Sopwith Triplane, courtesy of the Sopwith Aviation Company's famous test pilot, Harry Hawker, who gave his name to the firm when it was effectively reconstituted to avoid a crippling tax bill, post-war.
The Tripe or Tripehound, as it was known, served only with the Royal Naval Air Service and (apart from one machine) not with the Royal Flying Corps (though the Aéronavale had a few, for a while). And it equipped few squadrons, lasting longest with 'Naval 1', which was fully operational with the type in early 1917 and didn't give them up for Sopwith Camels until about November the same year. But the Tripehounds certainly made a big impression, on friend and foe alike. They say that imitation is the sincerest form of flattery, and the success of the fast-climbing and highly-manouuvrable Sopwith Triplane spurred a German 'triplane craze', with many plane makers rushing to develop prototypes, of which only the famous Fokker Dr.I saw significant combat service. I don't believe the two ever met in combat but you can see them in a fairly leisurely mock dogfight in this HAFU video. The Sopwith reproduction is in the 'Black Maria' markings of ace Raymond Collishaw, leader of the famous 'black flight' of 'Naval 10'.
https://www.youtube....h?v=yDFeiknDa88
For this campaign in the Sopwiths over Flanders Fields series, I've opted to fly with pioneer Tripehound squadron 'Naval 1', starting in May 1917 for no better reason than at that stage, we've moved to la Bellevue, closer to the front - I fly my Wings over Flanders Fields missions in real time, so I appreciate the shorter transit flights! My pilot is Richard Collishaw, possibly 'Naval 10' ace Raymond's (imaginary) brother. As usual, having ticked the 'always lead' option, I'm in charge of 'B' Flight, with 'A' Flight AI-led and no 'C' Flight.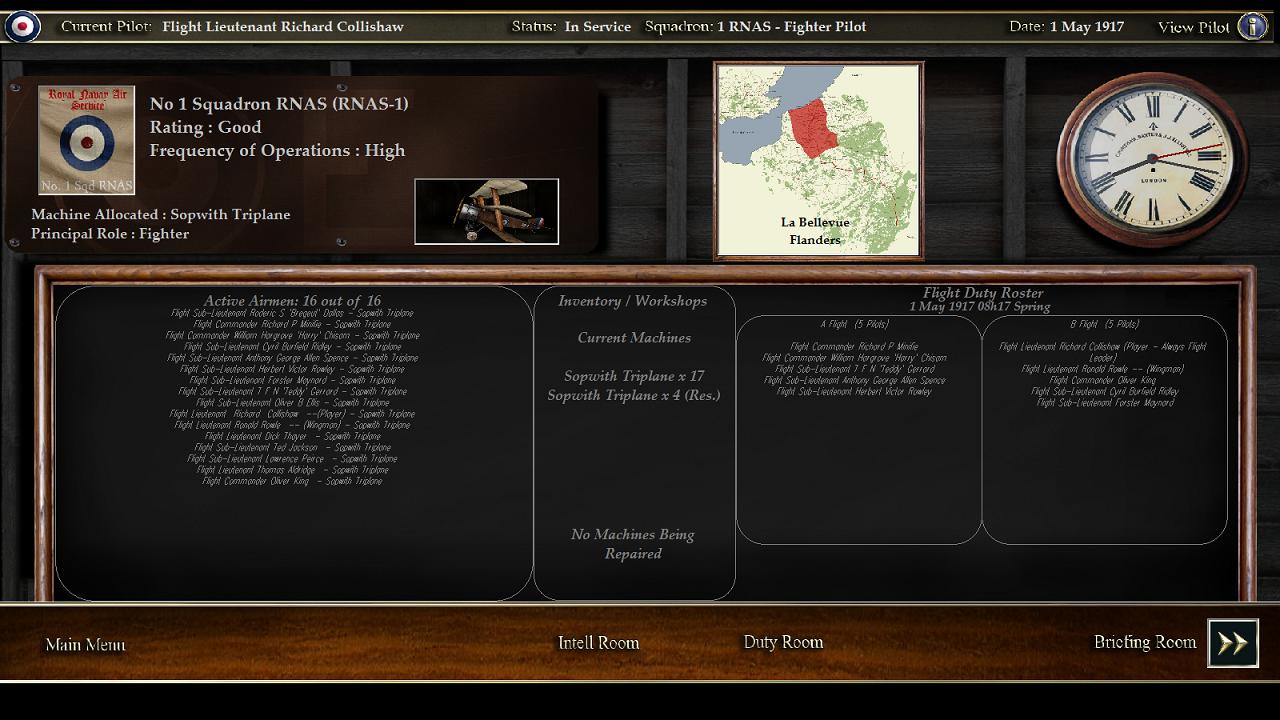 My first mission is a run up to the lines to the east-north-east, responding to a ground observer report of enemy air activity in the sector. There's four of us in 'B' Flight (all with proper naval ranks, like 'Flight Sub-Lieutenant') and 'A' Flight is putting up another five Tripehounds, to assist us in an unspecified fashion.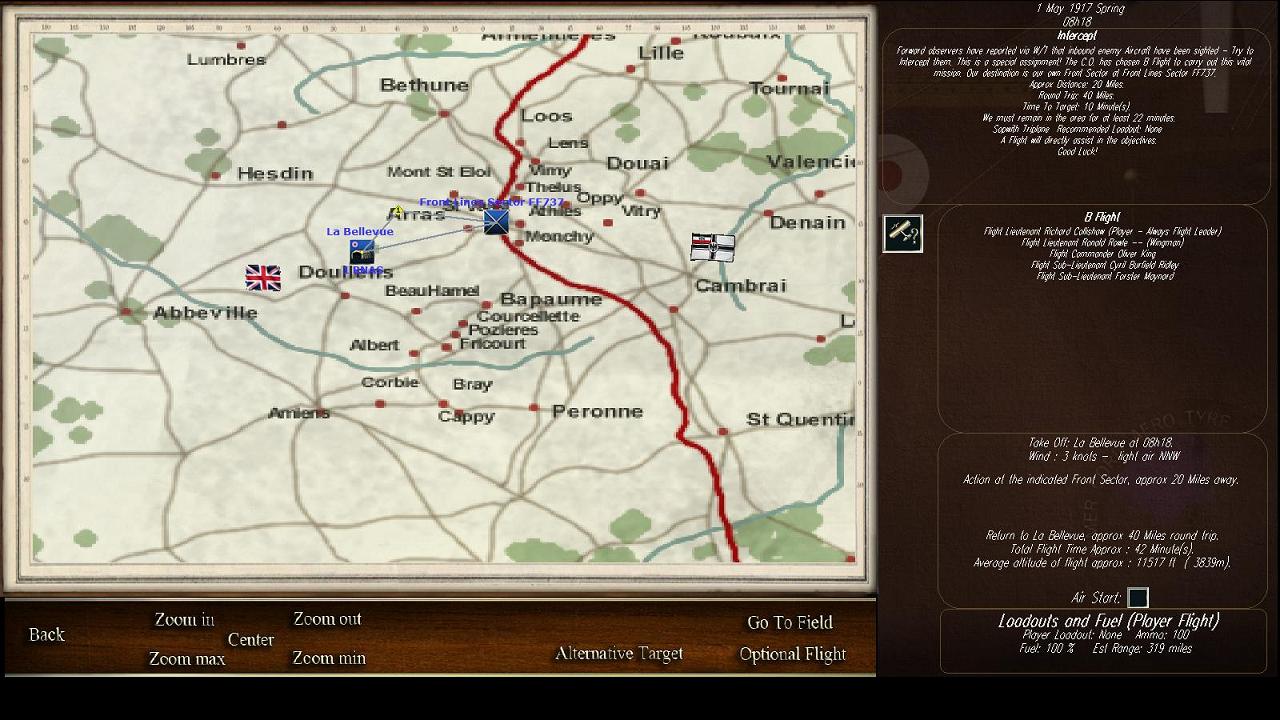 And here we are, lined up and ready to go. The dire weather of 'Bloody April', replicated in WoFF when you have 'historical weather' selected, has happily given way this early May day, to blue skies with but a scattering of small clouds. Several (but not all) 'Naval 1' Tripehounds carried the two small white bars seen on mine and some other machines in this line-up; the kites with the white fins display a variation that is common on Sopwiths.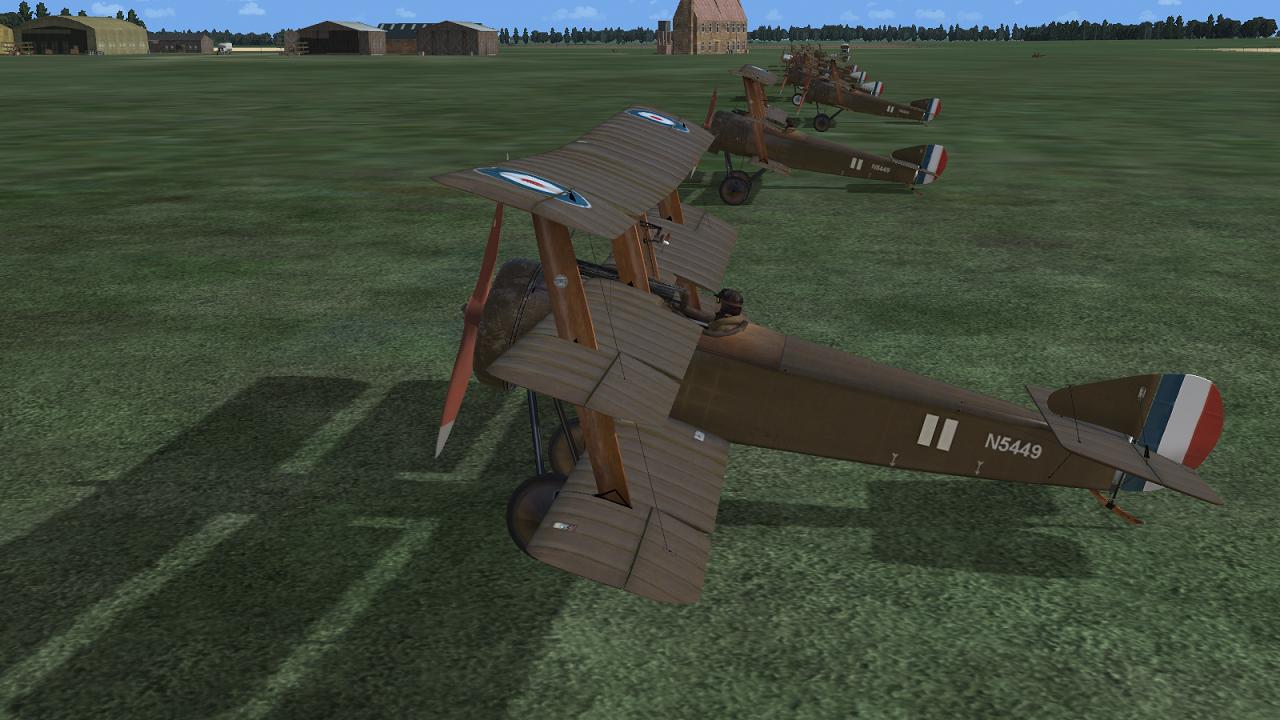 I check my controls while my 130 HP Clerget rotary engine fires into life, then it's off we go!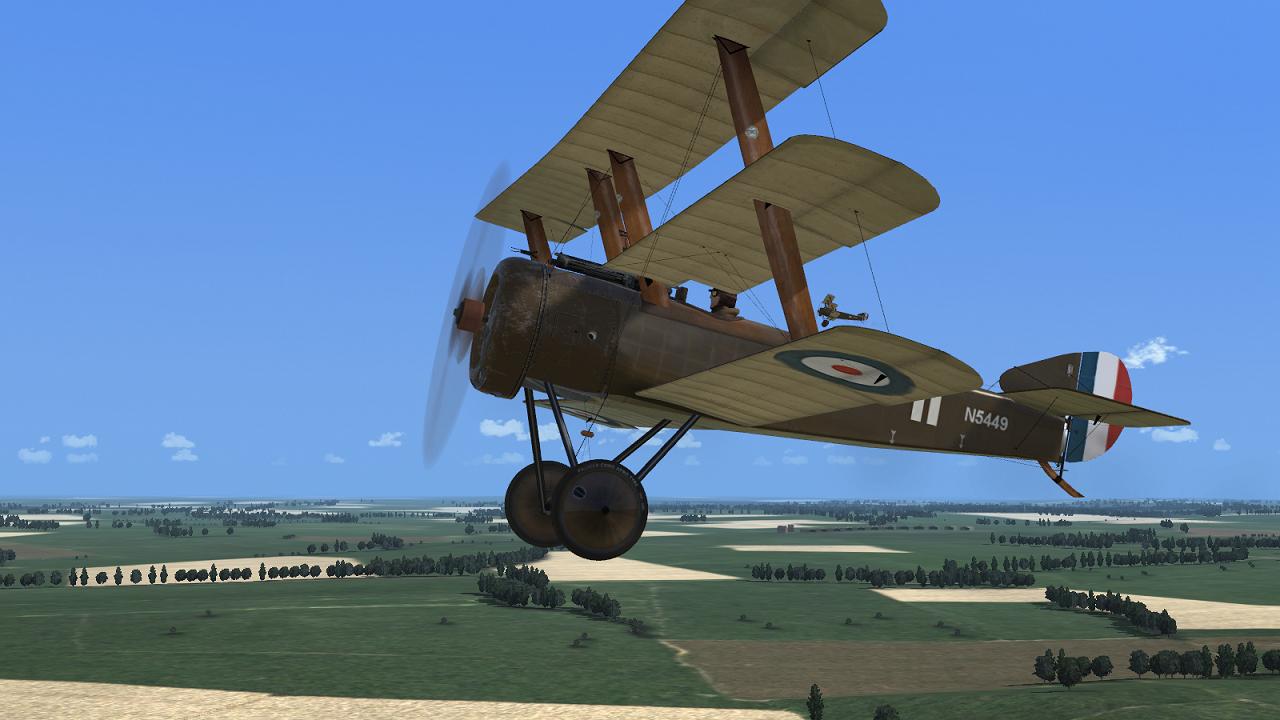 Once well off the ground, I throttle back (which in rotaries, if I recall right, was either via a 'blip switch' which cut the ignition, or a variant which did so for some cylinders). This gives me time to admire the weather, my mount and the scenery, all of which WoFF reproduces very nicely, thanks in no small measure to Ankor's DX9 mod. A thing of the past is the exaggerated 'wide-angle lens' external view, for one thing.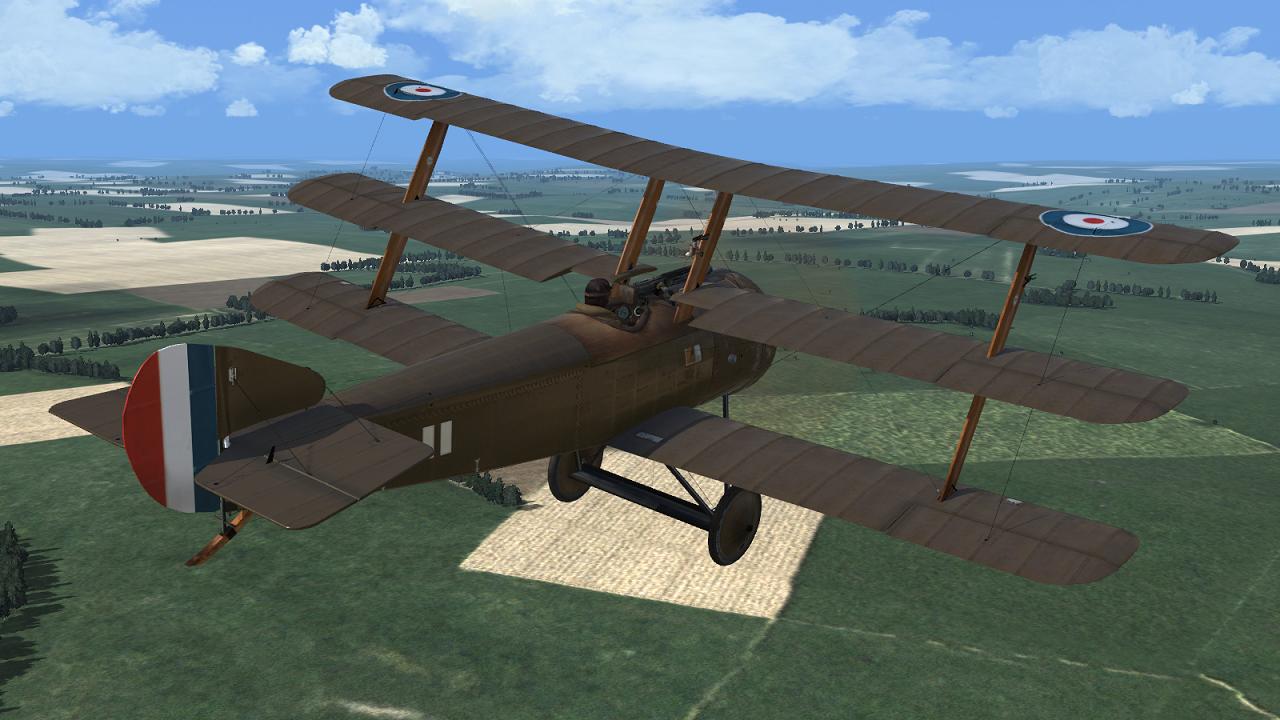 The view from the 'office' is just as good. You can't see it in the picture below, but it includes an animated propeller-driven pump mounted on the right-hand centre section strut. I'm glad the WoFF riggers have fitted a square pad to protect my virtual pilot's head from the breech of the Vickers Gun; it blocks the view much less than Sopwith's patent 'flattened doughnut' padded windscreen, as fitted to the WoFF Pup and Strutter.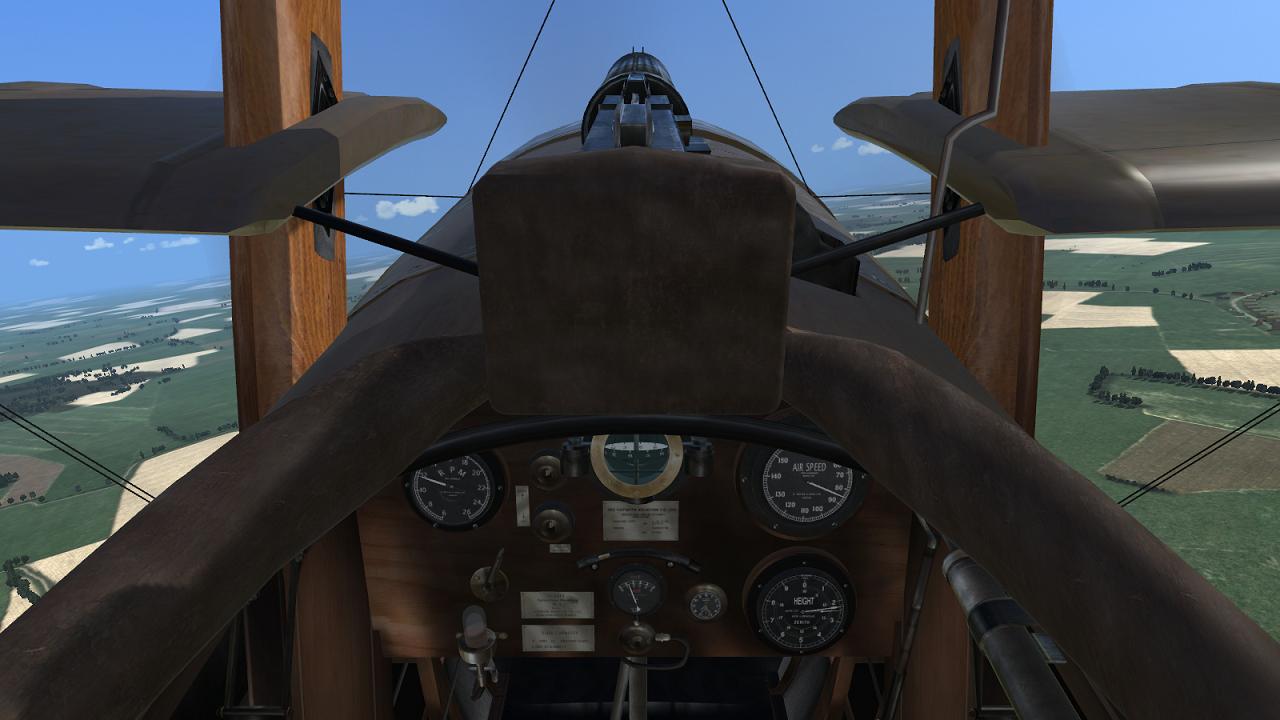 One thing I quickly find that I don't much like about my Tripehound is that she is determined to roll to the left. At all engine speeds, quite a lot of aileron deflection is needed to keep her level. This is uncomfortable in transit and will undoubtedly be awkward in combat. But there's no point dwelling on it. When the others get into 'V' formation on either side, I open her up and swing around in a climbing turn to the front. What will await us there - if anything - we will find out, soon enough.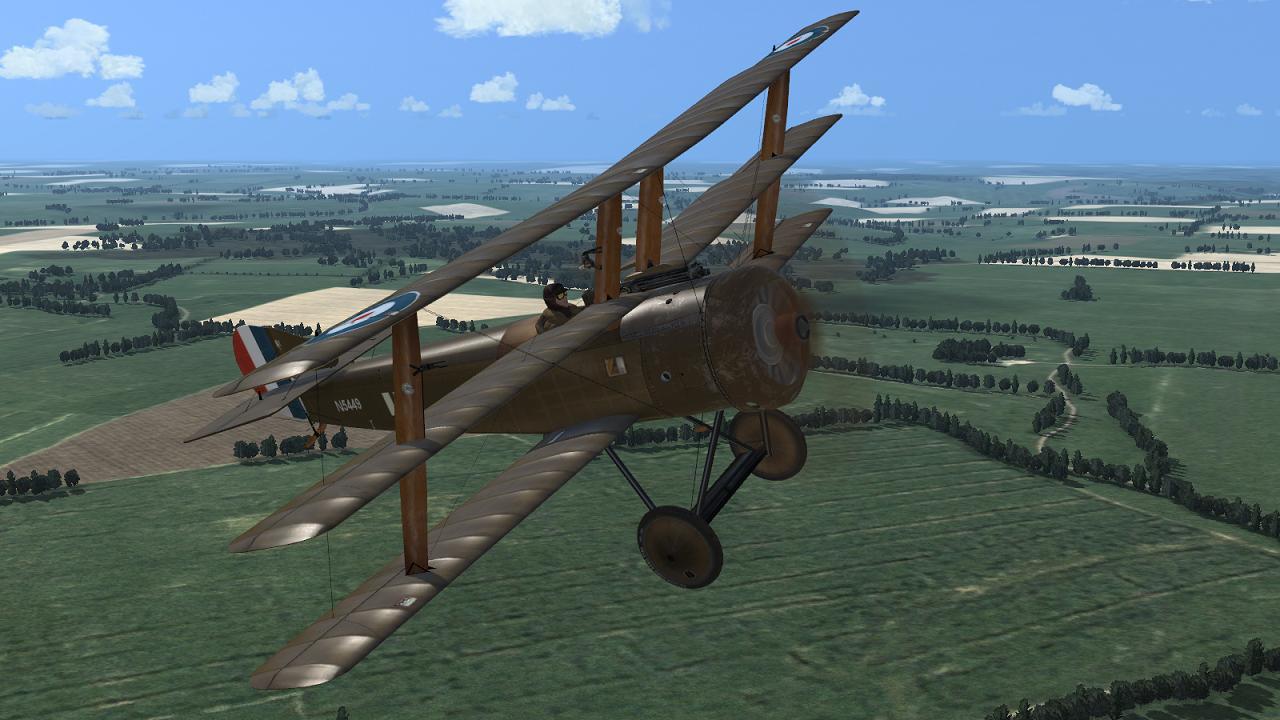 To be continued!