Hunting the Red Baron...in a dud aeroplane!
You might be forgiven for thinking that the combination in spring 1917 of Britain's leading fighter pilot and the country's greatest fighter plane would have been the combat aviation equivalent of a marriage made in heaven. Far from it, for Captain Albert Ball DSO, MC (and later VC) was not at all impressed with the Royal Aircraft Factory's new Scouting Experimental 5. 'The S.E.5 has turned out a dud... It's a great shame, for everybody expects such a lot from them... it is a rotten machine', was his verdict. He'd been posted as a flight commander to the recently-formed No. 56 Squadron, working up at Colney Hatch in England before deploying to France. 'There were rumours of an anti-Richthofen squadron' wrote Alexander McKee in The Friendless Sky, 'and this was it.' Or as near such a thing as ever existed. "Fifty Six" was certainly something special. Not only was it first to be equiped with the first of the Royal Flying Corps' new types of fighter ('scout') aircraft, intended to match the Hun's Albatros V-strutters; to the squadron was posted an unusually high proportion of especially skilled and/or experienced pilots. Hence likely the rumour, which reached the ears of the great man himself, that the squadron was tasked with bringing an end to the career of Manfred von Richthofen.
Such was Ball's antipathy to the S.E.5 that he tinkered considerably with his own machine, adjusting amongst other things seat height, windscreen and armament. Some of these modifications were adopted for all the squadron's machines and those produced afterwards, like replacing the semi-enclosed 'glasshouse' windscreen with a smaller, conventional one and removing the little gravity-fed fuel reserve tank atop the wing centre section. Here is Ball in his modified machine, in typically bare-headed fashion despite the wintry conditions.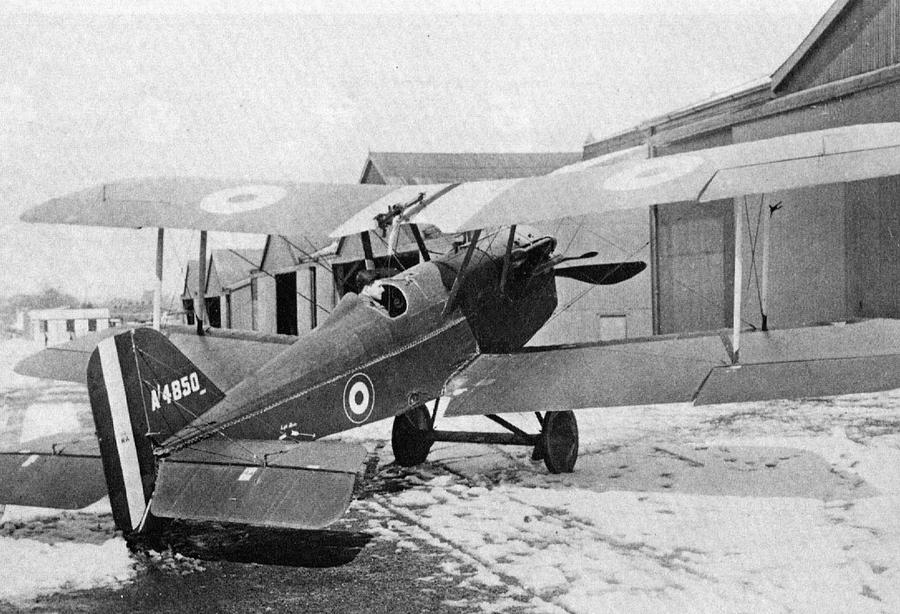 Not only that, but on arrival in France, Ball pleaded with RFC boss Hugh Trenchard to be given a Nieuport Scout. 'Boom' agreed, with the proviso it was to be used only for solo missions, with the S.E.5 employed for all flight operations. While as squadron mate and Sagittarius Rising author Cecil Lewis said, the oiginal 150 hp version of the SE was not quite a match for the Albatros, it was, despite Ball's misgivings, a worthy contender in mid-1917 - and, with a more powerful motor, still a front-line fighter at war's end, a year and a half after it first saw action. Ball seems to have warmed to the type, for he scored eleven of his last thirteen victories in the S.E.5, before being killed in one in unclear circumstances during a disastrous series of patrol actions against Jasta 11 on 7th May 1917. Ball's memory lived on, and the S.E.5 went on to carve out an equally illustrious name for itself, in the hands of men like Jimmy McCudden, Arthur Rhys-Davids, 'Mick' Mannock and Billy Bishop.
A campaign in S.E.'s with 'Fifty Six' is something any WW1 simmer is likely to fly at least once; and this set of mission reports is from my own latest effort, flown in Wings over Flanders Fields. Now in its Ultimate Edition, with its hugely-immersive single-player experience, WoFF can fairly lay claim to being the ultimate WW1 air combat sim. And it wouldn't be WoFF if it didn't feature both 56 Squadron and the S.E.5. Thus equipped, I decided to start my campaign at the beginning of May 1917, at the point the tide had begun to turn and 'Bloody April' was, at last, behind the RFC.
It's good that WoFF features the S.E.5, because it's quite different visually from the 200 hp version we usually get in flightsims, and which didn't appear till late summer 1917. To digress, it's generally stated, based on official rigger's notes, that it was the S.E.5a version which introduced the more powerful 200hp motor, with a visibly-larger frontal radiator. However, in Crowood's Aircraft of the Royal Aircraft Factory, author Paul Hare reveals that works drawings show that the S.E.5a was created after only 23 'true' S.E.5s had been built, by cutting the length of the rear wing spars, reducing considerably the pronounced rake of the original wingtips. The early production S.E.5a retained the 150 hp engine.
As well as the early model I'm flying on this campaign, WoFF features S.E.5as with the geared 200hp Hispano-Suiza and the later (and more reliable) ungeared Wolesley Viper engines. A 'Hisso' S.E.5a is seen below, in foul weather over southern England; I think the wingtips should be a little less raked but she's a fine replica and looks much better since WoFF enabled us to lose the former wide-angle lens external view. The Viper engine had more angular edges to the radiator and a noticeably-lower thrust line/prop.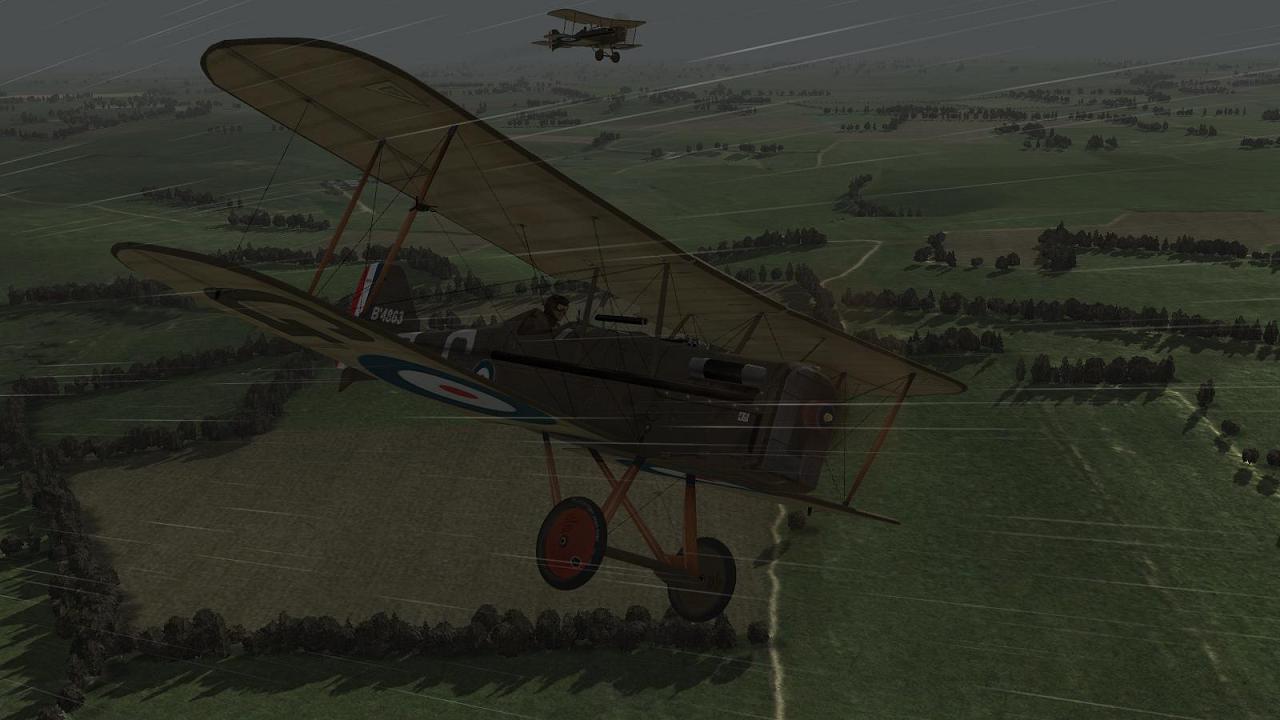 The mission
It's 1st May 1917 and the weather is fine. 'Fifty Six' has settled down to the war at Vert Galand in northern France and today, I'm leading 'B' Flight on a Line Patrol up to the north-east, near Arras.
'A' Flight has two machines on this show, in addition to my four. You can see one of the others - Rhys-Davids, no less, from his white fuselage marking - taking off to my right front, as I open up the throttle to start my own run. You can also see that painting the upper (and lower) wing roundels well inboard was an unusual feature of the markings of early S.E.'s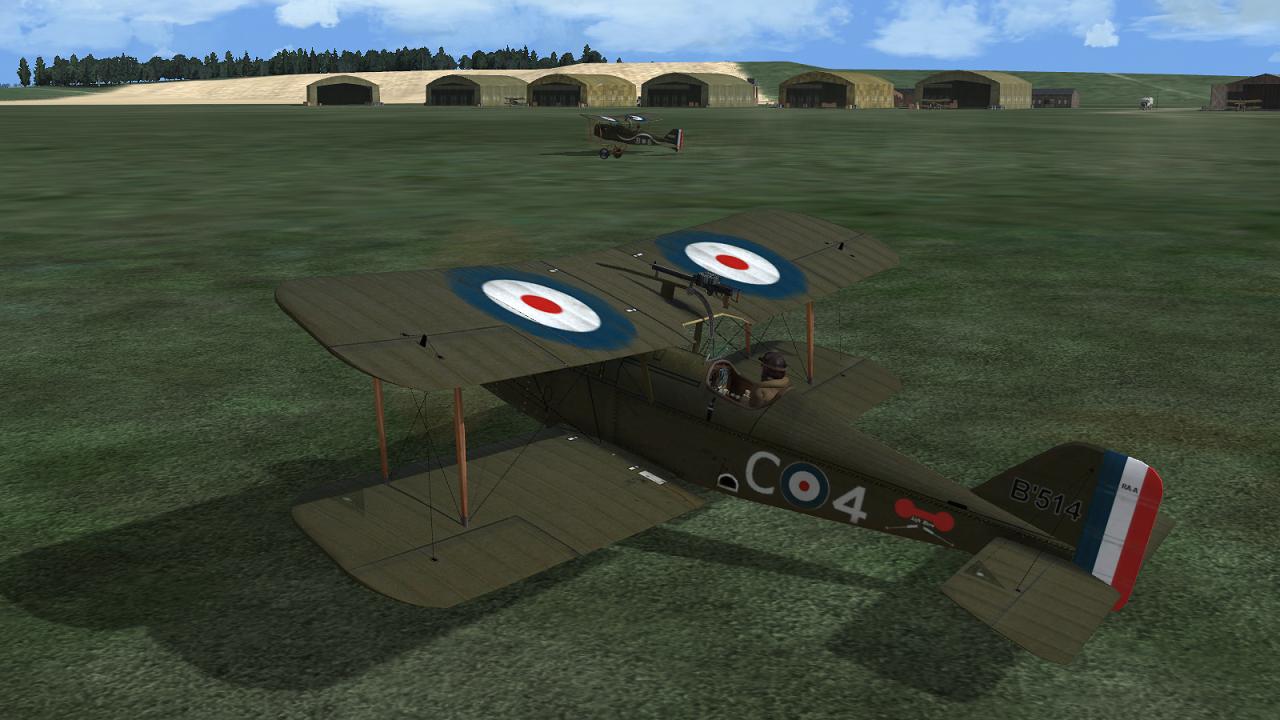 I'm soon airborne and climbing away. The WoFF S.E.5 is a fine piece of work, and she sounds just as good as she looks.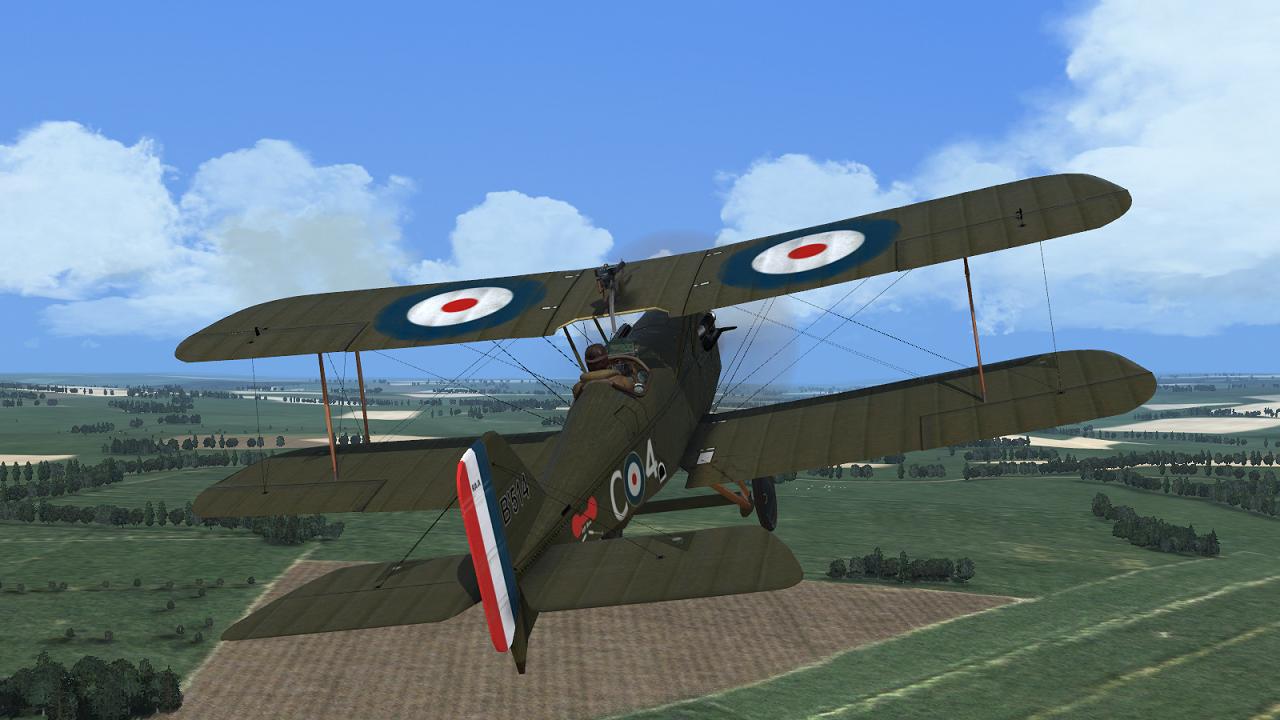 What sort of fighting machine she is, I expect soon to find out...which I will, though not quite as I might have expected...
...to be continued!