A first campaign in Graviteam's classic wargame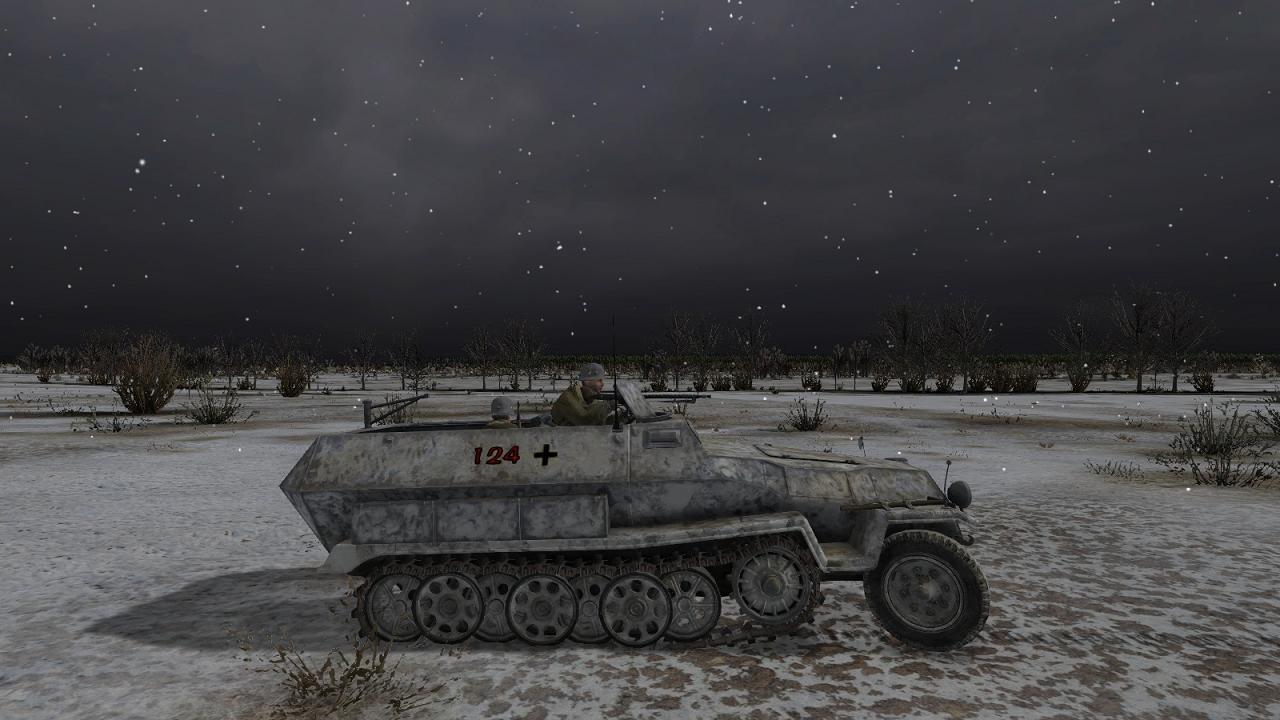 Picture it for yourself. It's late winter 1942-43, just after the German disaster at Stalingrad. You've been recalled to the Eastern Front from your cosy staff job in Berlin, and assigned to the command of a battalion-sized battlegroup in your former division, 2nd SS Panzer Grenadier Das Reich. No sooner have you arrived, than you're pitched into the deep end, as your kampfgruppe is already fully committed. Your first mission is to throw the Reds out of a small riverside town and sieze some crossings. So get a grip of your command, study your maps, and make a plan with your staff. And make it fast - there's a war on out here, you know!
That's about how I felt, taking on my first campaign in GT:OS. In fact, my first mission, apart from a couple of quick battles, mainly to try out the modern AFVs in the WW2 battlefields. True, playing Steel Armor - Blaze of War (SABOW) has taught me some basics, but that just scratched the surface of the sophisticated command interface of Graviteam's magnum opus. So it was with a mixture of excitement and trepidation that I approached my first campaign battle.
I confess that I am rather more interested in western front action, preferably including Normandy, or North Africa at a pinch; though I've read my Guderian and my von Mellenthin, Craig's Enemy at the Gates, even Plevier's novel Moscow. And I know well enough my BTs from my KVs. But GT:OS's WW2 experience has remained firmly rooted on the Ostfront. So having picked up the base game and no less than 8 DLCs in an epic BundleStars sale, I knew the time would come when I went east. And this is that time.
The campaign and the mission
I know enough about the Eastern Front to be well aware that T-26s and BT-5s or 7s aren't too much of a problem for 1941-era German tanks and A/T guns. But if the Red Army of Peasants and Workers brings along some T-34s or KV-1s, it's not quite so much fun, playing Wehrmacht. So I decided to run with a later campaign, settling on what's described as the 'Kharkov Defence Operation, 2-15 March 1943'. I think this one comes with the base game. The missions ('operations') in this campaign swap between playing for each side, and I opted to start, not at the Soviet beginning, but at the third one - Pavlovka. Its entry featured a picture of Tiger tank, which I took to indicate that I might actually get to play with some of these beasts.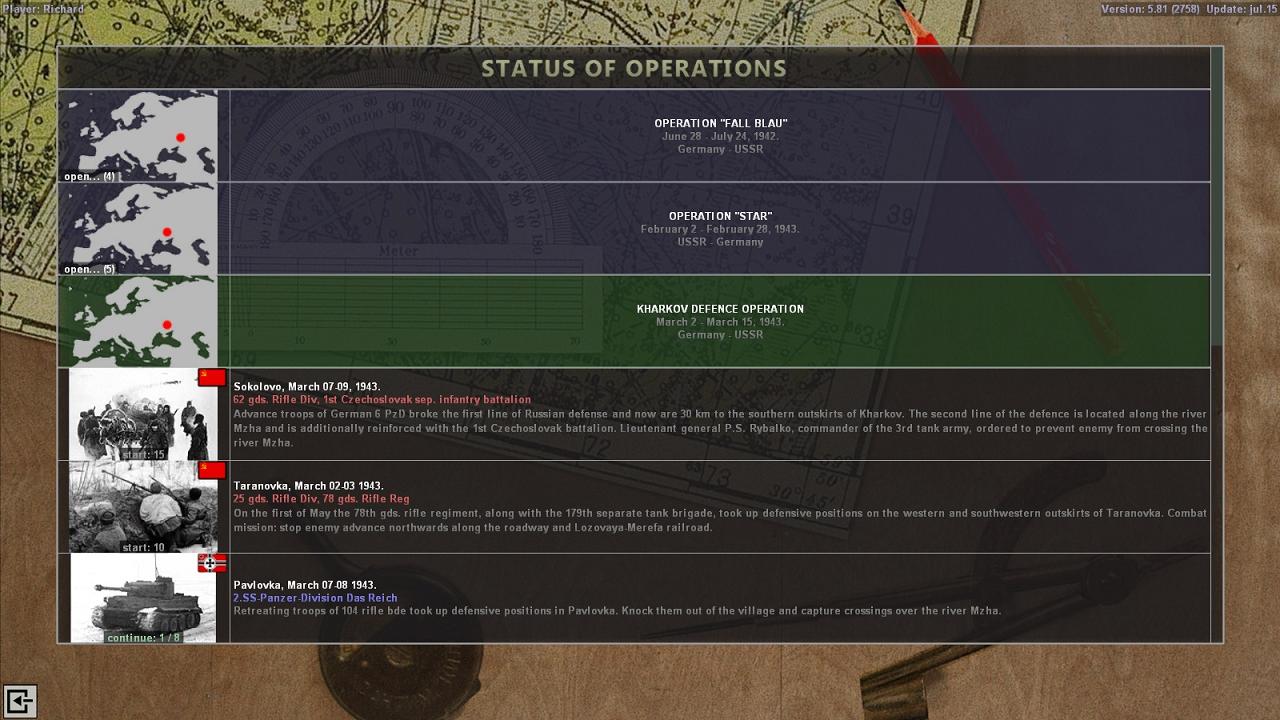 I know that 8.Kompanie, SS Panzer Regiment 2 had some Tigers as early as February, some months before the formation was elevated from a Panzer Grenadier to a Panzer Division. One of 8.Kompanie's Tigers is quite well known from photographs - 812, delivered in 'panzer grey', given a temporary white winter paint job on arrival, and later treated to what's interpreted as dark yellow stripes over the grey. And at some point christned 'Tiki', as seen below.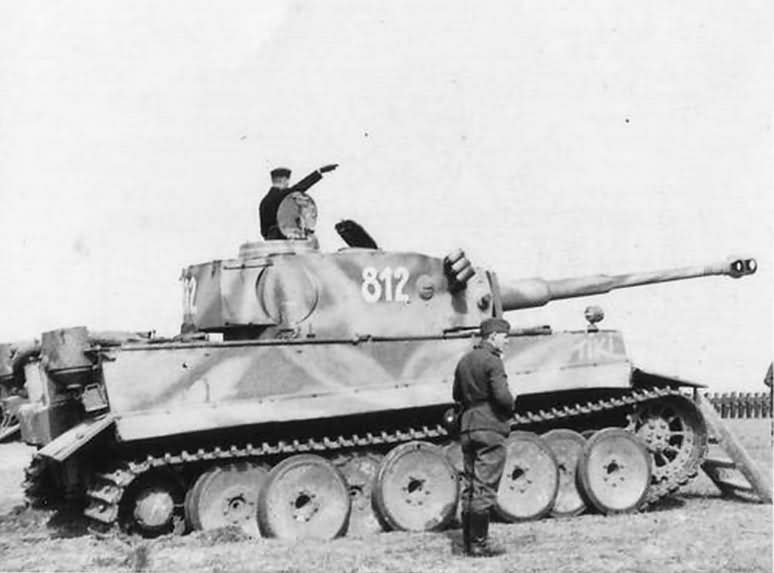 According to the excellent Mig Jimenez colour profile book Waffen SS Colors, 'Tiki' is a contraction of 'Tiger kind' (tiger child) and was inspired when the Kompaniefuhrer said to the new Tiger's crew, 'That is now your child, take care of it!'
As usual, a GT:OS (or SABOW) mission kicks off with the sort of 'operational' level screen shown below. I've chosen to use NATO unit symbols and to colour-code friendlies as blue, enemies as red (the latter all shown as question marks at this stage, as the enemy strengths and dispositions are so far unknown). While at this map, you can, within limits, elect to move any deployable friendly forces - which excludes those in the grey margins of the map, which are 'arriving' but not yet deployable. the screenshot was actually taken after I had made my moves (indicated by the blue arrows).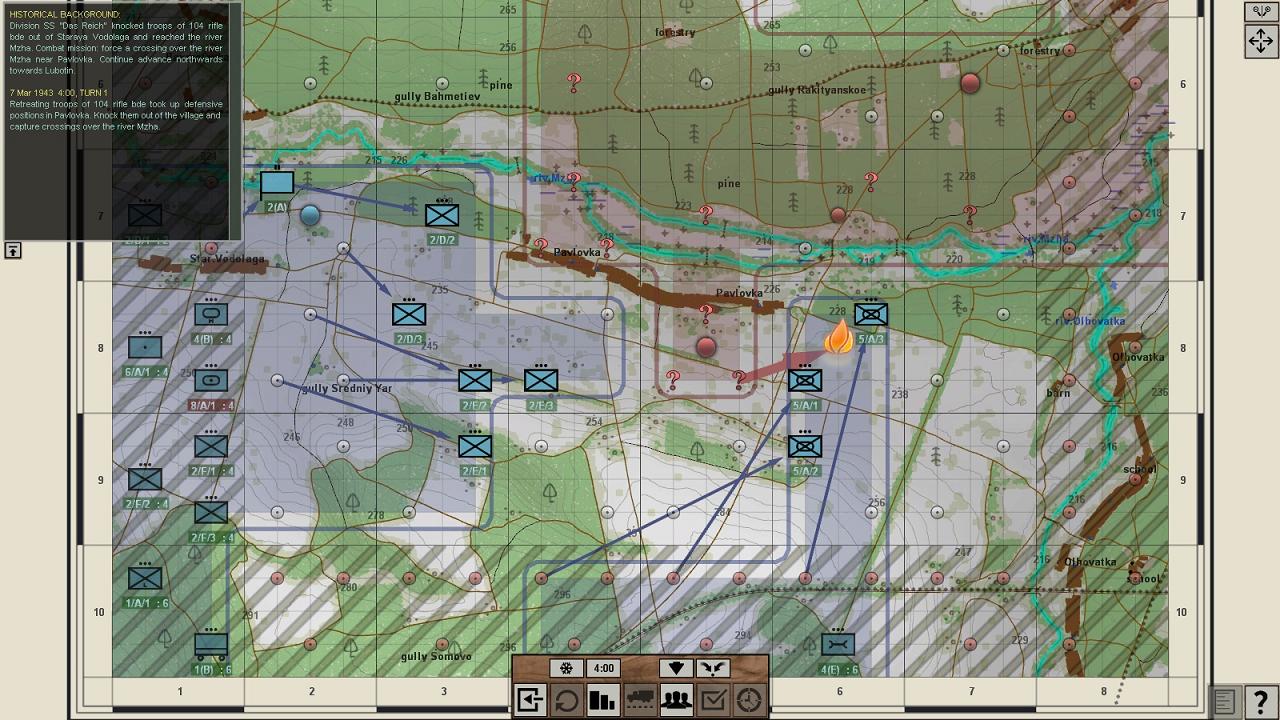 The 'briefing' is top left. In armies, commanders are given orders, not briefings, and these typically contain a lot more information than you get in any GT:OS (or SABOW) briefing I've ever seen. It's more of a general directive, which may be adequate in some situations but lacks much of the info I should have as a commander in this situation, like who I am, what forces I have, what artillery and air support is available, what's known about the enemy and so on - Ground, Situation, Mission, Execution, Service/Support, Command & Signals in NATO format. You are left to glean as much as you can of this by studying the map. Which is quite a lot, and thus ok up to a point. And it may be hard to script more formal orders for the dynamic GT:OS campaign. But this rather lacks the sense of person and place which you get from a more role-playing approach to a commander's...well, role.
That being as it may, I was about to discover how, from this so-so start, GT:OS grabs you by the proverbial short and curlies and immerses you neck-deep in an authentic-feeling and beautifully-rendered battlefield, in the role of a company-to-battalion-level commander in a desperate fight against a determined, unpredictable and at time invisible enemy. They told me GT:OS was this good, and I was about to find out that they did not lie.
My mission is to kick the retreating Soviet 104 Rifle Brigade out of Pavlovka and grab some river crossings, which is clear enough. For this task, while the greyed-out oval-in-blue-rectangle symbols to the left in the map above indicate that tanks may be available to me later, for now, my forces are limited. And rather un-concentrated, to boot. On the left, I have five Grenadier platoons (unarmoured), roughly a reinforced company. In my centre, to the south east, I have have three Panzer Grenadier platoons (I have already moved them north-east, and the Grenadiers west, in the pic below, which I'll explain in a moment) . Actually these troops are Panzer Pioneers, assault engineers. If I'd not been in my customary rush, I could have checked out their detailed organisation, but I decided to see for myself, at the deployment phase. Suffice to say that they were, as expected, equipped with SdKfz 251 half-tracked SPWs (Schutzenpanzerwagen=APC), though not of the specialised 251/7 variety usually issued to engineer units, with their little side-mounted bridging sections.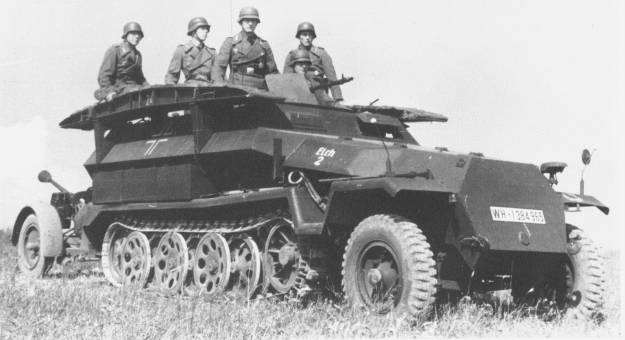 So, to a plan. Sensing that Division is unlikely to be happy if I wait out this turn till the tanks and other forces come up, I decide to launch concentric attacks from east and west, with the forces I do have. On the west, the Grenadiers will advance directly into the Soviet salient south of Pavlovka, with their left flank protected by the river Mzha, while the Panzer Pioneere, starting in my centre, will move north-east then north, from where they can either catch the Soviet salient in a pincer, or drive north towards the nearest Mzha crossings. Yes I know - I'm opening up the gap in my forces, but not by a lot, and I think this is preferable to butting up everything directly against the salient, where the main enemy strength might well lie.
The player having made his initial moves, GT:OS then determines if a battle has taken place, which the player then fights. That is what has happened here - the large, unfriendly red arrow spearing into my freshly-positioned Panzer Pioneere from the Soviet salient indicates a counterattack is expected, and the flame symbol calls me to fight the resulting battle.
Here we go!
...to be continued!