First peep at a new mission for a new mod for an old tanksim!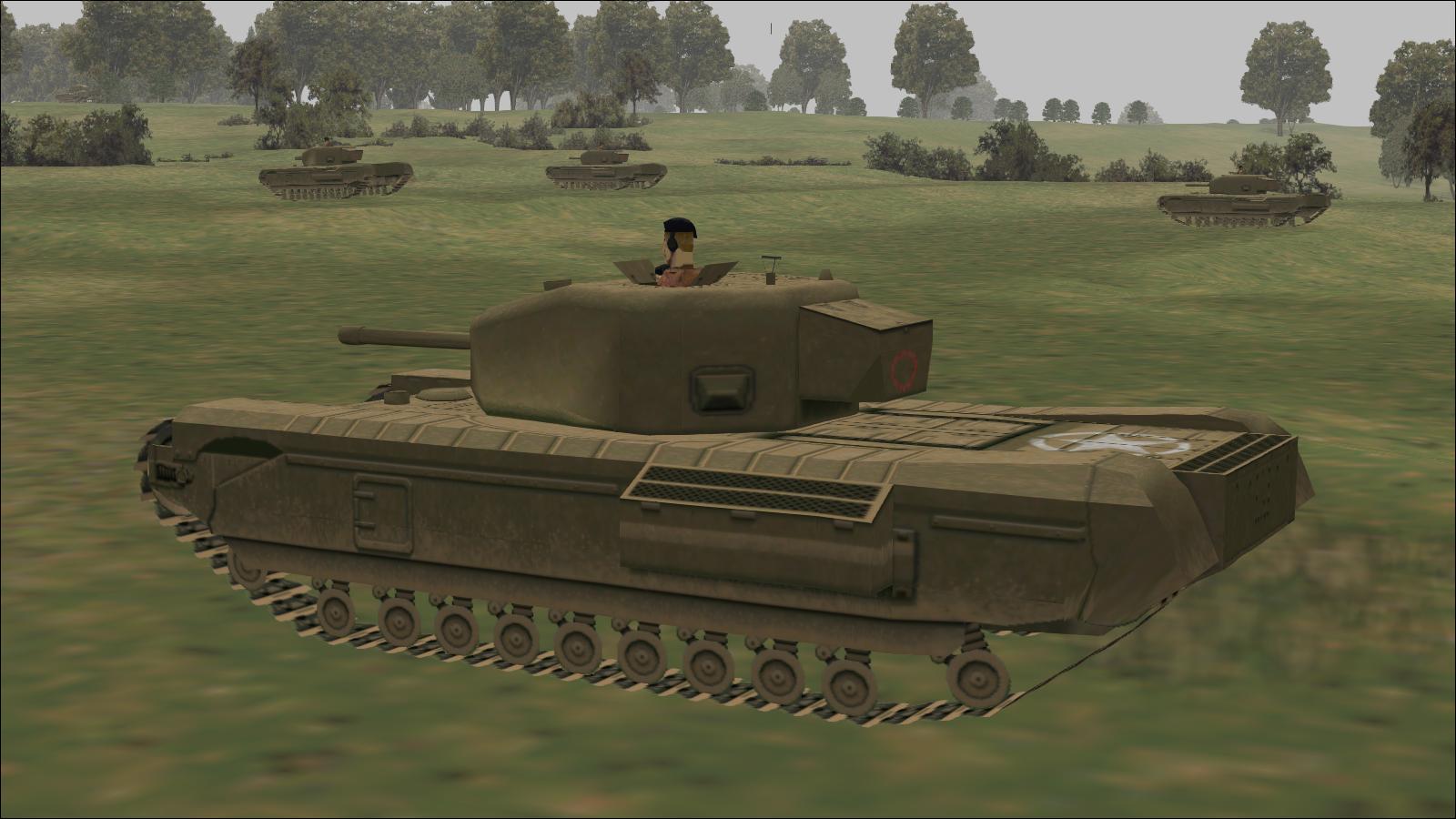 If anyone's been wondering what's stifled the flow of mission reports for several weeks, this is the answer. As in, working with Panzer Elite guru 'Brit 44' Aldo on a new mod for that sim.
You may wonder why, precisely - pure nostalgia apart - anyone would want to put time and effort into a simulation first released about eighteen years ago. Well, the answer of course is that several people are, because good old 'PE' is still one of the very best tank simulators you can play today. As well as adding to the considerable scope and content of the original, several available mods improve the original rather brash, almost 'cartoony' graphics to the point they are still quite serviceable, if little competition in the eye candy stakes for newer products like the excellent Graviteam Steel Fury - Kharkov 1942 and Steel Armor - Blaze of War.
Recent work has adopted the latest core code files developed by Aldo, known as PE-x, and which over time implemented a whole range of improvements ranging from accurate time of flight/ballistics with proper tracer effects, better tank and infantry AI, and better visuals including an extended maximum view range and fogging with distance. Slomo's PE-x has been out for a while, and featured many much-improved tank models, like the US Sherman and German Panther pictured below.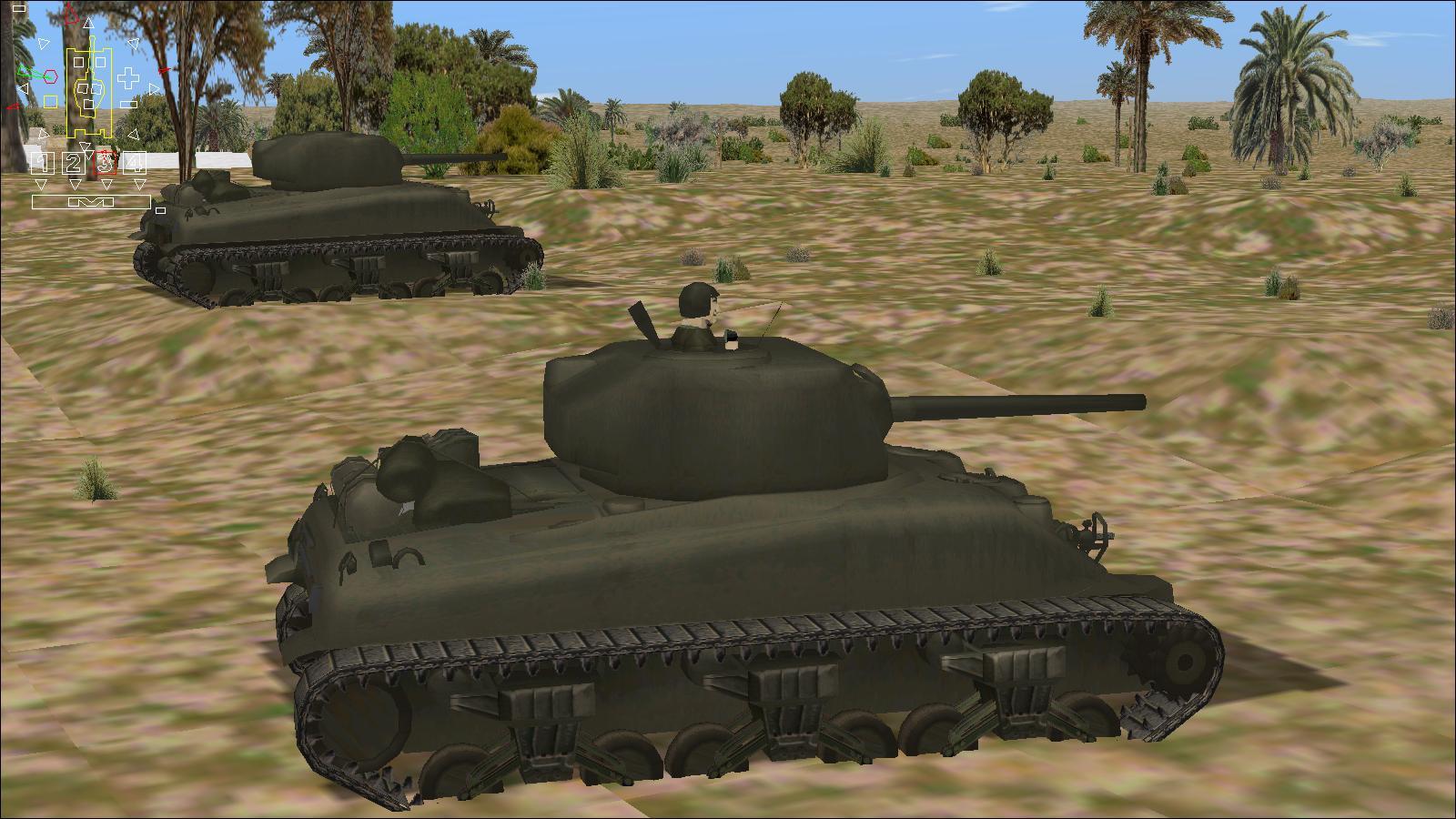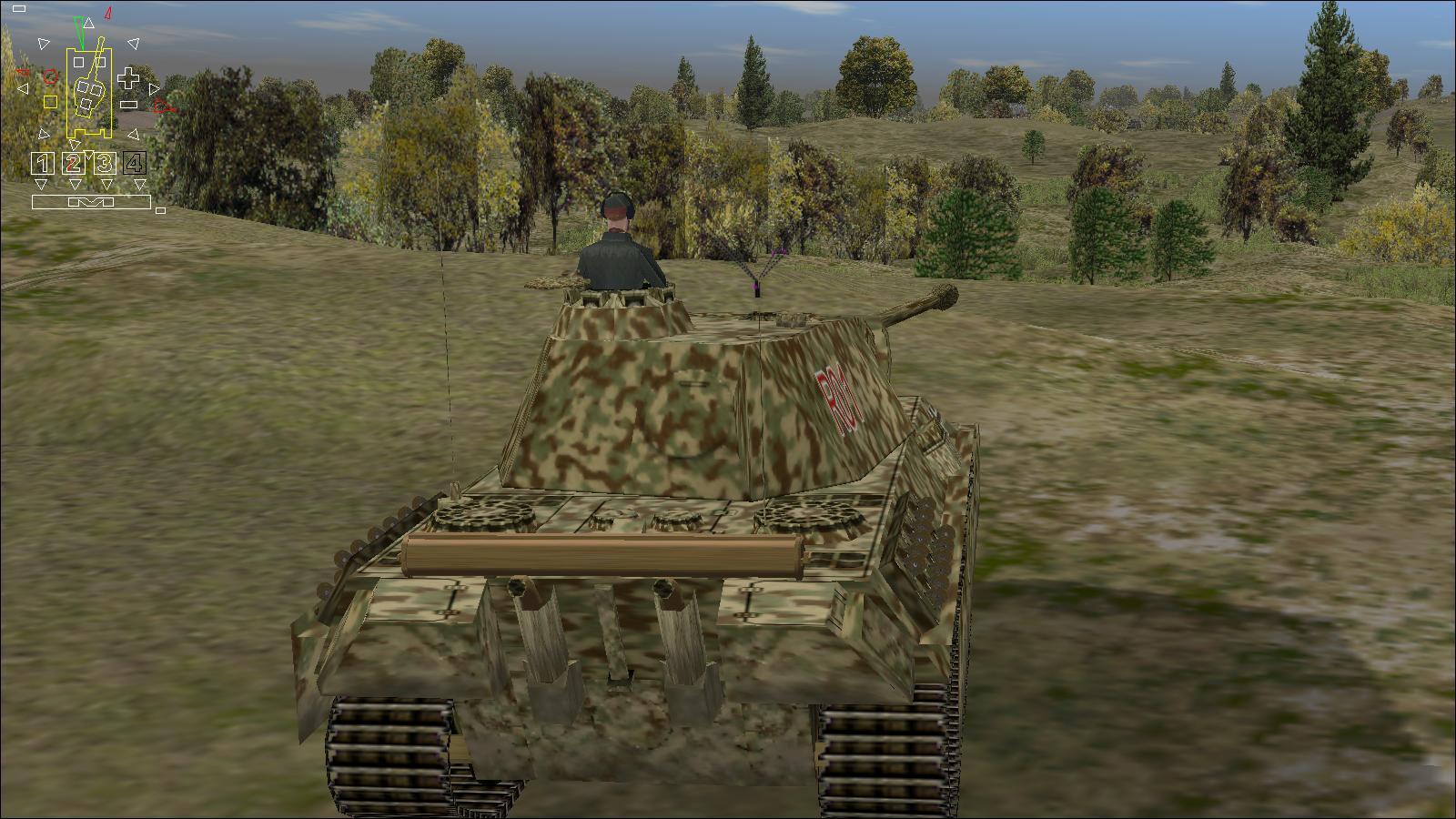 And just recently, Daskal released Ostpak Redux, a makeover of the full game to PE-x standards but also building in the famous Ostpak Eastern Front mod and other, additional campaigns which add the early Blitzkrieg of 1939-40 and the Western Desert to the original three stock campaigns - Tunisia, Italy and Normandy.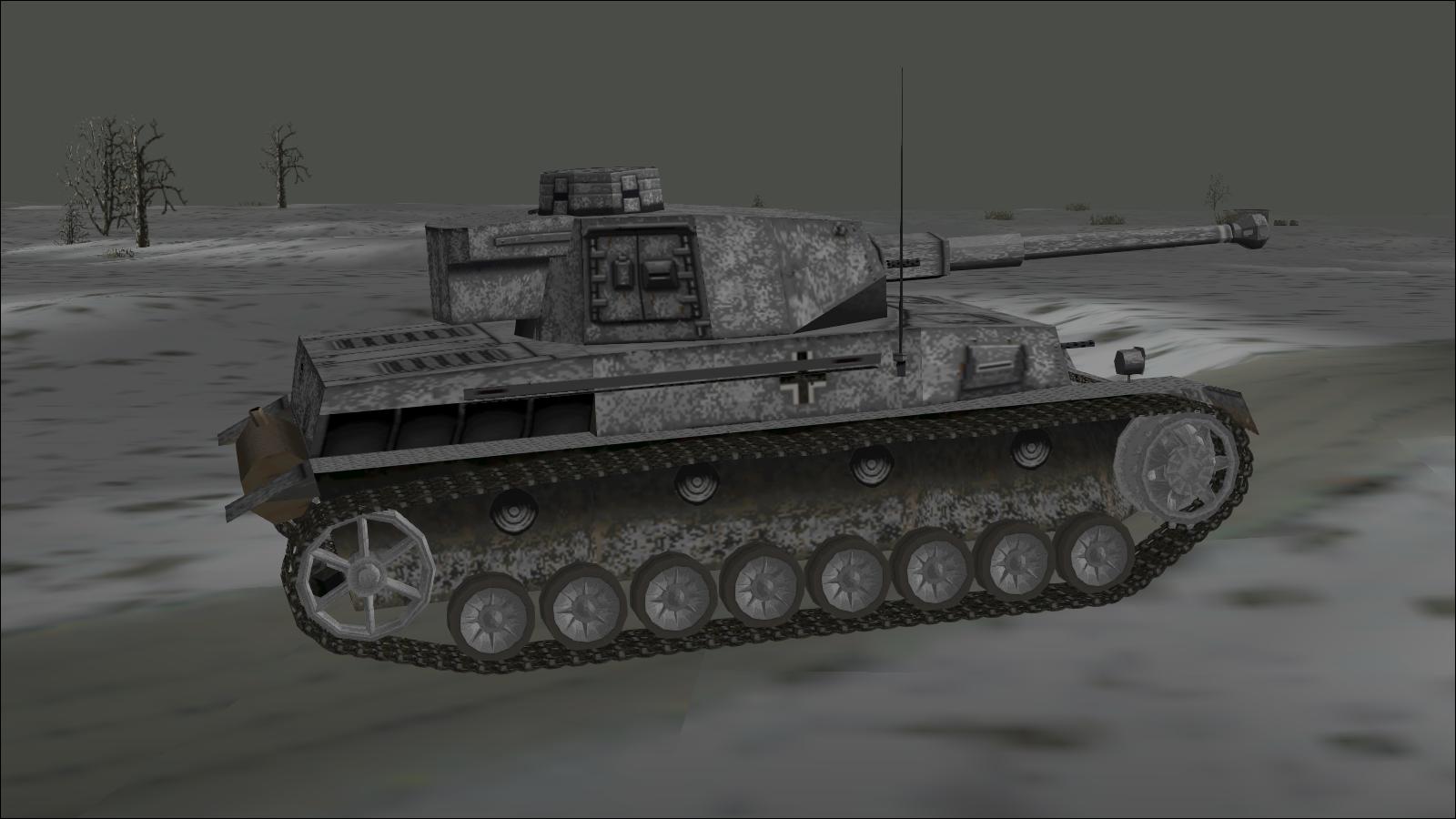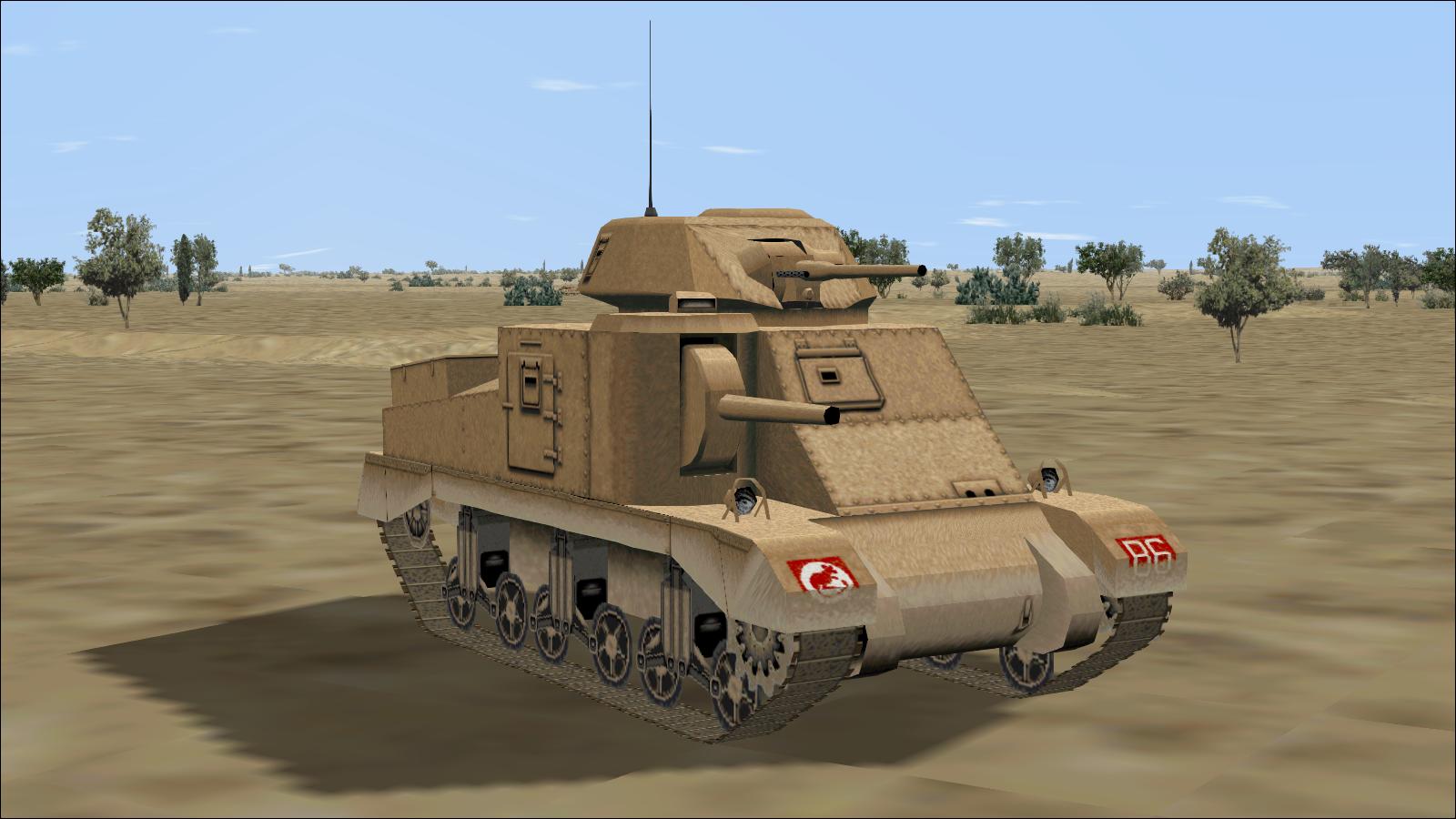 Along with Michael Y's 'Monty v Rommel' mod, my PE favourite was always Britpack '44, which replaced the US Normandy kit with a very comprehensive set of British AFVs, soft-skins, guns and troops - heck, there was even a Sherman DD 'swimming' tank...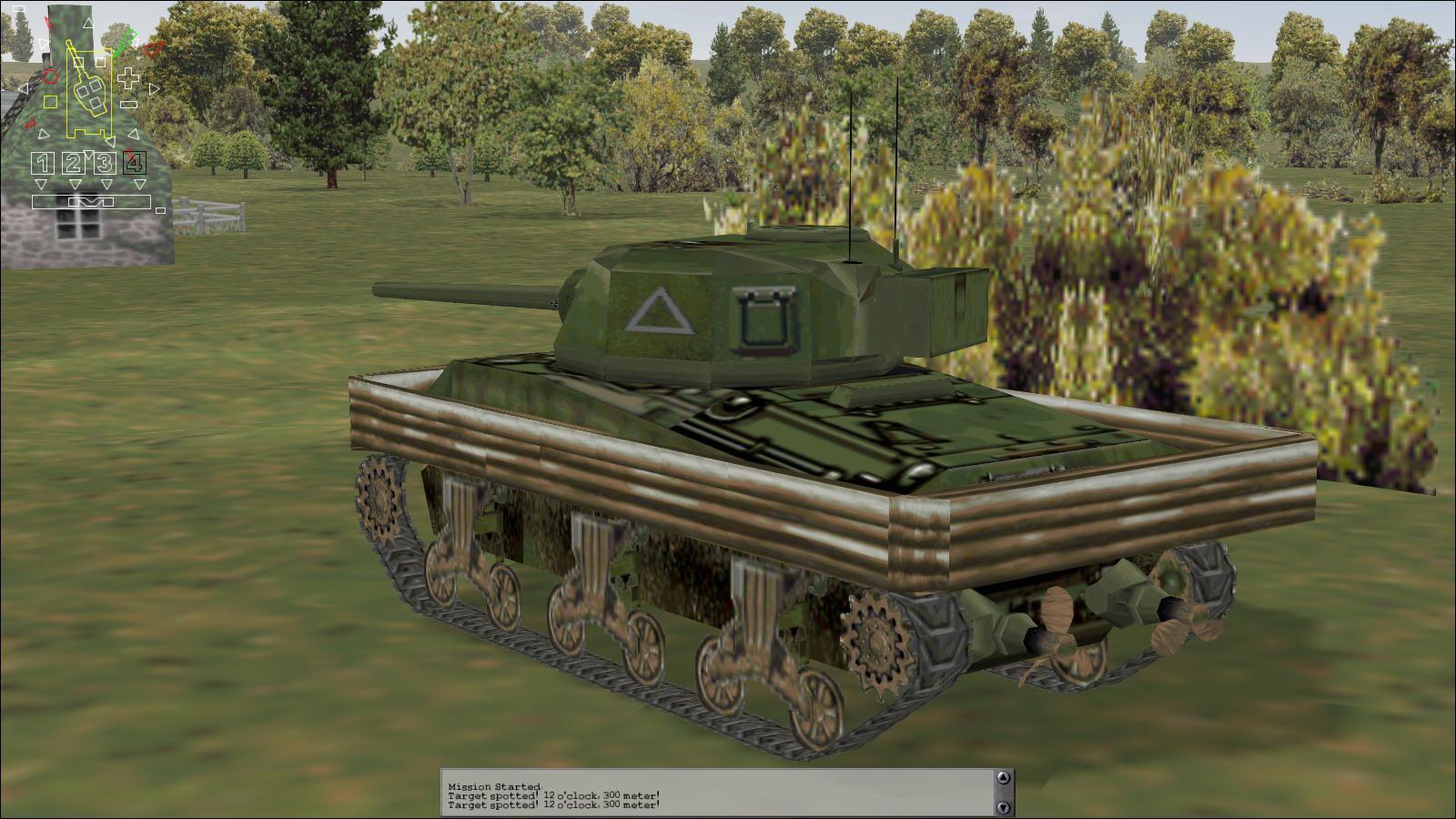 Sadly, Britpack '44 never got updated to PE-x standards. But this work is now under way, with Aldo doing the heavy lifting/smart stuff, and myself trying to break it (aka testing) plus adding new missions. The original Britpack '44 - introduced with Panzer Elite Special Edition, 'PESE' to its friends, in 2001 - made minimal changes to the stock US Normandy missions, beyond replacing the US kit with British stuff. The battles were all US bocage ops from July-August 1944, complete with original 'briefings', usually given by what sounded like a private soldier from the Bronx irritatingly laying out the law to, or even chewing out, his superiors. Back in the day, I recorded a British Voice Pack, still available, so that at least once you were playing, you didn't have to pretend that you were in a Canadian unit every time.
This time, while I am adapting the stock mission maps to save time, all the operations are entirey new, and feature realistic mission orders (incorrectly called 'briefings') delivered in an appropriate format and (except for single troop/platoon missions) given by your company commander to all his troop leaders, not just to the player. Apart from the first mission - there will be at least twelve - all are set during Operation Bluecoat, which was fought next to the US sector in Normandy and in similar bocage country, just a few miles east of the actual historical battlefields so accurately reproduced in the PE Normandy campaign. All I have done is re-label a few towns - and replace the 'cartoon' mission maps with the real c.1944 alternatives, scans of which were very helpfuly included by developers Wings Simulations with the project files in PESE. So instead of something like this...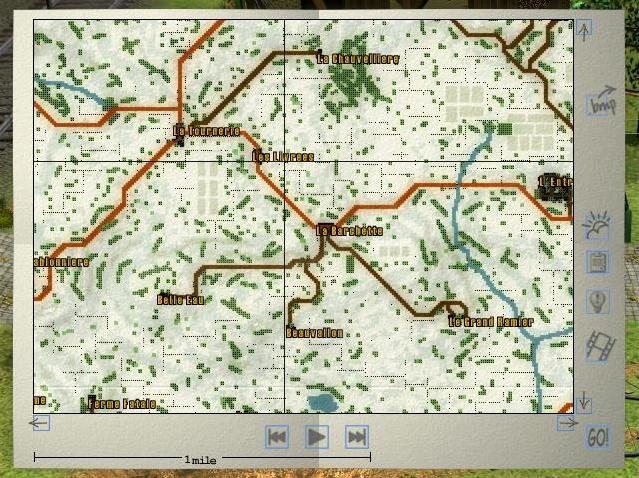 ...you get something like this...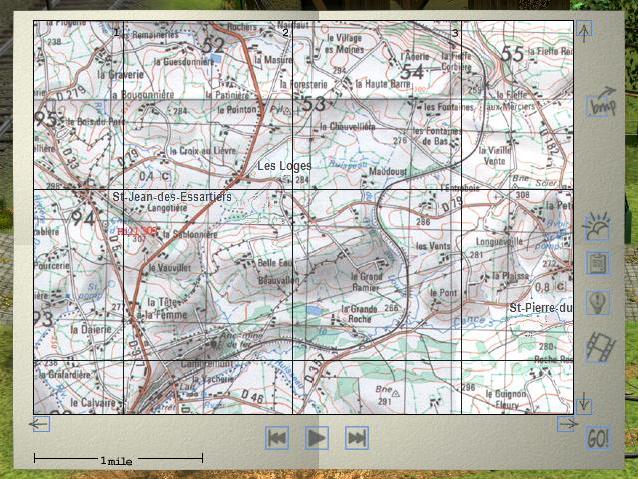 ...complete with the contours you need to be able to get a decent picture of the all-important lie of the land. You can see where I have crudely edited in new placenames to suit the mission, the map having been chosen to portray at least some of the topography relevant to the actual battles. And by 'actual battles' I mean that the missions - 'scenarios' in PE Speak - are, like the stock PE ones, scaled down or localised representations of actual historical actions. The original plan was to create a set following the career of an individual unit but as any tankie memoir will show you, they spent significant periods out of the line. So to fit in with Bluecoat's relatively short duration - and to showcase the variety of British vehicles available - I have settled for featuring different historical units. Unlike PE, which doesn't tell you which unit you're serving with, in my missions the player is an actual named participant in a named unit which fought in the real battle. For example, in 'Dickie's Bridge' you are Lt Dickie Powle of 2 HCR whose armoured car patrol famously secured the bridge he gave his name to, well behind German lines (porous as they were) on Day 2 of the operation. We don't have the correct Daimler Armoured and Scout Cars it's now known he used, but the Humber Armoured Car we do have makes a nice substitute, clad in modder and artist Geezer's fine, well-muddied textures.
The first mission is 'South of Hill 112', whch I started on over 20 years ago (!) but gave up on getting working in the version of PE then available (well short of the PE-x we have now). Also a casualty back then was a planned 'Yankeepak' of additional US missions, which foundered in circumstaces now lost to fading memories. The first thing I did on retrning to the fray was fix Hill 112, which is still not perfect but now functions much more reliably, and as the sort of reasonably authentic portrayal of a real tank-infantry action that I thought PE's stock missions didn't represent terribly well, seeming to play out like a platoon drive in the countryside, rather than a proper company-level operation.
After this scenario, the action switches to Bluecoat, at the end of July 1944, This was a much more successful operation than the famous and costly tank action of Operation Goodwood which preceeded it to the east of the Normandy bridgehead. Ian Daglish's excellent Pen & Sword Battleground Europework on the Op is my main source, and provides good unit-level descriptions of the actions I'm attempting to recreate now for Britpack '44-x.
'Enter the Tigers'
I'll illustrate this piece next with a short report on the scenario I'm currently working on. This action was fought on 2nd August, by which time the British advance had pressed well south from their Start Lines near Caumont, past St Martin des Besaces and Hills 309 and 226 nearby - the latter being where 3 Scots Guards's Churchills were famously mauled by the Jagdpanthers of sch.Pz. Abt 654, a battle I have already completed for Britpack '44-x. This next action was also fought by Churchills of 6 Guards Tank Brigade, this time by the Coldstream Guards. My version of the battle sends a squadron of that unit's Churchill Mk IVs to re-inforce the Seaforth Highlanders on Hill 309, who are being flayed by enemy mortar and artillery fire and facing a counterattack by elements of 21 Panzer Division, supported by some King Tigers from 3 Kompanie, sch, Pz. Abt. 503.
The real attack was intended to cut off the British drive by severing the spear near its base, but floundered in the face of stout tank and infantry resistance backed up by torrents of British artillery fire, of the sort said to have resulted in at least one German prisoner asking to be allowed to see the infamous British wonder-weapon, the belt-fed, multi-barrelled 25 Pounder gun.
The mission's not completed yet, but from the playthroughs so far, it's just as well that I am equally well supported by artillery! We'll have a look at some scenes from the battlefield, next, before I mention what else to expect from Britpack '44-x, and when.
...to be continued!