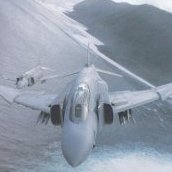 ---
Similar Content

By StoneAxe1492

This rar includes 2 planes with 3 skins each.
The 'modded' skins are just betaZ as am not a good aircraft skinner.
The original skins are from various sites and don't have details any longer.
Cockpit..: Streak Eagle's High Resolution F-4J Cockpit Version 1
Please contact me for further information as required.
I fly these planes off Gramps/capun/Virtual Navy Team 'CV-43' I renamed as CV-41. The F-4S 'VF-151 & VF-161' Fantoms flew off the Midway for a number of deployments.
See: www.navysite.de/cvn/cv41 for further information.
Unzip the files to a temp folder, place in Strike Fighters/objects/aircraft and go fly.