OBD Software Raises The Bar for WWI Air Combat Simulation!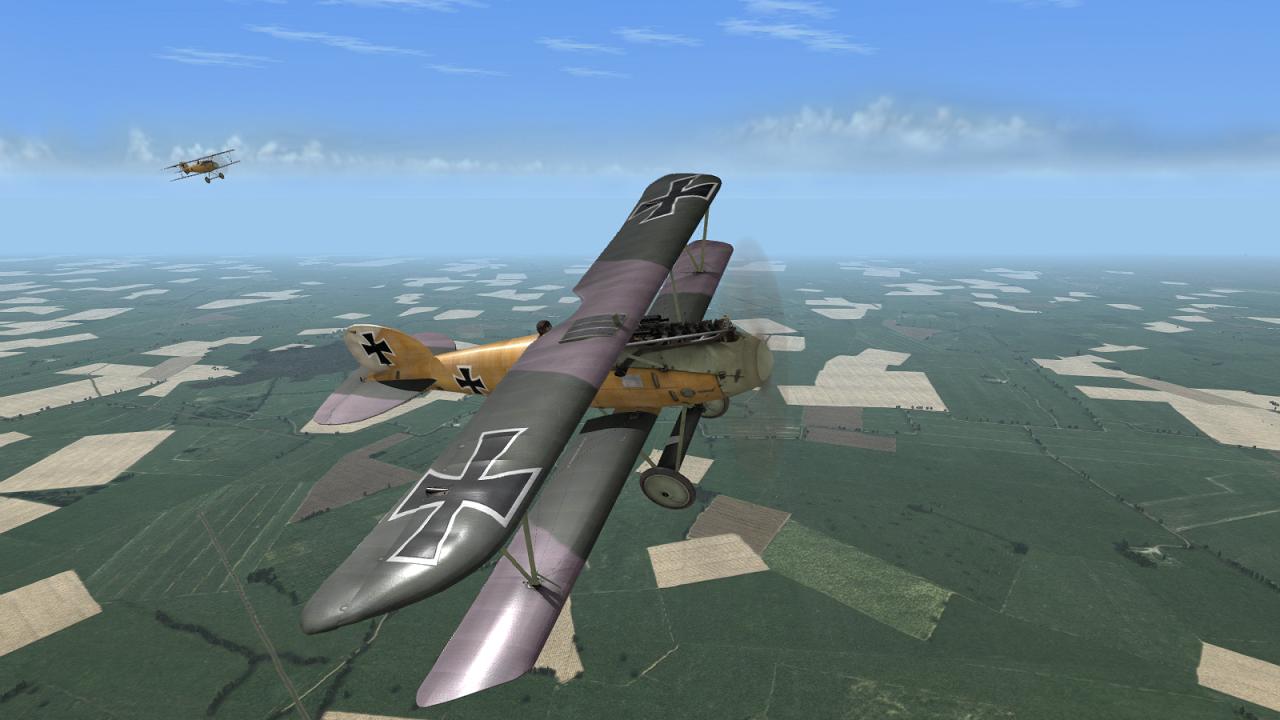 What can players expect?
Wings Over Flanders Fields - 'WOFF' - is the latest in a line of World War 1 air war sims that started with a modest but promising freeware mod for Microsoft's Combat Flight Simulator 3. The first commercial installment, Over Flanders Fields - Between Heaven and Hell (a.k.a. 'OFF Phase 3'), quickly made a name for itself. Features included much the best out-of-the-box, all-flyable planeset of any WW1 sim, complemented by thousands of meticulously-researched colour schemes for its planes and authentic orders of battle featuring the British, French, German and later (with the aptly-named 'Hat in the Ring' Expansion Pack) the US Air Services. Above all else, OFF wove together all of these elements to deliver an immersive and absorbing single-player campaign that enabled you to fly and fight for you chosen side, changing bases and aircraft as the war around you progressed, from 1915 through to the end of the war - if your pilots survived that long!

So what's different about WOFF? Well, it's a long list, but in short, it does all of what OFF did, but bigger and better, with some brand-new stuff to boot. Notably, WOFF features:
A re-worked, more polished 'WOFF Manager' interface with a great new musical score;
Much improved maps, both in-flight and for briefing/debriefing;
Optional pre-deployment training missions for your virtual pilots;
More realistic missions, flight strengths and briefings;
Improved terrain graphics - the terrain textures and scenery objects are transformed, with (amongst other things) better treelines, more natural-looking rivers and new airfields and objects, while No-man's Land looks more convincing than ever;
Improved aircraft graphics - OFF's rather bland cockpits now have absolutely exquisite textures matched by new external 'skins', while there are tweaks to some of the 3d models and a DX9 mod by Ankor adds dynamic self-shadowing, which really gilds the lily;
Some new aircraft, including a BE2c with - at last! - a flexible Lewis Gun; its predictably-unsuccessful single-seat fighter derivative, the BE12; the very widely-used Morane parasol; and the superb high-flying Rumpler CIV recce two-seater;
Totally new and much superior Artificial Intelligence - not only is air combat more convincing, the AI can now keep formation much better;
A host of other improvements, not least the ability to (try to!) clear stoppages ('jams') and much-needed enhancements to the view and wingman command systems.
System requirements, ordering and installation
The system requirements for WOFF are substantially higher than its predecessor and are listed here. Supported Operating Systems are Windows 7 (64 bit) or 8/8.1 (also 64 bit). The minimum recommended specs are an Intel 2.6GHz CPU; 560GTX/640GTX (or equivalents) GPU with 1GB of video RAM; and at least 4GB of system RAM.
I am actually running WOFF in Vista 64 on a 2.33GHz multi-core CPU with some background processes turned off. I have 6 GB of RAM but believe it or not, only a 512MB 8800GT video card. On this system I can't rack up the anti-aliasing as far as I'd like and the terrain and detail settings are set low. But though the FPS is often down to about 30 and can get a little choppy at times; and while panning can be sluggish; WOFF is playable, for me - just. And that's with both high-resolution aircraft textures and Ankor's self-shadowing mod (of which more later). The planes look great - even the dialled-down terrain and scenery looks wonderful. I could probably improve performance by turning off the high-res aircraft textures and most of all, by reducing the size of the scenery texture (.dds) files in a suitable file editor (as Pat Pattle has reported doing with good results, over at SimHQ). So...if you have been holding off because you have a slightly 'sub-spec' system and are on a budget, you may at your own risk still want to give WOFF a try now, certainly if you are prepared to upgrade should you find you really must and can do so without having to wait too long.
WOFF is available only by online order from OBD's WOFF website and at time of writing, is priced at $59.99 US (plus any local taxes like VAT in the EU). Options are digital download or DVD by post. Also available, by digital download only, are: a pack of over 4500(!) historical 'skins' for your planes; Matt Milne's atmospheric musical score; and the first official expansion pack, 'The Fokker Scourge'.
If opting for digital download, once you've purchased and got the email with the link, you can kick off your 4.4Gb download. You must have CFS3 for WOFF. When installing, you can either use your CFS3 CD/DVD or as I did, point the install wizard to an existing patched cfs3.exe on your PC. After that you can burn your download to DVD; it fits on a normal DVD-R. Simple!
To their credit, the developers have issued patches to add features or address such issues as have emerged, post-release. At time of writing, the current patch is to version 1.19, available here. Happily, this installs over any previous version, so installation is a breeze.
The new interface
The previous 'OFF Manager' was a pretty comprehensive interface to the sim's many settings and gameplay modes; but it had some rough edges. One of WOFF's main achievements has been to knock off the rough edges and provide a more polished interface. I make no apologies for covering this in some (mostly visual) detail because it's a crucial component of WOFF - both functionally and in terms of the immersion it contributes - and because it's one of the things that has been considerably improved, over OFF.
The first thing you'll notice is Matt Milne's new menu music. His score for OFF was a hard act to follow and at least one theme has been rolled forward into WOFF. Nearly all is new and it's a worthy successor to the original score, notably the main menu theme which is suitably dark, dramatic and foreboding.
Here's the OFF main menu screen. The background picture - a row of Fokker triplanes, here - will change with successive visits.
Looking at the menu options, 'Leave' exits the sim and 'Credits' does 'what it says on the tin'. 'Workshops', bottom right, is the place to start, as this is where you select graphics and realism settings - it's not tabbed, but all in one screen, which has changed somewhat since OFF. The latest version of the 'Workshops' screen looks like this, which shows you just how many settings you can change here: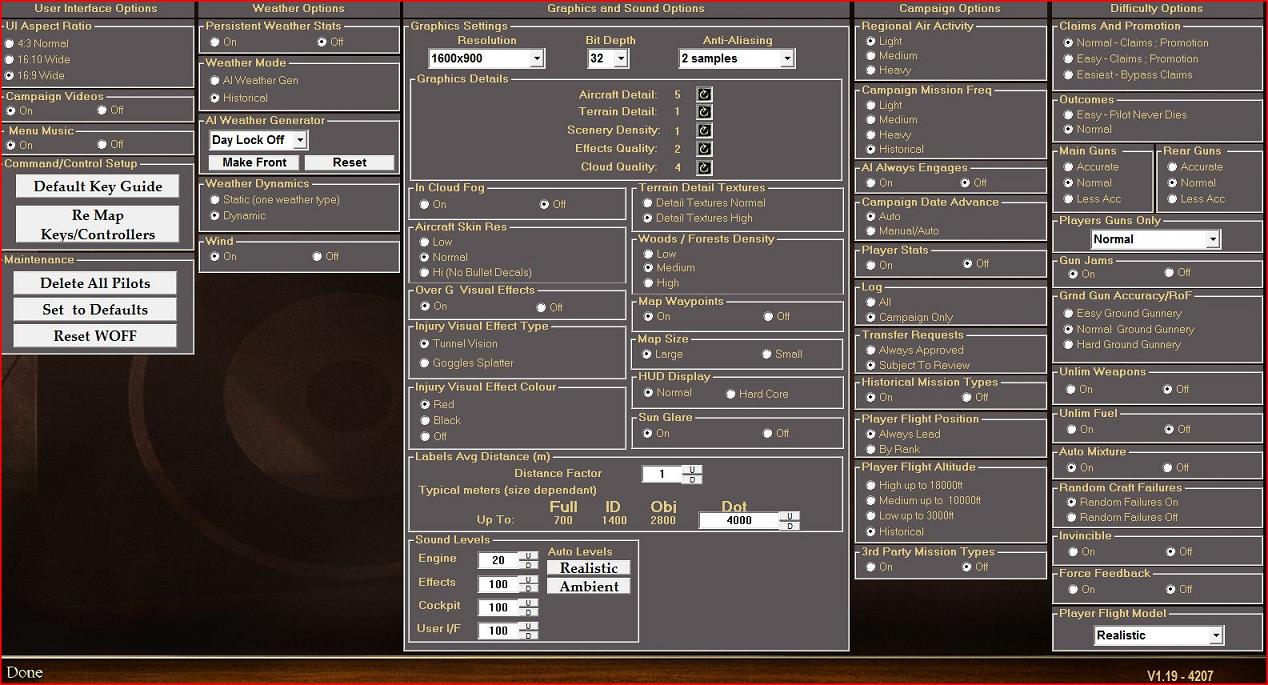 Gone is the 'CFS3config' tool that OFF users will know, replaced by the ability to set the main display settings here in the 'Workshops'. As before, you can turn off gun jams (stoppages) but now, if you leave them on, stoppages can affect individual guns and you have a chance of being able to clear them, in flight - which was impossible, in OFF. As in the latter, you can elect to have confirmation of your kills dependent on acceptance of your claims in combat reports you write after the mission. New stuff includes the fact that injuries to your pilot can be displayed in-game - options are blood spatter (in red, or in black for the squeamish) or tunnel vision. There really is a lot of stuff you can adjust here, to improve looks, tweak performance or increase/relax realism or difficulty.
While we're talking 'setup' it's worth mentioning that - while there's no manual as such, that I can find anyway - there is some neat stuff installed into a 'Toolbox' folder - specifically a 'WOFF Toolbox' program whose most useful feature is a great little keyboard and joystick control assignment utility. There's also some helpful guides online, here. EDIT - the same documents can be found in the game folder OBDWW1 Over Flanders Fields/documentation.
Moving on from the 'Workshops' and returning to the main menu screen, the next place to go is 'Pilot Dossiers'. Before you fly in any mode, you must create at least one pilot, and this is where you do it - the Enlistment Options screen:
You choose your nationality and can then go for 'Campaign Auto Deployment', top of the screen, with or without preliminary flight training missions. Alternatively, if you want to pick a specific unit and starting period, you can instead use 'Manual Squad Deployment', button bottom right. If you choose the latter, you get an improved version of the old OFF squadron selection screen, like this one, which I used here to start a career with the pioneer Bristol Fighter squadron, No. 48, starting in March 1917: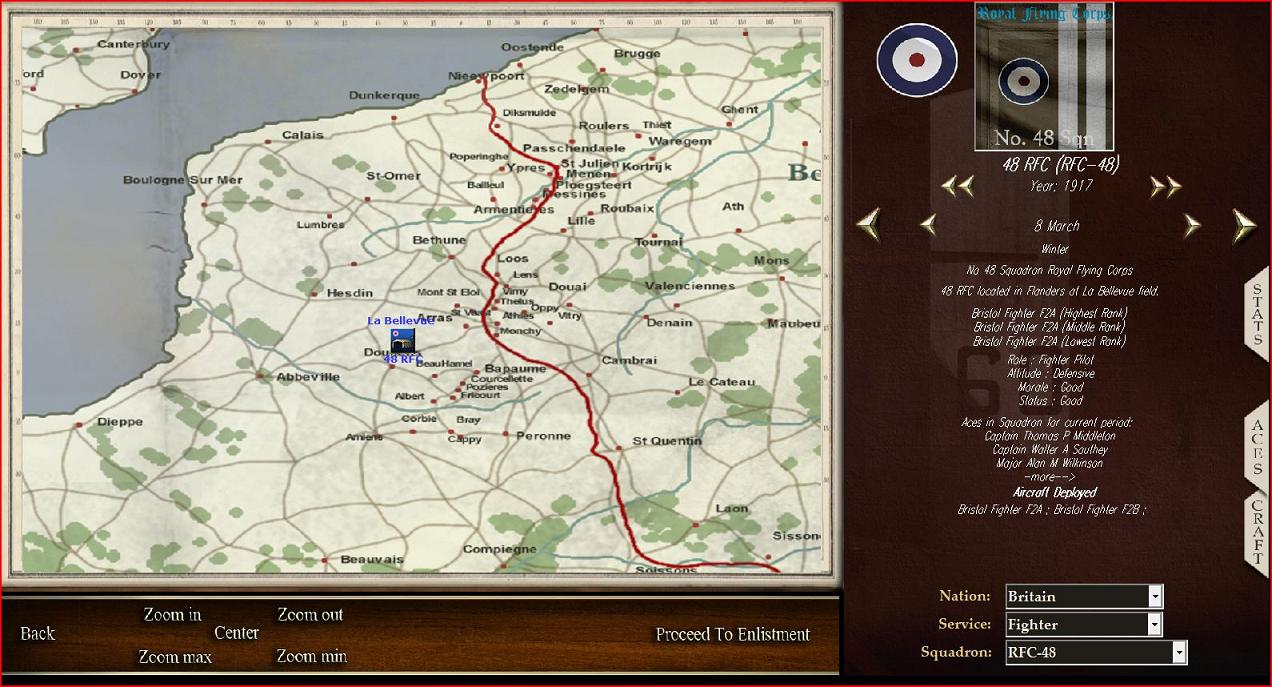 If you're familiar with OFF, you'll notice at once that the map has been vastly improved from the original, which was rather poor. And you can click on tabs which bring up helpful additional information, before finalising your selection - for example, here's the 'Craft' tab for the 'Biff' or 'Brisfit' (represented in WOFF, as in OFF, by the F2B version rather than the original F2A) - with a nice rendition of the squadron's mount in a wooden hangar, though the accompanying text mistakenly says it's a 'bomber':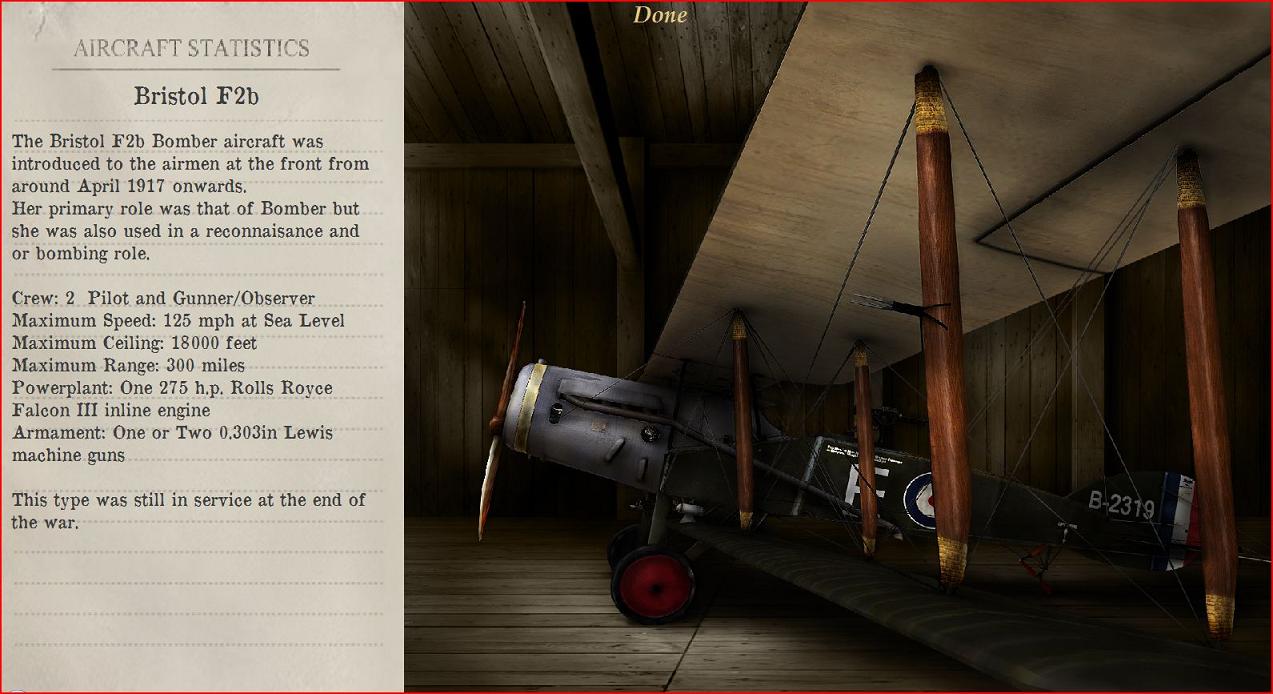 When you've made your choice of unit, you can enter a name for your pilot, in your 'dossier' or logbook. Here, WOFF will record your flights and campaign achievements. The representation of this document is another big improvement over the OFF version. Your squadron marking (two white bars in this case) is displayed top left and you can cycle through a selection of different authentic period photographs for the logbook itself. In this career, I've opted to be a brother of the CO, William Leefe Robinson VC, posted to France after shooting down a Zeppelin over England!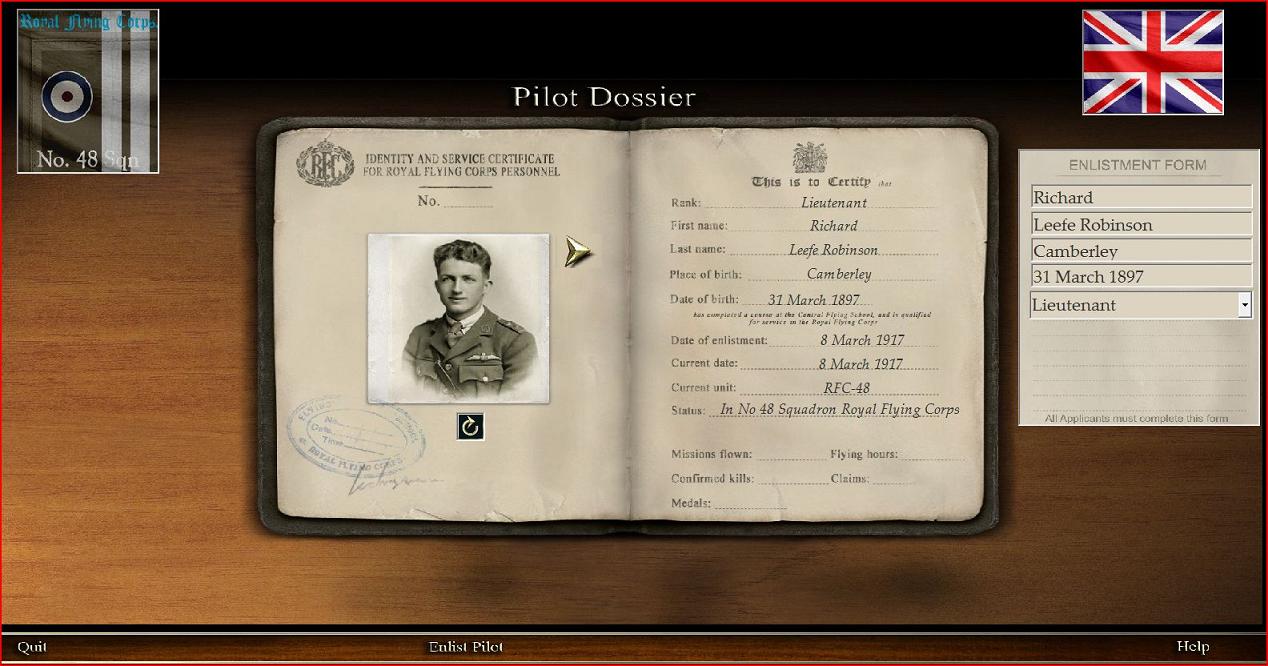 At this point, having set up the sim to your taste and created your first pilot, you are now ready to take to the skies over war-torn Europe!
Coming in part 2 - the planeset; graphics/sound; the air-to-air experience; and gameplay modes