Interview With The Virtual Thunderbirds
Founded in 2004 they are the first squad to reenact the precision and professionalism of the U.S Air Force Thunderbids. Their mission, as their website sates, "is to be the most comprehensive group of knowledgeable and talented pilots on the internet "wearing" the Thunderbird patch, virtually." They are the Virtual Thunderbirds and they've been widely recognized on the net as the virtual equivalent to the U.S Air Force Thunderbirds. They are a fan based group that work hard to perform formation flying, breathtaking and precise aerobatic maneuvers using Eagle Dynamics Digital Combat Simulator. They use flight controls made by Thurstmaster who is also their sponsor to perform their precise aerobatic routines. The Virtual Thunderbirds spend many hours perfecting their routine and work hard to keep their "technique and callouts as closely as possible with those used by the USAF Thunderbird pilots" as stated on their website. Randy "Tailhook" Thom, VTB2 Left Wing, Rick "Ray" Charles, VTB3 Right Wing, and Tom "Teej" Kopp, VTB6 Opposing Solo have kindly agreed to do this interview and for that, gentlemen, we thank you.
What events inspired the creation of the Virtual Thunderbirds in 2004?
I'd say the inspiring events simply were the sight and sound of watching the USAF Thunderbirds perform at local air shows.


How long did it take for the first team to form?
Probably not long, given that they were friends who shared the same interest at the time.

How much time do the Virtual Thunderbirds spend training so the team can perform with the same amount of precision as the USAF Thunderbirds?
If we were to start out with no practice for months to show-ready, I would say 2 to 3 months, depending on how many practices all 6 of us could attend during that period. The flying is a stressful challenge but really it is just second nature to all of us. Like anyone, we have our good days and our bad days. If someone messes up a maneuver there is little chance that person will mess up that same maneuver the following practice. Aside from the flying, the real challenge for the whole team is just nailing down the tight choreography of the demonstration both on the ground and in the air.

Have the Virtual Thunderbirds ever met the USAF Thunderbirds? If so please explain the events of the meeting.
Yes and no. On a few occasions some of us have met with an active Thunderbird here and there over the years but we have never actually met them as a group. Instead we have come in contact of some amazing people, alumni and friends, colleagues, pilots and aviation enthusiasts alike whom share our passion.

What recommendations do you have for people that would like to practice being a Virtual Thunderbird?
Practice hard, stretch your comfort zone, and break any habits you find yourself fighting with!

If you want to learn a lot while taking your flying skills to the complete next level, feel free to send in an application. It takes more than just superb flying ability to accomplish the Virtual Thunderbird mission. It takes outstanding support, unparalleled training, attention to detail, and professionalism. We are always looking for dedicated and motivated team players. We hope you'll give us the opportunity to meet you and answer any questions you may have.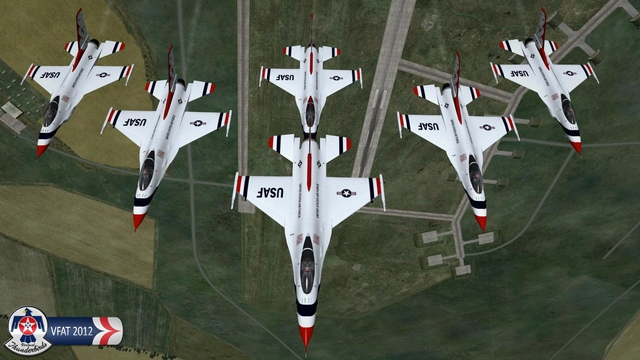 How has the Virtual Festival of Aerobatic Teams impacted the Virtual Thunderbirds? Has helped spread your popularity? Solidify your position among the many virtual aerobatic teams around the world?
I think VFAT has impacted the team in some ways. It has given the VTB the motivation to strive for realism and professionalism, as well as push itself to be better the next time around. VFAT has no doubt helped spread the team's popularity both within the community of ED's simulators and abroad to other game communities. The same can also be said for every other team that performs. But I wouldn't go so far as to say VFAT has solidified our position among the rest. At the end of the day we are all just equal enthusiasts like everyone else having fun in what we do and putting on a show for the rest of the world.

Do you perform at virtual air shows other than VFAT?
Currently we do not but we are interested in performing in more shows than just VFAT in the future.

What is the future for the virtual aerobatic teams and where do you see the Virtual Thunderbirds in that future?
The virtual aerobatic community is growing and will continue to grow for years to come thanks to an evolving simulator by Eagle Dynamics. We expect to stick around for as long as our passion for aviation and the enjoyment of representing the USAF Thunderbirds in a virtual world stick with us.

What inspired you to become a Virtual Thunderbird?
The thing that did it for me was back in early 2006 when I was looking through fighter jet videos on Google Videos and stumbled onto their first official video from 2004. I immediately was amazed at what they were accomplishing and it looked like so much fun. From then on I tried out for the team twice, once in 2006 and again in 2009, but my age was the limiting factor both times. I eventually tried out again in late 2011 and made the team in 2012. -Tailhook

I'd have to say the 'Smoke On' movie in 2006 is what did it for me. I thought, "They are awesome! I'd like to fly with a team like that someday". I've been flying flight simulators since about '95 and have always enjoyed formation flying with AI or other players. I thought it would be a lot of fun and a challenge to try flying the various maneuvers of the Thunderbirds in an online simulator. Then a few years went by and real life kept me busy enough that I wouldn't have been able to dedicate the time required to fly with the team. When I had more free time I was excited to see them recruiting in 2009 so I began attending tryout flights a few times a week while getting to know the team. That lasted for a few months and then I was selected in September. I've really enjoyed the flying, teamwork and camaraderie. -Ray
In my case, trying out was almost a spur of the moment decision. The last online flying I had done was between 2005 and 2007, with Falcon 4 Allied Force and Open Falcon with several groups and squadrons. As F4AF popularity faded, I dropped out of flying for a while. With a job layoff early in 2009 and the stress of looking for work, I felt like flying again, and came across Lawndart's recruitment post on Frugals World. Knowing one of my old Falcon friends (Panther) was with the group, I gave it a shot and the group and I very quickly felt like it was a great fit. -Teej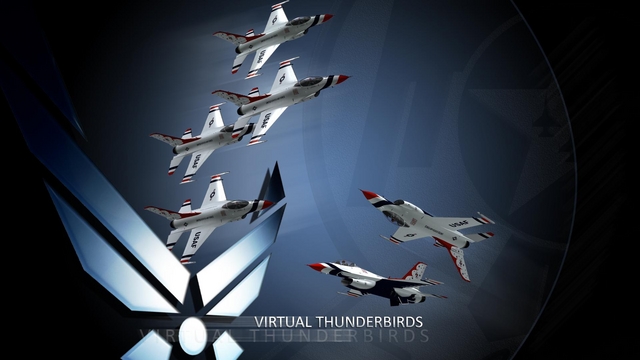 What do you like about being a Virtual Thunderbird?
I like the teamwork and professionalism we all put forth. It's nice to deal with smart people who know what they are doing and do it well. From the flying to the public interactions, it all just feels good to be among some of the best. -Tailhook

I really enjoy the teamwork and the flying. The concentration and raw skill required to perform this type of flying is incredible, without a doubt the most challenging thing I've ever done. I'm an ATP rated airline pilot in real life and excelling at this type of flying is much more difficult than any real world flying will ever be. I enjoy the challenge and being able to observe via track replay the aerial art we create. To see it all come together in a near perfect performance is extremely rewarding. There are so many things that each of us have to do just right during the show for it all to work out. I believe it's that constant pursuit of flying that perfect show that really fuels the fire. Also, each of us have our own difficulties with various maneuvers. To see the improvement in ourselves and our team mates as we progress in the season is a great feeling as well. It's just a very enjoyable hobby, there's nothing else like it. -Ray
The teamwork and dedication to make things look right, long past the point where some would say "Eh, good enough." Sure, it's "just a video game", but when everyone gets things right and not just "good enough", that's fun. There's a sense of pride in being professional enough to deal with problems when they come up, such as when one of our pilots had a joystick issue during VFAT 2011. After confirming the issue was resolved, we all checked that we had enough fuel to finish the show and pressed on. Later we had a laugh over it and released a joke video using the "satellite" view of the show. -Teej
What is your most memorable moment of being a Virtual Thunderbird?
So far I think the most memorable has just been having the chance to personally meet and have fun with the people I have looked up to over the years. -Tailhook

I'd have to say flying my first live show during our VFAT 2009 performance. It was a mix of nerves and excitement. Once Boss called for brakes release and we began rolling I thought, "There's no turning back now! Just relax and fly like I've trained". When I heard the excitement in our radio calls I knew we had a good one going. A few minutes went by and the nerves subsided. I felt very relaxed on the wing, staying locked in, just working through each maneuver one at a time. Before long we were setting up for the Delta Blue Out Pitch and then on the ground taxiing in. It was a very rewarding feeling, all the hard work and practice had paid off! -Ray
I don't think I could narrow it down to one. The easiest answer would be brakes release to start my first show. Another was reading a rather colorful "critique" of our 2012 show by a fighter pilot friend of the team. And then I think anyone who has done this knows the feeling of having elements you've struggled with in practice but nailed during the show. -Teej
Has being a Virtual Thunderbird impacted your life any? If so please explain.
I think it has impacted me very much personally. For years I have wanted to become a pilot in real life and being around a number of actual pilots both on the team and in the aerobatic community gave me the motivation to finally pursue a career in aviation. It has taught me many different things and has made me a better person overall. Also, the skills you obtain from doing what we do carry over very well in reality both with knowledge and flying. -Tailhook

I think it has helped with my precision flying in real life in terms of instrument flying, the scan, constant attention required, and the smooth control inputs. When I went for airline initial training in the ERJ-145, after my first session in the simulator the instructor said "I'd sign you off for an ATP right now if I could, that was incredible! I've never seen anyone fly so precisely their first time in the sim". I believe without a doubt that PC simulator flying has helped my real life flying. It has also opened some networking opportunity for me in the real world. My teammate Todd "Whack" MacLeod, our former #5, put me in touch with a buddy of his that was looking for an FO to fly an Embraer Legacy 600 with him for an oil and gas company here in the Houston area. I decided to decline the offer and stay with the airlines but thought to myself, "Wow, how awesome is that?" If I hadn't been a member of the VTB that opportunity would have never presented itself. -Ray
Impact? That's tough to say. My involvement with the VTB has led to making friends with a group of people I probably would not have met otherwise. It's meant taking a couple of trips I otherwise would not have, such as assisting Thrustmaster with the media release event for the HOTAS Warthog controller. Beyond that, I'm still interested in pursuing a pilot's license at some point. While flying a simulated fighter jet has little in common with a small piston-engined aircraft, there is a core mindset in flying that I think does carry over to an extent. You never want your aircraft going somewhere your mind wasn't already at 10 seconds ago. -Teej
Do you have any comments for your fans out there?
Thank you for all the continued support and positive feedback, we appreciate it! -Tailhook

Thank you for your support over the years, we enjoy performing for our fans. Also practice, practice, and more practice if you're struggling at learning to fly formation. It takes quite a lot of time to perfect those skills and build the muscle memory required to fly tight formation. -Ray
Thanks for your interest! We'd probably do this even without VFAT, but it's fun having a virtual gathering to share each others' work. -Teej
Once again thank you for taking the time to an interview with Tailhook, Ray, and Teej.
For those wondering, the other Virtual Thunderbird members are,Kris "Lawndart" Langdell VTB1 Commander/Leader, Tab "Redeye" Harris VTB4 Slot, Stephanie "Panther" Lessentine VTB5 Lead Solo, Steve "Gunner" Watts VTB7 Operations Officer, Allen"Thumper" Hartford VTB8 Advance Pilot/Narrator, and Todd "Whack" MacLeod VTB9, Flight Surgeon. Kudos to all of you for your hard work.
Until next time, I'm Skyviper wishing everyone out there happy landings.
Click here to check out the Virtual Thunderbirds website. Clck here to see a video of them in action
Do you think you have what it takes to be a Virtual Thunderbird? Click the link below to find out. Best wishes!