Content count

1,903

Joined

Last visited

Days Won

8
Community Reputation
672
Great
About Skyviper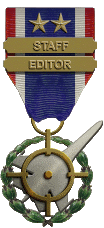 Profile Information
Gender
Location

The United States of America

Interests

Aircraft, spacecraft, warcraft, starcraft, Kraft Mac and Cheese, Cheeseburgers, Bacon Cheeseburgers, fries, and soft drinks.
Yeah I've been wanting to write stories about mechs ... then have you seen the Neo Japan 2202 images?

I like how Star Trek TOS did their version of the future. it's also nice to see the special effects they came up with for that time period too. @Wrench Man in High Castle Season 3 coming out soon! Hopefully by end of this Month or early March ...

I've been watching some pretty good shows (to me) that Amazon Prime offered and now I'm left hanging. Americans ---I'm wanting to see how that will pan out Man in the High Castle --- I'm so ready for Season 3! (I hope they don't drop the ball) Believe it or not the Marvelous Mrs. Mazel is a show that I just blew through and am now wanting to watch more of. I figured it was going to be one those they're going to push some kind of agenda thing but it really wasn't ... it was a look into the world of a female comedian. I don't think Amazon expected it to do well either because they only gave it 8 episodes. I'm liking the shows that Amazon has because my basic cable programs are getting progressively worse ... what the crap happened? History channel used to talk about ... history. Modern Marvels, Ancient Battles, etc. now it's two guys buying stuff and people talking about aliens oh and their version of Food Network's Chopped. Everything else seems to reality TV shows. Anyway what shows have you been watching lately that has you hooked?

Did not know it leaked that many fluids so fast!

Skyviper replied to MigBuster's topic in The Pub

With all the bullshit going on Planet Earth. I think aliens would just show up and watch the drama like people watch the drama on reality tv shows. I've always pondered the impact the discovery of another celestial civilization would have on our own. Honestly if we can barely tolerate each other over our differences, beliefs, geopolitical situations, etc. Then how the fuck are we going to tolerate an alien society that's completely different from our own? I'll shut up now.

Jug had a cool job may he R.I.P.

Sorry guys I'll work on a full report today. I have someone else who isn't familiar with Thirdwire products reviewing this tonight I'll include his report along with mine. My first impressions are this. It feels incomplete (I'm sure we can mod that. I hope we can.). There are some things that are neat which remind me of classic space games like Wing Commander or Star Lancer. You select your gigs (missions) to get credits. You can trade too. I'll a little game play video of me selecting a gig and shooting stuff. My editing software is screwing around with the rest of footage that I've taken. So when I do this again I'll make short recordings so that way you can see everything in detail.

So I tired it and um. Well it's different. I have some video of me trying it out for the first time. I see what it wants to be. But the fact is that I see what it is.

Veteran's Receive Free Dental Care by Andre "Skyviper" Ford Pictured left to right. Mandy Fisher RDA, Dr. Paul Teed, Alyssa Thompson Practice Manager, and Mrs. Katie. Grateful, thankful, and honored are just a few words that many have used to describe their experience at Teed Family Dentistry on 11-15-2017. Dr. Teed, along with staff, volunteers, and local businesses worked together to give our veterans much needed dental care, for free. " We wanted to do something for the community as we were not able to participate in the day of caring event like we normally do" stated Alyssa Thompson, the Practice Manager at Teed Family Dentistry. "However, we still wanted to reach out and help the community." Thompson continued to explain the research Dr. Teed and his staff conducted about the health benefits veterans receive. Their research revealed that a number of veterans did not have a decent dental plan. Thompson explained "Ignoring cleaning leads to serious health issues." Studies by the Centers for Disease Control and Prevention, found that half of adults age 30 and older suffer from some form of gum disease. This disease, while painless, affects the tissues that surround and support your teeth. Information from the American Dental Association explains that "Advanced gum disease is called periodontitis. It can lead to the loss of tissue and bone that support the teeth and it may become more severe over time... While a link is not conclusive, some studies indicate that severe gum disease may be associated with several other health conditions such as diabetes or stroke." The ADA vehemently states "You don't have to lose teeth to gum disease. Brush your teeth twice a day, clean between your teeth daily, eat a balanced diet, and schedule regular dental visits for a lifetime of healthy smiles." Scheduling regular visits with your dentist is a simple matter for most who have adequate dental insurance. So what about the veterans dental insurance? There are a couple of dental plans available for veterans such as Tricare. Senior Airman Danette Kilmer, who was stationed in New York and served in the United States Air Force for 6 years, explained " Tricare is a nightmare, nobody takes it, at least in my experience." She continued to explain how costly the benefits became and stated "They made me start paying $200/mo. for coverage. So basically my drill check went straight toward a cruddy health insurance plan where as before it was fully covered. Ultimately the benefits got so bad I realized the civilian sector had better insurances. I work for a civilian corporation now and my plan blows anything the Air Force gave me out of the water." Other veterans had similar, if not identical, experiences with their benefits, like SrA Kilmer. Other veterans, along with spouses of veterans, explained how each system is different and the quality of care various from state to state as well as individually. How well the benefits are for veterans is questionable. However it was without question that veterans in Searcy, Arkansas were in need of good dental care. Alyssa Thompson, from Teed's Family Dentistry explained "It was decided to help veterans that have served or are severing in our armed forces. We provided exams, xrays, fillings, and extractions, as well as needed medication to assist with preventative issues and recovery of overall oral health." Thompson explained how several businesses and individuals worked together to make the free dental care event, at Teed's Family Dentistry, something our local veterans would remember. Food was provided by Daisy's Lunchbox, a local bakery on court square provided tasty treats, and Stu's Brews provided coffee. Ms. Debbie from Corner Florist provided festive arrangements. Lowery's Pharmacy, Allison Glidewell, an ASU Student, and other volunteers helped with the event as well. Louis Buttler Alyssa Tompson, with Mike Nicolson "That's a pretty good deal that Paul Teed did this," Private First Class Mr. Smith, of Searcy, said "Even though benefits have come a long way there is still much left to be desired, at least with my experience." (Combatace veterans: PFC Smith wanted to be ID'd that way.) Speaking of experience, Wayne Duncan an US Army from the 82nd Battalion Bravo Company, spoke about the event at Teed's Family Dentistry saying "They treated me like I was royalty... they were awesome. I don't have know how many veterans they have seen because it very busy when I was there." Alyssa Thompson said "We've seen about 20 veterans and conducted 40 extractions,8 fillings, and performed other numerous procedures." Thompson explained how veterans that arrived last Tuesday will, if needed, have the opportunity to return the in the upcoming week to have their dental care completed. When speaking about how the event impacted her personally she stated "It made me very mindful to see how many people have been left behind and of how prominent the need is for vets. It was a rewarding and humbling experience." Dr. Teed; however, stated "The best part about Tuesday was the gratitude from all the military. Its heart breaking the amount of negligence our vets encounter in regards to health and dental care. We were more than happy to accommodate some of the needs our community veterans have. I would just like us all to be more conscious and try to make a collective effort to show these guys the love, respect and compassion they truly deserve. It was my pleasure." "That day was so amazing and heart filling. My heart was just so full that day." recalled Mandy Fisher, Registered Dental Assistant. "It was a pleasure to give back to those who gave so much. We were expressing our gratitude to them for what they have done and sacrificed. They in turn were thankful, and grateful to us for providing them dental care. It was a very humbling experience." Other veterans that received care from the event didn't want to make a public comment. However all of them are grateful for what Dr. Teed, his staff, volunteers, and local businesses have done for them. Wayne Duncan stated "It was an experience I will never forget. They are good people." Alyssa Thompson, Wayne Duncan, Mandy Fisher More Pictures

Thanks for the info on all comments involved. Vol 3! @Wrench Sorry for sidetracking.

@daddyairplanes Did you get banned from a ... particular site again? Do you wanna tell the tale? About the pilot working for the airlines I mean they can always claim they were perfecting their aerial maneuvers...or not. Still though they need pilots period. You're right there was/is a lot bitching about a shortage with pilots. I remember reading how some branches maybe either as an experiment or what opened up pilot training for enlisted personnel. But they were reduced to flying a certain type of aircraft or placed in a limited duty officer role or something i can't remember what they called it.

Michelangelo? (You know Sistine Chapel painting ... way up there on the ceiling.) Da Vinci? Picasso? Raphael? Think about it. When asked why is callsign a famous painter. He can say "I drew a dick in the sky with my jet. It was a masterpiece. Alas, like all the works of great, it faded away."