CombatACE Spotlight: Interview With Wingwiner
By Skyviper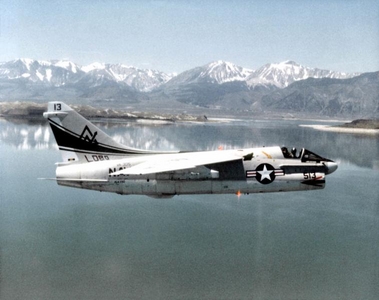 Today we shine the light on Wingwiner. He hails from Poland and has been a member here since 2006. He released a number of flies over the years and just recently he's a released a helpful mod that we'll cover later on. Thank you Wingwiner for taking the time to do an interview with us.
So, please tell us, what interests you about aviation?
I'm interested in old airplanes (cold war era) and aircraft combat advantage over ground-based vehicles.

What is your favorite aircraft and why?
My favorite aircraft is Mig21 and A7 Corsair. But in the past I loved the A-10 thunderbolt also. Why? Because every two years, in my city Radom, (Poland), there is an Airshow. So I can see many Migs in the air! I also like the A7 because it can take a lot of bombs and missiles.

What got you interested in flight simulation?
I love the freedom of flight over miles, I like virtual reality where I can create everything myself.

Indeed flying milies and miles over virtual landscapes is neat. Do you remember the first flight sim you ever played?
The first flight sim I played was the Novalogic F-16 game. It was not possible to make changes or mods.

What motivated you to arrive at CombatACE and stay over the years?
It has been many years, so I don`t remember when and how I found CombatACE forum. I don`t play any another flight sim, Strike Fighters is immortal [awesome or really good] software. I like to share my mods, because I use hundreds of other people's mods.

You've just released a mod the Experimental Cockpit for Any Aircraft. What inspired you to make that mod?
I wanted to have a cockpit which uses different units of flight parameters. It is necessary for me for testing aircrafts values, and when I want to build some terrain map mods.

How long did it take for you make it?
This cockpit is very old mod, but [recently] I added many useful indicators, so I don't know how long I worked on it.

When did you start modding?
Many years ago. About 10 years ago (for Strike Fighters), I suppose. But I created mods since 2001 for other games.

What does modding do for you? Is it something that is relaxing or a neat hobby etc?
Modding is my hobby, and I like to overcome difficulties when I want to do something new.

What modding tools do you use and why?
I use Autodesk 3d max and Photoshop. I know this software for many years and I like them.
Thank you Wingwiner for taking the time to do an interview with us. If you'd like to check out Wingwiner's experimental cockpit tool you can download it here. Please read the download instructions as well as any associated readme files to get the most out of the download. Enjoy your holidays and football games!