Content count

62

Joined

Last visited
Community Reputation
0
Neutral
About speedbump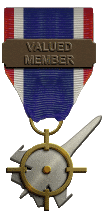 Profile Information
Gender
Location
Interests

Art, motorcycles (VROD and CBX), flight sims.
Networking
Website

http://www.razzledazzleart.com
This one is prettier. http://en.wikipedia.org/wiki/XF-108_Rapier

Also the Rockbox is a separate firmware. It makes your ipod dual boot. One is the old apple the other is rockbox. So the songs from apples side are not affected. One firmware can't see the other so songs on the apple side are separate from songs on the rockbox side. So you can play with the rockbox without messing up apple.

Not sure about the iTunes playlist. If you want, you can try this. http://www.yamipod.com/main/modules/home/

I bought a Zune 120 about a month ago and I love it. It has a option to set the folder you want it to sync to. So anything in that folder syncs with it when plugged in. If you want to remove something, remove it from that folder. It does not even have to be plugged in to sync because it's wireless. It also plays WMA files and I have a ton of them. That iPod problem is pretty common. Drag and drop is the only way to go. I would flash that old iPod with Rockbox firmware and then you can drag and drop directly to the iPod. They just released a major upgrade change to their firmware so I would try it out. It's pretty easy to remove too if you don't like it. http://www.rockbox.org/download/

speedbump replied to column5's topic in The Pub

Thanks. That made my day.

Can't wait for this one. The work is awesome and a really nice cockpit. It's my favorite bird in FSX.

speedbump replied to kesegy's topic in The Pub

speedbump posted a topic in The Pub

If you have Firefox 3, type in the address bar about:robots and hit enter.

Thanks for the link. Great video.

My overall favorite plane of all time has to be the bone, the B1b.

The Voodoo is one pretty plane for sure.

Yeah, I actually got the pic of the Raptor and Mustang on Thursday I believe. They were flying around Anchorage and you could see the Raptor was practicing flying kind of behind the Mustang.

I went on Sunday. But Saturday I stood on the apartment rooftop deck and got a couple of really good shots of the Thunderbirds.