Content count

95

Joined

Last visited
Community Reputation
0
Neutral
About cover72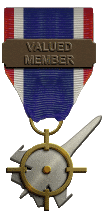 Profile Information
Gender
Location
Interests

ex-system admin - nowadays IBM mainframez; aircraft - I wrote monography on SuperHornet and I am writing another on A-10A. Alas, I don't have time for simulators anymore. Or games at all, for that matter.
cover72 replied to kukulino's topic in Česky

Také přeji všem příjemné prožití zbytku svátků a nového roku. Mě samotnému se bohužel "extreme" joystick od Logitechu definitivně odebral do věčných lovišť a vzhledem k rychlosti, s jakou moje auto a práce konzumují moje peníze, resp. čas jsem nucen se simulátory dočasně seknout. A propos - tímto bych chtěl využít tento thread k rozloučení se se všemi starými známými - Kukulino, Blackrat i dalšími - na dobu blíže neurčitou. Díky za zprostředkované simulátorové zážitky a diskuse vámi, byl to příjemně strávený čas... ___________ Akorát se ještě příležitostně stavím nakouknout, jestli nediskutujete o něčem z mých oblastí zájmu

No, já ho právě ztratil... Pro tebe platí asi totéž, co pro mě - tzn nainstalůovat weapons pack jul-06, manuálně tam přidat zbaní co jen najdeš a pak pokračovat dál od bodu 3).

Tak hotovo - ale ještě ke všemu to smaže profil pilota. Postup pro aplikaci patche: 1) zazálohujte si WEAPONSDATA.ini a pilota 2) nainstalujte patch 3) stáhněte nový weaponeditor (pro WoI) 4) rozbalte ho někam jinam, než je složka weapons 5) normálně do něj merge-něte vaši zálohu WEAPONDATA.ini, následuje save as "weapondata.dat" 6) vzniklým weapondata.dat souborem přepište ten v adresáři weapons Hotovka, všechny mašiny až na pár (to je ale asi jen můj problém daný neúplně obnoveným weapondata) nosí svoje zbraně. I MiG-21MF, co jsem na něj natrefil umí R-60 a Atolly. Můžete pak ještě zkusit obnovit pilota/profil, to jsem nezkoušel (všiml jsem si až teď a už nemám čas)

Paráda, vytvořil jsem nový WEAPONDATA.ini na místě původního, použil weaponeditor a tím si úspěšně smazal i zbraně, které tam donynějška byly (ty defaultí) - jsem prostě génius. A původní pre-patchnutý WEAPONDATA.ini samozřejmě zazaálohovaný nemám, takže ho teď hledám... chjo PRotože jak jsem až teď vyčetl, musí se použít nový weapon editor. Super... Kdybych jen nejdřív četl manuály

Přeinstaloval jsem to přes původní (už mi z mého 250GB disku zbývá moc máýlo místa) a hrůza: ono to SMAZALO WEAPONS.INI! Což je pravděpodobně důvodem, proč lukáš nemůže načíst ty rakety. Zkusím reinstall weapons packu, jestli pomůže - ale mám obavu, že se teď možná info o zbraních skladuje v jiném souboru... Napíšu až budu vědět víc.

Tak mě tak napadá - existuje pro WOE nějaký addon šturmovika Su-25 nebo třeba i -39? Protože jsem právě shlédl kus Udarnaje Sily s námětem na tuhle mašinku a LOMAC je na moc dlouho (ikdyž jsem si pořídil novou grafiku a konečně ho rozběhl)

Paráda, už to stahuju... Snad mi šílené O2 připojení s půlsekundovými lagy jdoucí přes shnilé pronajaté síťové vybavebá třetí firmy umožní to stáhnout :-(

Great news? Definitely. Blackbird, could you please also modify flight model? SuperHornet has *stable* AoA of 45° and temporary infinite (Su-27 has stable 38° and temporary 280° - that's cobra) and Australian defense analyst, who has flown SuperBug has claimed, quote, "the analogue and early generation digital flight controls with hard-wired or hard-coded AoA limiters used in the Russian aircraft are a generation behind the Super Hornet and a much more experienced pilot will be required for the Russian types to match the ease with which the Super Hornet handles high alpha flight regimes " Plus, some "stealth" simulation (may be trough jammers like the one on F-22A model here on cAce) would be nice - SuperBug has RCS <1 sq m, therefore it could be detected by Flanker's N011M radar at 75 instead of 130NM (according to ausairpower.net) and tracked for possibly less, than half of that (75/2NM) distance... Oh and I forgot - is it possible to implement ALE-50 towed decoy somehow? Maybe like some super-chaff, causing temporary 100% jamming effect?

No, já nemám probléms AMRAAMem - ten funguej (fungoval) v pořádku - já mám problém s těmi J-11/Su-27SK. To právě ty klesají a stoupají, díky čemuž je ty Aim-120 netrefí...