Content count

97

Joined

Last visited
Community Reputation
7
Neutral
About M4tUt3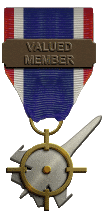 El E27 cambio de estándar ahora usamos la UP3.0RC4 no encuentro la carpeta mods, la debo crear?

M4tUt3 replied to TREBOL's topic in Español

M4tUt3 replied to TREBOL's topic in Español

con razon estas desaparecido! que tal corre en la 5770? el domingo estoy presente para la 4ta de africa no te cuelgues con el cod

Buenas gente, estoy teniendo problemas con el rendimiento de mi pc en los simuladores y ya no se que hacer por eso recurro a uds el problema es bajadas de fps, de 30 pasan a 2 durante unos 5 o 10 seg luego se normaliza y a los 10 seg vuelve a ocurrir, me pasa tanto en el strike fighters como en el il2 ya cambie la placa de video y sigue igual formatie y puse xp nuevamente (antes seven) y sigue igual el resto de las aplicaciones sin problemas, no prove otros juegos los driver de video son los ultimos igual que el directx pero me tiuene loco este tema ya la desarme limpie todo nueva grasa siliconada y seguimos igual es un amd 5000x2 con 2 gb de ram (2x1) placa madre asus M2N VMHDMI placa de video 8600gt de 512 monitor wide de 22"

M4tUt3 replied to PeacePuma's topic in Español

Buenas gente, yo me sumo al ejercicio. @ivanelcapo, ese joy no te combiene, principalmente por ser analogico, lo mejor y mas barato es el cobra Mira aqui que es digital con 12 botnes hat y aceledaror tambien tiene eje z para manejar el timon. saludos y buena caza. pd: tiene fecha el ejercicio?

M4tUt3 replied to pato poli's topic in Español

Yo tome pocas pero ahi les van.

Tengan paciencia muchachos la escuelita reabrió sus puertas en cualquier momento reciben el un mail respondiendo su solicitud de inscripcion, sepan disculpar las demoras, pero somos pocos instructores con poco tiempo y muuuchos aspirantes un saludo grande a todos y felices pascuas.

Yo me sumo sin falta, hay que ver que estandart usamos asi a nadie le sobran o faltan aeronaves y evitamos problemas con el terreno!

M4tUt3 replied to SUICIDAL's topic in Español

nacho, no te voy a mentir el modelado esta listo, faltan las texturas nada mas, estoy con la cabina, o estaba mejor dicho porque la verdad hace unos meses que no toco este proyecto, algunos problemas me tienen alejado de la pc y de mis amigos pilotos virtuales, pero lo voy a terminar pronto si dios quiere sale para navidad o reyes pero no prometo nada, un saludo grande, te dejo una imegen de como estaba, ahora esta mas avanzado pero son las unicas que tengo colgadas en internet y no estoy en mi pc.

mis felicitaciones a todos los nuevos pilotos del escuadron, algunos ya me conocen otros todavia no, me alegra mucho que todos hayan podido culminar la escuelita, mis felicitaciones tambien para su instructor ema, un abrazo para todos, ya me veran en sus retrovisores!!!