Spotting for the Gunners in the LFG Roland C II!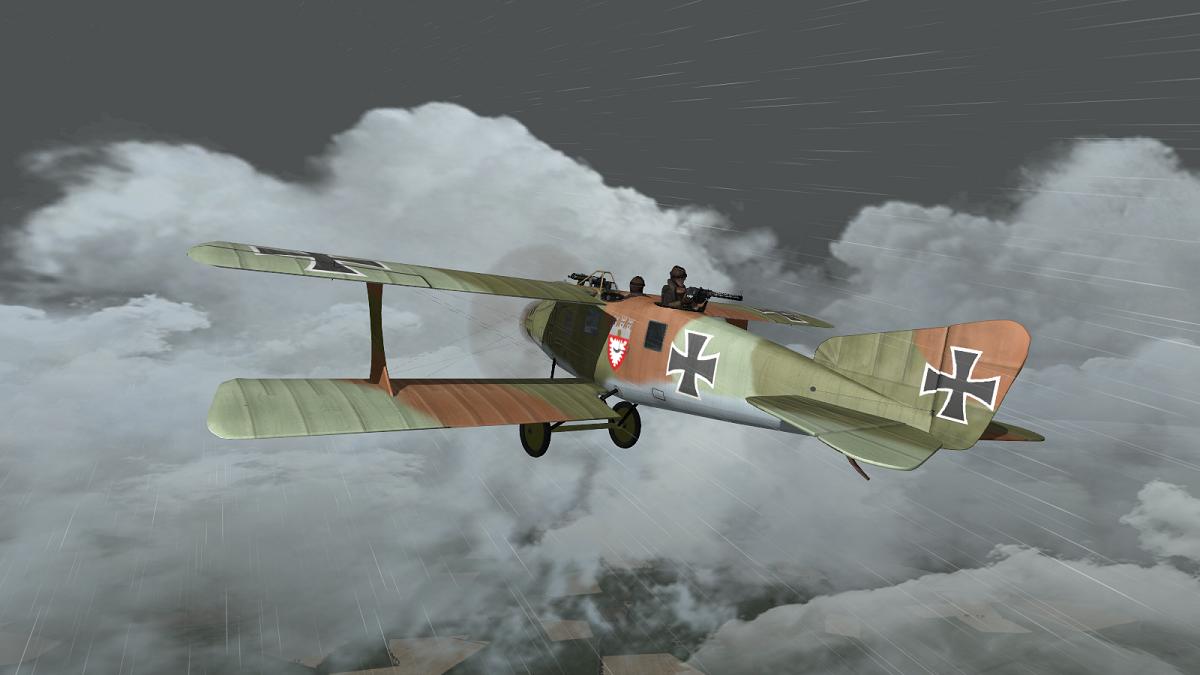 In an air war notable for the sheer variety of planes of all shapes and sizes that made it to the front, the LFG Roland C II must be one of the most distinctive, if not also one of the most attractive. 'Truely, this aircraft is a whale!' was the reaction of one of the German procurement people who came to see what they'd be getting for their reichsmarks, giving the Walfisch its enduring nick-name. But it was also one of the most advanced aircraft of its day, a compact, fast, streamlined single-bay two-seater general purpose aeroplane in a world where other such machines were bigger, slower or ungainlier…and mostly, all three.
'The best German aircraft now' was reportedly the verdict of RFC ace Albert Ball, who frequently came up against (and shot down) the type in the summer and early autumn of 1916. However, though sometimes encountered in sizeable formations in this its heyday, the Roland was produced in comparatively small numbers and its front-line service career was over by about mid-1917. Speedy in the air, it was slow and expensive to make. Its thin wings tended to warp in the harsh conditions of front-line airfields and visibility for landing was poor, resulting in many crashes or hard landings. But still, it was a notable performer for its time, whose capabilities generally matched its good looks.
Many of us will know the type from the 1960s Airfix 1/72 kit, helpfully moulded in light blue plastic in imitation of the distinctive finish initially carried by the Roland. It made up into a nice model, with decent crew figures instead of the dreaded 'goggled alien' of earlier Airfix WW1 kits.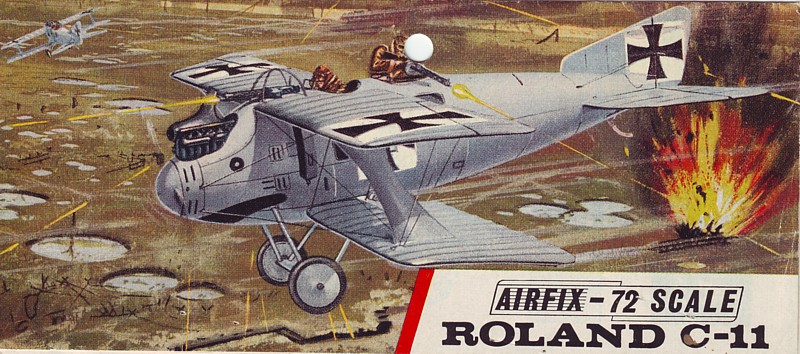 One day, I will make this kit again, notwithstanding that newer versions are available. In the meantime, I can fly the Roland in simulators. I don't yet have the Rise of Flight Roland, seen here escorting my DFW C V in a recent mission...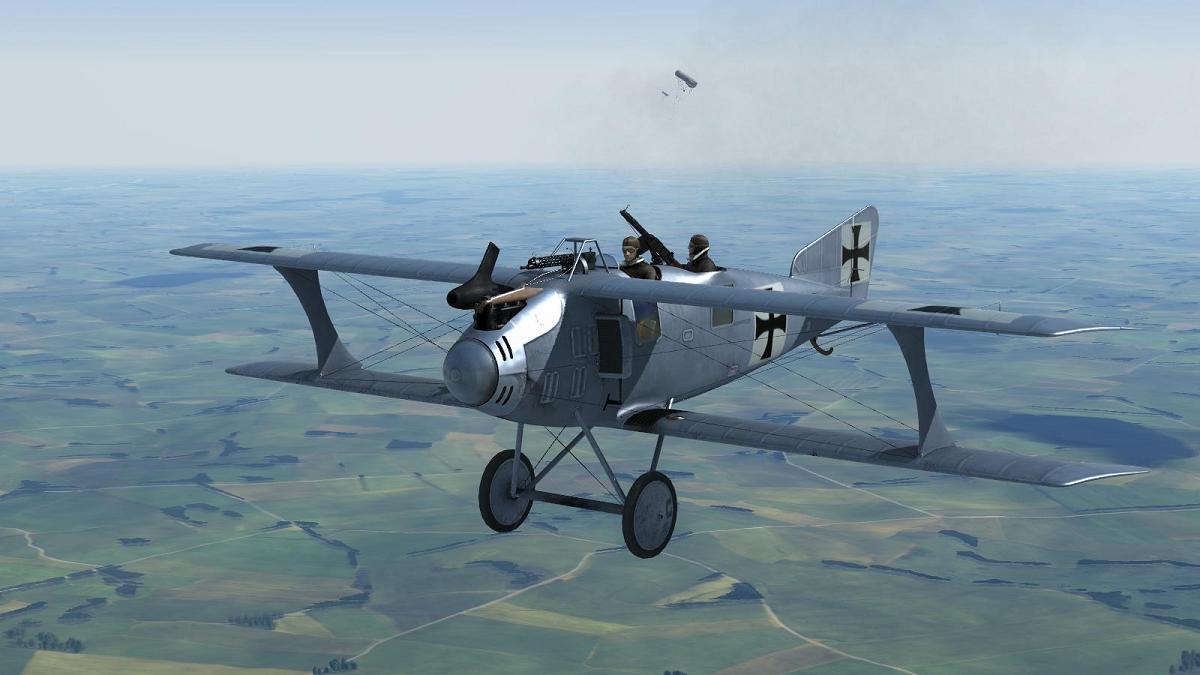 ...but I do have and like the First Eagles versions from the A Team Skunkworks. Though they have a 'Spandau' machine gun for the observer, instead of a 'Parabellum', there are a couple of interesting variants, including this one with a captured Lewis Gun fitted to fire ahead over the propeller arc, which was tried in real life: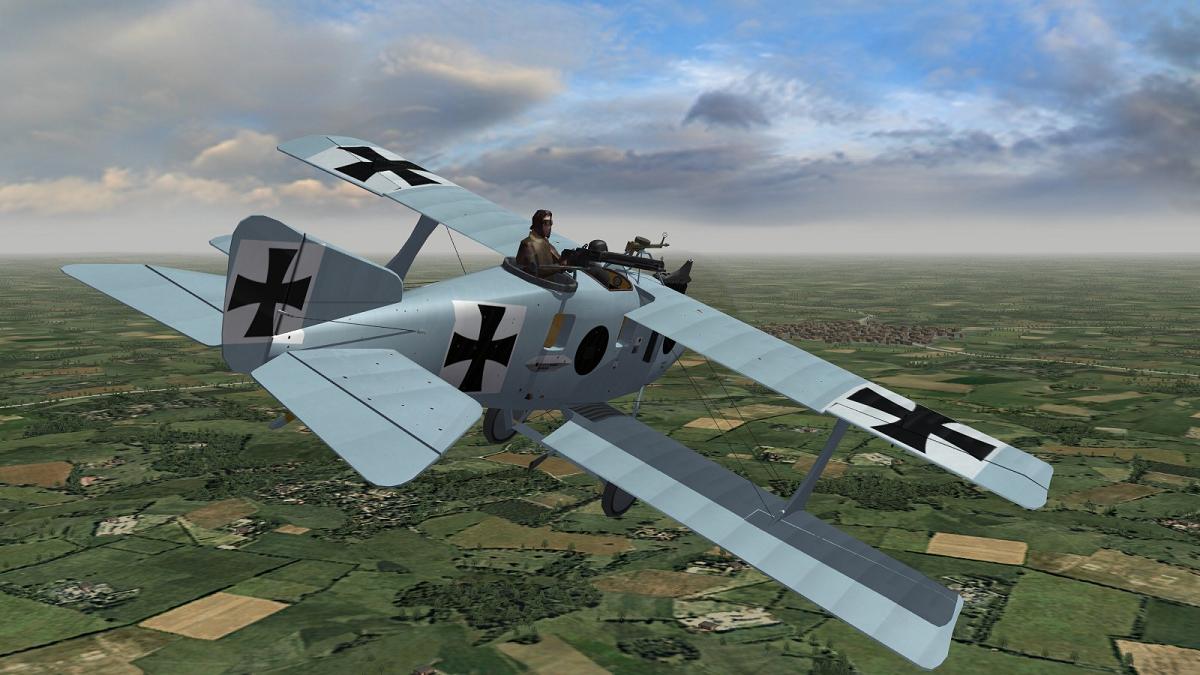 But for this mission I chose Wings Over Flanders Fields. Having flown the Roland in Over Flanders Fields, I was keen to see how I made out with this machine in the latest incarnation of this sim, with Ankor's self-shadowing mod and the new AI and landscapes of WOFF.
The campaign
Creating a new pilot, I tabbed throught the available German 'Bomber/recce' squadrons flying in September 1916 till I found one that flew the Roland in the British sector - WOFF still provides a better representation of the RFC order of battle, and would benefit in particular from the addition of French two-seaters more suitable for either 1916 or 1918 than the Morane L (really a 1914-15 type) and the licence-built Strutter (gone from the front by mid-1918).
I ended up with Feldflieger Abteilung (Artillerie) 240, based at in Flanders. I believe the 'Artillerie' indicates that we specialise in observing for the artillery and can correct their fire using radio transmitters, one of the major jobs for two-seaters in WW1, along with photo or visual reconnaisance and to a lesser extent, bombing. Here's our roster and our operational area.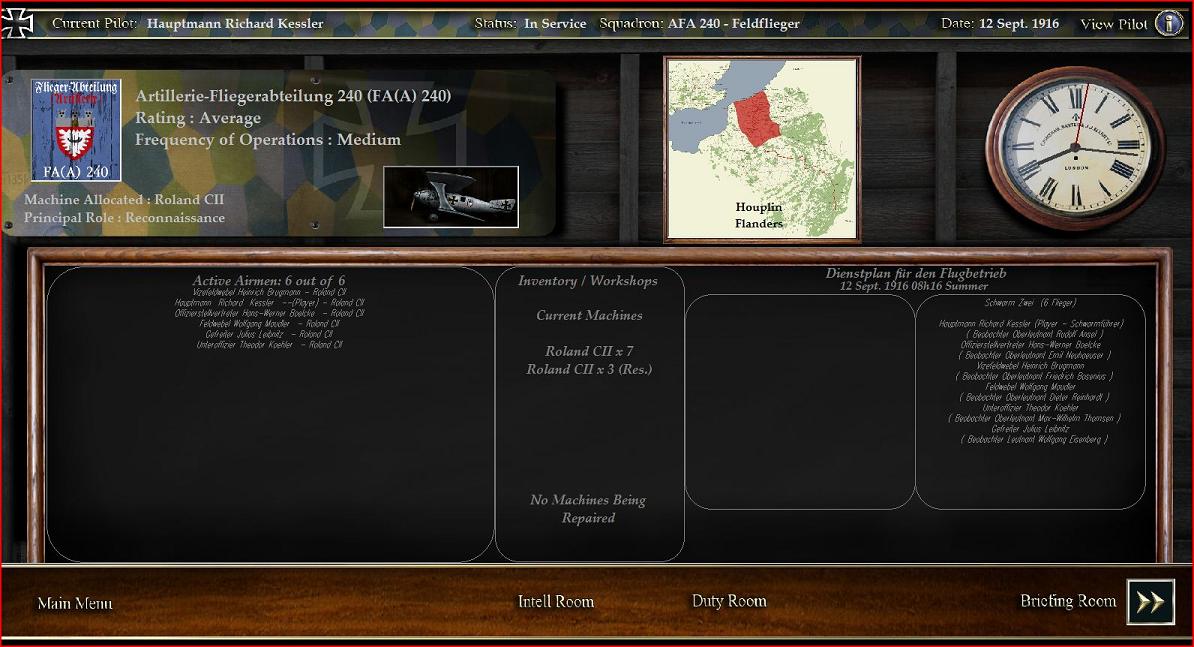 Even without tabbing to the Intelligence summary, I knew that the deadliest foes we could expect to face in our sector would be DH-2 'pusher' fighters and the more modern French Nieuport scout, both types used by several RFC squadrons. With the British fighters apt to patrol up to ten to twelve miles on the German side of the Lines, I knew also that we must be prepared to meet them in the air, whatever our task would be.
It's 12 September 1916, and our assigned task for this morning is artillery observation. Down to the south west we must go, from our airfield at Houplin down to the trench-lines. There are no less of six of us on this operation, with myself leading the full flying strength of the staffel. When I draw an 'art obs' mission in OFF or WOFF, I generally fly to the front and orbit near any friendly artillery barrage in progress, as if I was directing the fire. It's not possible actually to call down fire onto ground targets (although after this mission I'm no longer so sure, of which, more later). If there's no artillery fire going on, I regard my radio transmitter (or the battery's receiver) as having 'gone dark' and do a bit of recce work, so that the taxpayers still get their money's worth.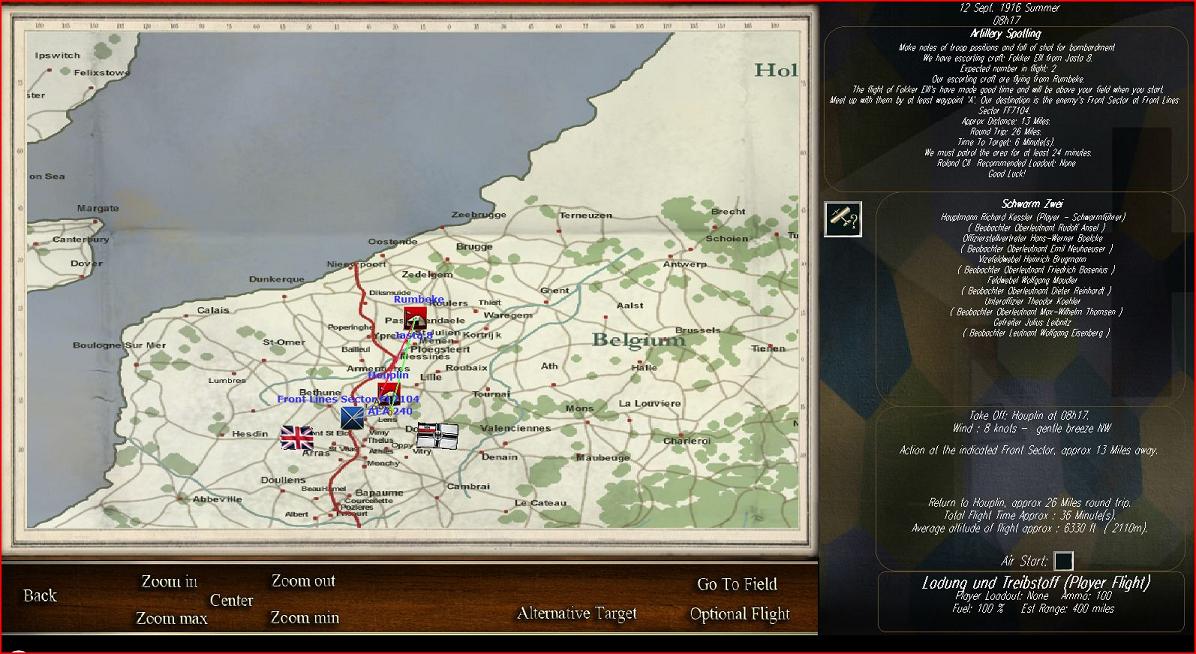 We have an escort, but I wasn't going to put much faith in the two obsolete Fokker Eindekkers we'd been allocated. For all I knew they were the last ones at the Front, still able to beat up a BE2c but well outclassed by any fighter we were likely to meet. My own flight would serve as my escort. I would do the virtual artillery-spotting. Knowing that formation-keeping in WOFF was considerably improved over OFF, I knew my comrades would be able to keep up quite well as I circled over the front. Anyone trying to shoot down the spotter - me - would have to get through them, first. At least, that was the theory.
Here we are, lined up opposite the sheds and ready for the 'off'. I had chosen a camouflaged skin from those available in WOFF, but the rest of the flight are in the original, distinctive and rather racy light blue. I checked my controls and started up. Then I called up the Tactical Display (TAC), set its target type to 'aircraft', checked its range was suitably low (I left it at half a mile) and turned the TAC off again: it was now ready to padlock air targets, when turned on again. I didn't expect to do too much (if any) dog-fighting on this mission but if I had to break formation and fight individually, I decided I was going to make good use of my forward-firing MG, relying on the observer to cover my tail. Which is more or less how it came to pass.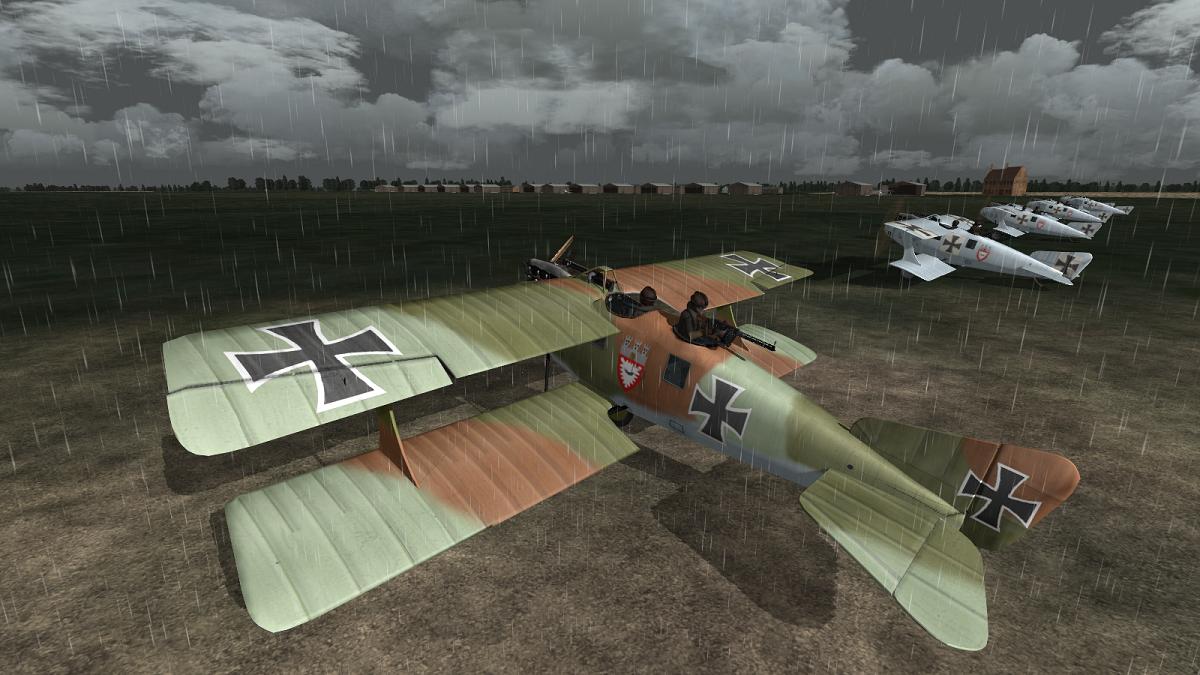 But that lay in the furture. I roared off the airfield and tried some gentle turns before setting course for the Front and throttling back to allow my flight to catch up. I found the ailerons deceptively light and the rudder heavy. It was easy to under-bank and slip outwards, or worse still, over-bank and find yourself in a nasty side-slip, if you didn't give her plenty of top or bottom rudder. This was nearly to be my undoing.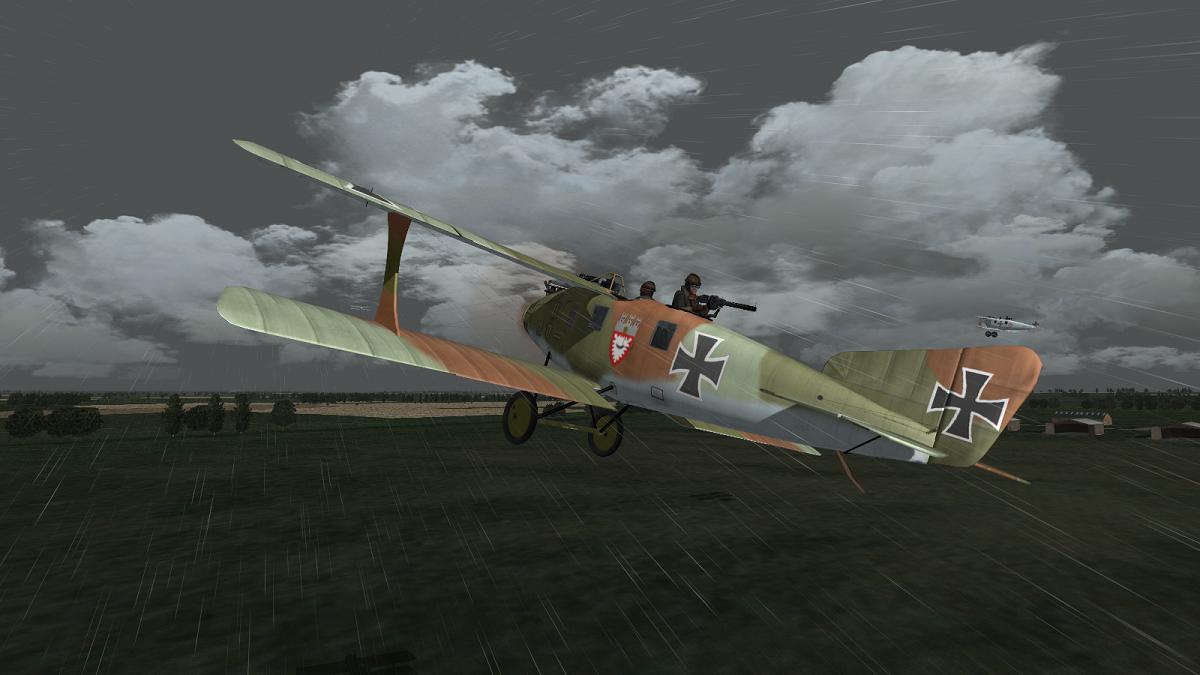 But that, too, lay in the future. For now, I watched my flight catch up from astern. One of them took several minutes, during which time I saw two aircraft fly past overhead - the two Fokkers, I supposed. This was the only time I saw them, as it turned out.
At at last we were all in a nice diamond formation. I opened the throttle wide and I began to climb, maintaining forward pressure on the stick to stop my tail heavy plane's nose from rising too much. All around us, thin clouds loomed, slipped past below, beneath or beside us, then loomed ahead again.
I spent a little time admiring and exploring my plane, inside and out, between navigating and scanning the skies. Visibility downwards was, as expected, not good, but in every other direction, I had a superb view, unobstructed by the usual high-mounted biplane upper wing.
Looking behind, the sight of my flight tucked in behind me inspired confidence…to much, perhaps, I thought, remembering Albert Ball's opinion that such formations were easier to surprise as the aircrew tended to feel a false sense of security and relax.
On we went. Climb rate was less than stellar and we were not far above five thousand feet as we came up the the trench-lines. Our Fokker escorts were nowhere to be seen and I decided I wasn't going to hang about looking for them. I was at a respectable height for artillery observation and was now at the Front, where lay our targets. I leveled off and throttled back slightly. I had arrived at the war.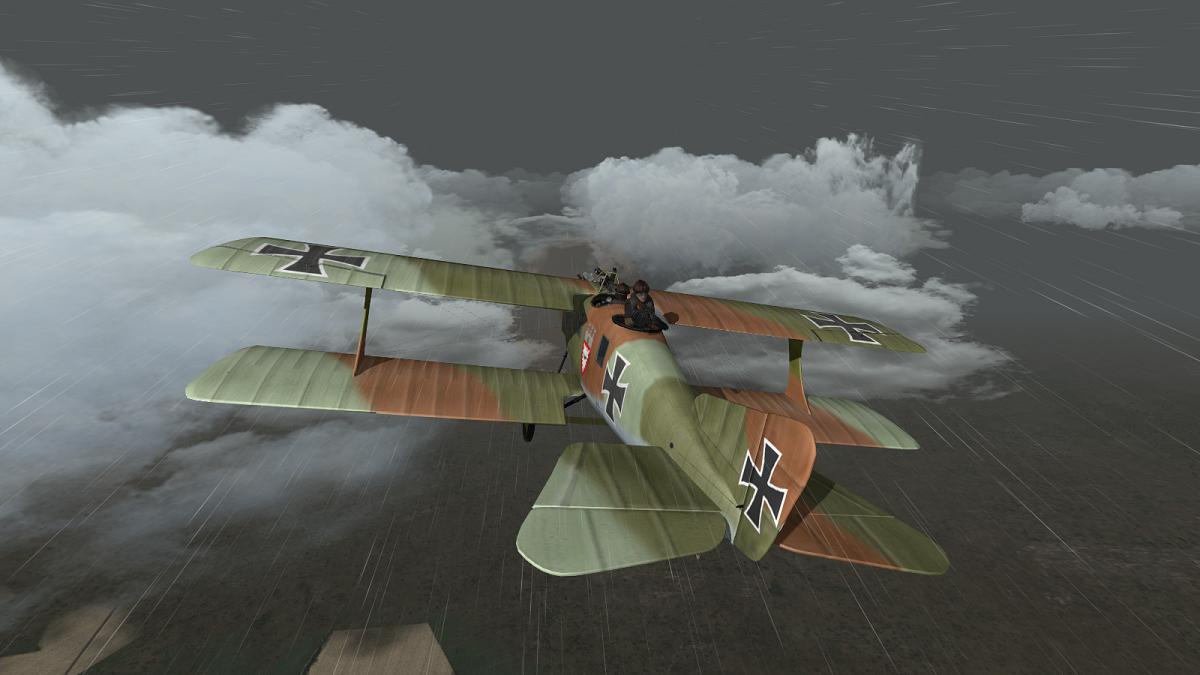 Approaching the area over the Lines where we were tasked with spotting for the Gunners, I turned on the Tactical Display to get a navigation check. Instead, I got a surprise. In fact, I got two surprises.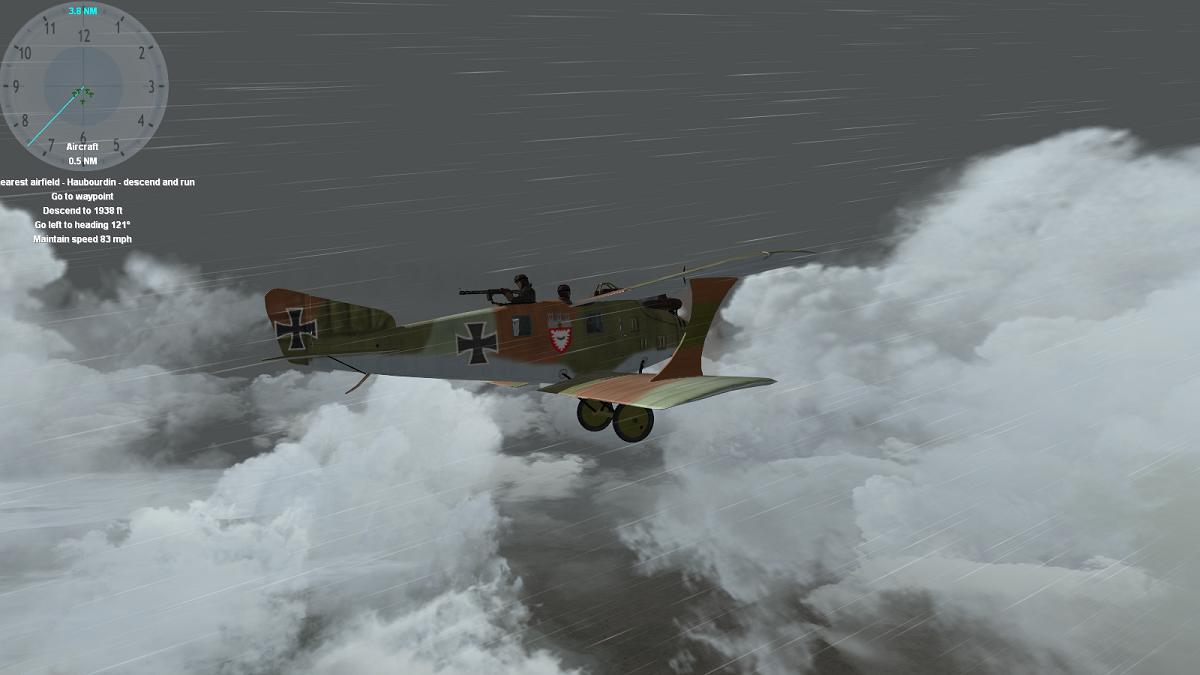 First, knowing that I was headed roughly in the direction of my target area, I was startled to notice that the pale blue line showing the path to my next waypoint, instead of pointing up, straight ahead, had slewed around to my left rear. If that wasn't strange enough, the text displayed beneath the TAC itself was telling me that it was high time to go home. In fact, not even home - to the nearest airfield. Had I inadvertently skipped a waypoint? No, I was fairly sure I had done no such thing. My true objective still lay ahead. Who's leading this mission, anyway - me or the Tactical Display? Pilots in the German Air Service may often be mere NCOs but while I may have to take orders from my commissioned observer - my own alter ego, anyway - I'm certainly not at the beck and call of an on-screen visual aid. Sod that, I thought. On we go.
Actually, the TAC was trying to be helpful. Looking behind, the reason for the device's caution was not hard to see. An aircraft was slicing into our formation from our left rear. And though I didn't notice it at the time, three other aircraft were below and behind us to the right.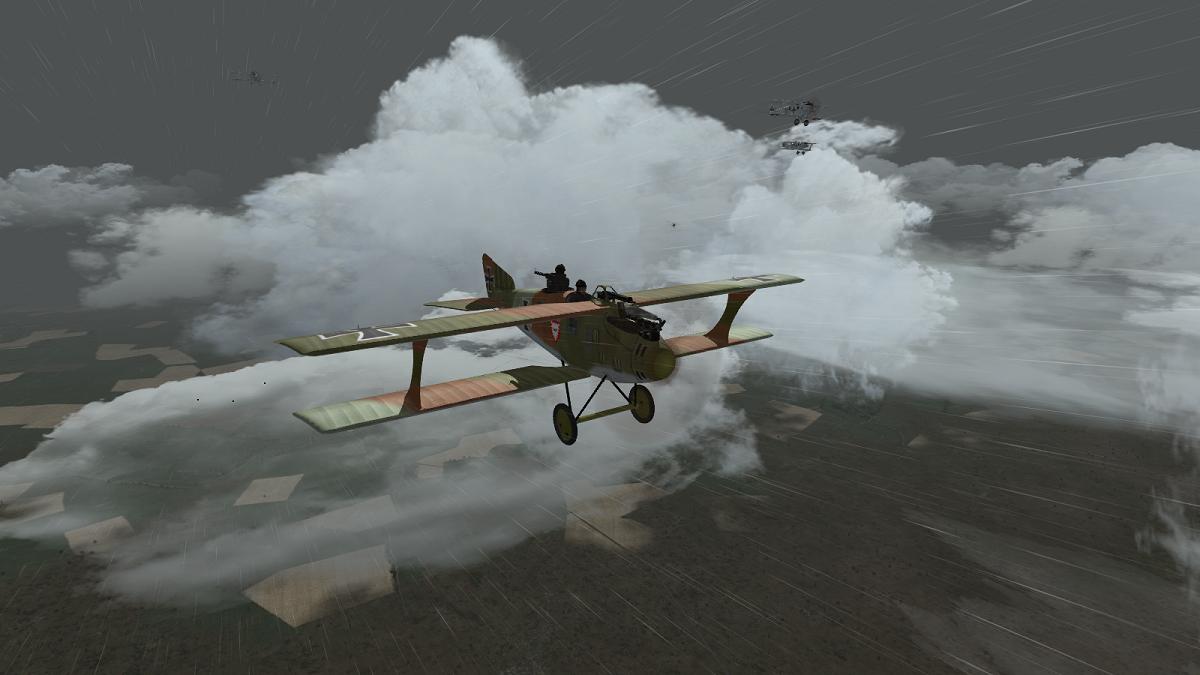 My initial reaction, seeing just the one presumed enemy attacking, was that I'm not going to break formation and get distracted from my objective for the sake of one aggressive Englishman. Unfortunately, those on the right of my formation didn't agree that staying together and meeting the enemy with massed fires was the best bet. That side of my formation broke up rapidly, as Rolands wheeled off and after the Nieuport. All very commendable perhaps and it certainly seemed to put off the foe-man, who turned away.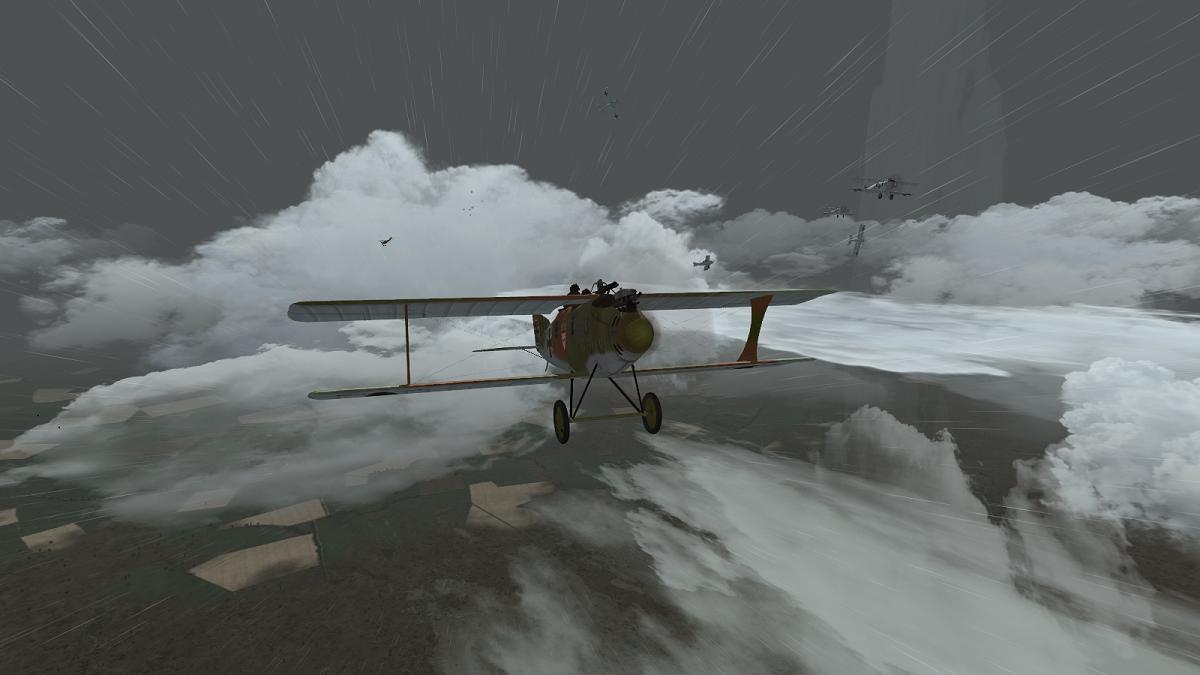 I now had a decision to make, and I needed to make it immediately, before the passage of time removed one of my options. I could hold my course to the objective, with what looked to be two remaining flight-mates. Or I could turn us back to join the battle, keeping my formation, if not intact, then together; and resuming my progress to the objective when the battle had been won.
Keeping to my present course seemed to comply with the Master Principle of War - Selection and Maintenance of the Aim...but at the expense of one nearly as important - Concentration of Force. Incidentally, contrary to what John Keegan said in 'The Face of Battle', these principles, far from being thought old-fashioned, were taught at Sandhurst in the late 1970s.
Anyhow I had read too many accounts - Trafalgar, for one - of forces that are (or get) split up, then being defeated in detail, even by numerically weaker enemies. So I turned back to join the fight. By this point I had realised there was more than one enemy aircraft. I picked up one who lay ahead and gave the attack order, so that the others would pick their own targets. Mine, I recognised as a Nieuport Scout. He was manouevring a few hundred feet below, to my half-right.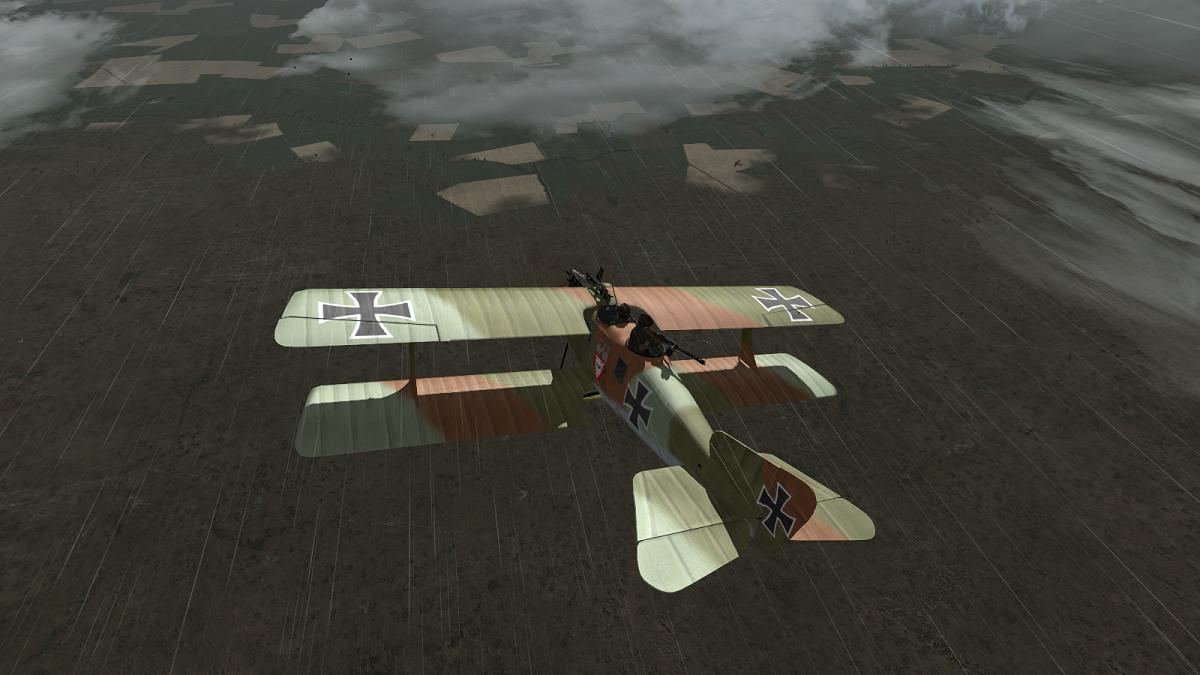 I made a series of swooping attacks on him, allowing my observer a crack as I whizzed past. While I kept up my speed and most of my height, the tightly-turning Nieuport was able to turn in under my attacks most of the time. He in his turn was prevented from having a determined go at me by the presence nearby of at least one other Roland.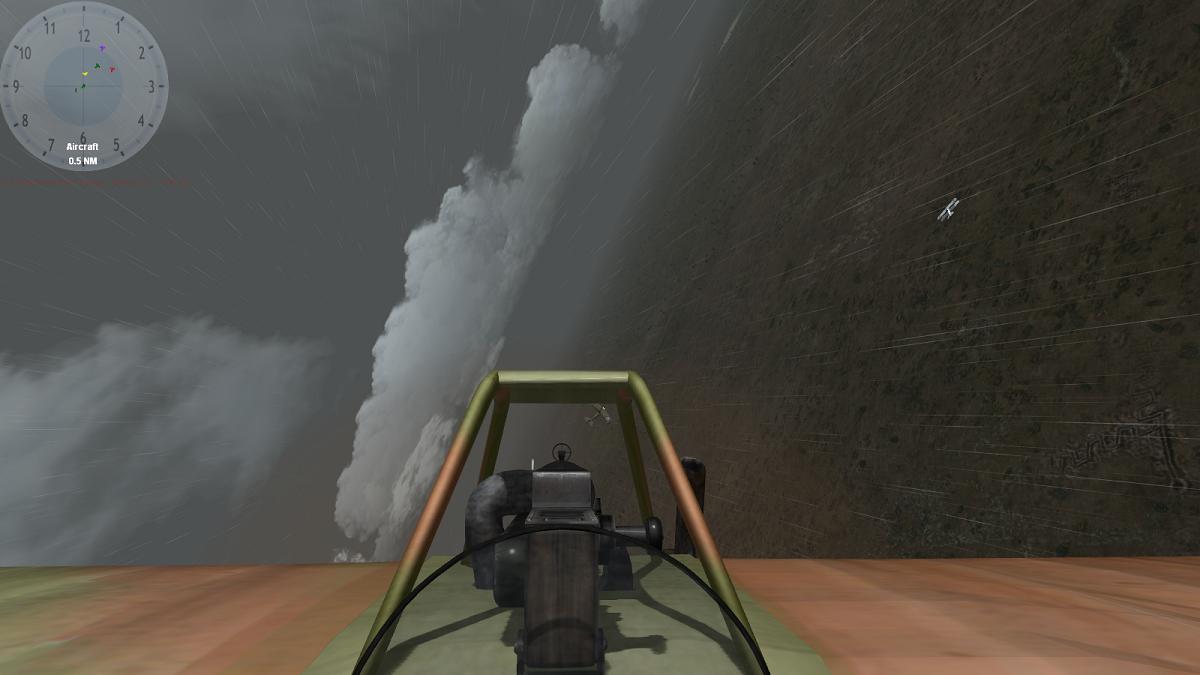 After a few more passes I got behind him and stayed there long enough to get in several good bursts from not too far out. He stopped manoeuvring and settled into a steady glide earthwards, emitting a spluttering trail of grey smoke. I watched as he piled up into the mud behind me. Got him!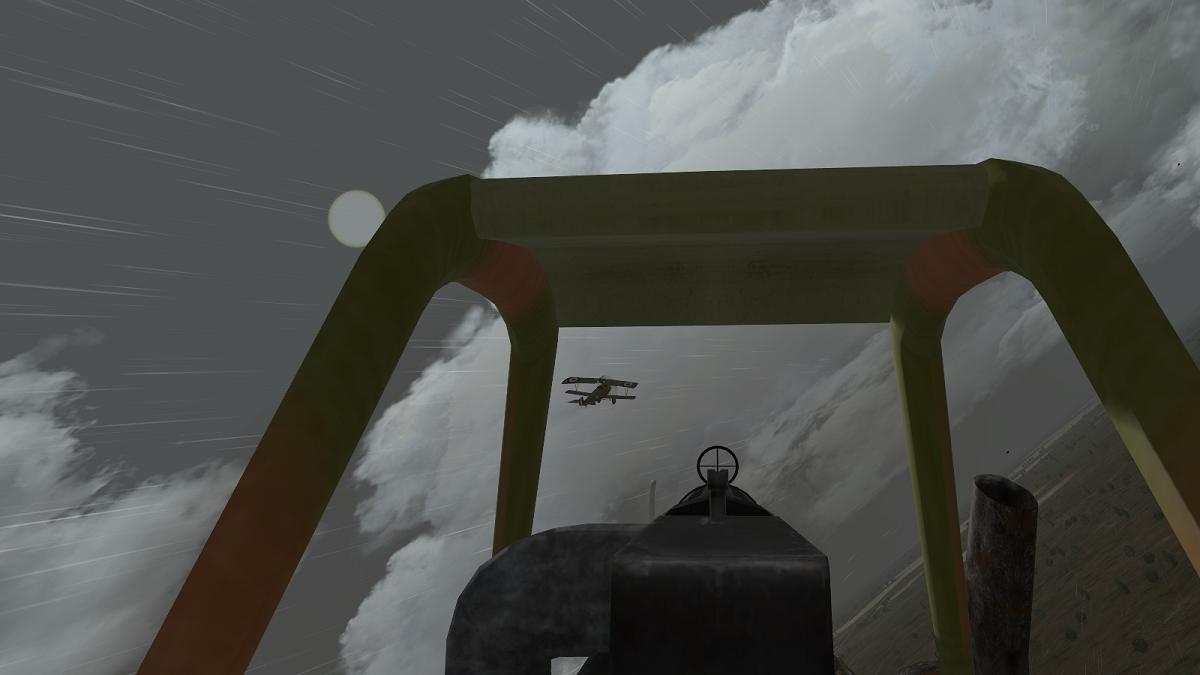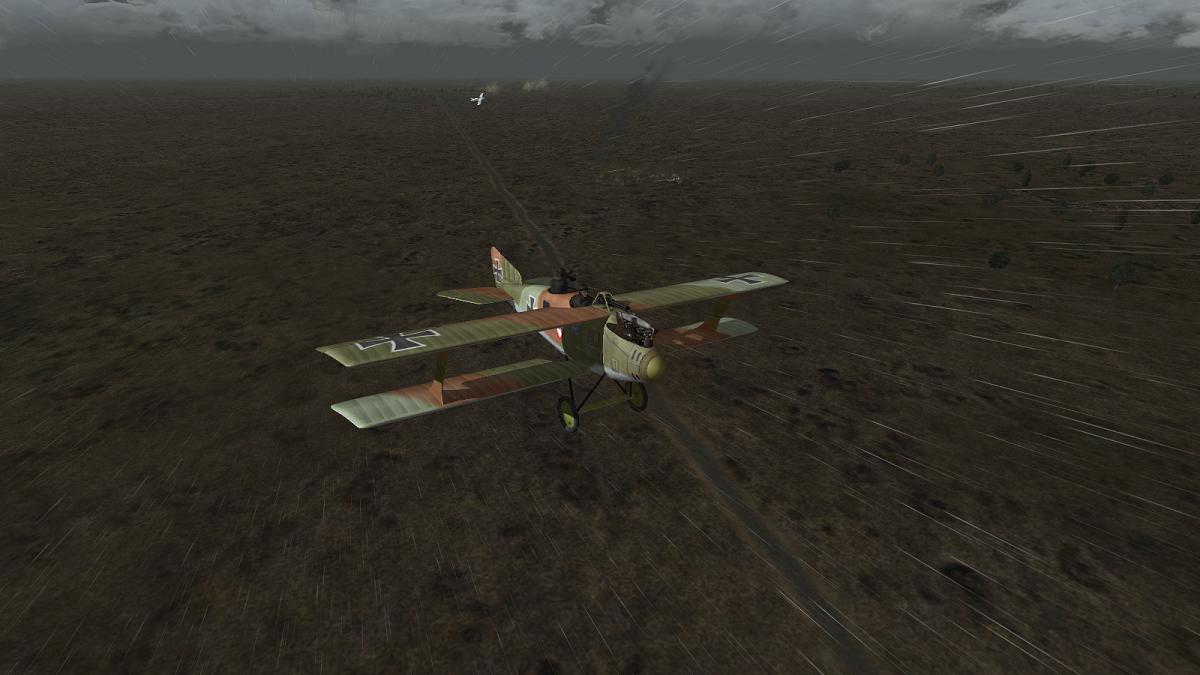 But the fight wasn't over yet!
...to be continued!