Operation Restoration: Wings Remastered Edition
"What are you waiting for? JOIN THE 56TH! HEROES LIVE FOREVER!"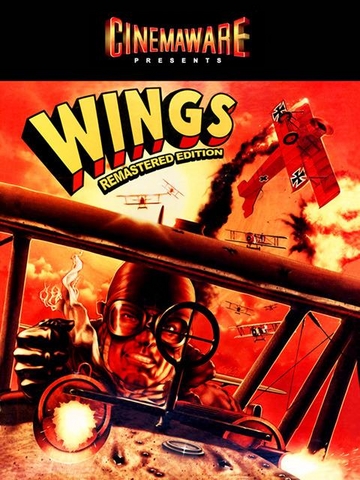 1914 a year that shook the world and the year dog fighting was born. Since 1903 many have been trying to use airplanes for military purposes. Aircraft were used simply for observation and pilots waved at each other or shook their fists. Then creativity took over and many pilots started to throw rope into propellers of enemy planes. They even threw bricks and hand grenades anything they could bring with them – even pistols and rifles. Slowly and gradually dog fighting was taking form and aerial combat was forever changed when machine guns were mounted on the planes.
Most flight simulators focus on the mechanics of the plane, the accuracy of the battles, and rarely focus on the emotional impact a war can have a person, even a pilot flying high above the trenches and into the blue sky filled with its own form of hell. It's the emotional impact that Wings focused on.
Wings, was released by Cinemaware in 1990 for the Amiga and has been well received. Critics gave praise to game; in 1993 Amiga World ranked Wings third on their list of all-time Amiga hits and Computer Gaming World stated that Wings is a "masterful combination of arcade action, flight simulation, and cinematic story" and have ranked Wings on Amiga as the 65th best game of all time.
Cinemaware has launched for their second time a Kickstarter campaign to bring Wings back with their Wings Remastered edition that will focus on breathing life into this classic game. Cinemaware states "the game will be developed for the PC, with the option of Mac, OUYA, Android and iOS (tablet and mobile) versions and PSN/PS4 as stretch goals (PLUS we will also make the project available for porting to Linux and AmigaOS!). " Cinemaware also states that "Ken Melville, Cinemaware alumnus and co-writer/game designer of It Came from the Desert and the original Wings missions, is also collaborating with us."
However as time moves on people tend to forget such classics as Wings but all of that can change. That is if you are willing to help.
How can you help? There are two ways; you can click on the Steam Greenlight icon which will take you the steam page. There you can vote as to whether or not you'd willing to buy the game on steam. Or you can click on the Wings Remastered Edition icon and fund the kickstarter campaign a minimum of one dollar is all that is required or a few minutes of your time if you go to steam. So what's in it for you? If taking pride in the fact that you'll be helping to revive a classic isn't good enough for you the kickstarter page has a vast list of gifts they give their supports. You could even be mentioned in the special thanks section of the game's credits!
Today, Darren Falcus, Bob Makin, and Matt Falcus have agreed to do an interview with us and will share a little about Wing's history and its future, a future that depends on me and you. Thank you gentlemen for taking the time to do an interview with us.

Please tell us, what inspired the creation of Wings?
Wings was inspired by classic WWI movies like "The Blue Max", "All Quiet on the Western Front" and even "Wings" (the 1927 silent movie to be the first film to win an Oscar!). In 1990 Cinemaware was reaching a creative peak and its mastery of storytelling and movie-like presentation became evident in Wings. The directive was to create a game that gave the player the feeling of a PERSONAL story, something that one LIVED – not just played and watched. Unfortunately, it was also the company's swan song. Cinemaware shut down its doors shortly after making some big, misguided business decisions.

In 1993 Amiga World ranked Wings 3rd of all time Amiga hits and 3 years later in 1996 Computer Gaming World ranked wings as the 65th best game of all time. What are Cinemaware's plans to keep such a successful legacy alive?
We have exciting plans for Wings, starting with the Remastered Edition we have announced on Kickstarter. The core game is a great blend of emotional narrative, nerve-wracking missions, exciting action and a highly immersive atmosphere blending great graphics, music, writing and sound f/x. We intend to push the series further in this direction, advancing what back then described the game perfectly – Wings was the first"PERSONAL combat simulator".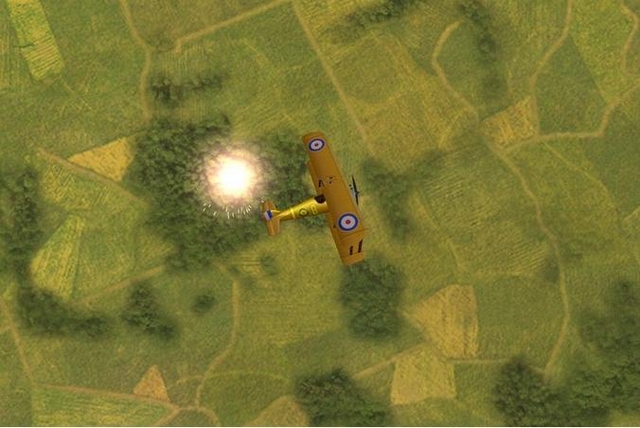 Flight simulation is an industry that many stay away from because of the complicated controls and the fact that some flight sims require a user to spend a large amount of time to learn how to fly the aircraft before enjoying the game. How will Wings Remastered be different from other sims and more user friendly?
Just like the original, the core concept of Wings: RE is to allow anyone to pick it up and play - no complex controls required. We believe this was the genius behind the original game – the ability to allow anyone to enjoy the thrills of flight and aerial dogfighting without becoming a flight engineer! If what you are looking for is a highly technical, complex simulation of WWI aircraft, Wings is not it! But if you want a different experience, one which emphasizes the FEELINGS and EMOTIONS and ATMOSPHERE of what might have been like to be a pilot in WWI, then Wings is your cup of tea! Join the 56th!

Are there any plans to develop a mode for users who wish to use more challenging flight mechanics?
This is something we constantly debate. We will likely avoid going the route of a true sim (there are great products for this on the market already), but we might include additional options that can be toggled and which might make control over your airplane a bit more hands-on (for example the addition of throttle control). However, we will not do anything that takes away from the atmosphere and feeling of the game that makes it such an immersive experience.

What are some of the other features you plan to release with Wings Remastered?
We are completely overhauling the graphics, music and sound of the game into full HD! We are also focusing a lot of attention on enhancing the WWI ambiance of the original game even further, which was one of the stronger characteristics of Wings. Finally, we are building the game so that it can be expanded in the future with more campaigns, different squadrons, additional Journal entries, more pilots and planes, a German campaign (this is really exciting!), several new mini-games and more features too numerous to list. In short, we want to expand the universe of Wings and really enrich its universe even further!

What can a WWI aviation enthusiast expect from Wings Remastered?
As stated before, Wings does not intend or pretend to be a flight sim. It's not a technical, engineered FLIGHT simulator. It is however, a combat pilot's LIFE simulator – that is really the best way to describe it. Wings gives its players a chance to relive and FEEL what it might have been to take part in a war – the Great War – and have a sense as to what kind of horrible things those men had to endure, the gallantry, the heroism, the glory and tragedy, all of which come together in such a life experience. Wings has really been one of the very few (if not the only) action combat game that has gotten close to people's HEARTS in this way…ask anyone who has played through the game – they will never forget it!

Next year is the anniversary for WWI and Cinemaware plans release of Wings Remastered, provided all goes well, during that time. The war had such an emotional impact on the world. Cinemaware's Kickstarter page states "The emotional impact that Wings' game playing experience had on gamers has never been quite replicated in the history of the industry". Will the development team be able to duplicate that same experience with Wings Remastered?
We believe so, for sure! As previously stated, we are expanding on the features that made the original such an involving emotional experience. However, with today's technology and platforms, we can develop even more detailed storylines, missions, graphics and ambient effects that will only serve to enhance this emotional experience. Our plan is to release the game during the commemorative centennial of WWI and deliver Wings as a tribute to all members of the armed forces, on all sides of the conflict. Cinemaware honors all of them.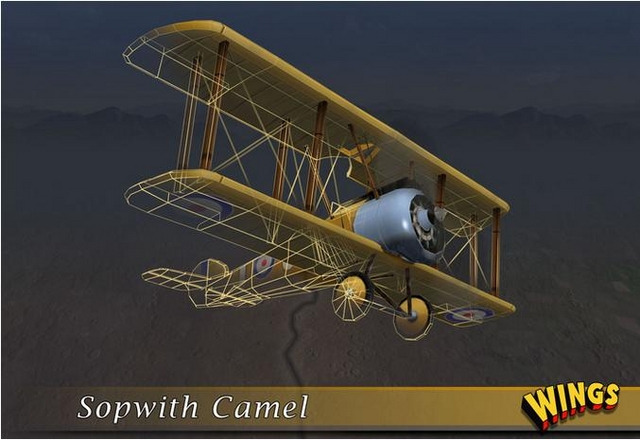 How many aircraft will Wings Remastered have and are these aircraft based off any real aircraft?
The player will still will fly a single aircraft as part of the 56th Squadron, but we are looking at expanding the game with the addition of other aircraft for the player to choose from. In addition, all enemy aircraft on the German side replicate the original planes from the war, starting with the Fokker Eindeckers to the Red Baron's Fokker Triplane and other planes like the Albatross models, etc.All in all, there should be at least 15-20 different airplane models to fight and all planes in the game are strictly based on real aircraft of the era.
Will Cinemaware allow the PC version of the game to be modified by the PC users?
We are not considering modding as part of the feature-set of the game, especially since this is a story-driven product and not a simulator. There might be some kind of limited customization features when it comes to one's plane and flying characteristic. However, we are saving a lot of the more complex enhancements for a future, larger sequel (Wings 2!). Can I reveal it might include the ability to deploy and command wingmen and somewhat influence the front lines of the war?
This is Cinemaware's second attempt to revive Wings. What is being done differently now that has not been done before?
When we had our first attempt on Kickstarter last year, we were not very experienced in running crowdfunding campaigns and really being ready to interface with the audience in an ongoing, 24h basis…crowdfunding takes a LOT of work, dedication and especially preparation. This time, we spent most of our resources and time developing a prototype teaser demo, to show-off the technical and graphical capabilities we could implement for the game, so that fans and backers could really get a sense of our dedication (and passion!) for Wings and Cinemaware. In addition, we focused on creating a more dynamic pitch video and expanding the scope of the involvement of the team and many other collaborators. Still, there's always something left to do in such a campaign and the more you show and give, the more fans want! LOL But it's a worthwhile exercise since getting the fans involved is really the most exciting thing a developer can do when it comes to shaping a new game. It's not just about the funds, it really is about growing the support and passion to make a new game successful.

We see that Cinemaware has another campaign on Steam's Greenlight program. How is that working out for Cinemaware?
We have had great feedback and exposure on Steam Greenlight, and the vast majority of the comments and feedback is positive and supportive. The platform gives us another channel to expose the Kickstarter campaign and reach potentially new players and fans who might not have otherwise ever heard of Wings or Cinemaware. Wings is a relatively niche game – it only came out on the Amiga in 1990, so it didn't have the luxury of being exposed to the millions of gamers that entered the market when MS-DOS PC machines became popular as gaming platforms (especially for simulators). We are hoping more gamers give Wings a chance and join us in rebuilding this fantastic game!

What are some of the challenges that lay ahead and how will Cinemaware overcome those challenges?
Our biggest challenge is that we are a small team with limited resources, so we must be very focused and selective as to what we try to do and what we can offer our fans. Many passionate fans obviously wish we could move on and create bigger, more sophisticated games and remakes, but realistically we need to build Cinemaware back with a lot of diligence and discipline, and that takes time. We are confident though that fans will give us the support and time we need to do things right! We promise we won't disappoint them!

Are there any final thoughts Cinemaware would like to add about Wings Remastered?
First, we'd like to sincerely ask for your readers and members to join our Kickstarter campaign and pledge for Wings: Remastered Edition – regardless if you are a Cinemaware fan or not. Even if you are a hard-core flight-sim fan, please support our effort to revive a great WWI combat pilot experience! This is not just about the game but about exposing many potential players to the life experience of a WWI fighter pilot. Also, if you have never played Wings, give it a try – you can freely download the Amiga version and play it through an emulator, or watch some of the videos on YouTube. We feel confident anyone will appreciate how original and different of a game experience Wings really is!And finally, if you already are a long-time Wings fan – what are you waiting for? JOIN THE 56TH! HEROES LIVE FOREVER!
Once again thank you to Darren Falcus, Bob Makin, and Matt Falcus for taking the time to an interview with and us. At the bottom you will find a wide a variety of links including a FREE Pc demo version and a FREE Android demo that you can download here. Try it out and then visit the Steam Greenlight or Kickstarter page to give your support and you too can be a hero for the Wings Remastered Edition!
Until next time I'm Skyviper wishing everyone out there good hunting and happy landings.
Click here to visit the Wings page Click here to visit the kickstarter page Click here to visit the greenlight page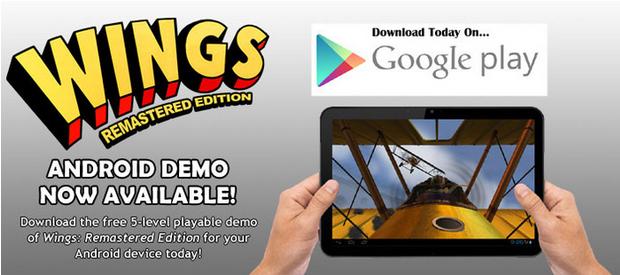 If you're having any problems with the links above please try these.
Steam Greenlight: Wings Remastered Edition
http://steamcommunit...s/?id=195173821
Wings Remastered Edition: Kickstarter Page
http://www.kickstart...dition?ref=live
http://www.cinemawar...o_Installer.exe
https://play.google....com.Hippo.Wings