Beating up the enemy after dark, in Prangster's Mosquito campaign for IL-2!
To adapt the 'Redneck's' line in the movie 'Outpost', you can say what you like about Hermann Goering, but he had style...and a perhaps characteristically brutal but effective way with words. Of all the pithy statements attributed to 'der Dicke', as the rotund Reichsmarschall was unceremoniously nicknamed, one I like best concerns his opinion of the 'Wooden Wonder' - the justly-famous DeHavilland DH98 Mosquito. Of this superlative aeroplane, Goering is said to have remarked:
'In 1940 I could at least fly as far as Glasgow in most of my aircraft, but not now! It makes me furious when I see the Mosquito. I turn green and yellow with envy. The British, who can afford aluminium better than we can, knock together a beautiful wooden aircraft that every piano factory over there is building, and they give it a speed which they have now increased yet again. What do you make of that? There is nothing the British do not have. They have the geniuses and we have the nincompoops. After the war is over I'm going to buy a British radio set - then at least I'll own something that has always worked.'
It's said (eg in Crowood's Me262 history) that - far from having been forced into development as a bomber by Hitlerian ineptitude - the famous German jet fighter was heavily marketed by Willy Messerschmitt as a multi-role plane from the outset. And that this was partly in an effort to cash in on widespread German recognition of the Mosquito's success as a very fast warplane which excelled at many roles: fighter, night bomber, precision day bomber, fighter bomber, night fighter, anti-shipping, reconnaisance. Whatever Messerschmitt's motivation, the Mosquito is one of those aircraft which, as the saying goes, looked right and was right. It also sounds pretty good:
A little while back, my plan to feature comparative Mosquito mission reports in a few different sims didn't get beyond CFS2 add-on 'Mosquito Squadron' when my graphics card failed. Restored by heating it to re-flow possible failed soldered connections, I can pick that up now. So it's time for 'Mosquito Squadron' again; this time not the CFS2 add-on but Prangster's mini-campaign of that name, available for IL-2 over at that peerless resource for all things Sturmovik, Mission4Today:
http://www.mission4t...details&id=1172
I was especially interested in flying the included Amiens Prison raid in IL-2, by way of comparison with the CFS2 equivalent. But that will come later. This report is on the first mission in Prangster's campaign. Intriguingly, this is for a night intruder mission, which I knew Mossies flew in 1944 around the time of the Normandy landings. Some of these operations are described by participants, in Osprey/del Prado's 'Mosquitos of World War 2', a good basic source. One of the units flying these missions in 1944 was the Royal New Zealand Air Force's 487 Squadron, squadron code 'EG', assigned to the RAF's 140 Wing, No. 2 Group, in the famous Second Tactical Air Force (2nd TAF). And this is the very squadron featured in this campaign! Go, Kiwis!
Night intruder missions were a new departure for me. I knew they had earlier been flown by black-painted Hurricanes and Bostons, stooging around in the dark, low over enemy-occupied France and basically shooting up anything that looked like it needed shooting up. Now, I was going to attempt this in a Mosquito...a virtual one of course but the darkness would be real enough. So with the room light turned off and illumination provided from a light outside filtering through a partly-open door - the better to be able to make out detail on a dark screen yet see a little of my keyboard - I braced myself for a new simualtion experience.
Here's the mission brief. I have to say that it is short but exceptionally good. Mission objectives and important parameters are clearly stated and appended to this is some immersive, realistic extra, military-looking stuff, starting with a met report from the meterolo...meteriolo...you know, those weathermen chappies.
From what I remember, this is the original IL-2 Normandy 'map', which I think came with the Aces Expansion Pack or thereabouts. No South of England provided. So I'm taking off from a small island where no land should be, out in the English Channel and quite close to the French coast. But I for one much prefer this to an air start. And the island is a reasonable substitute for Thorney Island on the southern coast of England further north, at which Mossies were really based at this time.
Though it's February 1944 and D-Day is still four months away, knowing what's coming I can read off from the map and savour all those names about to become famous on The Longest Day...Pointe du Hoc, Ouistreham, Courselles-sur-Mer and all the rest.
In short, on this sortie I must fly west at low level and orbit at the enemy airfield near Valognes, knocking down any Gerries silly or unfortunate enough to be caught in the circuit there. Then I fly south for a bit, clobbering all and sundry ground transport as I go. If I can see any. It being dark, this doesn't seem very likely. How on earth will I manage? I have no idea. But there's one way to find out...
I started the mission. Here I am in the cockpit...and in the dark. At least it's a moonlit night. When you're out and about in the countryside, away from the city lights and relying on just the Mark 1 Eyeball suitably dark-adapted, you appreciate the massive difference between visibility on a moonlit night, compared to a truly dark, overcast one. This was bad, but it wasn't impossible. At least I could see my immediate surroundings and most important of all, a horizon. So I had at least a sporting chance of getting airborne...and maybe even staying there. So far, so good.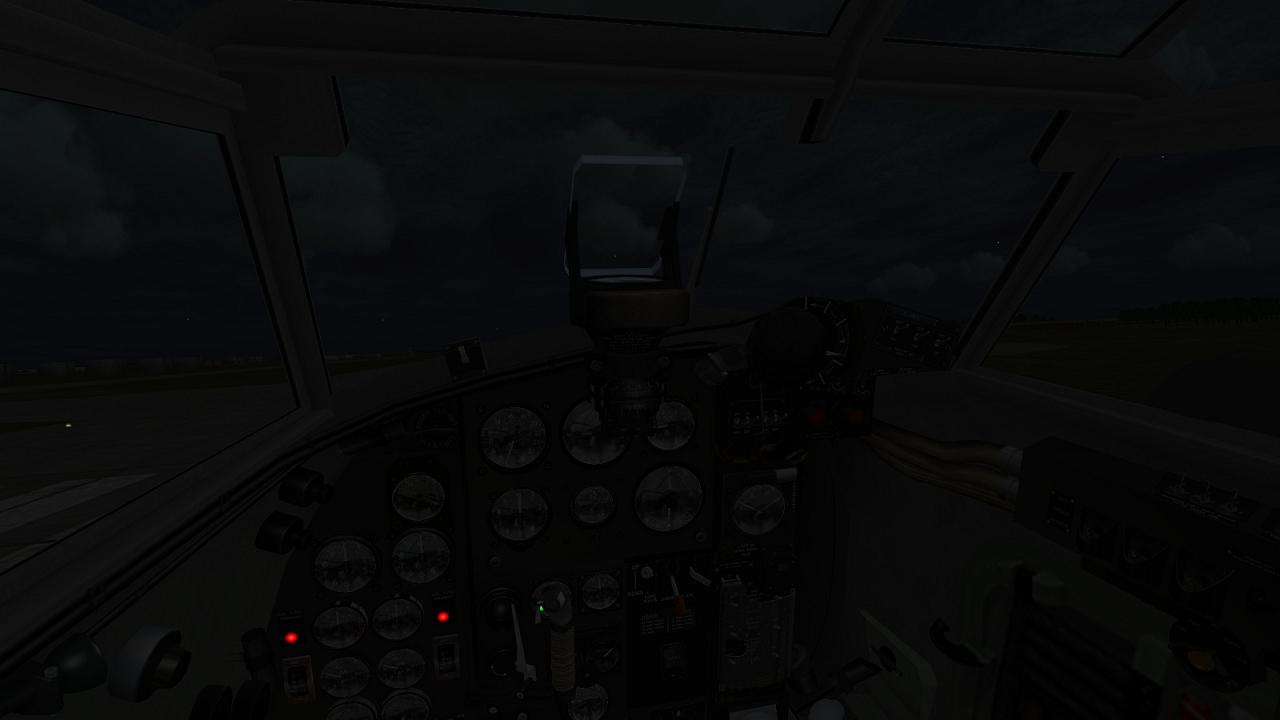 Switching to the external view, I had a look around. Against the lighter sky to the west, I could at least see my own aircraft, on its own as this is a solo mission. Our little island base seemed quite well-appointed and the flarepath was nicely illuminated for my takeoff. Feeling a little less uncomfortable, I called up the 'mini-map' and oriented myself.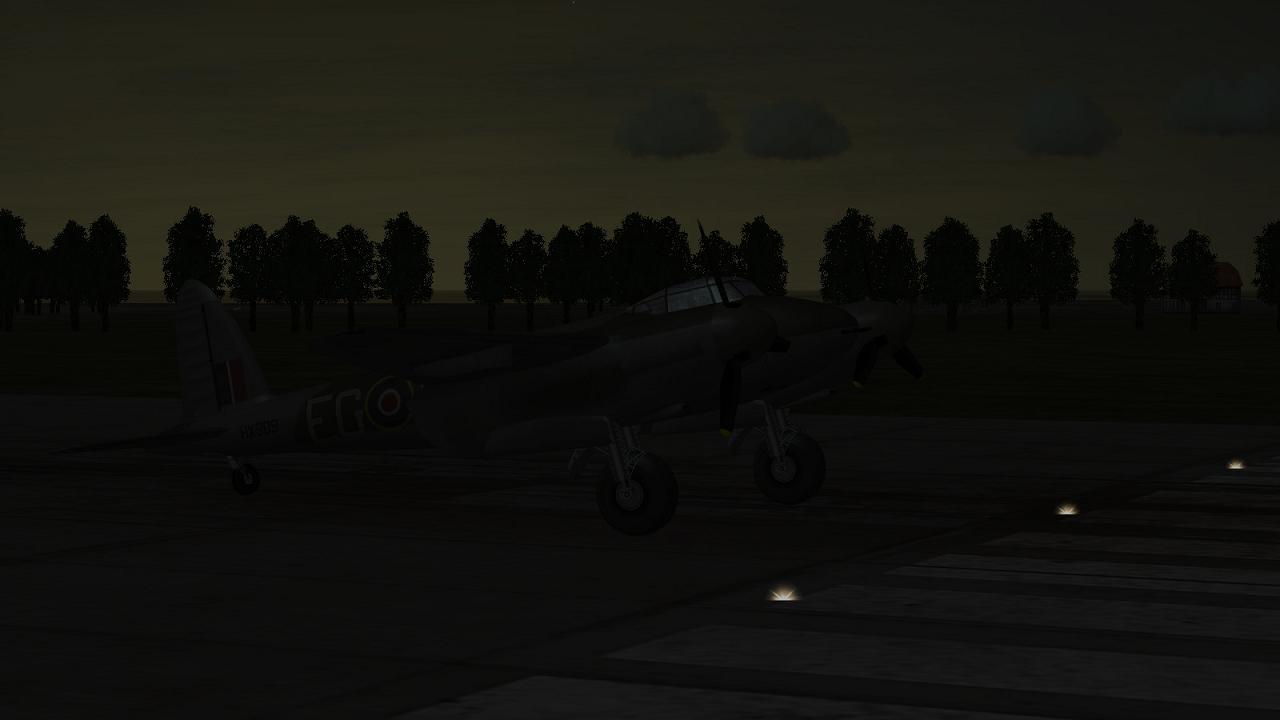 Sad to say, I completely forgot about using my own cockpit, navigation or landing lights. Not enough training in night flying, was my excuse. What are they thinking, throwing people like me to the lions, on operations like this, that we're completely untrained for? Feeling still slightly peeved, I started humming to myself that old airman's refrain...all together, now:
'I didn't want to join the Air Force
I didn't want my b*****ks shot away
I'd rather hang around
Piccadilly Underground
Living off the earnings of a high-born lady.'
Not much hope of that now...maybe later, if I make it back and that transfer to a training unit comes through. Oh well, nothing else for it, but back to the night's business. I started up, checked my controls, set flaps two notches down and opened the throttle. Very slowly. This seemed to have the desired effect in minimising swing. Keeping well between the rows of lights either side of the long runway, I lifted off and climbed away. Early days yet but so far, still so good. Maybe I'd do alright at this night intruder lark, after all.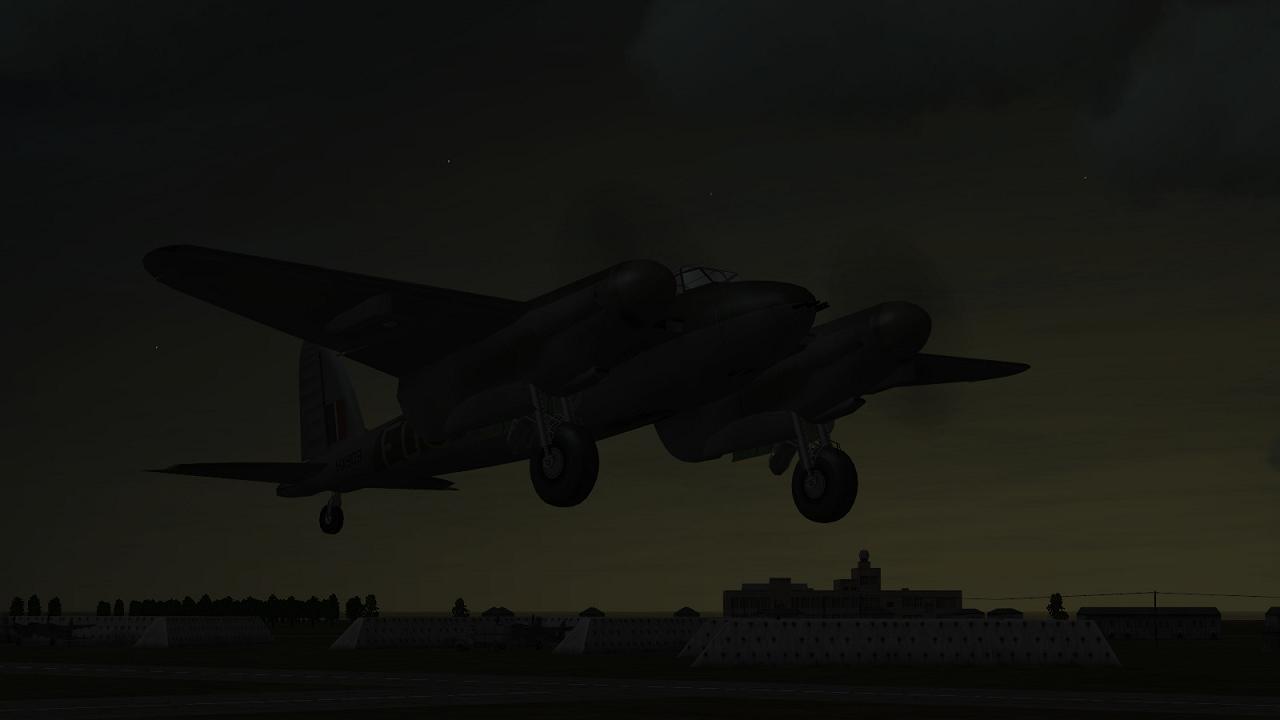 ...to be continued!