Content count

417

Joined

Last visited
Community Reputation
144
Neutral
About TROOPER117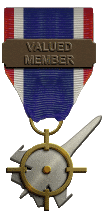 Profile Information
Gender
Location
Interests

All things aviation, motorbikes.
Yes, I've used this method for years...

Me getting shot down on a regular basis is nothing new mate... I have that uncanny luck of always being in the wrong place at the right time. It's the one thing that Capt Triggers said I was really good at!

Ok... been back to the specialists and they have given my peepers the all clear... HUZZAH! Now it's back to the opticians and get a new prescription for some new glasses and I'll be good to go

Yes Pol, it's a bit of a pain, but I just have to get on with it... When I look around me with both eyes all seems pretty normal, but that's because the good eye is compensating... unfortunately when I'm on the pc or reading a book I need glasses, and the opticians won't give me a new prescription for the damaged eye until it comes right, so it means another lengthy wait before I can see properly for close work... bummer!

So, back to the eye hospital... their experts have had a poke around and confirmed the swelling behind the eye. I now have a further 8 weeks of medication, 2 different types of medication to be administered 4 times a day! I'm to go back after 8 weeks and see if this has worked. Meanwhile, still off work for a further 8 weeks... you can't make this up!

Well mate, I had my eye looked at today by the opticians, 4 weeks now after the op... I told them that my eye although much improved, was still not focused properly and was slightly blurred. After an hour of tests and more drops into my eye to make the pupils larger so they could do even more tests, I was eventually told that I had a swelling behind the eye and that they could not sign me off to go back to work. (I drive people around in a minibus) so legally I have to have two working eyes up to a particular standard to do that. The upshot is I am now 2 months without work, and I'm now being referred back to the eye hospital for further examinations... so it's a bit of a rum do chaps!

''Snippets?''... Do you know my Missus? Snippets is her nickname, (given because she wanders around the garden snipping things with a vicious sharp implement!)...

I'm a great believer of 'It's never too soon'...

Thanks chaps for the encouraging remarks! Coming up for day 6 after the op!... vision is clear but still just out of focus in the left eye. The medical boffins say it should be more or less sorted within a fortnight, but sometimes it may be as long as 4 weeks!!!... Blimey!

Well chaps, some of you may have noticed I've been out of the flying simulator scene for quite some time. Reason being is because of my eyesight problems (cataracts)... I just didn't have the vision needed to play any kind of flight simulator game, as I couldn't focus properly and it gave me headaches. Had the eye surgery yesterday and all seems to have gone ok... there will be a bedding in process to allow the eye to settle down (could be a couple of weeks or more). Hopefully I'll be back up in the skies once more, ready to be shot down in flames in the near future. The only thing I've played in recent weeks is a brief spell in Arma Reforger, but ended up stopping as I couldn't finish any gameplay as I got the headaches. More recently, Snowrunner has had some attention as it's just a game that I can play in very short bursts without concentrating too hard and doesn't have the complexity of flight sims. Have to rest the old peepers now as I'm struggling to even type this message as you've guessed it, my specs don't work properly anymore as my prescription has bloody changed!