Content count

2,736

Joined

Last visited

Days Won

2
Community Reputation
314
+250 Reputation

About Polovski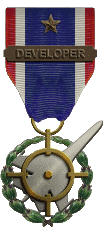 Networking
Website

http://www.overflandersfields.com
Glad you are up and running tone12. There's no change to how cockpit view works in the update. It is more likely you fixed it when you re-bound your joystick controls.

We have a long list of aircraft that we want to do, but hopefully one day...

If your flight is split over the front, when you finally land it is best to wait for them to also arrive and land (unless you are wounded or aircraft badly damaged). You can at least wait for them to be seen near a landing field. Otherwise, some could still be over the lines and then there's more of a chance they may not make it back. If you quit early we have to work out the results of those aircraft not yet accounted for. Of course when you have landed you could put time advance on.

What Gaw says basically. The sim does not "auto" change views at all. Go to WOFF's Workshops menu, and launch "ReMap Keys/Controllers" Select each controller you have and check what is bound to buttons and axis carefully. Remove or rebind whatever is not correct. Also on 2nd column at the top change the filter to "ViewControl" and see what's there from the keys point of view too.

I had a look, and I believe it is correct. Several images and videos show the controls as such. One crashed image shows "Advance and Retard" signs next to the side control indicating it is a mixture lever. In the FE2b in WOFF the throttle is on the control stick (look down, easier with TrackIR). There are images with the controls where I have them. If you have information to the contrary, then I'm all ears. I have also seen images with two levers on the opposite side (throttle/mixture it looks like) but maybe anoter other variant.

OK Becker02 thanks, I think the padding is actually bulkier there in LOD100 to give the effect. But looking at it, yes it's not the same. There may be many small things like that in aircraft, the LOD100 is reduced detail from the VC of course where it's right in your face and many 1000s of polys can be used. But next time I look at the Halb (s) maybe I will add it.

In the compatiblity properties for CFS3.exe, set it to run as an administrator. Sounds like your system is not allowing cfs3 to write the outcomes (or WOFF manager to read them). May need WOFF.exe setting to that too.

Ah well done McCarty13 sorry I missed this post originally. Not sure, 64 bit access is required, so depends if WIn7 compat also gives you 64 bit Win7. It may run in 32 bit mode but long missions may not run properly.

October 4, 2022. Hi all, We have posted more info and pictures on the website news section, for the recently announced BATTLE OF FRANCE Expansion coming soon to WINGS OVER THE REICH! Please check it out here !

Welcome gallen13, glad you are enjoying it too! No currently there's no more zoom, however you could open the bitmaps yourself on another PC or tablet etc, and zoom into the image yourself. Of course this way you would not get to see the current targets etc just the area itself. for example \WOFF\WOFFScenery\Period\1917\Map will have the current map up to May 1917. 1917-6 folder is from June onwards -the front line moves in WOFF.

Glad your vision was sorted Trooper117 - give the bally Hun hell!

Cockpit view press F4 to cycle the cockpit on /off. F6 views gunsight if it has 1.

Please see the new post in the News section!

Hi all, Old Brown Dog Software is proud to announce details of the expansion we have been working so hard on for WINGS OVER THE REICH, and it is: The Battle of France Take your part in a new, whirlwind, dynamic campaign as the Germans invade France bursting through the Ardennes Forest, taking the allies completely by surprise. OBD has designed an utterly unique campaign system for the fast-paced dynamic blitzkrieg war - never seen before at this level in any combat flight simulator. In a matter of weeks in the summer of 1940, the Germans push through the Ardennes and following along the Somme valley, effectively cut the French forces in two, and isolate the remnants of the BEF and French 1st Armies in Dunkirk. Soon you can take part in this exciting early WW2 period, with the Battle of France add-on for Wings Over the Reich! Release date and final details to be confirmed. For more details, images and information please see the WOTR website! There you can click the Red button below the announcement to read the full newsletter - this has dozens of new images and more info! OR here's a direct link to the newsletter with the extra WOTR details and images! --> HERE <-- (On the WOTR website, press CTRL+F5 to refresh the page if you do not see the latest news).

Ooh below the belt Sir. Luckily not any more, Britain has some very fine chefs and restaurants now and a world mixture of cultures.