Content count

833

Joined

Last visited

Days Won

1
Community Reputation
182
Neutral
About ironroad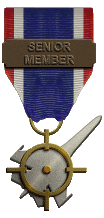 1

Fly-in of the personnel, equipment, and aircraft for the Marine Expeditionary Unit (MEU).

1

October, 1986; somewhere near Tonopah, Nevada

2

Due to personal reasons, after a long hiatus of a year I decided to get back into video editing. Eagerly awaiting two things: GFX card prices to come down and the F-14. I hope you all enjoy, this has been a long and painful year..

I have been tooling around with the Nevada DLC

2

They must be trying to port the late model F-15Es or maybe going to assign some recently built (S/K/Gs?) to the air defense role? The F-15Cs, as much as I love them, are simply worn out.

ironroad replied to Fubar512's topic in The Pub

I for one welcome our new insect overlords. I hope they know that some of us can be useful for rounding up others, to toil in their sugar caves.

I am and it is quite refreshing. IMHO a step into the right direction, as BF3 and 4 were too gimmicky and disasters upon release. Makes me pine for an update BF 1942 Here is a video of some of my recent gameplay

Thanks, I tried a few new camera angle techniques in this one and re-filmed the dogfights about three times. Still not fully satisfied with the end results .

Finally getting back into the swing of things. It took a major disappointment and being pissed off for a while to get me to focus my energies into movie making. Hope you enjoy! *Apologize in advance to those who may not be able to view this based on content id blocking via Youtube.

I noticed some issues with the gunsight too, and the rudder and nose-wheel steering seem a little wonky. Maybe I'm not doing it right? Trying to get all the sight settings mapped to my hotas, a much larger workload than in the F-15 and almost always fighting to trim her out. Btw, can anyone guess which title's the SFX came from?

Full shot can be found here: Tiger Too

Just straight up dive bombing I was fooling around and figured I could try to land on the ground troops I just blew up. Still use the the F-15's flight model, so I expected to be able to aero-brake and then just toe break my stop... bad idea I started skidding. Thanks to the F-5's low height and wide "stance" I didn't tip over like I would have in the F-15.

Some clips of my first flight in Belsimtek's F-5E Tiger II module for DCS. I normally fly the F-15 so it has taken some getting use to the flight controls and the weapons delivery system for this little bugger. I miss the F-15's power, speed, and avionics but with the F-5 I get a better turn rate down low. Flying this little fighter is a blast as well as a challenge as she is very forgiving and resistant to buffeting/departure; but, she needs a lot of trimming and has a much slower throttle response than the mighty Eagle. Also, not use to flying without a HUD and advanced avionics to help me "see" what is out there. Hopefully I can get the systems and switches down to muscle memory like I have done in previous sims like Jane's F-15.