Content count

514

Joined

Last visited

Days Won

2
Community Reputation
294
+250 Reputation

About Silberpfeil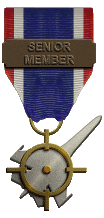 Silberpfeil posted a topic in The Pub

With the full understanding that it is nearly impossible for the esteemed modeler to offer every variant and sub-model that the M113 series includes, the trailing rendition is attached for historical reference:

1

Silberpfeil replied to MISOFTCIA's topic in Español

And don't forget this one (or do I have to get my paintbox out again?)!

When it absolutely, positively has to be there overnight... Maybe we need a new category named "Model Box Look-alikes"!

Silberpfeil posted a topic in The Pub

On Saturday, 24 April 2021, the U.S. Coast Guard's last Hamilton-class cutter was decommissioned after 49 years of service. In ceremonies held at Coast Guard Base Kodiak, WHEC-724 USCGC Douglas Munro was removed from the list of active duty cutters as the last of the 378-foot cutters. This veteran of maritime security campaigns, drug interdiction, illegal migrant interceptions, fisheries patrols, high seas search and rescue efforts, and of Operations Iragi Freedom and Enduring Freedom was the tenth of twelve ships built during the late 1960's and early 1970's, and the last of that class of twelve to see service. As with the others in her class, she will be replaced by the new 418-foot Legend-class national security cutters, which now serve as the U.S. Coast Guard's primary long-range asset.

Sikorsky S-55 / U.S.C.G. HO4S-2 1255 circa 1955: Sikorsky S-55 / U.S.C.G. HO4S-3 1300 circa 1964:

When a unique FE2 or SF2 install is run, new files are generated in the C:/Users/=UserName=/Saved Games/Thirdwire/FirstEagles2 or StrikeFighters2 folder. Previous installs have then allowed the newly-generated folders named "Controls", "Missions", "Objects", etc., to be moved elsewhere (with some added statements to the Options.ini file showing where they have been moved to), but the generated Options.ini (and Versions.ini in the case of SF2) need to remain at that location. Can anyone offer some insight on whether or not the Options.ini MUST remain there in order for FE2 or SF2 to work? I've installed a new SSD and am in the process of migrating all (including the former C:/Program Files (x86)/Thirdwire executables) of my FE2 and SF2 installs to the new drive, but the Options.ini and the Versions.ini are resisting the relocation and simply generate new files in their historic location whenever setting up a new install. I've tried modifying the Options/OptionsFile entry found in the executables .ini folder, but no joy. Is this a hard-coded command during installation that cannot be modified? TIA for any replies!

I concur - in some cases their collaboration is fairly evident. Writing of another offering from the same source, I've been working on the Caudron R.XI and bringing that into one of my FE2 installs in its original role as an escort fighter. Original skin is shown in upper right with some other WIP variants also shown:

Watch it - you're getting real close to my heartstrings! In the lower right, especially note the towing service the swift boats called when they broke down...

Not looking to place too many carts before too many horses, I was thinking the same thing last week when admiring the excellent progress Gepard was making with his Operation Seelowe, and especially the landscapes of southeast England and greater London. The possibility of using that terrain model would open up an entirely new set of Missions and Campaigns for those with FE2 interest.

Finally got an opportunity to put the Breguet 14 B.2 through its paces, and noting the excellent work on resurrecting this model by Wilches, VonS, Heck, and others, offer a few DATA.INI changes for your interest. Please remember to back up your originals before incorporating any of these: [Gunner] Position=0.0,-2.2,0.8 MinExtentPosition=-0.4,-2.7,0.6 MaxExtentPosition=0.4,-1.8,1.0 PitchModelNodeName=Gunner YawModelNodeName=GunRing [InternalGun1] MuzzlePosition=-0.575,0.25,0.3 LightPosition=-0.575,0.25,0.3 MinExtentPosition=-0.7,-0.9,0.2 MaxExtentPosition=-0.4,0.4,0.5 [Tailgun1] MuzzlePosition=-0.1,-1.2,0.975 LightPosition=-0.1,-1.1,0.975 MinExtentPosition=0.3,-2.7,0.6 MaxExtentPosition=0.4,-1.8,1.0 [Tailgun2] MuzzlePosition=0.1,-1.2,0.975 LightPosition=0.1,-1.1,0.975 MinExtentPosition=-0.3,-2.7,0.6 MaxExtentPosition=-0.4,-1.8,1.0

10

I saw that a couple times as I was adjusting some basic data.ini numbers during test flights. Note the "Y" values for the fuel tank's MinExtentPosition/MaxExtentPosition. Not really sure if this is the solution to the problem, but I changed these to have the WingFuelTank included within the Fuselage and haven't had that "forward-looking" leak occur since those revisions.

Silberpfeil posted a topic in The Pub

Is there a mod like this? Target Identification Bomb M84A1 was released by the lead bombardier or a ''pathfinder" plane to indicate the bomb-release line for the formation. It produced trailing red smoke for a period of ten minutes and design visibility was 15 miles at 25,000 feet. As info, I've tried using LAU rockets to simulate the effect but no joy thus far.

Thanks for the FM, VonS - my reconnaissance version flies just like a big truck!

Thank you - both the FAS and USAS versions are looking good so far! Are you also going to piece together the Junkers J.I?

IIRC, Fokker D.VI can be found as an IL2 DBW1916 model, and Sopwith TF.2 Salamander was a FS2004 model (not sure of current status). Recent pix of the D.VI are available on the web in a few places, and I recently saw one of the Salamander on another site. Here they are - just needed some time to go looking around...