Ran into a bit of luck and was introduced to LouG who just retired last year from the Marine Corp after 20 years. He is an F/A-18C pilot and was kind of enough to do an interview.
Can you tell us little about yourself?

I was born in Twenty Nine Palms, CA and my Dad was a career Marine Corps Officer. We moved around a lot when I was a kid; Quantico, VA, El Toro, CA, Parris Island, SC, and Philadelphia, PA at the old Navy ship yard. My dad retired when I was 12 and settled in Mission Viejo, CA, which is right by El Toro MCAS. My neighbor was an Air Force WSO on exchange with a Marine Corps F-4 unit at El Toro. Through him I met many fighter pilots and around 7
th
or 8
th
grade I knew what I wanted to be. I attended Western State College of Colorado on a Football scholarship and graduated with a BA in History. I received my commission in 1990 from the Platoon Leaders Program (PLC). I went to The Basic School in Quantico, VA and then Aviation Indoctrination at NAS Pensacola, FL. I did primary flight training at NAS Corpus Christi, TX and I was winged as a Naval Aviator at NAS Kingsville, TX. I served 20 years in the Marine Corps and retired in July 2010. During my career I earned a Master's degree in Aviation History from American Military University. I know work as the Senior Air Warfare Analyst at Valkyrie Enterprises in Virginia Beach, VA and I do contracting for the US Navy. I am married and we have two girls.
What all aircraft did you fly and how many hours have you accumulated?

I flew the T-34C in Primary training in Corpus Christi, TX and then the T-2C Buckeye and the TA-4J in strike training in Kingsville TX. I have flown the F/A-18A, B, C, and D models with most of my time being the F/A-18C (single seat). I have about 2800 total hours with a little over 2500 being in the F/A-18. (My logbooks are in a box in the attic!)
What units did you fly with?

After flight school I received Fleet Refreshment Training (RAG) at VMFAT-101 at MCAS El Toro. I then reported to VMFA-232 (Red Devils) in 1995 which had recently moved to NAS Miramar (now MCAS Miramar). I served three years and did two 6 month deployments to the Far East where we were based out of MCAS Iwakuni. After that tour I was selected to go to Amphibious Warfare School in Quantico, VA for ten months and when that was done I reported back to VMFA-232. I did another deployment to Japan and when upon returning from that deployment I was selected to go to TOPGUN at NAS Fallon, NV and to attend the Marine Corps Weapons and Tactics Instructor course run by MAWTS-1 in Yuma, AZ. I was the Pilot Training Officer for the Red Devils for one year and then I became the Marine Air Group (MAG)-11 Weapons and Tactics Instructor. I stayed in that billet for six months and then became the Operations Officer for VMFA-323 (Death Rattlers) in 2001. I served with VMFA-323 on board the USS Constellation during OIF I and flew 29 combat missions. From 2003 to 2007 I served USSOUTHCOM and USCENTCOM performing various staff officer functions. I finished the last three years of my career as an F/A-18 instructor pilot with VMFAT-101 at MCAS Miramar, CA.
What was one of your most humorous moments?

There were so many humorous moments, trying to remember them all is difficult. One gag the power line Marines played on a fellow pilot when we were junior pilots in 232 sticks out. My buddy had just joined the squadron and we were deployed to Nellis AFB for a Red Flag. He started to taxi out and one of the Marines ran up and gave him a frantic brakes signal. When he slammed on the brakes, another Marine who was hiding under the nose of the Hornet, rolled a spare nose tire out in front of the jet and my buddy called on base radio that he had just lost his nose wheel. He was so mad that he canceled his flight which caused merciless ribbing from the rest of us. To make it worse, he had fairly thin skin for a fighter pilot.
What was one of your hairiest moments?

I have had a few; a couple of sporty departures, a long night bolter on the Connie, landing in a 60+ knot night in Japan, and a wingmen ejecting. Surprisingly, none of these came in combat. The Iraqis shot at me a bit, but nothing too close. The closest I came to death was early in my career. I was in 232 and we were doing Low Altitude Training east of MCAS Yuma (R2301W range). This was back when we were allowed down to 200 feet. I was coming over a small ridge and passed within 50 feet of a CH-53E coming over the other side of the ridge. I swear I was within his rotor arc. It was one of those times when it happened instantly and you did not even react. Since I was junior, I am pretty sure I did a quick check on my lead's position and then looked forward just in time to see the helo pass.
TOPGUN?

TOPGUN was nothing like the movie. I went through the course in 2000 and it was an all Marine student 6 week power projection course. The Navy had moved to a 10 week course that featured some air to ground training. There is now just one course that Marines and Navy go through. There were no pretty girls or other distractions since TOPGUN had moved to Fallon, NV, and it was awesome. 6 weeks of nothing but thinking, talking, and flying fighter tactics. Looking back it was hard work with 14 hour days being the norm, but it never seemed like work to me. It was by far the best time I ever had flying jets. My last graded sortie was me and three TOPGUN instructors taking on 2 F-14s, 4 F/A-18s, and 5 F-5Es. 15 jets airborne just for my training! Other than combat, this was the rewarding time in the F/A-18.
Why simulation?

It is easy to explain why I play simulation games now since it is the only flying I get. I have not taken advantage of my commercial pilots license as of yet. I have been flying sims since 1992 though, starting with Yeager's Air Combat and Pacific air war. I have always enjoyed the history of aviation and flight simulation is the only way to experience what it might have been like back then. Plus I do not have the means to own a historic fighter. Most simulations of modern combat have not interested me because of the lack of realism. When you see the real capabilities of aircraft, missiles, and other systems, PC sims seemed to always be lacking except for a couple. The Falcon series (Falcon 3.0 and Falcon 4.0) was about as realistic as it gets. I actually used Falcon 3.0 during my early F/A-18 training, mostly as a procedural trainer for Low Altitude Training flights. I also played SU-27 Flanker for a time and found it fairly realistic, especially in the visual arena.
As I stated before, I have a Master's degree in Aviation History and I enjoy World War II and the Korean War, so naturally i spend most of my time with simulation dealing with those subjects. I have played around with the Korean War mod for SFP1 and I have been building a USMC Pusan perimeter scenario. I am waiting for the MiG Alley mod for SFP2 and would like to build a few campaigns for that game to include the Pusan perimeter, Inchon, Chosin Resevour, and the stalemate the last two years of that conflict. I also would like to build a USMC night fighter campaign. During my master's degree I wrote a 70 page paper on the tactics and equipment used on the three Marine Corps Night Fighters, the F4U-5N, the F7F-3N, and the F-3D. This paper includes diagrams on how each radar operated and what the individual radar scopes looked like with various contacts. I have had parts of this paper published in the Marine Corps Aviation Association quarterly magazine. I am willing to share this paper and other documents to the community. My modding skills are still at the amateur level and my vista computer is not helping. I had a lot less trouble with my old XP, but it bit the dust in my last move. Time for a new computer.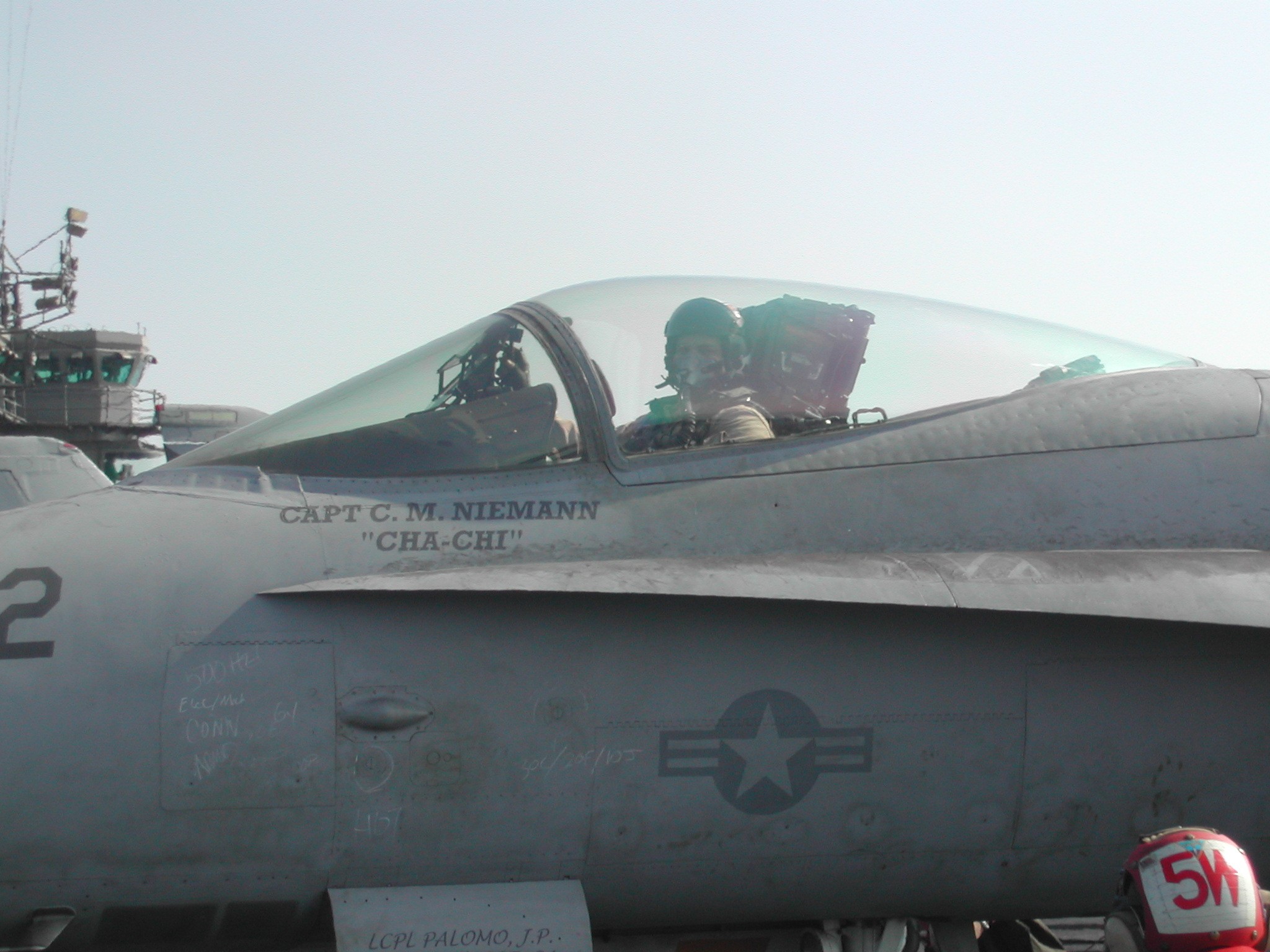 The first one is me right after recovering onboard the USS Constellation from a strike into Iraq.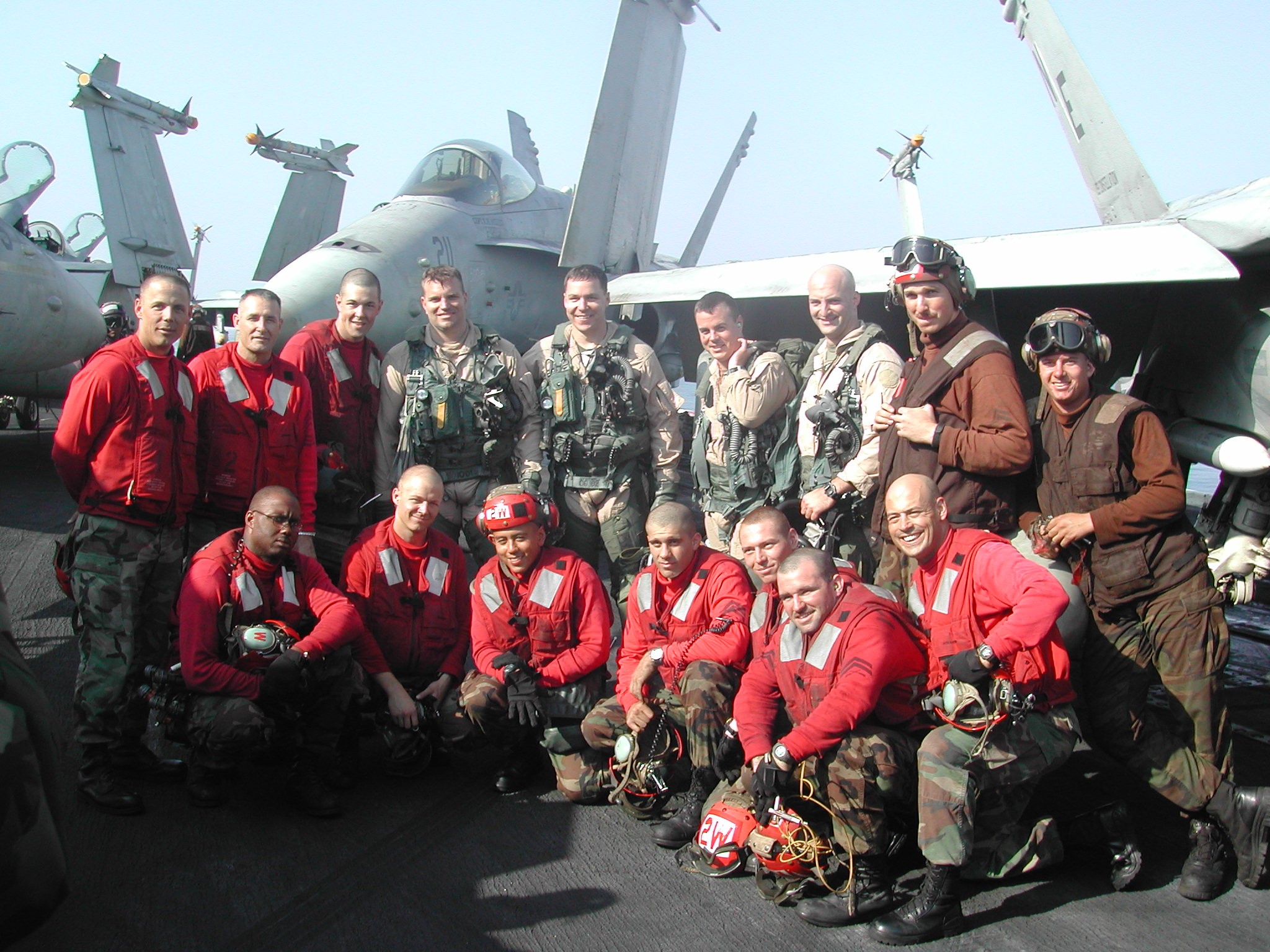 The second is a well published photo of our ordnance crew and pilots after that first strike. I am the first pilot on the left.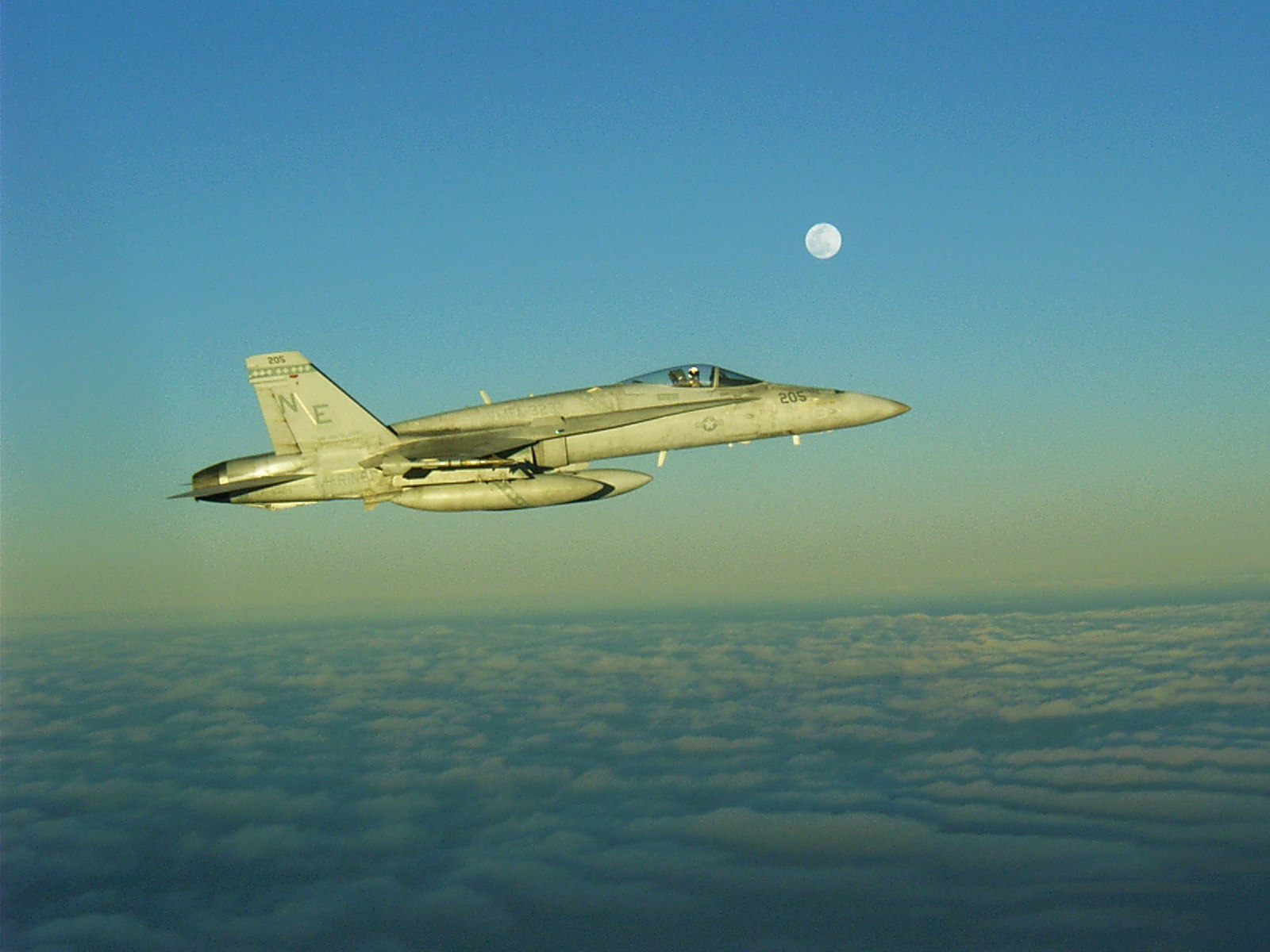 Third is a picture of me over Iraq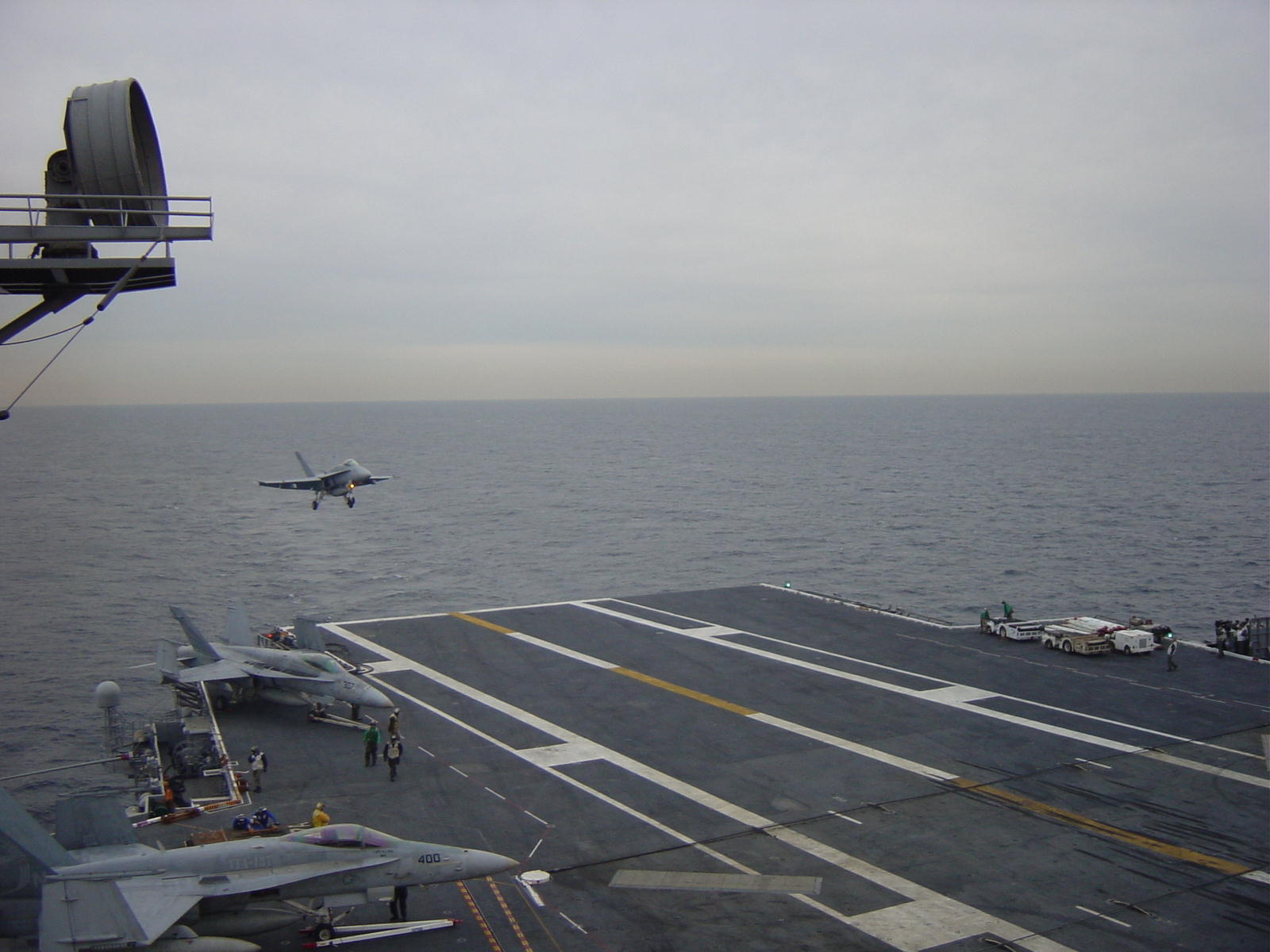 Fourth is me landing on the USS Constellation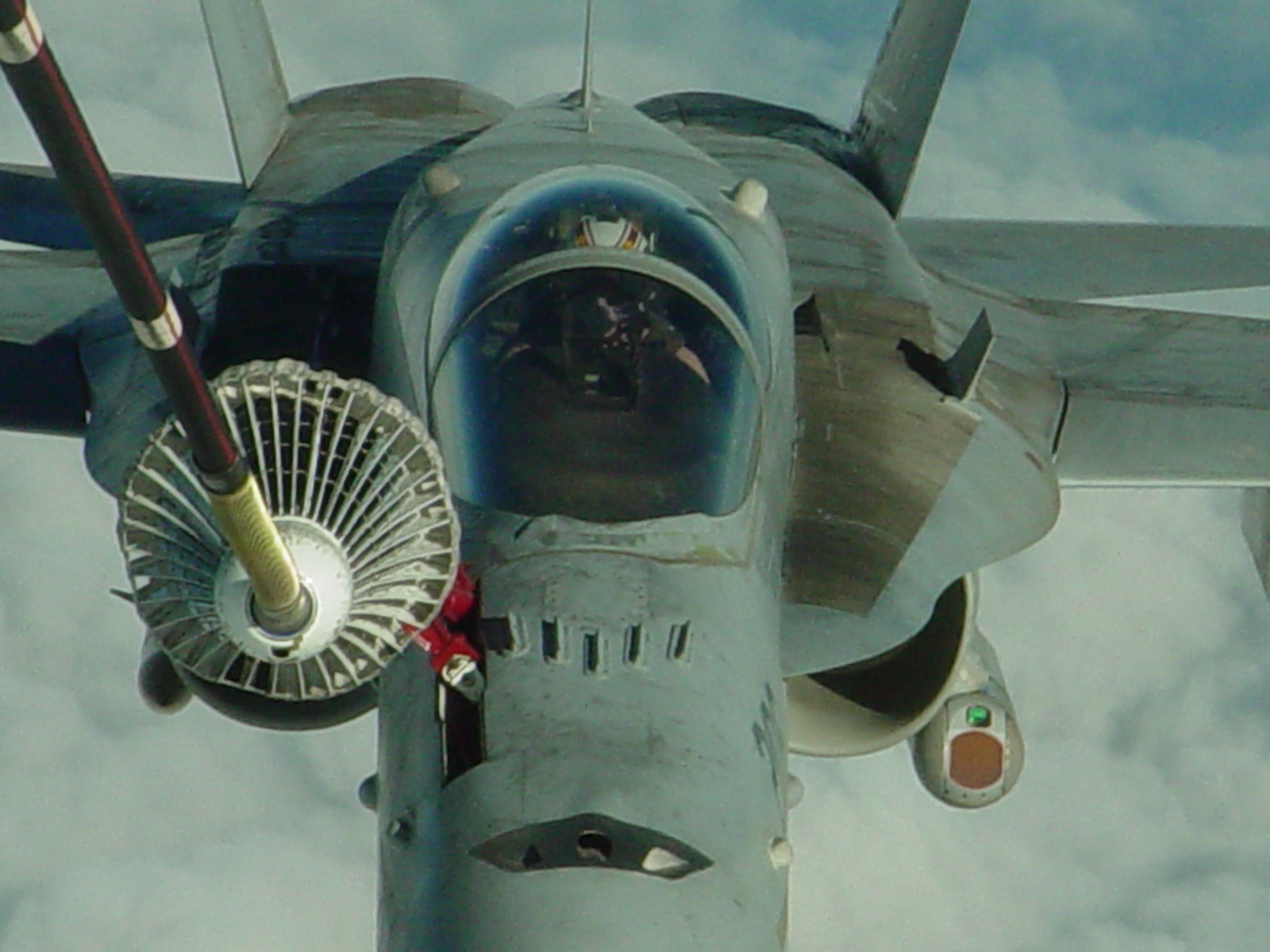 Fifth is me tanking off of a KC-10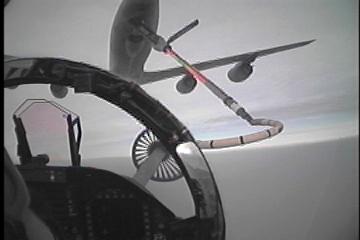 Sixth is cockpit view of tanking off a KC-135. I wore a helmet cam for a couple of flights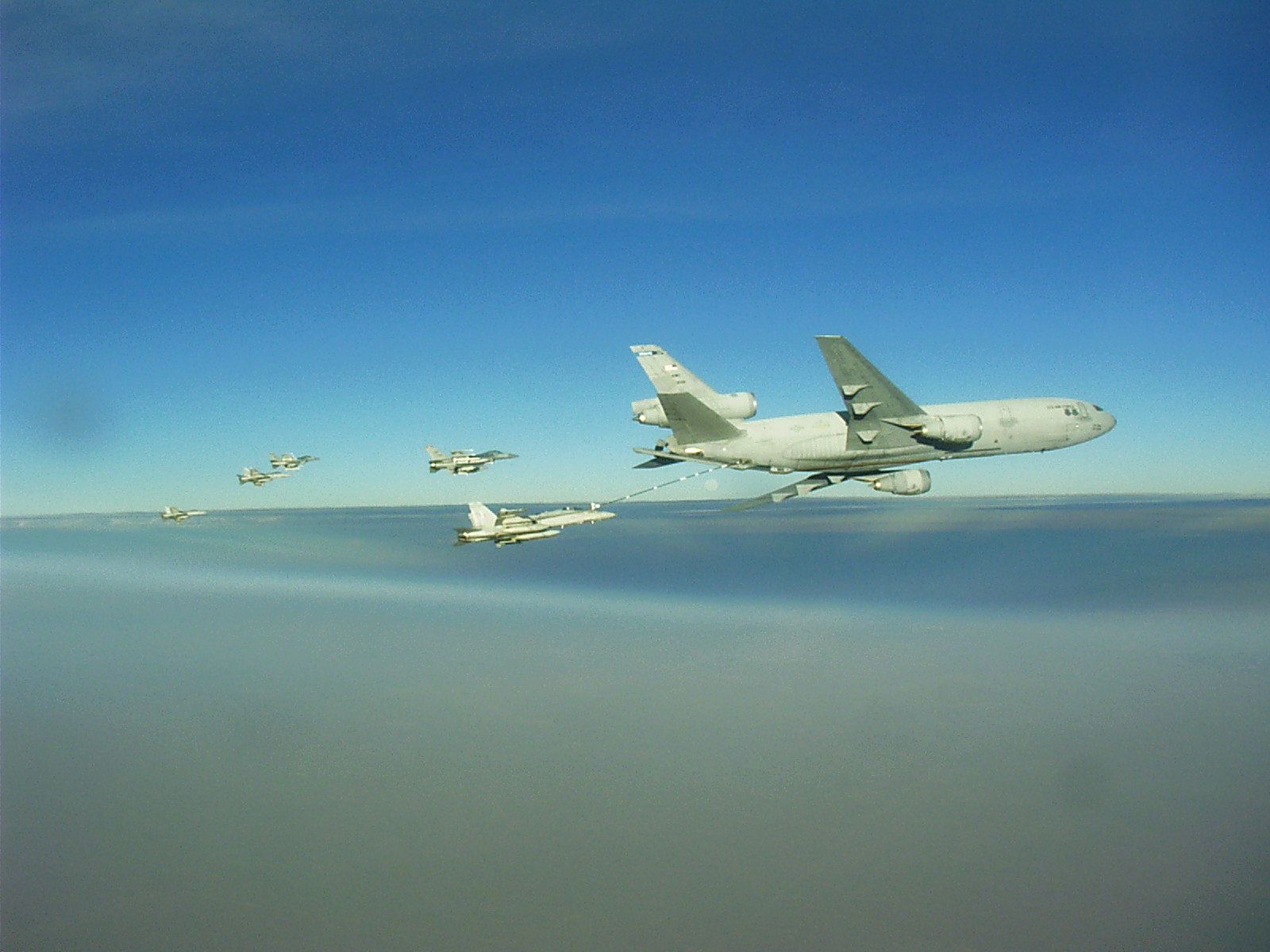 Last for now is a picture of my wingman getting gas and F-16s lined up on a KC-10
LouG
Thank you for your service, congratulations on your retirement and thank you for taking the time to do this interview.