Content count

41

Joined

Last visited
Community Reputation
0
Neutral
About Karyovin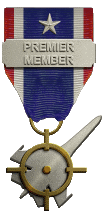 Karyovin reviewed Wrench's file in J/F-7

Karyovin replied to Caesar's topic in The Pub

Apart from having Kawamori design the ASF-X and the VF-1J/S skinned Tomcats (JP Ver. Only) it was the music that saved it for me. Favourite Track: White Noise

It looks like a skin for Boris' F-8E Crusader from the TV Series of Area 88. Debuted and bought the big one in the second episode. Both Shin Kazama and himself were smart enough to fold the F-8's wings to get between the sections of the Fangs but caught a 23mm shell through the intake.

Maybe they should find the voice actor for the AWACS Checkmate from F-22 Lightning 3, he aways sounded interesting and professional and maybe some background noise might add to the immersion.

Hi All I've noticed this 'small' issue with the Ali Cat. Is one wing sweeping at the old settings and one with the new or I just need to clean the mod folder again? FM was on hard and showed while i was pulling g's.

If they were the G's we may have had no choice but to bury them thanks to their previous role in SAC just like the B-52G getting dewinged. What is it with swing wing planes getting chopped up or buried when they are retired instead of using them like the F-4 for target practice?

I certinly learnt my lesson about that when my PF got a handful of 30mm Aden Rounds from an Avon Sabre that I badly overshot.