Content count

3,576

Joined

Last visited
Community Reputation
282
Good
18 Followers
About Viggen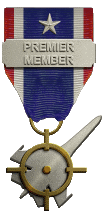 Profile Information
Gender
Location
Interests

Aviation, flying, modding, cars
Sun's going down, time to patrol the Gulf.

Brilliant. Absolutely brilliant. Once again the standard by which an all inclusive campaign should be held to has increased. I've played the Third Wire games for something close to fifteen years on and off now, and the Operation Desert Storm campaigns have always been among my favorite. This edition, released in commemoration of the thirtieth anniversary of Operation Desert Storm is incredibly detailed and includes many new aircraft and details. The new campaign featuring the Iraqi invasion of Kuwait is a fun challenge, one I don't expect my pilot to survive! I had been toying with the idea of returning to playing SF2 for a few months now, and this mod has made me feel like I did in 2006 the first time I picked up Wings Over Europe. To the Operation Desert Storm mod team and CombatAce staff, I thank you. Be proud of your amazing work!

Ok, the content of the goodies folder is well worth the dive into while the mod installs. I'm excited to try out the defense of Kuwait campaign!

This looks super impressive! Congratulations to the whole team. Also a good use of the subscription service, it'll remind idiots like me to renew!

3

Talk about a week. On Monday my grandfather went to the hospital because of his covid case. But that stubborn old man's condition has improved and he's being released.

This might not be the place to say it, but I just want to thank the modders for all the things they still do for this game.

My grandfather tested positive for it on Friday. He's been doing well, but I'm staying realistic here.

Viggen replied to Skyviper's topic in The Pub

After it's had a full track and balance, drain and flush, lube, and torque checks completed, sure.

Viggen replied to Skyviper's topic in The Pub

Speaking as someone who went through basic in 2012, I didn't see any classic day one shark attacks, then again I was too busy getting the shit smoked out of me to notice if it happened to anyone! But, I will attest to the creativity of some NCOs for resolving fuck ups in a garrison or deployment environment, all of which are a better alternative to having it go on paper.

Ah Mobius 1, a classic. Very interested in your F-22 projects.

Every one of us here has a mod manager already: a brain and the read me!

Two seater looks like a real gem. Looking forward to taking these for a spin.

1

Good looking skins and I like the backstory for the Iraqi aircraft! I'm sure after they were withdrawn, Iraq held on to them as airfield decoys, and most were destroyed by allied bombing during the Persian Gulf War.

Great! I've had ideas in mind for this terrain ever since you first posted screenshots of it.