About This File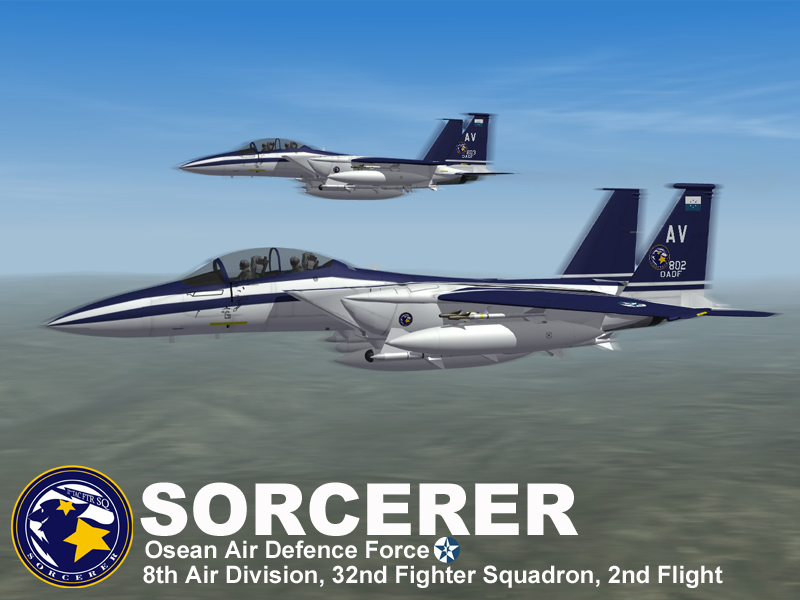 What is it?
It's a paintscheme for the F-15E Strike Eagle of the Osean Air Defence Force, 8th Air Division, 32nd Fighter Squadron, 2nd Flight "Sorcerer", from the game Ace Combat Zero.
The 32nd Tactical Fighter Squadron "Sorcerer" was a squadron that consisted of eight F-15S/MTDs. First seen by the player during the second battle that took place over Area B7R, also known as the "Round Table".
The squadron is very experienced in combat, since they were one of the first and last Osean fighter squadrons on being sent to the front lines during the Belkan War in 1995. They commonly operated within the Belkan Round Table, meaning that each pilot gained experience quickly. However, they began to support their cause less as time went on. Eventually they defected.
They joined an organization known as A World With No Boundaries and became a key part of the organization's operations. It is believed that their squadron leader was a founding member, but there is no solid information on this accusation.
I've chosen to use the F-15E model over Fastcargo's excellent F-15 Active as that file already has an outstanding Sorcerer skin by Kei Nagase. The F-15E was also already in service in 1995, the year the game takes place in, so it's not too lore-unfriendly. Even though the Strike Eagle may be slower and less manoeuvrable than the Active, I think the Sorcerer pilots would appreciate AMRAAM and air-to-ground capability.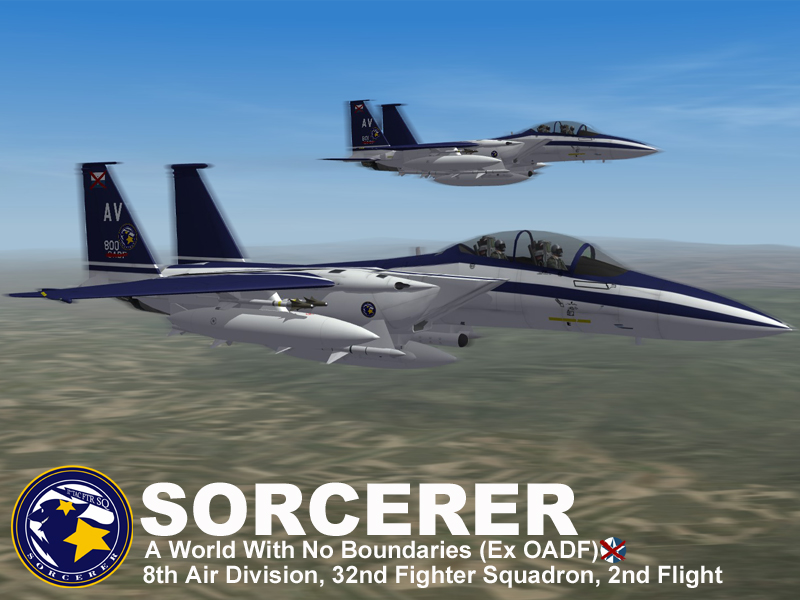 I've also included a post-defection paint scheme as I found it weird that the defectors would still be using their own nation's symbols and flags when joining a terrorist organisation dedicated to tearing down borders.
Which addon(s) are required?
F-15 Super Pack (version 2.4) by FastCargo (Link to File )
(You will also have to add new nations OADF and AWWNB into nations.ini, instructions inside)
Credits
Skin and Decals : Zachtan1234
Template : EricJ (Link to Template )
Check out my other work :
F-16C Windhover Squadron (Ace Combat 6)
F/A-18E Grun Team (Ace Combat Zero)
F-22A Gryphus Squadron (Ace Combat X)
F-5E Wardog Squadron (Ace Combat 5)
F-15C Galm Team (Ace Combat Zero)
JAS 39 Gripen-C Indigo (Ace Combat Zero)
F-14D Schnee (Ace Combat Zero)
YF-23A Wizard (Ace Combat Zero)
Eurofighter-GmbH EF-2000 "Typhoon" Rot Team (Ace Combat Zero)