About This File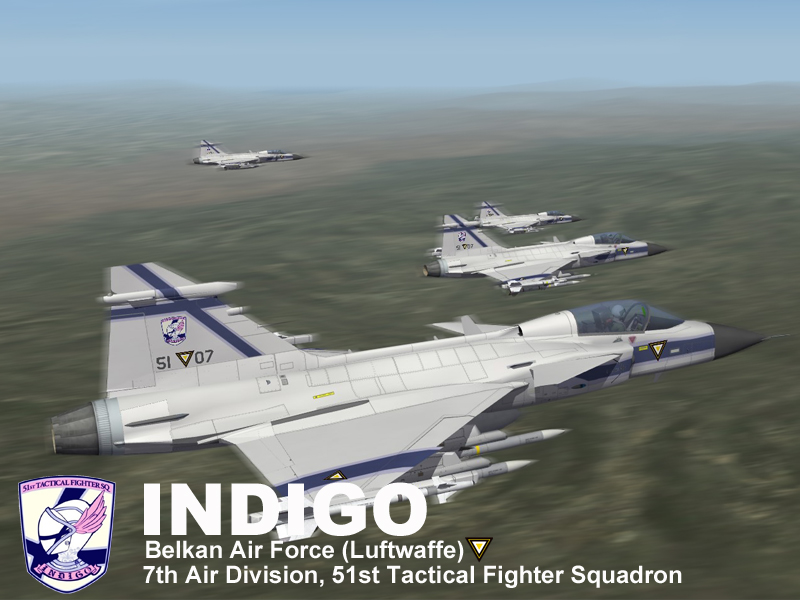 What is it?
A paintscheme featuring the Belkan Luftwaffe's 7th Air Division, 51st Tactical Fighter Squadron "Indigo", from the game Ace Combat Zero. For JAS 39 Gripen-C.
The "Indigo Squadron" was a Belkan Air Force squadron that saw action in the Belkan War of 1995. Indigo's pilots were known for their elegant flight style and their pride in combat, which earned them the nicknames "Indigo Order of Belka" and "The Indigo Knights".
Though only the flight leader of the Squadron had seen battle during Belka's period of expansionism, the entire Squadron was soon assigned to the Eastern Front during the beginning of the Belkan War. It was here that the Indigo saw much success. For example, on March 30, 1995 the 51st Tactical Fighter Squadron engaged an enemy fighter squadron, believed to be the 3rd Air Division 122nd Tactical Fighter Squadron of the FATO Air Force over the FATO-Gebet Border. This engagement occurred during an operation aimed at capturing Model, Gebetan City. Flight leader Dimitri Heinreich alone shot down nine F-14D Super Tomcats within five minutes of the battle's start.
On April 20 of that same year, the Indigo Squadron was redirected over Area B7R, Belka on their way back to base. The team's objective was to shoot down Galm Team of the Ustian Air Force conducting recon on the Round Table. Indigo was not unfamiliar with the area; however, the two aircraft overwhelmed the Belkan fighters, and shot them all down.
Which addon(s) are required?
TSF SAAB JAS 39 Gripen Flygvapnet Package By JonathanRL (Link to File)
(You will also have to add a new nation Belka into nations.ini, instructions inside)
Credits
Skin and Decals : Zachtan1234
Template : MikeyMead (Link to Template)
Check out my other work :
F-15C Galm Team (Ace Combat Zero)
F/A-18E Grun Team (Ace Combat Zero)
F-22A Gryphus Squadron (Ace Combat X)
F-5E Wardog Squadron (Ace Combat 5)
F-15E Sorcerer (Ace Combat Zero)
F-16C Windhover Squadron (Ace Combat 6)
F-14D Schnee (Ace Combat Zero)
YF-23A Wizard (Ace Combat Zero)
Eurofighter-GmbH EF-2000 "Typhoon" Rot Team (Ace Combat Zero)