Content count

331

Joined

Last visited

Days Won

5
Community Reputation
30
Neutral
About ChrisBV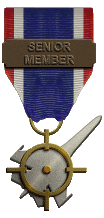 Hello, fellow simmers/modders! It has been a while since I last touched SF2 (very little flying and no modding at all for over a year now). I've had this project sitting on my HHDD for far too long and I thought sharing and posting it would somehow force myself to finish it once and for all. With Florian's kind assistance and generosity in sharing his reworked Tornado IDS model with me, I have resumed work on my 1991 Operation Granby/Desert Storm RAF Tornado GR1 skin(s). Baseline skinning is almost over. I should begin with the custom artwork for each individual jet (the fun part) soon. Below a few screens of progress so far: Planned Scope of Work comprises the following: - Aircraft re-skinning (including as many individual custom markings/artwork as possible) - External stores (1,500 & 2,250 litre fuel tanks, Sky Shadow jamming pod, BOZ107 flare dispenser, TIALD laser targeting pod, etc.) re-skinning - INI tweaks (accurate loadouts, etc.) - 3D Model tweaks (beyond my current set of skills, but hopefully involving addition of chin-mounted LRMTS & twin-blade dorsal UHF antenna and repositioning of emergency canopy release handle) - Compatibility with "Operation Desert Storm" campaign for SF2 I can't promise this will ever be released (I would need approval from the respective authors first), but that is indeed the final objective. Feel free to jump in and provide as much constructive criticism as you like. Cheers

Shock of the Lightning: Well, that's... pretty high... isn't it? Help! I'm running out of atmosphere! Flameout landing - oh, yes, I did run out of fuel!

ChrisBV replied to MigBuster's topic in The Pub

if you have a toilet, running water, electricity and a refrigerator at home, then you're most likely a victim of British cultural and technological 'invasion' back to the Industrial Revolution.

Wow, it's been ages since I last posted here... anyway, here are some interceptors doing some interception Expedite climb-out: Levelling out & consolidating the formation: Edge of space Would-be victims ahead! Solid radar lock: Turkey shoot! Let's bug out before the escorts get us!

Holy...! This is awesome! Been looking for this aircraft for a long time. Yes indeed, and despite their heavier loadouts (with the 'clean' MiGs out-performing them in the acceleration), the F1s usually came on top: Here's the layout of the -AZ's cockpit, with the moving map display in the centre: Great project!

ChrisBV replied to Rover's topic in Español

Hola a todos, ¡qué lindos modelos y skins, de verdad felicitaciones! Estoy algo desconectado del SF (y la simulación de vuelo en general) y del foro pero hoy entré a revisar (me picaron los dedos, jejejeje) No, se arrendaron a Embraer (no al gobierno brasilero) y fueron volados por tripulaciones argentinas. En el volumen III de la obra Historia de la Aviación Naval Argentina del Contralmirante (ret) Héctor A. Martini hay un capítulo que habla sobre eso y detalla los nombres de las tripulaciones que se entrenaron en Brasil en las particularidades y sistemas del EMB111 y los volaron luego en combate.

ChrisBV replied to pato poli's topic in Español

Gracias amigos por acordarse de mi XD Estoy entrando muy poco al foro, les agradezco el gesto.

@ Silverbolt, acá tienes otra foto de AIM-120 AMRAAM en un F-16C FACh:

El F-5E Tigre III chileno fue homologado para llevar Derby (el radar ELTA EL/M-2032 ciertamente es capaz de proveer iluminación para dicho misil) pero en la última FIDAE se comprobó que nunca se compró Derby para la FACh, aunque se hicieron tiros de prueba con los brasileros (esto me lo confirmó una persona que estuvo allá y conversó íntimamente con pilotos chilenos). El misil BVR del F-16 chileno siempre fue el AMRAAM, desde la propia etapa de negociación del sistema de armas Fighting Falcon. En Perú tenemos dos variantes del MiG29: los bielorrusos MiG29 izdeliye 9.13 'Fulcrum C' ex-soviéticos, que están armados con el SARH (guía radar semi-activa) R27 (AA-10) 'Alamo' y los comprados posteriormente a Rusia que son solamente 3, modelo MiG29SE izdeliye 9.13SE, compatibles con el más moderno RVV-AE (AA-12) 'Adder'. Los 'Fulcrum' más antiguos no pueden llevar el RVV-AE. Los Mirage 2000 solo tienen el misil R550 Magic II como misil de corto alcance IR para autodefensa, no tenemos en inventario misiles BVR para el Mirage 2000 aunque debería ser compatible con el SARH Super 530D/F. No se han comprado estos misiles: la modernización de 1994 buscó reforzar al Mirage 2000 en el rol de ataque, introduciéndose sistemas de guerra electrónica y contramedidas (chaff/flare) y compatibilidad con armas guiadas por láser (bombas de 227kg con kits de guía israelíes Elbit Lizard).

¡Hola amigos! Tanto tiempo sin darme una vuelta por acá. Silverbolt, acá tienes fotos del AMRAAM en la FACh: Efectivamente, la versión en servicio en Chile es AIM-120C5 (por ahi tengo un paper de Raytheon donde se confirma, lo buscaré para postearlo).

ChrisBV replied to Piloto's topic in Español

Holas, disculpen si esto ya ha sido preguntado pero... ¿cómo hago para usar los buques HMS Brilliant y HMS Antelope en el mapa de Malvinas? Los bajé e instalé como dicen las instrucciones pero no entiendo cómo hacerlos "aparecer" en el juego...