Content count

1,066

Joined

Last visited

Days Won

21
Community Reputation
1,345
Excellent
About Geary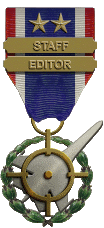 Rank

Air Crash Test Dummy

Profile Information
Gender
Location
Interests

Flight Simulators; Building and Repairing Computers
Thanks so much for these, especially the Suez skins. I dreaded having to make my own.

Geary commented on paulopanz's file in Meteor

Rgr. Nice work on the big birds. I'm primarily interested in Korea and Vietnam so the BUFFs I need/use are for Vietnam.

Kevin, Don't know if this will help you. It's a D and F model. I'd used gbreuders' loadouts with MERs but had to readjust pylon/MER and bomb positions on the F model. I readjusted the D models Bombay positions to hold the common Mk82 500 pounders. I used the KISS rule with these bombers. Hope it helps. Geary B-52's.7z

Vickers Valiant crew sightseeing over the Sinai, 1956. (They can see the Pyramids from here.) On the way back they spot an Egyptian air base. They leave their calling cards (21 1000lb general purpose iron bombs).

USMC EF-10B SkyKnight, Vietnam 1967.

USAF A-1H Skyraider, Vietnam 1967 (MontyCZ's old classic with new skin.)

USAF B-57B Canberra's first Southeast Asia Camouflage paint scheme; 3-tone camo color over gray/natural metal.

14

I must have deleted it by accident when I installed Stary's F-94B (Proper) cockpit. Thanks,

Does anyone have Stary's F-94B Cockpit Avionics Data File? It's not with his great F-94B Cockpit. Although, it's referenced in the supplied F-94B.ini file. Without it the radar doesn't work. If there's not one out there, any suggestions on which early avionics file to use with this plane? TIA, Geary

Soulfreak, Very Nice. Will you release these skins or are they for personal use only? Have you tried to paint the black band in the cockpit between the pilot and co-pilot? I've tried but have had no good luck. Mandatory Screenshot.