Content count

943

Joined

Last visited

Days Won

2
Community Reputation
16
Neutral
14 Followers
About mppd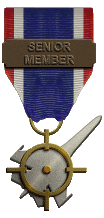 Thanks to all for spending the time on this. It got me motivated to get back to my own F-4D 3D project again. All the birds assigned to PACAF would have had the tape lights by then. Some of the TDY TAC unit airplanes were still in the process of getting them (I think about half of the Holloman airplanes TDY to Takhli had them, but I only have very few photos of those), a few Seymour-Johnson and Homestead planes were still missing them also.

Streak, I would be interested in what you have on Oyster Flight, serials and unit assignments if possible.

Even tougher to figure out tailcodes and such when crews from the same unit would use aircraft from multiple squadrons in the same flight. Wasn't one of Ritchies mig kills in an E- model TDY from Homestead?

The photo with ECM pods on an intermediate pylon as well as a fwd Sparrow well is very rare. One almost never sees this combo, usually on the pylons or in the wells, but not one at each location. Wish I had a million photos of F-4s in those days. I was trying to get out of High School and over to Thailand to do just that, but could not graduate in time for the fun and games. Enclosed art from Mark Styling shows no fin tip color on the airplane at the time of the shootdown by the way. Warning placard on left intake splitter plate indicates Combat Tree self-destruct installed. 4-position AN/APS-107A RHAW antenna housings on nose just behind radome would not have been present at this time, nor would triangular reinforcing plate on stabs, nor black antenna on leading edge of wing...

Thanks. Might work with only a few then.

Could not remember a reason that a squadron could not have a small number of aircraft in a campaign. (Like a separate "squadron" with two historical recon aircraft assigned). Would it simply not appear unless you fly the campaign with it? Thanks, Mike D.

mppd replied to Skyviper's topic in The Pub

Wonderfully talented slight of hand work, but seriously...no video editing here...

mppd replied to Dave's topic in The Pub

I watched this gentleman speak on TV several times, and my thoughts were always that he would have made a superb president of the United States. How to compare such a great man with the poor, pathetic excuse for leaders that we have in power now.

Wow - that almost looked real...

The GPU-2 is a three-barreled pod, but the single barreled pod with the long barrel is a bit of a mystery wep. I also found a photo on the Internet of the HIPEG with the goofy squarish muzzle brake at Da Nang, so apparently it was indeed used in Vietnam, although probably a later mod.

Thanks for the info on the mystery gun pod. Nothing at all on the Internet that I could find. We could use a 3D model of one. I have a new Mk4 HIPEG almost done with the early Vietnam-era muzzle brake, but look at the Marine photo Charlie posted - it looks like it has a hood over the top portion of the muzzle. Anyone have better close-up photos? The SF2 one that TK made you guys has some kind of squareish muzzle brake that the Israelis used, but was not is Marine service in SEA as far as I can tell. I am working on a new 3D OV-10A also in case someone wants to contribute on the project or perhaps already has one started. For 1st gen for my own use of course for starters... Mike D.

What is the designation of the single-barreled gun seen on the centerline in some photos? I cannot remember ever seeing this before.

A slideshow video well worth the watch for the schemes, BuNos and ordnance: http://www.blackpony.org/bpss.wmv

Wiki says 24 were evacuated from Iraq, during the 1991 Gulf War.